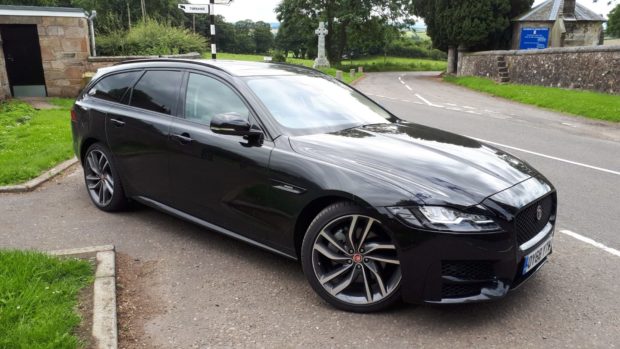 I've long mourned the death of the term shooting brake.
To me it summed up a fine time in our automotive history when the roads were clear and open, traffic cones and speed cameras had still to be invented and AA patrolmen saluted you as they passed on their motorbike and yellow sidecar.
But the term can still be found if you look closely, and Jaguar has slipped it into its range, cleverly combining the old name for estate car with the performance ability of its latest XF Sportbrake, especially in the R-Sport version of the test car.
It is a big car and its main selling point, apart from the Jaguar badge, is its carrying capacity, although surprisingly the boot is smaller than the BMW and the Mercedes but larger than the Volvo's, which is always regarded as the benchmark in this class.
In a deep black Santorini paint job and darkened rear windows, the test car looked more than a little sinister. It actually reminded me of a hearse…and it certainly looked at home when I took it to my local cemetery.
Whether any Jaguar XF Sportbrakes will find a working life in the funeral business remains to be seen, but many will be given a home by families – with a bob or two to spare – who might otherwise have to go to the Germans for the BMW 5 Series Touring or Mercedes E Class Estate or the Swedish Volvo V90.
The featured model came with Jaguar's own 2.0 litre four-cylinder turbocharged Ingenium petrol engine with a very useful 296 bhp which, along with a slightly less-powerful version, is the only petrol choice after the withdrawal from the UK market of the gutsy V6, which fell foul of emission standards and out of favour with British buyers.
It's a smart unit which powers this big car up to 60 mph from a standing start in under seven seconds, so it's no slouch, but driving enthusiastically has a big impact on the economy figures. Over a couple of hundred miles I got nowhere near the official fuel consumption figure, and instead it hovered around the 20 mpg mark.
I also felt the 8-speed auto gearbox was a bit sluggish in its changes when I needed a burst of power, unless I used the steering wheel paddles to move manually up and down the gears and then it took a while to revert to automatic afterwards.
As with the XF saloon, the Sportbrake has a mainly aluminium construction but has upgraded sports suspension for the extra carrying capacity and bigger loadspace along with self-levelling air suspension at the rear. The test car with R-Sport trim had lowered and stiffened suspension as standard and all the underbody technology came together to produce a confident and composed ride even on twisty roads.
It's very slightly longer than the saloon and would be the same height but for the roof bars which are a standard fitting.
The test car was the all-wheel-drive version which gives greater security in normal driving on dodgy wet or muddy surfaces and ideal for those with country pursuits or do a lot of towing with trailers, horseboxes or caravans.
The interior of the Sportbrake is the same as its saloon cousin, with the classic features of revolving air vents and retractable rotary gear selector, and the test car's ebony and light oyster leather sports seats with suede headlining gave a sense of luxury which is sometimes missing from the German competition. They were also superbly comfortable.
The 10-inch dual view touchscreen was a £890 option in the test car – just part of the £13,000 of extras – and was clear and concise and easy to navigate. The infrared reflective windscreen head-up display – another £1,270 – was a good but expensive option and I found it suffered from sunlight glare.
With a price tag including all the extras of not far short of £60,000, there is a huge selection of equipment including a host of standard safety features with all the latest technology, including automatic emergency braking, traffic sign recognition and lane departure warning system.
Visibility is good out front, and because the windscreen pillars are surprisingly thin, they don't get in the way, although that's not the case to the back. The rear pillars are steeply raked, and along with the narrow back window and privacy glass, it can be difficult to see what's behind when reversing, which makes the parking sensors and rear view camera – part of the £1,150 advanced park assist option – an essential extra.
As you'd expect there's stacks of space inside for passengers, and legroom for those in the back is more than enough for tall adults who are able to stretch out even with the front seats set fully back.
So what we have with the Sportbrake is a big, capable and sophisticated machine that is happy to get its tyres dirty in the countryside, and in the case of this particular test car can still scrub up for funeral duties.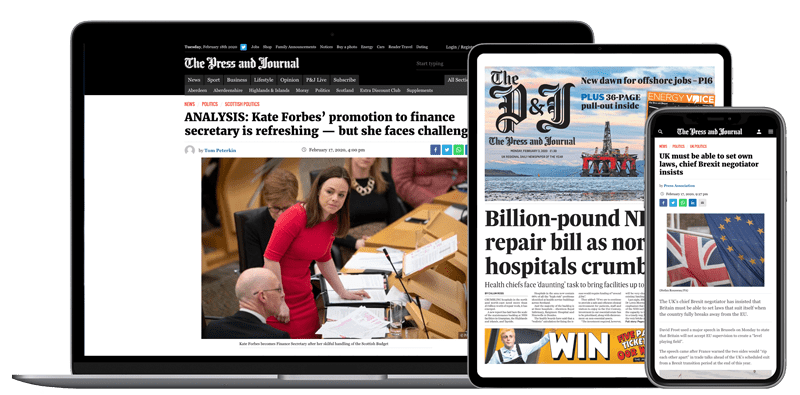 Help support quality local journalism … become a digital subscriber to The Press and Journal
For as little as £5.99 a month you can access all of our content, including Premium articles.
Subscribe