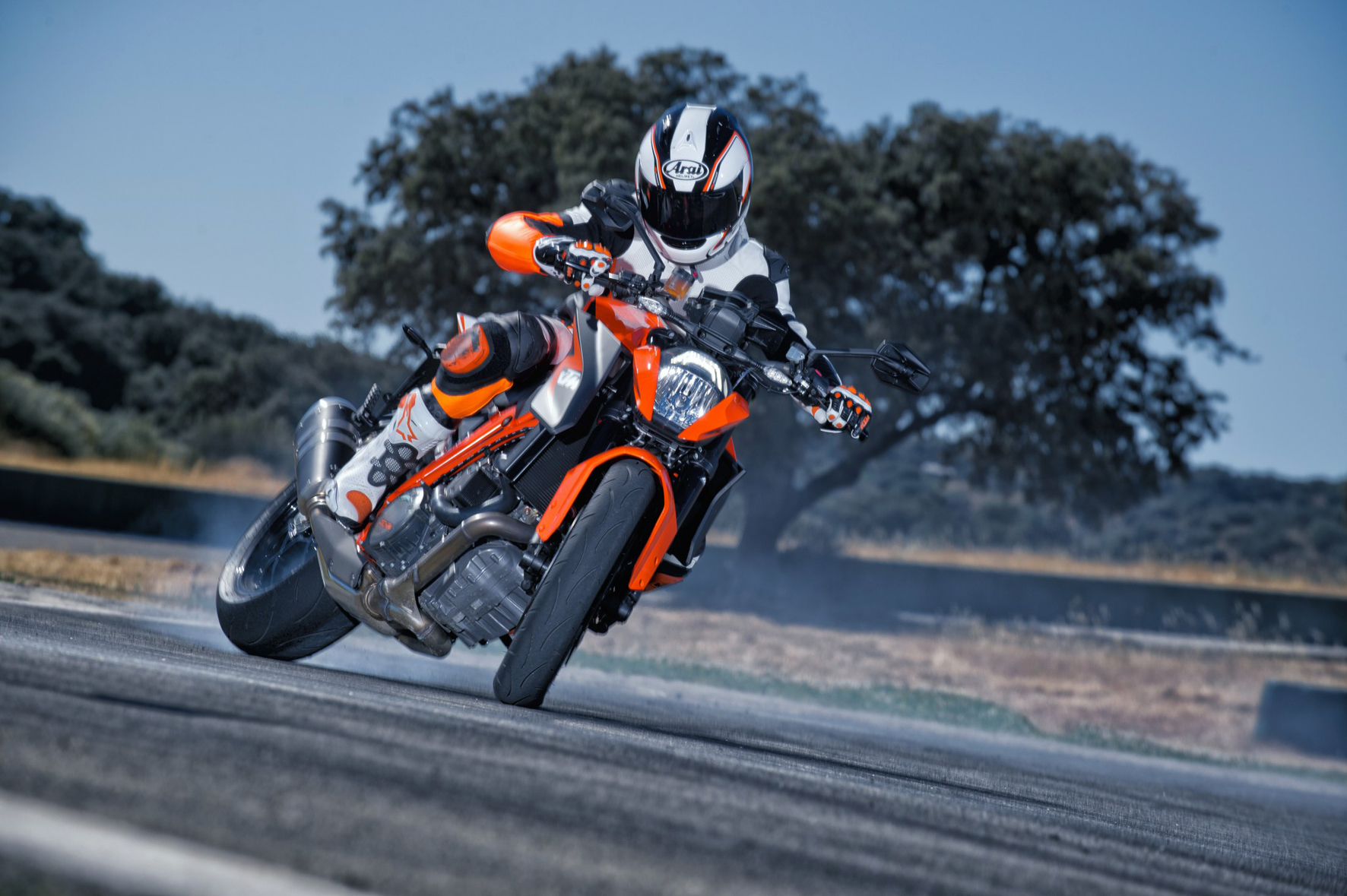 This week we take a look at the KTM 1290 Super Duke R
Ever since its introduction in 2005, KTM's Super Duke has embodied the most extreme sensations of on-road biking.
Its feisty engine was intense and direct, befriending your inner hooligan and making a boring ride impossible. Even the biff along to the shops became The Wacky Races. Absolutely everything you do on a Super Duke is spiked with adrenalin to some extent or another.
Despite stringent European homologation and emission regulations, and of course the need to appeal to a wide audience, this final production spin-off is still as intimidating as being stuck in a confined space with a bear.
The 1290 Super Duke R is powered by the RC8 R superbike's 75-degree twin-cylinder engine, bored out to 1,301cc to produce a completely bonkers 177bhp and 106lb.ft of torque. That motor would make a car quick, let alone a sub-200kg bike.
Gadget wise, there's now adjustable Bosch ABS, switchable traction control and a choice of three engine maps. Sport has the most immediate throttle response and the least intrusive traction control (although it won't allow long wheelies while the traction control is activated); Street is slightly more docile and the traction control kicks in sooner, and Rain mode is restricted to 99bhp with the traction police prepared to step in at the slightest slip.
Despite the bike's hardcore image, the riding position is comfortable and natural. The handlebars are high and wide and the footpegs are lower than you'd expect. In comparison with KTM's 1190 Adventure, the Super Duke's tractable engine feels smoother, certainly below 8,500rpm, which gives it a surprisingly civilised character in the same way that a lion is more civilised when its teeth aren't clamped around your head.
Open the throttle in Sport and the Duke springs forwards with enough low-down grunt to leave all but the toughest of cruisers in its wake. Keep it driving through 8,000rpm and the acceleration driven by those 177 imported ponies actually feels less ferocious than it is, thanks to the flawless power delivery of the ride-by-wire system, something that KTM has struggled to achieve in the past.
KTM loves producing bikes that have a radical image but the 1290's tubular frame and stylish single-sided swingarm not only look the part, but they allow you to exploit the bike's power too. With adjustable WP suspension at both ends, the KTM is flexible and forgiving over imperfections, but the Brembo brakes are on the aggressive side. Together with the slightly softly damped front forks, the Super Duke's otherwise poised balance can become upset if you brake mid-corner.
The 1290 Super Duke R doesn't come cheap, but KTMs are usually priced towards the top end of the scale as a great deal of the parts are made in Austria; not wherever there's cheap labour. Plus it comes with oodles of lovely gadgets.
For those with big bucks to spend, KTM's catalogue of Power Parts is telephone directory-thick, so if you can throw enough money at it, the 1290 will be anything you want it to be: a race-beast, a show-beast or even a touring-beast depending whether you go for carbon fibre treats and stickers, the race kit and slick tyres or heated grips and soft luggage. The choice, at a price, is yours.
Yes, it has a mad side, but unexpectedly this Mr Hyde has a very prominent Dr Jekyll to fall back on when the mood doesn't strike. According to KTM test rider Jeremy McWilliams, motorcycles like this are the new superbikes; just as quick and far more comfortable. Adrenalin junkies will wish they could disable all the electronics at once, but there's no arguing with the beast when it's unleashed.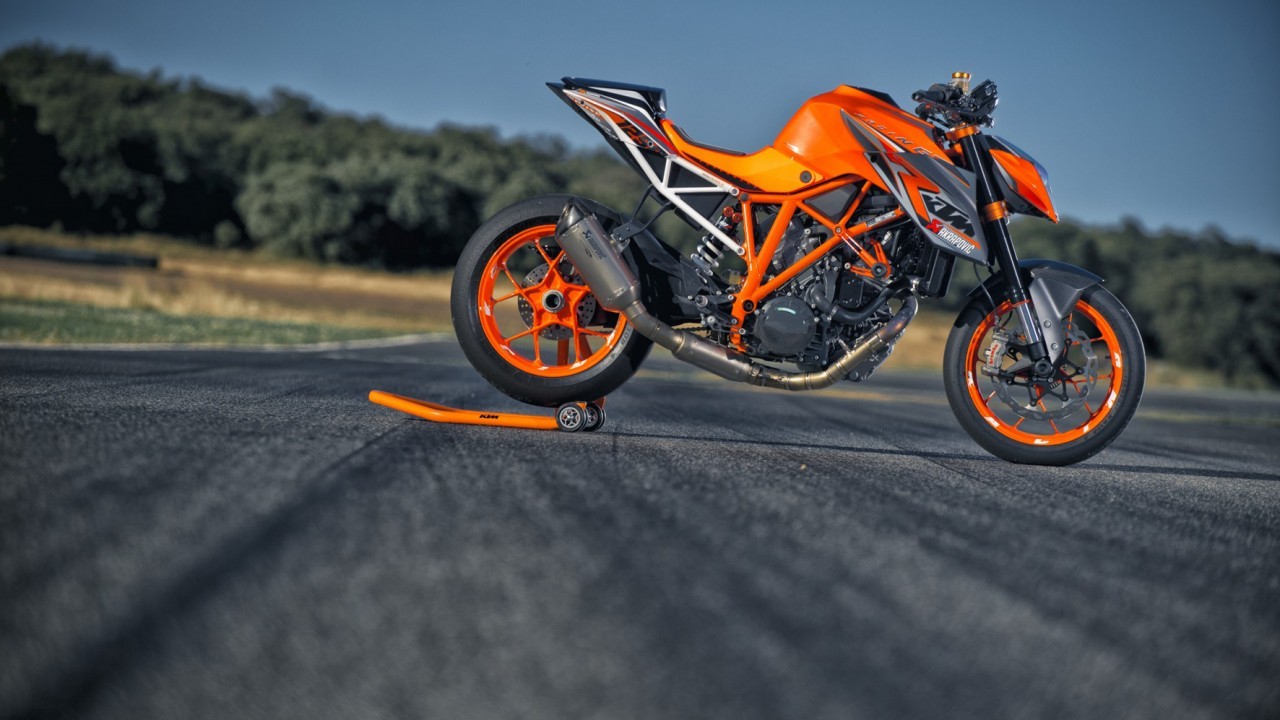 Facts and figures
Model: KTM 1290 Super Duke R ABS
Price: From £13,999
Engine: 1,301cc 75-degree liquid-cooled V-twin producing 177bhp and 106lb.ft.
Transmission: six speed sequential manual, chain drive
Dry Weight: 189kg
Seat Height: 835mm
Fuel capacity: 18 litres