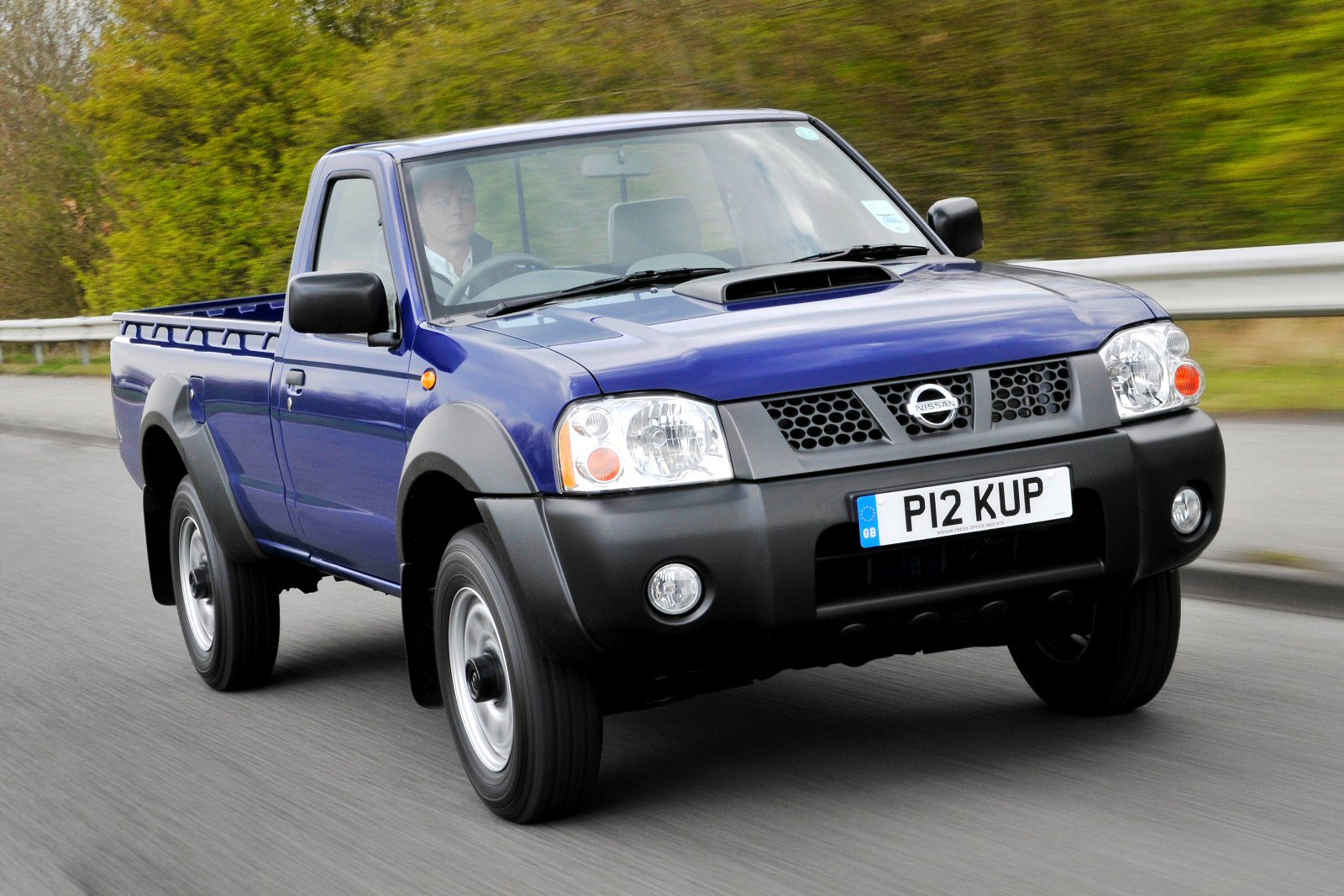 What the Nissan NP300 lacks in style and comfort, it more than makes up for in practicality.
This Nissan comes with one type of engine and that is a four-cylinder, 16-valve, common-rail 2.5-litre diesel. This unit reaches its maximum power of 133bhp at 3,600rpm and peak torque of 224lb/ft kicks in at 2,000rpm. A five-speed manual gearbox comes as standard. The front suspension employs a double wishbone set-up while a rigid rear axle and leaf springs help support the rear end when carrying a load and ensures a reasonably bump-free ride. Power-assisted steering leads to a wall to wall turning circle of 12.2metres and a kerb to kerb turning circle of 11.2metres.
The power-assisted steering does not seem particularly responsive on the roads and handling can be vague. Under normal road use the NP300 utilises rear-wheel drive, but if you have the 4×4 option, a lever near the gear stick can be used to engage the all-wheel drive for when the going gets tough.
The maximum payload is a respectable 1,135kg and it can tow anything weighing up to an impressive 3,000kg with the brake on, 750kg with the brake off. Inside the cabin it's a seriously no-frills approach with limited storage space in the doors and dashboard. Some of the interior trim also looks a little cheap but what do you expect from a pick-up for this price? The NP300 is not about style and comfort. If you're looking to haul large loads across rough terrain without caring what you look like, it's built for the task. If you're really looking for positives, you could say the natty vinyl interior will wipe clean easily when it inevitably gets caked in mud.
The NP300 features a very accessible rear loading bay. Access is gained through a drop-down tailgate that opens up across the whole width of the vehicle and can be locked horizontally to carry long loads, or can drop down entirely if the chains are released. The bay area can take loads that are 2,235mm in length, 1,465mm in width and 430mm in height and five rope hooks are mounted along the outside on both sides of the bay area to help secure loads down, although in the cheaper models there are no load tie-down points inside the bay area which can be frustrating.
The edge of the load area incorporates a lip to attach hooks to, although it looks a little flimsy and it is unclear how much strain it can take. Body colour comes in a selection of eight colours and the interior is available in three upholstery shades. This pick-up shouldn't cost a fortune to run and fuel consumption is pretty much par for the course with CO2 emissions at 241g/km. It averages around 30mpg on the combined cycle and should not cost the world to insure either.
Nissan provides a three-year, 18-000-mile warranty along with three-year paint and six-year anti-corrosion guarantees, meaning you can get on with your work without worrying about endless appointments at the garage. The rear load area is capacious, well designed and should make life on the building site a whole lot easier, especially if you fork out the extra money for the Double Cab or King Cab models which provide better fastening equipment in the loading bay. Where the NP300 may frustrate you, however, is on the road. Its engine is more suited to rugged ground than tarmac highways and the handling can be irritating.
The Nissan NP300 is a gutsy performer when ploughing through wastelands, building sites and fields, but does not perform as well on the roads. The car does not move quickly away from a standstill, has relatively unresponsive steering and is certainly not big on comfort. The cabin feels cheaply put together and is sparse in its knobs and dials but it will keep you warm and dry when you're negotiating bumps and hills and that's really the point of the NP300 pick-up. In its defence, it does not have any pretensions to be comfortable and enjoyable to drive. What it does have is an excellently designed and incredibly easy to access loading area and a powerful engine to get you around hazardous terrain. For a bit of extra cash, you can also transform your NP300 into a Double Cabber that transports six. Marry these pluses with the reasonable pricing and the NP300 could take a fair slice of the pick-up pie. It's also worth bearing in mind that for just a couple of grand more, you can move into much plusher Nissan Navara territory.