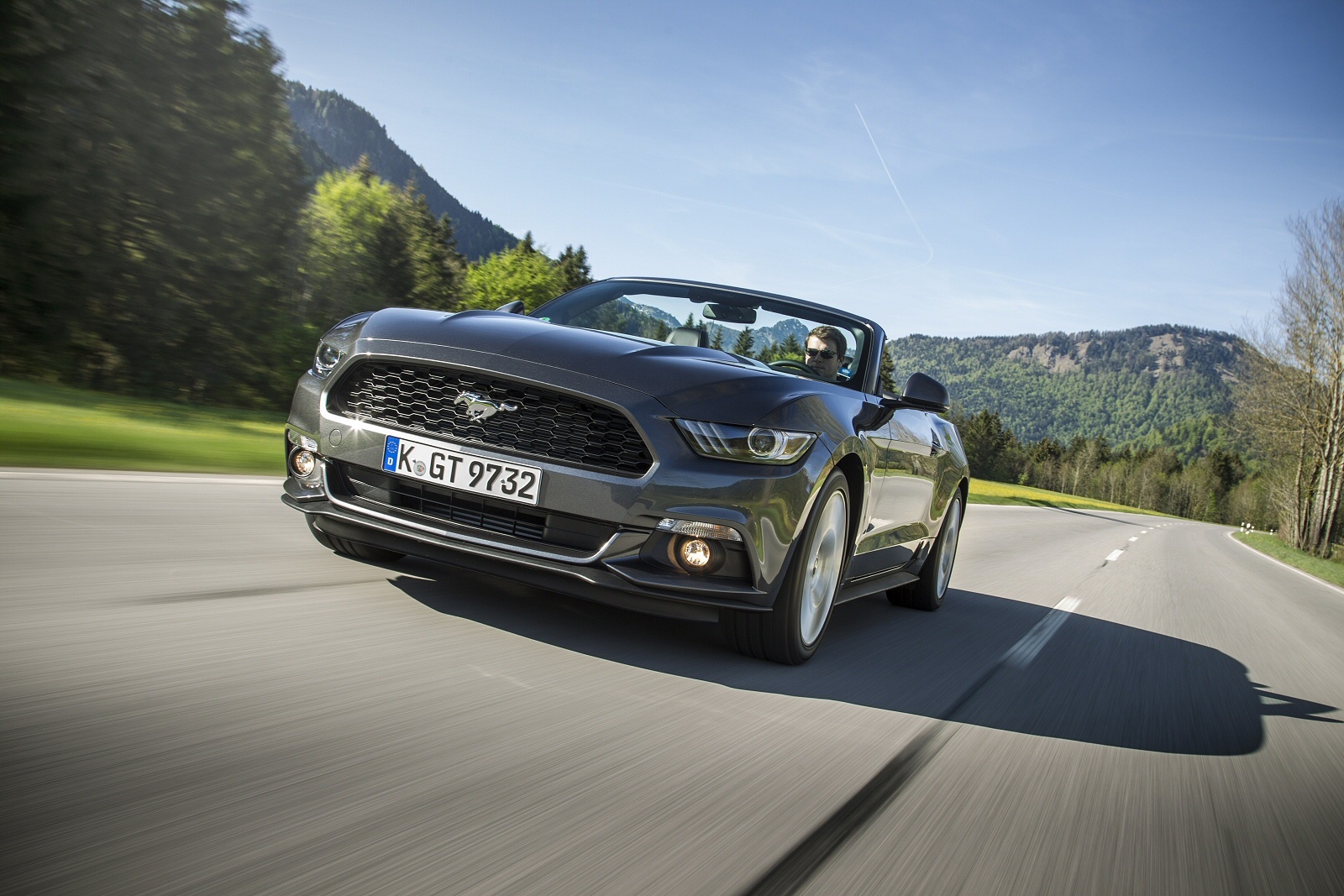 We've yet to drive this car, but, on paper, the prospects look quite promising.
After all, you get the same two tempting petrol engines that are offered on the coupe model, namely the four-cylinder 2.3-litre EcoBoost unit and the 5.0-litre V8.
The roof is fabric and must cover 4.7 metres of car. To start the roof retraction process, you have to twist a roof-mounted handle, although from then on the process is electric. Another potential irritation is that this process can work only when the car is at a standstill. Nor is there the option of a wind deflector.
In terms of powerplant choice, tradition dictates that you go for the thumping V8, which packs a massive 415bhp and gets the drop-top 'Stang to 62mph in 4.8 seconds. It's thirsty, though: If you're lucky, a gallon of petrol will take the manual version just 20 miles.
And although the automatic is slightly more efficient, 22mpg is hardly impressive. If you're less fussed about tradition and more worried about your coffers, the 2.3-litre engine will return 34.4mpg in its most efficient guise, but you'll have to face a 104hp drop in power and an extra second added to the 0-62mph dash.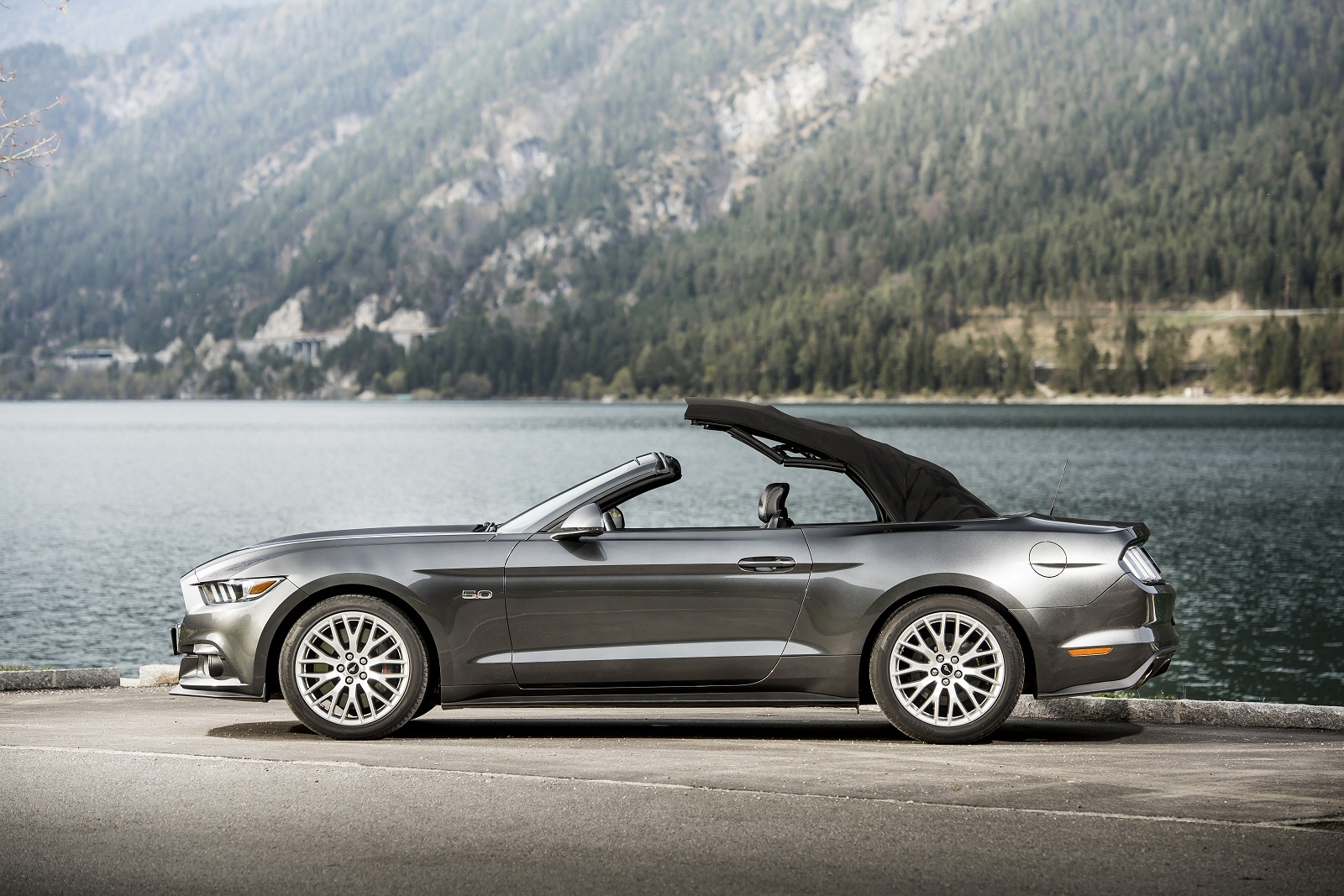 In many ways, Ford has played it safe with the new Mustang's looks, changing it only in the details, such as the new headlights. It would be unfair to slate Ford for that, though, because the Mustang is such an icon that the company can't really do anything too drastic with it. It isn't like the Blue Oval feels the need to change things much, either, because the company sells about 18 Mustangs an hour in the States.
The Mustang may not have changed drastically, but it's still a head-turner. The new front end makes it look more elegant than muscular, and the sheer bulk gives it presence. More than anything else, though, it's still likely to be a novelty on British roads, and with the canvas hood of this convertible version up or down, it'll draw attention. Inside, it's a similar story.
The overall look of the cabin hasn't changed that much, but it's still very different to the innards of a Fiesta.
You'll pay a £1,500 premium to own this convertible Mustang over the coupe version. Another £1,500 premium buys you automatic transmission. That all means prices starting at around £34,000 for the 2.3-litre variant, rising to £40,000 for the full-fat automatic 5.0 V8 GT drop-top variant.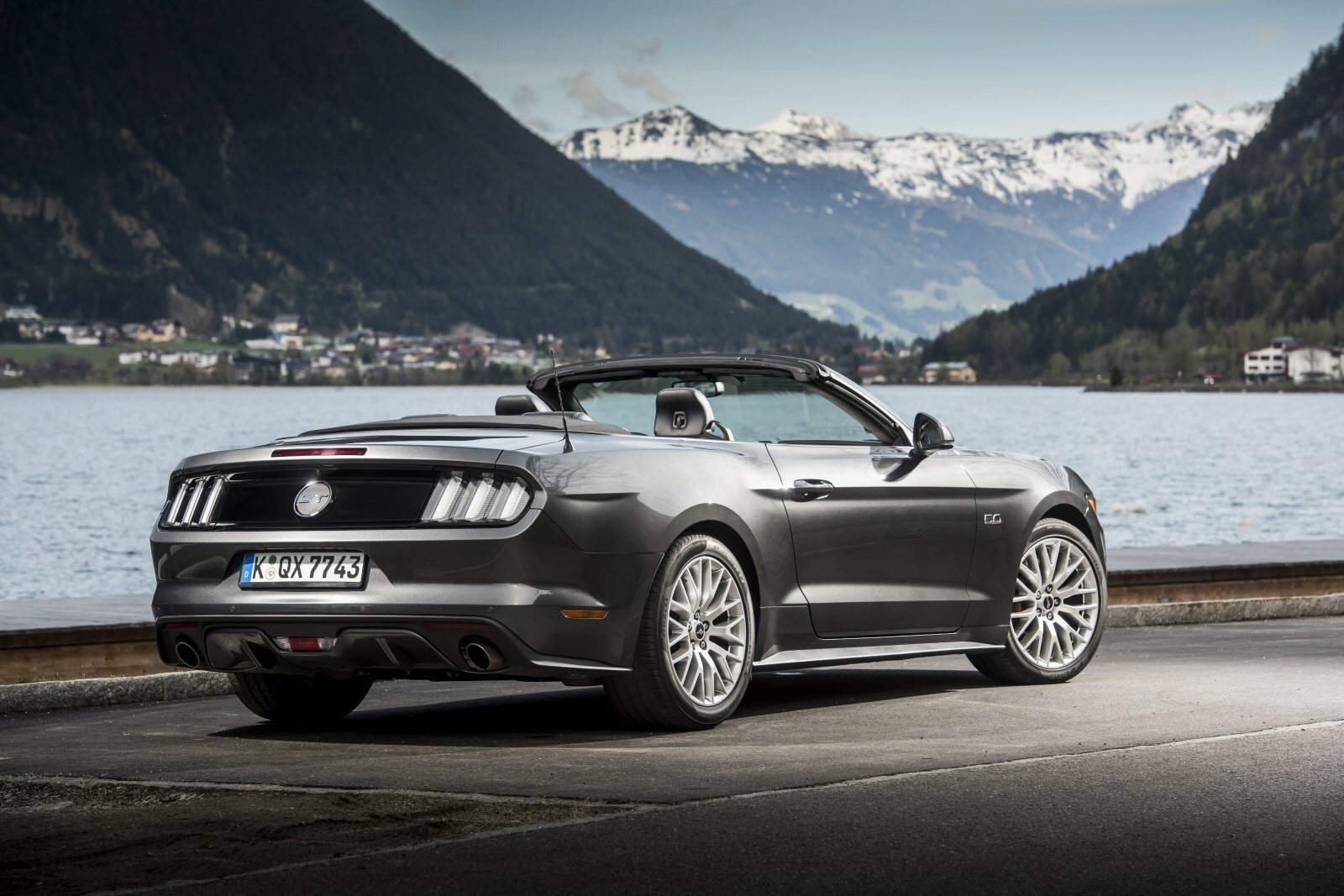 Equipment-wise, all models get 19in alloys, leather seats, two-zone climate control, an 8in colour infotainment touchscreen, a reversing camera and automatic lights and wipers. The GT spec you get with the V8 further adds Brembo brakes, a fussier alloy wheel design, a very slightly different grille, launch control and a couple of "GT" badges.
This modern-era Mustang isn't the thirsty beast its predecessors were. It's still going to cost good money to run, though. The 2.3-litre EcoBoost is obviously the engine of choice for the cost conscious, in convertible form returning 34.4mpg on the combined cycle and 184g/km of CO2, which is only fractionally higher than you'd record at the wheel of the equivalent coupe model.
Still, when something like a four-wheel-drive Audi TTS Roadster will manage nearer 40mpg and get to 62mph about half a second earlier, that isn't all that impressive.
Switch to the 5.0-litre V8 and the figures fall substantially – to 20.8mpg and 306g/km.Insurance, too, is liable to be costly. The Mustang will be desirable and therefore classed as a theft target by insurance companies, and the canvas roof won't help matters, either.
Fortunately, because the Mustang uses fairly simple engineering and parts from the Ford bin, maintenance ought to be relatively cheap for such a high-performance car. That shouldn't matter too much, though, because the majority of the parts and ancillaries are tried and tested, with no major horror stories to date.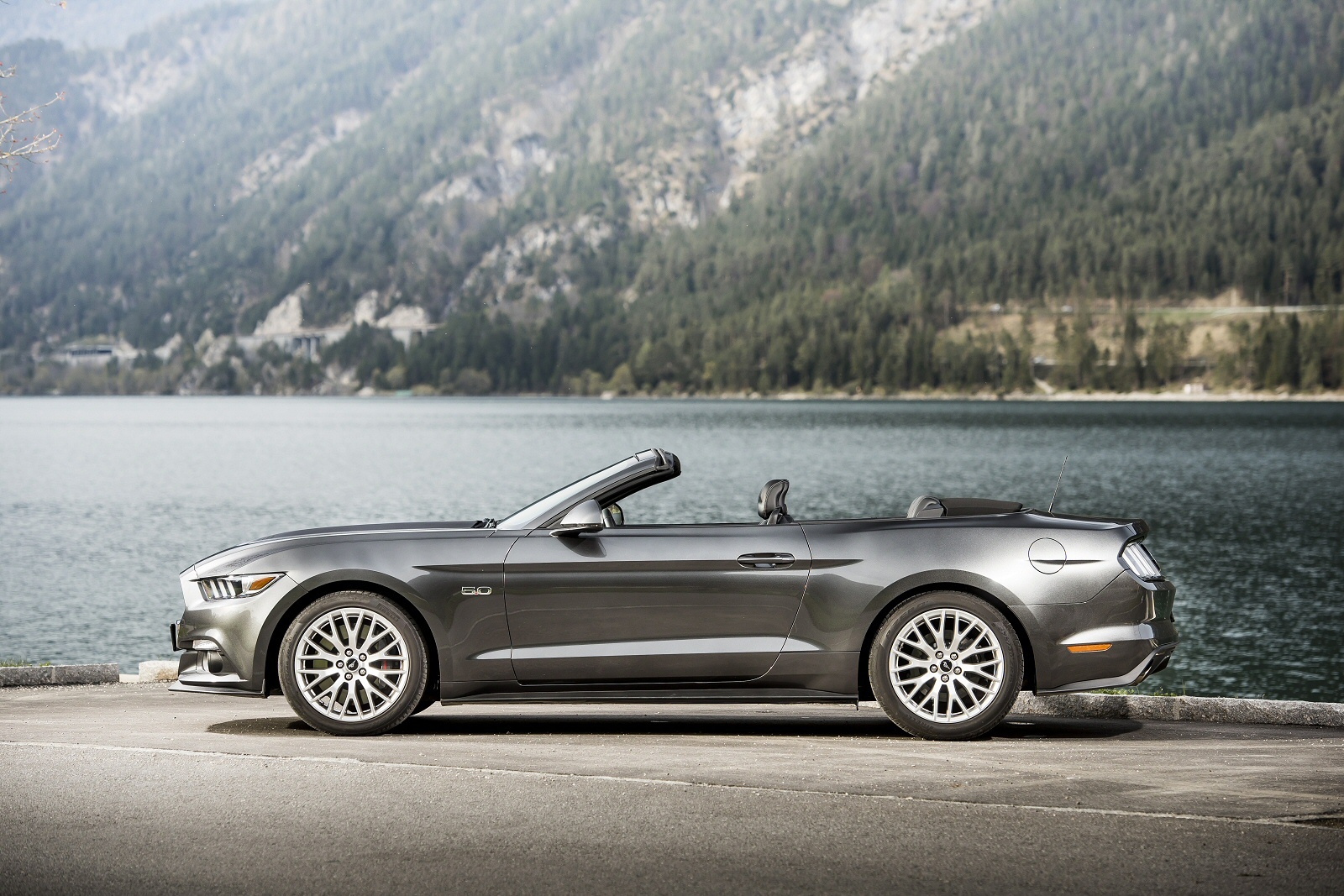 It may have taken Ford 50 years to take the plunge, but the Blue Oval is finally selling Mustangs in Britain. We can't wait to get behind the wheel of this convertible version. Without a roof, the 5.0-litre V8 should sound just great, but Ford says it has tuned the alternative 2.3-litre EcoBoost engine to make nearly as potent a noise.
What that smaller engine will do is make the option of Mustang ownership available to more people. With a folding roof, a 5.8-second sprint to 62mph and almost acceptable fuel economy, this variant could well be a hit. After all, there aren't many ways of getting this much heritage and this much drama on to your driveway for this kind of budget. Go on: try one.
THE FACTS
Model: Ford Mustang Convertible – Preview
Price: From around £34,000
Engine: 2.3-litre EcoBoost unit or 5.0-litre V8
Performance: 0-62mph in 4.8 seconds (5.0-litre V8)
Economy: 20.8mpg combined (5.0-litre V8)
CO2 rating: 306g/km (5.0-litre V8)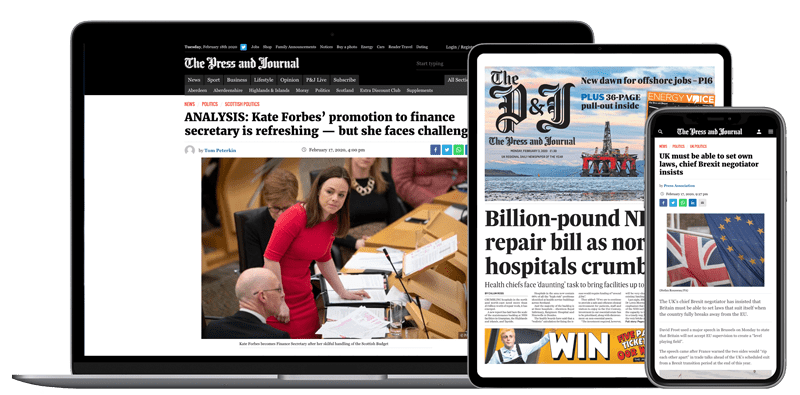 Help support quality local journalism … become a digital subscriber to The Press and Journal
For as little as £5.99 a month you can access all of our content, including Premium articles.
Subscribe