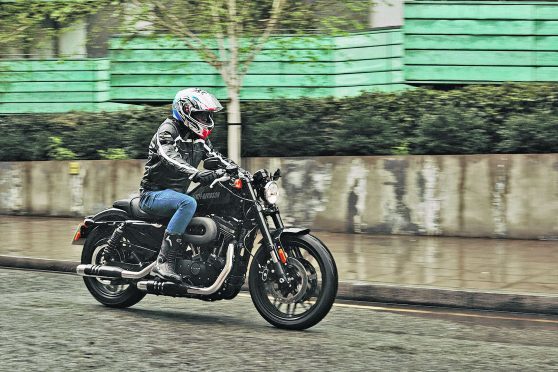 The biking world has gotten itself caught up in the retro-styled bike scene.
There have been some stunning all-new classic custom-style bikes from all quarters over the past 12 months. But try not to forget that Harley-Davidson has been doing it for years. The brand is tailor-made for this brave new old world.
Take the Forty-Eight, add £20, swap the seat and raise it by 75mm, lower the bars, shift the footpegs backwards, retune the engine, change the suspension and wheels and you get the new Roadster. Look at it. Bask in its beauty.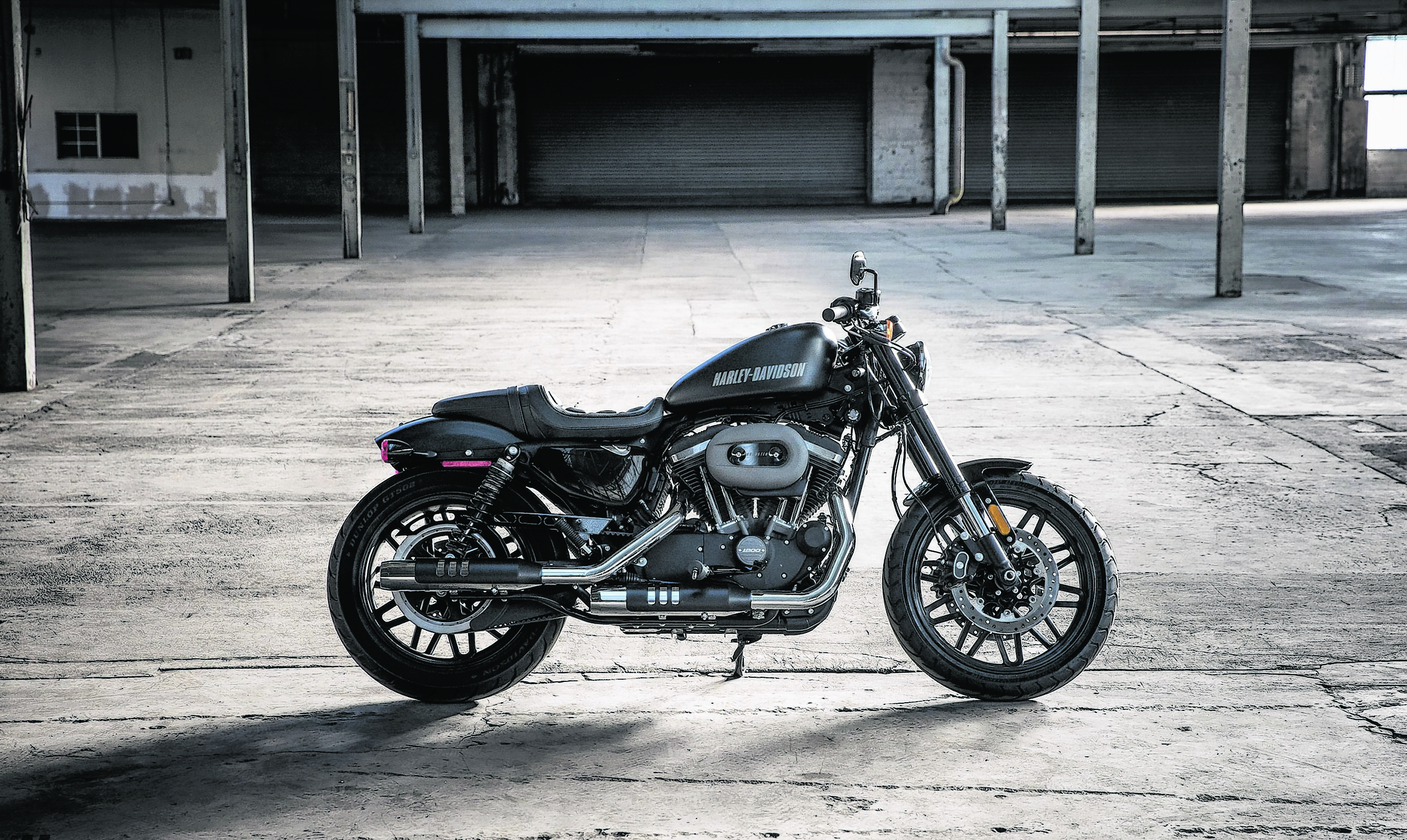 It's a new Dark Custom series machine, stripped almost back to basics to give a fashionable, minimalist look – and a blank canvas for modifications. After all, most Harley riders make changes, even if it's just clear indicator lenses.
Longer rear springs help tilt the bike forward slightly versus the Forty-Eight, while lower bars invite a bit of weight through your wrists. With footpegs pulled back a long way from their positions on the older bike, the Roadster has a much sportier, more aggressive stance. It's a bike built for the open road more than the city.
It looks good, though. The proportions, built around 18 and 19-inch black wheels, are spot-on. That thumping V-twin dominates the centre of the bike beneath the enlarged fuel tank that's good for 100 miles or more. Then there's the solo seat, with separate blocks of padding and perforated leather for an after-market look.
It has proper attitude. Matt black is this bike's friend, but gloss black, red and grey are on offer too.
New twin disc brakes do the stopping at the front (and look awesome at the end of the inverted 43mm 'premium' forks). They're fitted with ABS, too; a system that also extends to the rear brake. An automatically-activating alarm does the business as standard.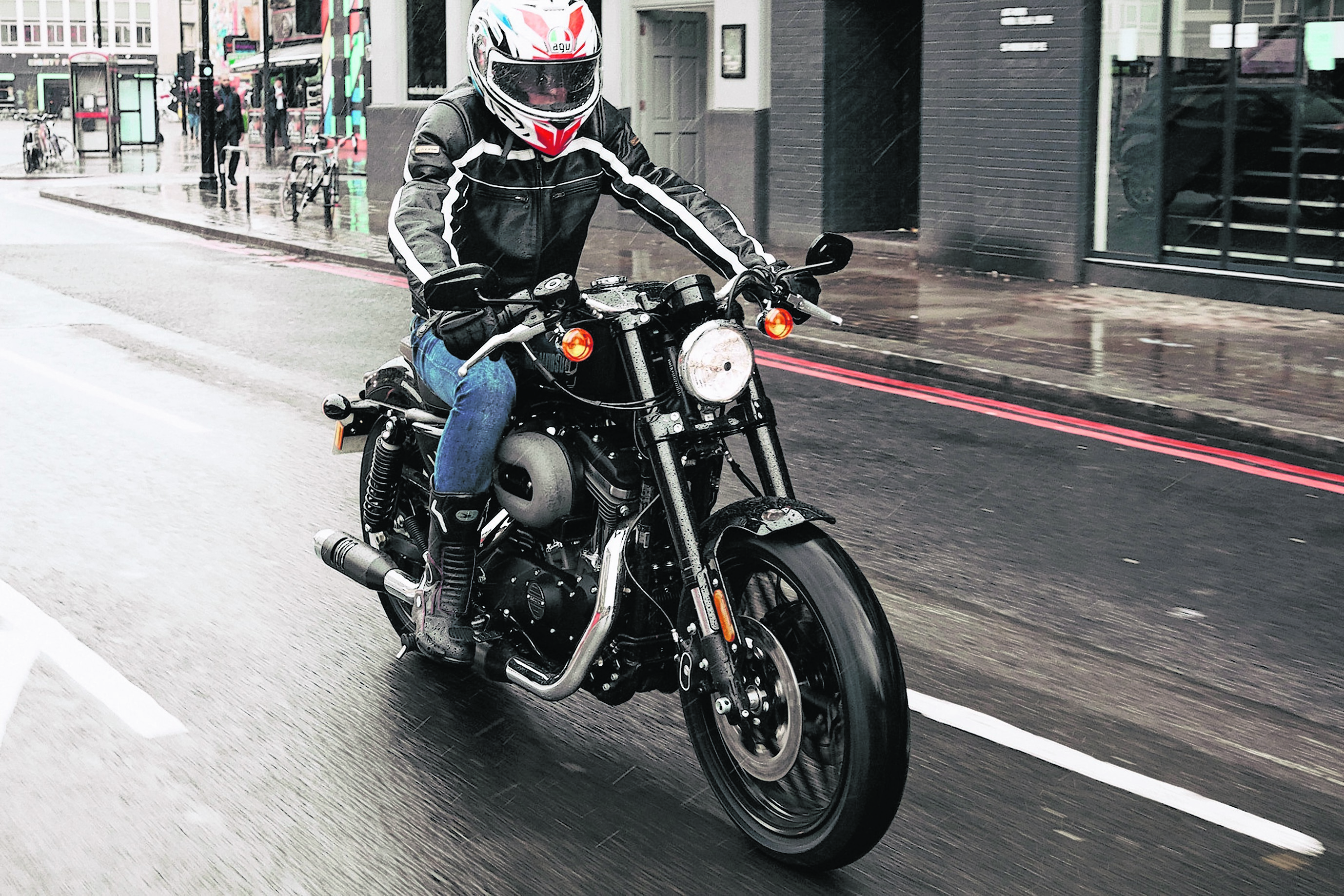 One thing you can do on the Roadster that you can't on too many other Harleys is lean properly. You've got to get it cranked over pretty hard to hit the hero blobs. A steeper rake angle and a narrower front tyre give it an agile, easy feeling at the front, and while wet London roads limited my fun, it seems pretty stable when you change direction quickly.
The retuned Evolution engine pulls hard through the slightly lowered gears. It's no Screamin' Eagle but pile a few revs on and the torque dispatches speed limits easily. Peak torque is at 4,250rpm – 750rpm higher than on the Forty-Eight.
There's a bit more audible induction noise on the Roadster, too, which adds character. The weighty clutch is a bore in heavy traffic, but neutral comes easily and it's good to know you're on a big bike. I don't think I'd change it.
The peg positions are a bit annoying, though. They're right in line with where you put your feet down, so your boots are forever tangling with them at traffic lights. You have to step down way out from the bike to avoid the pegs. As for another niggle, the digital speed readout is pretty low-contrast and is quite hard to read at a quick glance.
Filtering and scratching around town are all well and good. The Roadster will do it, and it'll be egging you on to be a little bit naughty while you're at it. But where it comes into its own is leaving the suburbs.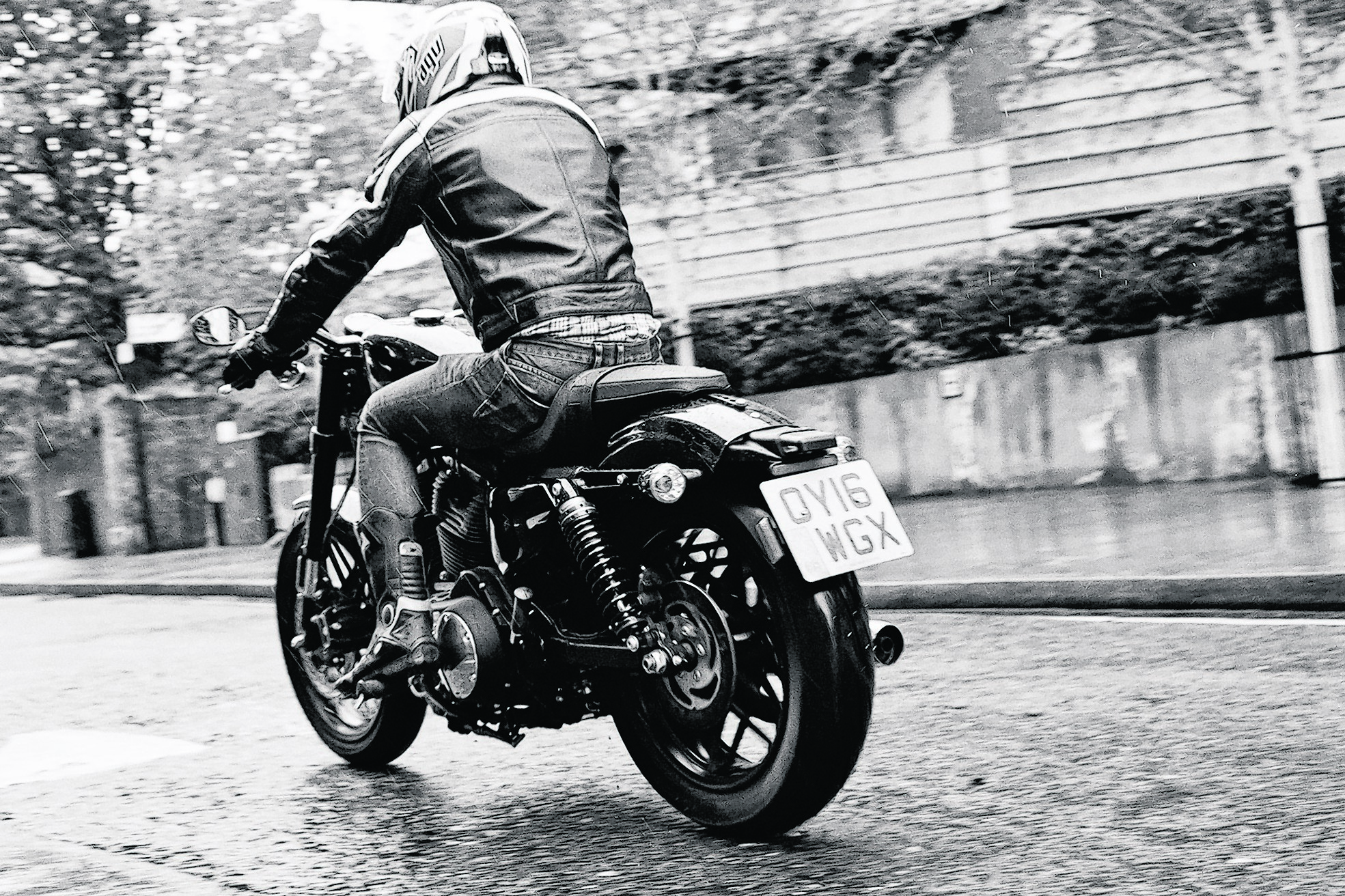 If you can find some space for both you and the bike to breathe, the riding position comes into its own at the first set of bends. It has poise and intent about it, braking with noticeably more force than the sister bike and feeling more natural cutting a line through corners at greater speeds. For as long as your modest fuel supply lasts the bike will keep on impressing, corner after corner.
It's amazing what a few parts changes can do to a bike. That's an observation on the Roadster versus the Forty-Eight, but it's also an ethos Harley is encouraging with the Dark Custom series.
The Roadster finds an impressive chunk of middle ground, moving well into mainstream bike territory with the revised geometry and the oh-so-right styling without sacrificing any of what makes
it a Harley-Davidson. Plus it won't depreciate much. It's a sound buy, and a sounder bike.
THE FACTS
Model: Harley-Davidson Roadster
Price: From £9,695
Engine: 1,202cc V-twin producing circa 110bhp @ circa 5,500rpm and 71.5lb/ft @ 4,250rpm
Transmission: Five-speed sequential manual gearbox, chain drive
Weight (wet): 259kg
Seat height: 785mm
Fuel capacity: 12.5 litres