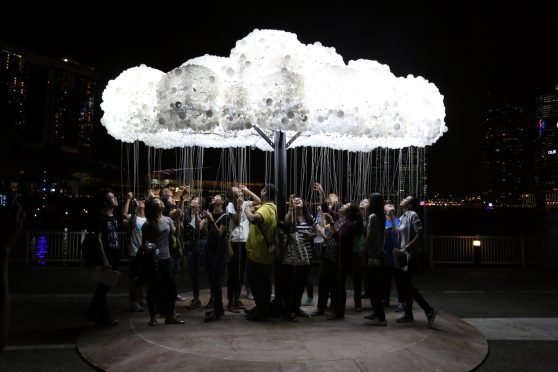 A new outdoor stage for live Aberdeen bands, musicians and Djs will be added to the city's festival of light next year, it has been announced.
Music-lovers will have the chance to watch local acts from the bandstand on the St Nicholas centre rooftop as part of the council's award winning Spectra festival.
Combined with light shows it will take the festival into the night with after-hours acts.
The new addition is a collaboration between Spectra and True North, Aberdeen's festival of music and song, created and programmed by Aberdeen Performing Arts (APA).
Councillor Marie Boulton, council deputy leader, said: "Year on year we have seen new innovations, the festival is constantly evolving, and this collaboration with True North is just another example of this.
"The live music on the St Nicholas rooftop, combined with the after-hours programme of DJs and VJs, will bring a fresh dynamic and draw a new audience to Spectra.
"Aberdeen is undergoing great transformation right now, with significant development linked to our city centre masterplan, and those physical changes are central to our ambitions for the future.
"Providing events that bring these spaces, new and old, to life is just as important and Spectra is a wonderful example of that in action."
Running for four nights from February 9-12 , the festival will celebrate the Scottish Year of History, Heritage and Archaeology by exploring Aberdeen's past through this year's theme of "a new light".
Bringing together leading international artists with established Scottish collaborators, Spectra will be animating Union Terrace Gardens, the Kirk of St Nicholas and Marischal College.
The 2016 event was named Scottish Festival of the Year and organisers aim to build on that success when it returns in February.
Highlights next year will include Caitlind r.c. Brown and Wayne Garrett's internationally renowned cloud sculpture, a tribute to Scotland's most ubiquitous invention – the incandescent lightbulb.
Dustin McDonald, chairman of the Aberdeen city centre community council, said the devil would be in the detail with the proposals.
He said: "I could see problems if it continues very long into the night but it is good to see something new coming to Spectra which really is a fantastic festival."