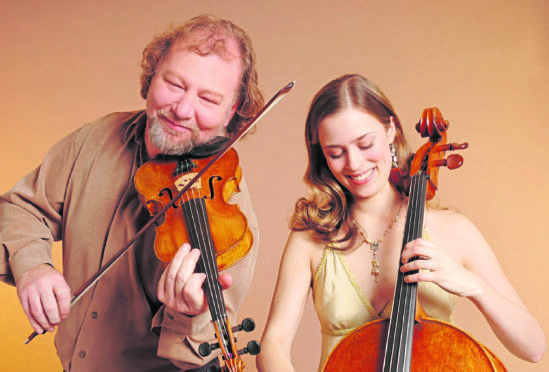 From small beginnings, the Hebridean Celtic Festival has grown to become a hugely successful international multi award-winning event, which doubles the population of Stornoway to around 16,000 over the four days it takes place.
Now in full swing, there's an excellent line-up of acts and entertainment to be enjoyed from now until the festival reluctantly draws to a close on Saturday evening.
Among those feeling on the crest of a wave about taking part in the event affectionately known as HebCelt, are Tide Lines, fronted by lead singer Robert Robertson.
He says the more he travels the more he feels at home.
Having established a burgeoning fan base in Scotland, Robert's band, who play the main stage tomorrow night, are now winning new followers in Europe having ended last year playing to audiences in Germany, France and Switzerland where he found, traditional Scottish music travels well.
"Audiences in Europe are great fun", said Robert. "Countries like Germany and Switzerland in particular have a real passion for Scottish music and turn out in their thousands to hear bands from the Highlands like ourselves.
"It's amazing to be so far from home and play in front of an audience that is so keen on Highland music, particularly the Gaelic songs," said Robert who was named Gaelic Singer of the Year at the Trad Awards last year. He was frontman with supergroup Skipinnish until 2016, when he left with multi-instrumentalist Ross Wilson to form Tide Lines with Alasdair Turner (guitar & bagpipes) and Fergus Munro (drums).
The band made a stunning debut at HebCelt last year.
"We did a lovely gig in Breasclete Hall and then a slot on the Islands Stage on the Thursday night. Two very different gigs but both really enjoyable," he said.
"This year, we're on the Main Stage on the Friday, so we're really looking forward to that."
The audience will be among the first to hear some new material the band have been working on, he revealed:
"We've got a fair bit of new stuff in the pipeline, but no concrete plans to get anything recorded as yet. We'll maybe be introducing one or two new ones into our live sets, as gigs like HebCelt will be a good test to see how they're going down."
Headline acts at the festival include Deacon Blue, Eddi Reader, Skipinnish, Roddy Woomble and The Fratellis who will no doubt get fans singing along to their most famous hit, Chelsea Dagger which appeared on the band's first album 12 years ago.
Have The Fratellis ever played a live gig without singing Chelsea Dagger or is it the law that it has to be included?
"I think we've always played it and a couple of others from our first album", said band frontman and songwriter Jon Fratelli. "If it became a 'law' we would stop playing it out of a sense of rebelliousness.
"It would be a bit childish, not to mention rude, to ask people to pay money for a ticket for a show and then purposely not play songs that are well known, I can't really see the need for that. We throw in enough in the way of new songs to keep ourselves happy as well."
As well as earlier material, the band, who headline the main stage on Friday night, will showcase new material from their fifth album, In Your Own Sweet Time, which was released in March to critical acclaim.
One performer for whom HebCelt will be special is award-winning Scottish fiddler, Alasdair Fraser who was inducted into the Scottish Traditional Music Hall of Fame in 2011 and passes on his skills via fiddle schools in Scotland, the US, Spain and Australia which are fully booked each year.
Now based in California, he's back in Scotland to play HebCelt with his regular on-stage partner, renowned cellist Natalie Haas. The duo appear at An Lanntair arts centre in Stornoway tonight as part of the festival programme.
"It's been too long since I was in Stornoway and I am looking forward to continuing where we left off a few years back," said Alasdair.
"I am privileged to lead a life 'following the fiddle' and it will be a pleasure to play once again at An Lanntair."
For headline act, Roddy Woomble, this is his third visit to the festival. Roddy, who lives in Mull, said: "I love the Outer Hebrides. Having a festival there is great.
"I enjoy the size of the event and the staff and the crowd are friendly. It's hard to fault.
"HebCelt is a great festival in a lovely town on a unique island. Both times I've played I've turned the journey into a holiday, hanging out for a while in Lewis and Harris. The weather was nice the first time too. Bonus.
"And the black pudding – excellent – and Stornoway has some great charity shops."
He's headlining as part of a solo tour and will also play a few gigs later in the year with the acoustic folk super group in which he features with Kris Drever and John McCusker. He's also recording a new album with Indie giants Idlewild and will be back on stage as the group's frontman when they tour in support of the new release next year.
Meanwhile, a Gaelic songwriter's love letter to her native Hebrides will be heard in public for the first time at the festival, Eilidh Mackenzie from Lewis was commissioned by HebCelt to write the new song as part of a suite of traditional music showcasing the island's musical heritage and young talent.
Eilidh, who comes from a family of Gaelic singers, is a former Royal National Mod Gold Medal winner. She has been tutoring Gaelic song for 25 years and in 2005 devised, co-wrote and produced the first ever Gaelic musical, Taigh Màiri Anndra, celebrating the life and work of American folklorist Margaret Fay Shaw.
Her new song called A Sheann Chaillich on Iar (Old Woman from the West) is written from the perspective of a young islander addressing the islands as an old woman.
"I suppose the theme is learning from what has gone before", said Eilidh. "The Outer Hebrides are portrayed as an old woman, a symbol of generations past with several direct references to specific songs from different islands tying in with a theme of pride in place through a modern perspective.
"I got the idea from a satellite photo I had years ago. I always thought the islands, with the light reflecting off the sand on one coast, looked like the profile of an old woman, beannag (headscarf) and all.
"It was just lovely to be asked to do this. I was brought up in Gress in Lewis and the song is really just my love letter to the islands."
Here, we've just scratched the surface of what this hugely impressive festival has to offer fans. In addition to the main arena there are late-night shows, ceilidhs, community events and an arts centre programme.
For full details of the festival, which runs until Saturday, July 21, visit www.hebceltfest.com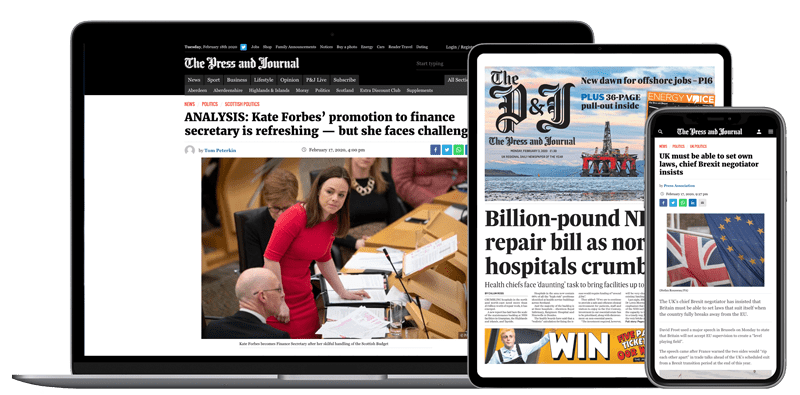 Help support quality local journalism … become a digital subscriber to The Press and Journal
For as little as £5.99 a month you can access all of our content, including Premium articles.
Subscribe