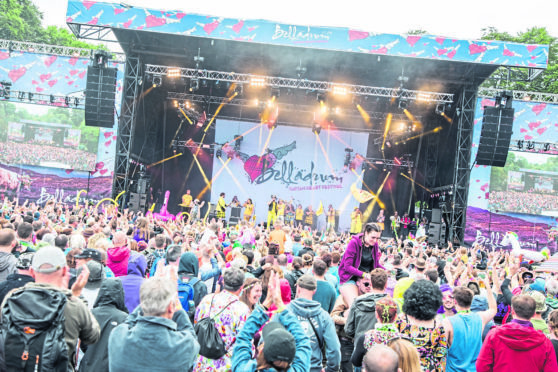 Excitement is mounting as the countdown to the sell-out Belladrum Tartan Heart Festival gets under way – but it's not just music stars the fans will be able to enjoy.
One popular attraction is the tented Verb Garden, which this year is sponsored by the Press and Journal.
For the last three years, Hamish MacDoanld, a well known Inverness-based poet and playwright whose works include Factor 9, which he wrote about the contaminated blood scandal of the 1970s and 80s, has been involved in putting together the programme.
Once again he has come up with an eclectic mix of films, talks, poetry sessions, and one-to-one interviews.
"Events start at 5pm on Thursday with a whisky tasting and talk with Tomatin Distillery, one of three whisky tastings take place over the festival," said Hamish.
"This is followed by Stuart A Paterson, Radio Scotland's Poet in Residence for 2017-2018 . He'll be very entertaining and performing a range of contemporary, inventive, timely and humorous verse.
"Irish poet, Aoife Lyall, who lives in Inverness and runs the Ness Book Fest, then presents a half hour set and this is followed by thought-provoking film by Sarah Woodcock, called, Becoming."
Produced by Cold North Productions, a new film production company based in the Highlands, the film was made on a shoestring budget and shot entirely in the Highlands.
The film is an eery and beautifully captured story of a woman's self-discovery while the soundtrack comes from multi-award winning sound designer and musician, Keith Duncan.
From the Scottish Highlands, the focus then moves to China…
"We have Eugenie Vronskaya talking about Shura Shihwarg, who was born in Russia and brought up and educated in China," said Hamish.
"At the age of 95 he had his book of poetry, Mirror published, He's led an extraordinary life, and was married to actress Joan Wyndham who was posted to Inverness during World War II. "Eugine will present footage she's shot of Shura reading his poetry and talking about his life."
Thursday's events will draw to a close with the singalong screening of a movie everyone wants, Grease starring John Travolta and Olivia Newton-John.
Look out for further details of what's on in the Verb Garden in future editions of the Press and Journal.