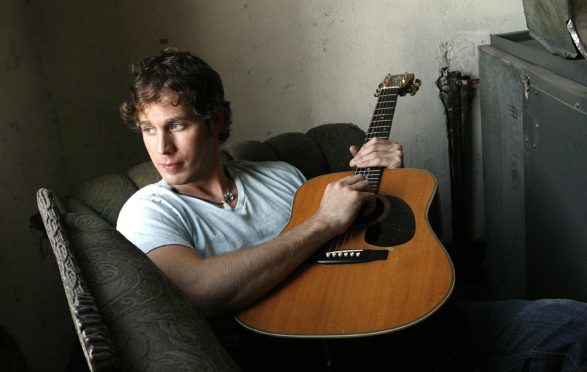 Dougie Burns saw, On the Road and in the Round, at Eden Court, Inverness.
A little bit of Nashville came to Inverness last night via, On the Road and In the Round, a fantastic show featuring three talented 'Americana' artists: Laura Oakes, Jesse Terry and Michael Logen.
The show's format follows the Nashville tradition of gigs referred to as 'in the round' and consists of three songwriters sitting side by side on stage, each taking turns each to sing a song.
First up in the round, was Jesse Terry, a resident of New England and graduate of the famous Berklee College of Music in Boston.
With five albums to draw on, his songs, as would be expected from a Nashville songwriter, were instantly relate-able.
Laura Oakes was up next.
She's the only UK artist on this tour, and a replacement for Lizanne Knot who had to drop out for medical reasons.
A two-time winner of the British Country Music Association Female Vocalists Award and a regular at many top-flight festivals.
She held her own next to these seasoned Nashville songwriters.
Her numbers included the autobiographical, Nashville Stole Your Girl and the beautiful, Learn to be Lonely Again.
Her song, Old Ghosts, even managed a superb Ghostbusters reference.
Last but not least, was Nashville-based, Grammy nominated Michael Logen whose songs have featured on many US TV shows such as, Nashville and Suits.
His performance reminded me of Jason Isbell, and his song about a fading relationship and denial that it's happening, Can't say Goodbye, was very much in the Isbell style.
This was a masterclass by three talented artists.
For me, standout moments included hearing the new song, Crying Over Boys written by Laura just last week which was sublime and really highlighted her vocal skills.
Bringing things to a fantastic end was the encore which included an impromptu un-amplified version of the Johnny Cash classic, Ring of Fire, led by Jesse Terry, accompanied by the other singers sitting on the edge of the stage.
A fantastic night out.
On the Road and In The Round is at The Lemon Tree, Aberdeen on Thursday, October 18.