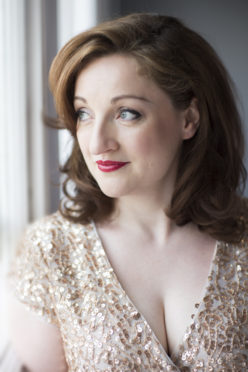 Susan Welsh saw the RSNO Viennese Gala at Eden Court Theatre.
Having already completed a six concert tour of China this year, The Royal Scottish National Orchestra (RSNO) made their UK debut for 2019 in front of a packed Eden Court Theatre last night.
The 70-strong orchestra and its charismatic conductor, Stephen Bell, showed no signs of jet lag as they musically transported the audience from Inverness to Vienna, the city of dreams and fabulous music.
And what a fabulous journey it was…
Scotland should be proud to have an orchestra of this calibre, packed full of talented musicians who play music that has the power to alter your mood and at times, make you blink back tears.
The opening number, Franz Von Suppe's Overture: Morning, Noon and Night in Vienna set the tone nicely, and allowed different sections of the orchestra to showcase their skills.
No mention of Vienna would be complete without music from the Strauss family and Johann, Joseph, Edward all had their moment in the spotlight.
Soprano Ailish Tynan was on sparkling form, and while my lack of German meant I wasn't up to speed with the words of some of the songs she sang, her beautifully expressive face left us in no doubt of her feelings.
As for Stephen Bell, well he's much more than a conductor.
He's a real showman/entertainer, and as we discovered last night, a collector of humorous anecdotes and jokes.
Every member of the audience will have their favourite, but for me, standout pieces in the first half included Tyanan's Laughing Song from Die Fledermous; Emile Waldteufel's Spanish-style Estudiantina Waltz and Emmerich Kalman's overture from Grafin Mariza.
After an interval during which the audience was buzzing with anticipation for the second half, we were treated to that jolly tune, the entrance march from the Gypsy Baron.
The instantly recognisable, Pizzicato Polka by Johann II and Joseph Strauss was sublime while a rousing version of, On the Beautiful Blue Danube, made me wish someone would invite me to waltz.
A well deserved encore demanded the return of the orchestra and Tynan for one more tune, and they happily obliged.
An outstanding orchestra flying the flag for Scotland across the world and delivering world-class music to home grown audiences at the same time.
Who could ask for anything more?