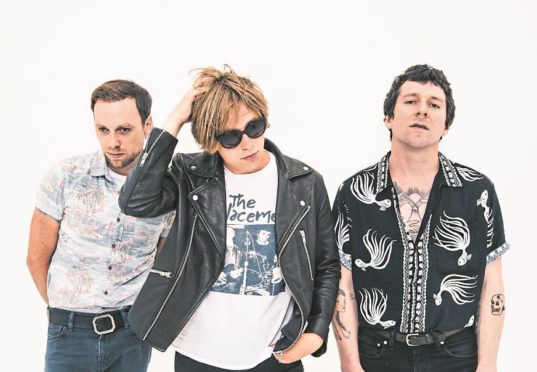 Having supported some of the biggest names in current indie rock music, you've probably already heard of The Xcerts.
But if you haven't, Murray Macleod, 30, Jordan Smith, 30, and Tom Heron, 32, originally formed the band in the Granite City 15 years ago.
The home-grown group have released four studio albums including their latest, Hold On To Your Heart.
Although they have since relocated to Brighton, the band are back in the north-east for one weekend only performing two shows at the ever-popular BrewDog AGM.
You formed the band in Aberdeen, but where did you meet?
It was myself [Murray] and Jordan who started the band when we were 14.
I was in another band at the time and had a bit of a dramatic moment just before Christmas where I kicked everyone out except myself because I didn't think they were good enough. Then Jordan happened to ask me at school lunch time how the band was going.
Obviously I was in need of a few members at this point and he told me he played the bass, so I said he should come along to practice with me after the holidays. I found out later that actually he couldn't play bass. He did ask for a bass guitar for Christmas that year though and picked it up fast.
That was more than 15 years ago now, how have things changed since then?
Since then we've just been trying to perfect our craft really. When you're a teenager you don't really think about the specifics of a song but as you grow older you begin to think more about the various intricacies which go into writing music. I think our sound has become more honed and we have definitely become better musicians.
That happens with time in any profession I guess, you grow into it. Having a bit of life experience has also made a difference. We used to make up heartbreak stories about the girls in school when we were 16 to give us something to write about. Things have changed a bit since then!
For people who haven't heard your music, who do you think you sound like?
Right now I'd compare us to what might happen if Tom Petty turned up to play at a wedding. At the moment we're going through quite an 80s influence, so listening to lots of Springsteen and the like. In terms of modern bands we've been compared to The 1975 and Biffy Clyro, both of which are very flattering for our egos.
Do you write all your own music?
Absolutely. There is no strict method for how we do it but everything is our own. Often I'll arrive to practice with a blueprint of a song and the others will take a look at it before we start working on it together.
In saying that though, sometimes we just start with a beat and go from there, or one of us will come in with something which is fully fledged and ready to go. It happens differently every time.
You've been touring with some well-known bands recently, how has that been?
Biffy Clyro was an acoustic tour so supporting them was totally different to our usual shows. It was oddly relaxing actually, not coming off stage feeling all sweaty. It felt a bit more grown up, we swapped whisky for wine on that tour.
You Me At Six was the total opposite – it was a complete riot and so much fun. But both of them are really great bands and made touring a joy. We got particularly close to the You Me At Six guys, they are so warm and friendly. By the end of the tour we all felt like brothers.
Are you looking forward to your own headline tour?
Yeah we are, although it's going to be a bit of a weird one. We are starting this tour by supporting Busted for a few dates which is going to be insane. We are going to be playing Wembley in front of 12,000 people then heading off on our own tour which is much smaller.
I think the night after Wembley we are playing in Leeds to a crowd of 300 – it's going to be so funny!
Will it be nice to come back to the Granite City for a few nights?
I'm really looking forward to it actually. We live in Brighton but do try to get back up to Aberdeen as often as we can to visit friends and family here. I can't wait to see some friends that I've not hung out with for a while. No doubt a few of them will try and get me to blag tickets to the AGM for them.
The Xcerts are playing at the Brewdog AGM this weekend on Saturday March 6 and Sunday March 7. For more details, see www.brewdog.com/agm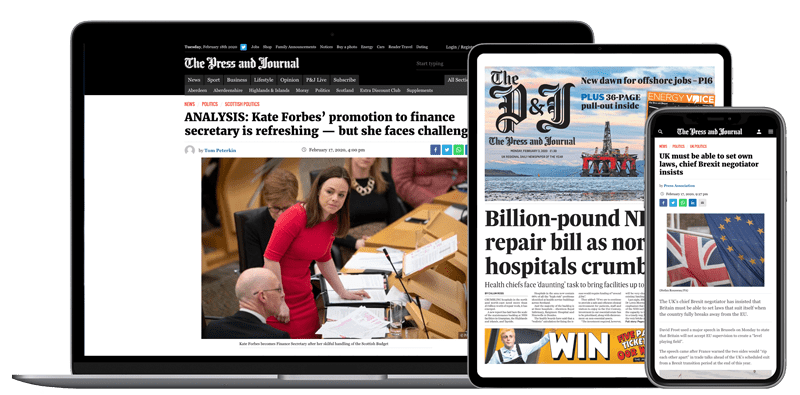 Help support quality local journalism … become a digital subscriber to The Press and Journal
For as little as £5.99 a month you can access all of our content, including Premium articles.
Subscribe