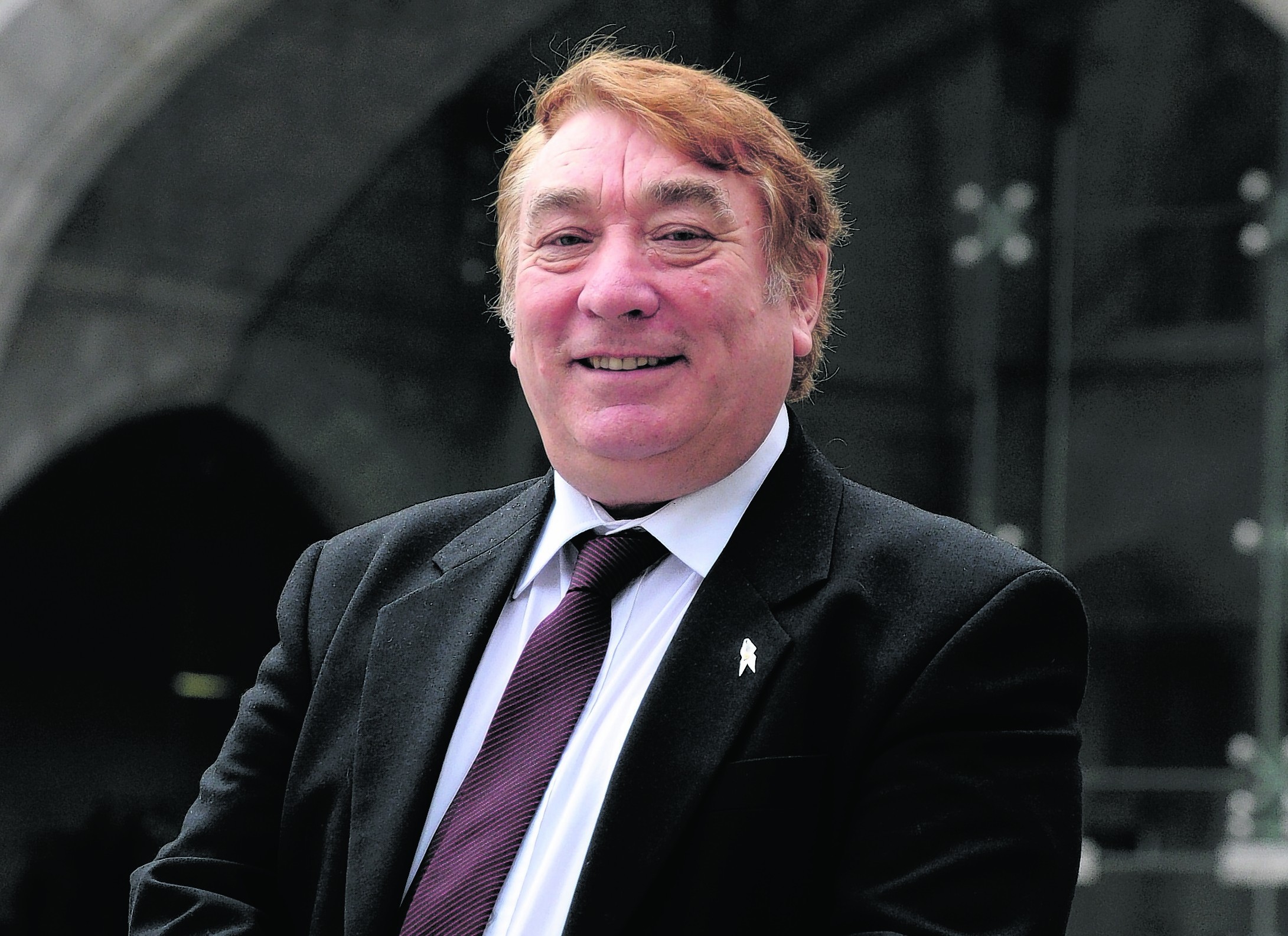 When he's not steeped in local-government politics in Aberdeen, Councillor Len Ironside CBE is chairman of the Granite City Chorus (GCC). Mr Ironside tells Andrew Youngson about his love of singing, and the current plans to celebrate the all-male chorus in its 25th year
WHAT'S THE MAIN AIM BEHIND THE GCC?
It's really to encourage men to sing. We sing in four-part harmony, which is probably one of the most difficult things to learn to sing. Aside from that, the group is about the camaraderie and about promoting barbershop.
YOU'VE BEEN WITH THE GROUP
SINCE 2007. WHAT DREW YOU TO IT?
Well, there was an advert in the P&J, actually, offering a free six-week course to learn to sing. I enjoyed singing, but I knew I wasn't very good at it, so I wanted to see what it was all about. So I went along. Within the six weeks, we were singing two different songs in four-part harmony. After that, there was no obligation to carry on with the chorus, but my goodness, I was hooked right away because I just loved hearing the different harmonies, and also enjoyed the friendliness of the group.
HAD YOU SUNG MUCH BEFORE?
Mainly in the shower in the mornings (laughs). I had done little pieces here and there, such as in little shows, but nothing serious. But I really wanted to learn to sing properly – the mechanics of it – which I've since learned in the GCC.
WHAT POSITION DO YOU SING?
I'm a lead. There are four different positions in the chorus – the basses sing the foundation, the tenors sing the high parts, the leads sing the melody, and then there are the baritones who sing all the intricate notes. That together forms this brilliant wall of sound.
THERE ARE ABOUT 47 PEOPLE IN THE GCC AT PRESENT. WHAT IS THE SPREAD OF AGES AND PROFESSIONS IN THE GROUP?
There are totally mixed backgrounds – businessmen, teachers, painters, just everything you could think of. And in terms of the age spread, the youngest is about 25 and it goes right up to retirement age.
AND YOU'RE LED BY MUSICAL DIRECTOR COLIN REID. WHAT'S HIS DIRECTING STYLE?
He's very particular, likes to get things absolutely right. He has a wealth of knowledge to back that up. So when he tells you something, you know it's going to work. He has been a tremendous support for the chorus and we're very glad to have him.
YOU COMPETE EACH YEAR IN THE ANNUAL BARBERSHOP CONVENTION. IS THAT NERVE-RACKING?
It is, actually, because the standard is very high. Certainly in the middle and south of England there are a lot of barbershop choruses, and they also have bigger catchment areas – some of them have over 100 members. But we were fortunate to come top of our group last year, which was great.
THIS IS THE 25TH ANNIVERSARY OF THE GROUP. WHAT ARE YOU DOING TO CELEBRATE?
We're doing a number of sing-outs throughout the year, such as for the NHS and voluntary sector, and we also raise money for charity such as Marie Curie and UCAN, so that will continue. But this year, it's all about promoting the chorus in as bold a way as we can because of this special anniversary.
YOU'RE COMPETING IN SPAIN THIS EASTER, AREN'T YOU?
Yes, that opportunity to sing in Spain came out of us competing in Harrogate last year. We came top of our group, so we thought: "let's give it a bash." There will be about 600 competitors out there, and we're excited to be taking this forward for Scotland.
AND YOU'LL BE RELEASING A CD IN EARLY SUMMER, AND THEN PERFORMING A BIG SHOW AT THE TIVOLI
IN NOVEMBER. WHAT CAN YOU TELL ME ABOUT THE CONCERT?
We're going to put on our own show, a matinee performance at which we will ask people to join us. It will be a bit of fun for us to say "this is our 25th year, here's a great concert for you to come and see".
WHAT WOULD YOU SAY YOU ENJOY MOST ABOUT BEING IN THE GROUP?
First of all, I like the camaraderie of the chorus – there's a great friendship in there. We're one big family. But the icing on the cake for me is when we sing out to various groups, whether it's care homes or a concert, it's just great seeing the faces of people who enjoy what we do. We're giving enjoyment to people and they're loving it – that's a great gift.
To find out more, visit www.granitecitychorus.co.uk