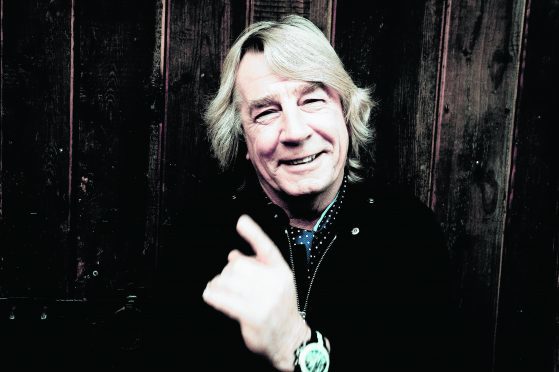 Martin Hutchinson caught up with guitarist Rick Parfitt before he and the rest of Status Quo head north to perform to their Granite City fans
Yes, it's that time of year again, that time when the mighty Status Quo take their unique brand of no-nonsense rock around
the country in their now traditional UK Winter Tour.
Following the success of their "Aquostic" tour earlier this year, Messrs Rossi, Parfitt, Bown, Edwards and Cave are going back to what they know best – classic rock'n'roll.
And guitarist Rick Parfitt couldn't be happier, as he tells me.
"I found the acoustic tour a refreshing change to go out of your comfort zone. I really enjoyed it, but I am pleased to be going back to the rock side.
"I do like it loud and vibrant and I wouldn't be opposed to doing another such tour, but I wouldn't want to do it full-time. It frightened me a bit."
Speaking on the day the band got back together to rehearse for the forthcoming tour, Rick says that everything is good in the camp.
"Yes, it was nice to see everyone today, we've had a few weeks apart and all of us have loads of stories to catch up on."
Despite their seemingly endless touring schedule, he insists that the band do need to rehearse.
"Absolutely, we still need to warm the engines up as it were. It was a bit rough, but by the tour we should be up to full power."
The band have had major success since their 1968 hit Pictures of Matchstick Men; and throughout the subsequent decades they have had spectacular hits with the likes of Caroline, Roll Over Lay Down, In The Army Now and Down Down to name but four.
Add to that a host of chart-topping albums such as Hello, Quo and Blue For You PLUS over 100 appearances on Top of the Pops – more than any other act – it is apparent that Status Quo have always been a hard-working band.
But that success came at a price, as Rick knows only too well. After a quadruple heart bypass some years ago, he had another scare a couple of years ago when he had a second heart attack in Croatia.
"Yeah, I've had a couple of wake-up calls. The second attack came as a bolt from the blue, but I finally saw the light." Rick explains.
"My heart surgeon told me that I needed to stop smoking and drinking and from that day I haven't. I've lost a load of weight and I feel much
better.
"In fact," he laughs, "I haven't been on an operating table for six weeks."
And he's not kidding.
"No, I've had to have an operation on my left shoulder as all the tendons were mashed. I've been having physio and have crammed six months' recovery into six weeks.
"It's still painful, but at least I can play."
As for the forthcoming dates, it'll be a full-on hit-fest.
"We considered an acoustic spot, but the logistics are astounding. The stage is set up for a rock set and acoustic is a totally different animal, and for us the sound is everything, so we won't be doing that.
"There are a couple of things that we're putting in that we haven't played for a while, but I don't want to say what they are as we like to
surprise people."
As for Quo's longevity and popularity, the blond guitarist is in
no doubt as to why the band have remained such a popular live
attraction and have lasted so many years.
"Pleasing the audience is what it's all about and we go head over heels to do that. The energy levels may not quite be there all the time, but we all give it everything and on a good night it still rocks.
"Plus we have honest fans and they'll always let us know what they think, and with us, it's 'what you see is what you get', we do what it says on the tin. They're very special our fans."
With such a colossal output over almost 50 years, Rick does have a favourite album.
"I'm always tempted to say the Hello album. We just sat there and vibed. We upped the ante on that one, really cranked it up."
And then there was the Bula Quo movie.
"You go as far as calling it a movie?" Rick laughs.
"I'm flattered. I think it's the second worst film I have ever seen. (It was the first until I saw Oh What a Whopper with Adam Faith).
"Actually, we all thought it was quite good when we were making it, but we didn't see the finished film until the premiere and I was a bit embarrassed when we saw it.
"It's a joke," he says simply.
Not content to rest on his laurels, Rick would like to do more recording.
"I'd like to do another out-and-out rock album," he says.
"There are some songs knocking about; I have a couple of songs and Francis always has some ideas. I'd have to say that at the moment there are no plans to do one, but watch this space."
In the meantime, there is a new career retrospective comprising a multi CD and DVD package.
"Yes, I'm slightly annoyed that we had no input whatsoever, but fingers crossed that it'll do alright."
And for the future?
"We have a lot planned for next year with a couple of tours of maybe Europe and Australia as well as the odd festival in the UK. But
I'm not exactly sure what and when.
"But we like to keep busy."
The Accept No Substitute UK tour visits the AECC GE Oil & Gas Arena, Aberdeen, on Wednesday, December 2. Tickets are priced at £39.50-£42.50 (plus booking fee) and are available from the Box Office and all the usual agencies.