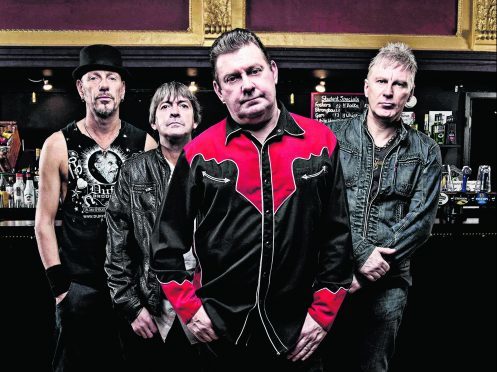 Seminal punk legends Stiff Little Fingers are undertaking a nationwide tour from February 25 to March 19, and one of the shows is destined to be saved for posterity, as their gig at Glasgow's Barrowlands is set to be recorded. Formed in Belfast in 1977, the band was at the forefront of the punk explosion. Martin Hutchinson talks to original frontman Jake Burns about the band
S THE BAND'S MUSIC STILL POLITICAL TODAY?
My songs today are political in a sense, in that they're about things that affect my life. It's also thanks to my sense of justice. If I see something that I think is unjust, it makes me angry enough to write about it.
HOW DID THE BAND GET ITS NAME?
Our first show was booked in a bar in Belfast, and we were known as The Fast, but then we discovered a New York band with the same name and for a time we couldn't decide on another name.
We were at (original rhythm guitarist) Henry Cluney's place where we did most of the deals as they had a phone, and the guy from the bar called as he wanted the name to put on the posters to promote the gig.
I just grabbed a Vibrators' album and ran my finger down the list of titles and stopped at Stiff Little Fingers.
Yeah, it was only meant to be our name until we could think of something better, but we got a really good review of the gig and we were sort of stuck with the name.
It's never been a name I've really liked.
IN 2014, THE BAND RELEASED NO GOING BACK, WHICH BROUGHT THEM RENEWED SUCCESS
We were very surprised at the album's success as it was a long time since we'd made a record, just over 10 years, in fact, and we didn't know what to expect. We recorded it through Pledge Music. where you ask your fans to fund the record as the role of a traditional record company has changed. In fact, when we approached EMI, our old label, they advised us that if we had access to the internet we could do it ourselves and be totally independent – they were great about it, really.
THERE COULD HAVE BEEN A PROBLEM GETTING THE MONEY TOGETHER?
That's right, if the fans say "no" you're kinda screwed, but we have great fans and we reached our target in 12 hours.
WILL YOU BE PLAYING THE NEW ALBUM?
We'll do a few from it, but generally what we try to do is a review of the band's career. The people come out to be entertained and not listen to an advert for a new record, so we'll play a lot of familiar songs.
WHICH SONG DEFINES THE BAND?
I guess Alternative Ulster, as we are connected so closely with the song. It's where we come from.
BUT DO YOU GET TIRED OF SINGING IT?
No. We hit lucky with it; it's a good song and I really enjoy playing it.
DO YOU ENJOY TOURING?
If anything, we enjoy it more these days. Before, it was all new and we didn't really stop to smell the roses, as it were. I mean, we were about 19 or 20, but now I'm 57 and we now know how to relax and enjoy it more.
ARE THERE ANY DRAWBACKS?
As we've got older, my stage nerves have got worse, because now I know everything that can go wrong at a gig.
AND THE PLUSES?
Well, just after the UK dates we are heading off to Australia for some shows. It's an incredible perk of the job; you get to travel the world and get paid for it.
IS THERE A SHOW YOU ARE PARTICULARLY LOOKING FORWARD TO?
Yeah, Glasgow is always a stand-out show and this year will be the 25th consecutive St Patrick's Night at the same venue.
We're gonna record it and film it for a DVD. I'll be twice as nervous.
Stiff Little Fingers will be appearing at The Garage, Aberdeen, on Monday, March 14. Tickets are available from www.ticketmaster.co.uk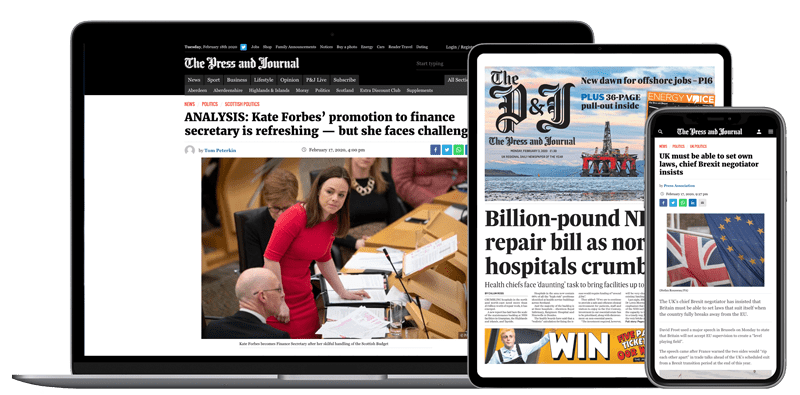 Help support quality local journalism … become a digital subscriber to The Press and Journal
For as little as £5.99 a month you can access all of our content, including Premium articles.
Subscribe