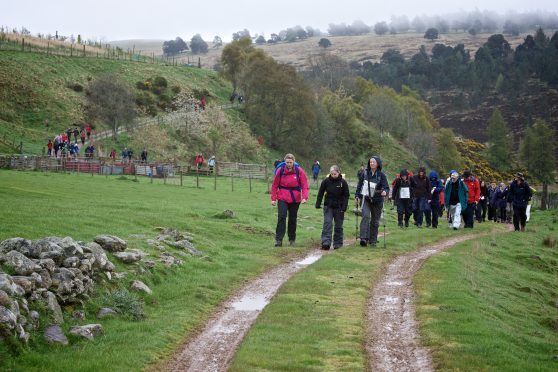 A north-east arts group is appealing for more walkers to take part in an annual pilgrimage through the local landscape.
The Deveron Projects' Slow Marathon will encourage participants to soak up the ever-changing landscape around Huntly under this year's "energised landscape" theme.
The 26-mile walk, now in its sixth year, will begin near the Correen Hills, Alford, and finish in Huntly.
The route was drawn up by local artist, Andrea Geile, who also came up with the theme.
Walkers will take in energy sources which have become features of the landscape, including former hydro schemes and modern wind turbines, as well as the likes of Pictish stone circles.
The Slow Marathon was started in 2012 by Ethiopian artist Mihret Kebede, who rallied the local community to clock up a total of 5,580-miles – the distance between her hometown of Addis and Huntly.
Last night project manager with the Deveron Project, Joss Allen, encouraged as many people as possible to come forward and take part in the Slow Marathon.
He said: "Each year is a different route but the route always ends up finishing in Huntly. It is now in its sixth year and so this year's route has been developed by a German artist living in Huntly, Andrea Geile.
"She is working on a project which is called energised landscape. It is looking at the Aberdeenshire landscape in terms of energy sources, and looking through history at the changes in the landscape.
"She has developed a route which takes in some of these things.
"We get quite a lot of people not from this area who take part and have never really experienced Aberdeenshire countryside at all and are really amazed by some of the places the routes take you through."
The walk will begin on the morning of Saturday, April 15, with participants meeting the night before to discuss the route.
Early bird tickets are available at a £10 discount by visiting
https://slow_marathon2017.eventbrite.co.uk
and using the code: WALKSLOW.