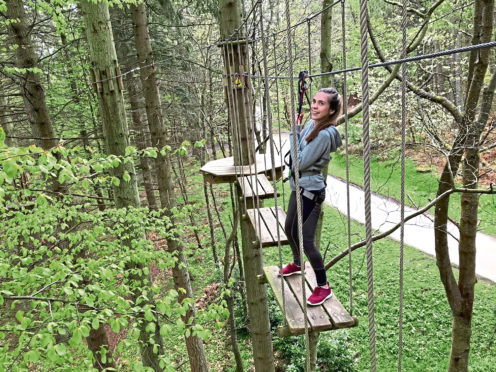 Picturesque forest walks are great.
There's no better way to spend an afternoon than meandering through some historic woodlands as sunlight dapples its way through the foliage above you.
Buzzards swoop in the distance as the sounds of the city melt into the background.
But if all that sounds a bit tame for you, how about taking your country walk 30 feet up?
Oh, and instead of a pleasant gravel path with a few sedate knolls here and there, let's add in a bit of excitement.
Daring crossings, suspended rope bridges, Tarzan swings and a zip line (or four) ought to do it.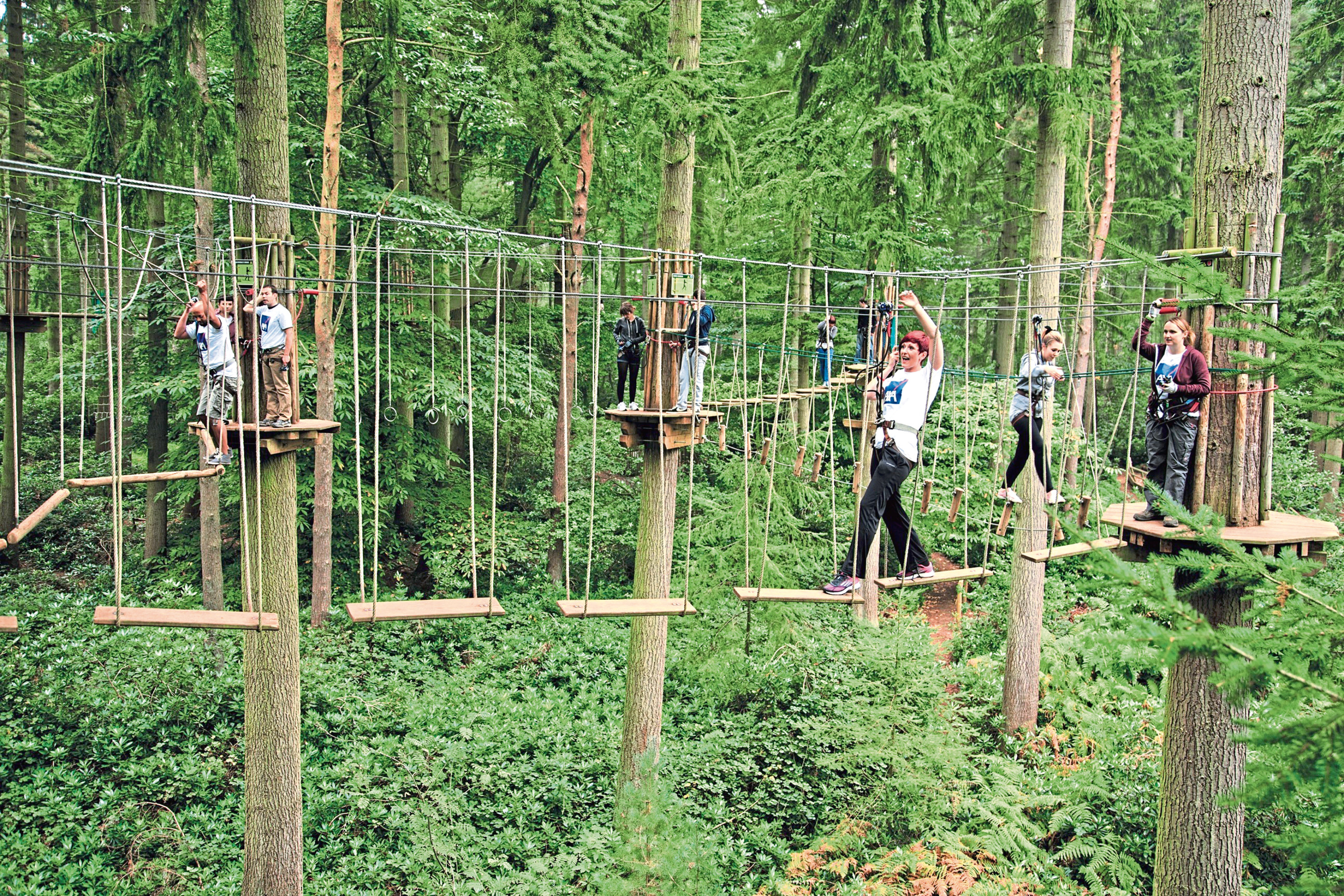 Sound more like it?
Then get ready to see your next country walk from a whole new angle at Go Ape.
Located in the peaceful grounds of Crathes Castle outside Banchory, this treetop assault course offers 592 metres of action designed to push your nerves to the limit.
After being harnessed up and taken through a full safety briefing (you are going to be leaping around in the canopy after all), the instructor wastes no time in challenging you with your first obstacle: a rope ladder.
Technically named the Apple Pickers Ladder, a series of vertical ropes and wooden stirrups allow your first ascent into the trees, (though note that sadly apples were not available for picking).
On the Go Ape rating scale that was "easy", and as I look down to the forest floor now some metres below me, I regret scoffing at anyone who professed a fear of heights during the safety briefing.
But onwards and upwards, literally.
A series of wooden bridges and swings see my distinctly ungraceful arrival at the next platform.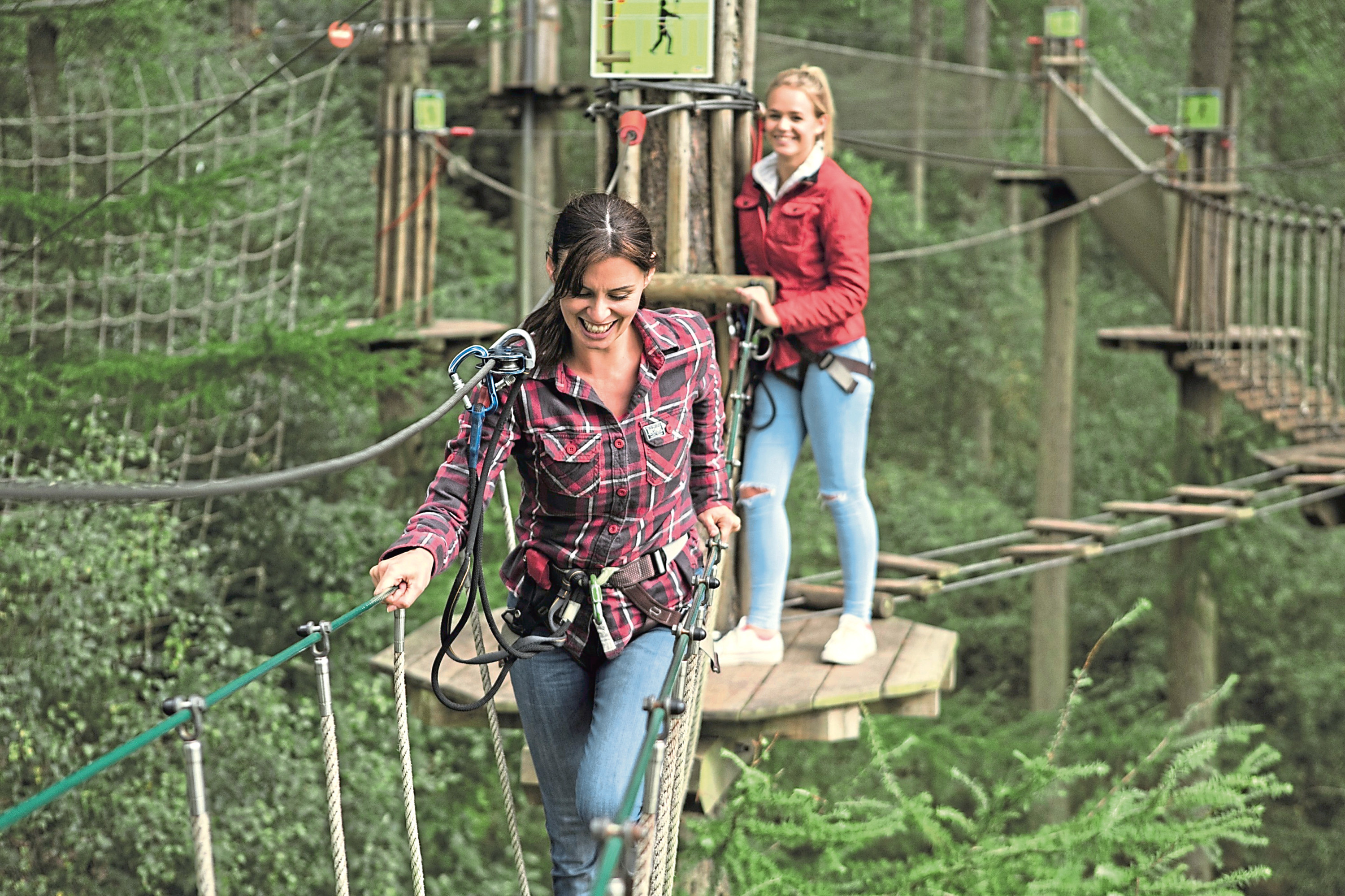 Now to channel my inner ape on the aptly named Tarzan swing.
Clipping my harness on to the safety karabiner, somehow it didn't seems like a good moment to bring up the fact that I have always been more of a Jane than a Tarzan.
Nevertheless, ignoring all basic human instincts, I leapt off the platform and swung through the air before crashing into a spider web made of rope.
The instructor congratulated me on making the jump before heading off back to the main cabin to help some more new arrivals.
Now we were on our own.
Gulp.
I padded over a springy wooden bridge to the next platform ready to face what came next.
It was a long zip line, but without any gradient to propel you to the next obstacle.
Instead, a long length of knotted rope was on hand to winch yourself across.
Some serious upper body strength is required so my arms were in for a real workout.
The whole course takes up to two hours to complete, burning anything up to 600 calories in the process.
And after winching myself across this particular obstacle, I could see why.
Clipping back on to the safety line, the next few obstacles felt like a breeze, until we arrived at what I had been waiting for: a zip line.
It was easily the longest zip line I'd ever had the opportunity to have a go at, stretching 125 metres from the tree-tops to the forest floor.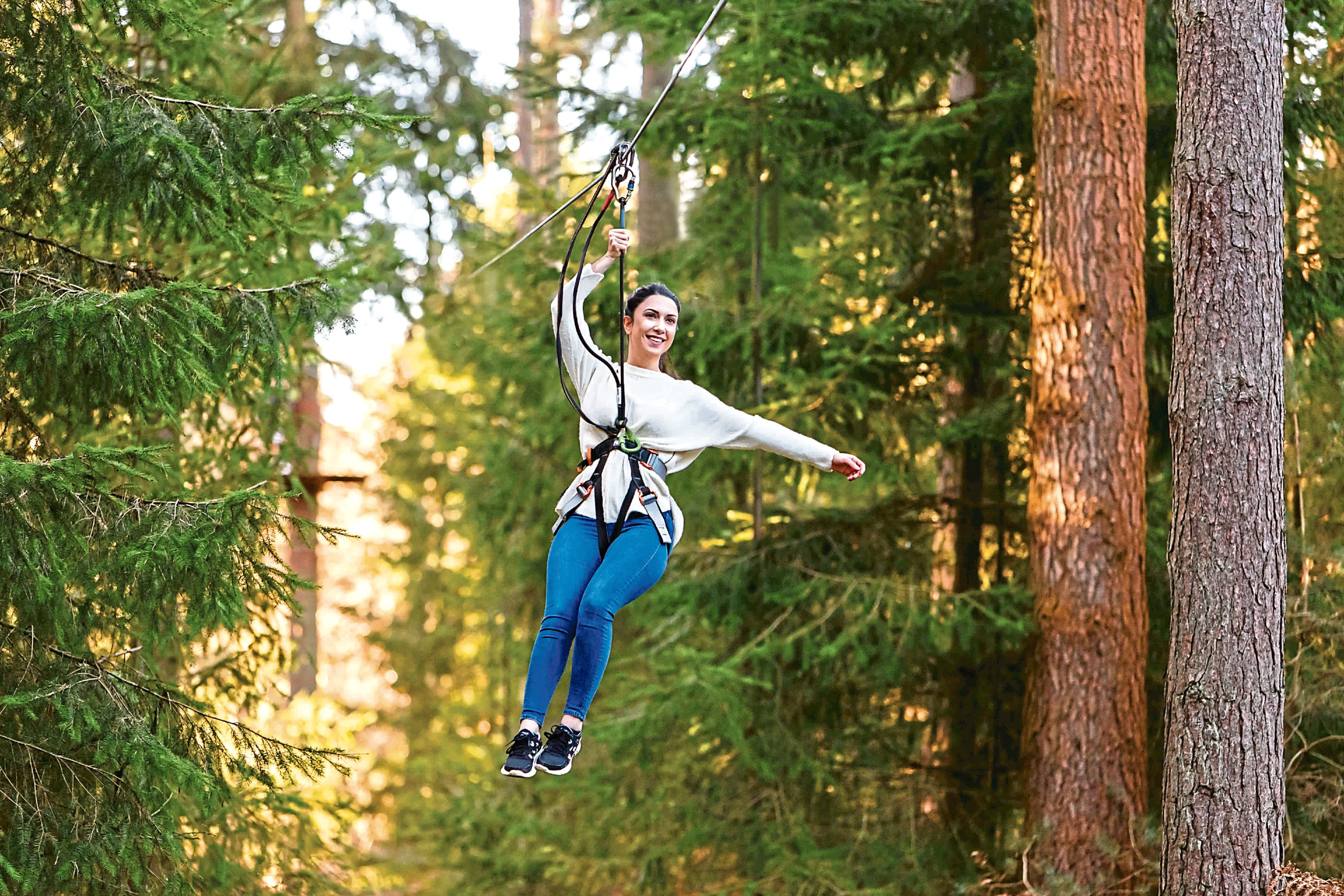 Grace and elegance hadn't exactly been my friends so far, but this was about to change.
I clipped on and leapt off the platform, whizzing through the trees with the wind ruffling my hair in a manner befitting a shampoo advert.
I had visions of a smooth and skilful landing, but as the speed of my descent increased, I decided I'd be satisfied just to land on my feet.
You can probably guess the outcome of my fanciful ideas, and with trousers now covered in bark, I slunk off to the next obstacle course hoping no one saw my disastrous landing.
About 45 minutes later we reached a crossroads.
Turn left for "easy" and right for "difficult".
Being foolhardy, adventurous souls we steered right to a course that was true to its rating and easily the most difficult out of anything conquered so far.
Swinging logs, suspended hula hoops and a long vertical rope crossing tested not only balance and sheer grit, but required the use of muscles I wasn't aware I had.
From there, the whole adventure ended on a high, or should I say, a high to a low: the final zip line.
After three previous attempts I had honed my skills, such as they were, and this time I delicately reached the ground with both feet firmly planted on the floor.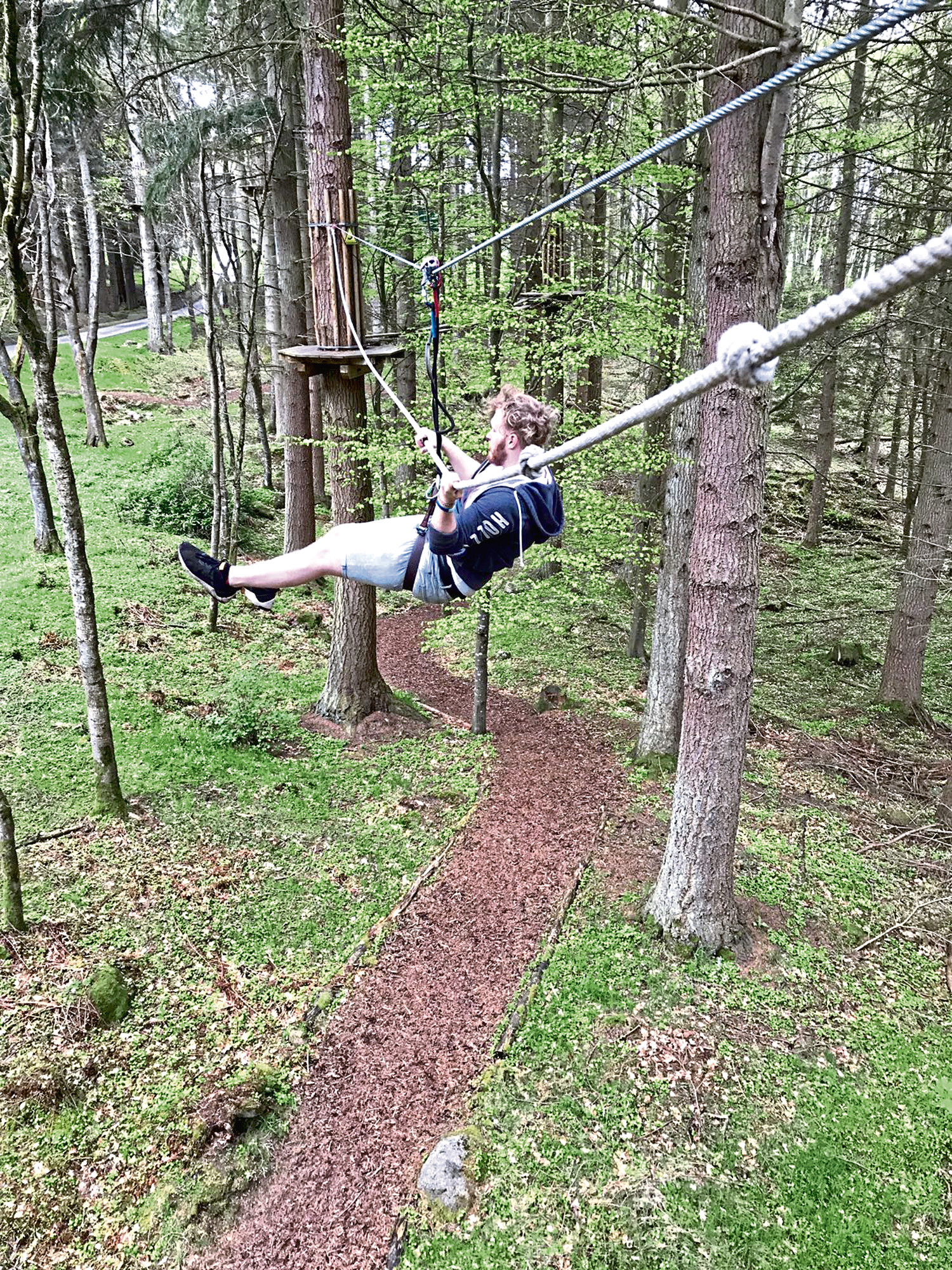 It was a victory and a true test of the skills I had picked up over the course of the morning.
My boyfriend Ollie, on the other hand, put it down to sheer luck, as he walked away grumbling with yet more pockets full of bark.
The course is suitable for little monkeys aged 10 and up, but quite honestly, gorillas of any age will find themselves thoroughly enjoying an afternoon in the treetops.
So if you've ever climbed a tree as a kid and loved it, this is for you.
Even if you haven't, maybe it's time you gave an afternoon in the tree-tops a go.