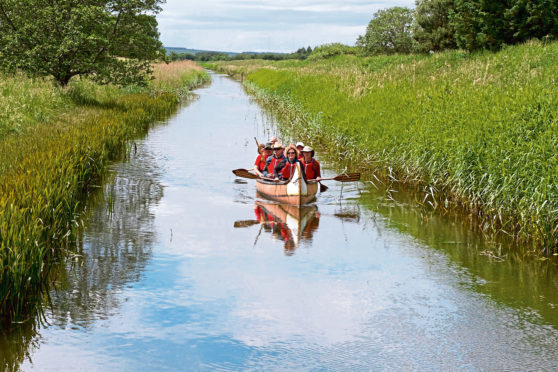 It began as a small, three-day festival promoting a handful of organised walks, but eight years on, The Moray Walking and Outdoor Festival is regarded as one of Scotland's premier outdoor activity festivals.
If you are looking to do something in the great outdoors, then you're pretty likely to find it on offer here.
Unlike many other festivals, this one, which takes place from tomorrow, Friday June 15 until Sunday June 24, is organised by a fantastic group of volunteers assisted by a professional organiser and lots of local event providers ranging from established outfits such as the Forestry Commission and Crown Estate to local voluntary organisations eager to demonstrate why Moray is special.
Over the 10-day period, events take place all across Moray, suitable for all ages, abilities and interests. This year there's 58 events and 28 new activities – some of which have already sold out, ranging from long-distance walks, cycle rides, talks, water sports and storytelling and heritage rambles.
This year, the festival highlights women and events include: Skills 4 the Hills, a talk by Heather Morning, mountain safety adviser of Mountaineering Scotland and former Cairngorm Mountain Rescue Team for 16 years.
Women in the Mountains with Simone Kenyon, dancer and choreographer, hosts an evening focused on Nan Shepherd, the Scottish hill walker, writer and poet and featured on the Royal Bank of Scotland's £5 note.
Claudia Zeiske, who undertook a 90-day pilgrimage and walked from her home in Huntly to visit her mother at her childhood home near Munich, will lead a path-making workshop on how to make your own pilgrimage.
Other events include A Polar Expedition presented by The Two to One Outsiders, which includes a stroll, chat, tea and cakes and performance.
At Seaweed and Eat It!, participants will learn how to identify seaweeds before cooking it on an open camp fire. During Drawing Waters, Dr George S Jaramillo, a researcher-lecturer at the Glasgow School of Art's Forres campus, will lead a walk and drawing-based meander along the tail end of the Findhorn River as it flows into the sea.
At the Moray Way Five-Day Challenge, participants walk the 95 miles of the Moray Way. The walk, includes the Dava Way, Moray Coastal Trail and the Speyside Way, and provides participants with a "park and ride" service to make it easier to complete the walk, with options to just walk sections of the route.
Those looking for an adrenalin rush may find what they're after with Ace Adventures as it offers water sports events at special reduced prices. Other water sports include surfing with Kevin Anderson and taster sailing workshops with Cullen Sea School.
But you don't have to be an adrenalin junkie to enjoy the festival as there are lots of easy and moderate level activities on offer. Details of these, along with information about levels of difficulty, can be found on the website: www.moraywalkoutdoorfest.co.uk