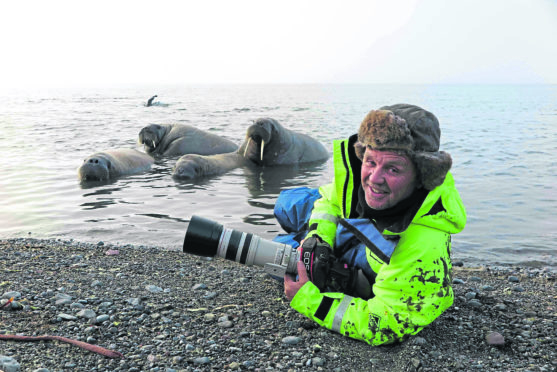 What's more frighting, coming face to face with a snow leopard or a leopard seal? How do you get close to the biggest fish in the sea and can your eyeballs freeze when the temperature drops to minus 50C?
The answers to these, and a host of other fascinating questions, will be revealed when award-winning wildlife cameraman Doug Allan undertakes his latest tour, which includes several dates in the north of Scotland, starting with a visit to the Woodend Barn in Banchory on Tuesday October 9.
Doug, 67, is one of the world's best-known and respected cameramen. Born in Dunfermline, he cut his teeth as a pearl diver on the River Spey and spent eight years in Antarctica as a research diver, scientist and photographer for the British Antarctic Survey, before changing direction to full-time filming in 1984.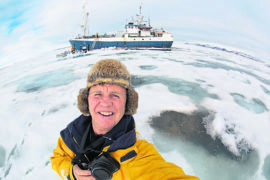 Specialising in natural history, expeditions and science documentaries in some of the wildest and most remote places on our planet, particularly the polar zones, he's filmed for groundbreaking series such as The Blue Planet, Planet Earth, Frozen Planet, Ocean Giants, Operation Iceberg and Forces of Nature, and has made programmes about coral reef conservation and over-fishing.
What he's seen reinforces his determination and commitment to raise awareness of global issues through his speaking engagements.
"When I talk I like to give a bit of a mission statement, but the fact is I think that people like me who have been involved with the natural world for the last 30 years – it's our duty to report the changes," said Doug, who says he has no plans to hang up his flippers anytime soon.
"I made the decision five years ago that I wanted to make programmes and speak out about issues I felt important.
"You have to present your audience with a realistic appraisal of the state of things and what we need to do to change things."
However, his talks won't be a lecture on where we've gone wrong – it will hopefully reveal how people can make changes which may help, but also be informative and fun.
"Among the topics I'll be talking about includes diving in the cold of the Arctic and what it's like to live in a hole in the ice over winter while trying to film ducks!
"There will be lots of old film clips, photographs and stories, some of which those who have come to hear one of my talks before won't have heard or seen."
He'll also speak about the changes he's seen firsthand caused by global warming and chat about Scotland's own wildlife.
"People come to Shetland to see the killer whales and visit the Moray Firth to see the dolphins there and it's good that people are interested.
"The whales and dolphins are pretty reliable and this encourages people to go and have a look for them.
"That could, for example, make a wee boy who has seen them become a marine biologist somewhere down the line, so I'm for all sorts of public outreach and engagement.
"It's often kids that initiate change and keep the adults on the ball," said Doug, who will end each talk with a Q&A session during which the audience can find answers to any burning issues they may want to discuss with him.
You can catch Doug's fascinating show on the following dates:
October 9: Woodend Barn, Banchory, 7.30pm.
October 11: Orkney Theatre, Kirkwall, 7.30pm.
October 12: Macphail Centre, Ullapool, 7.30pm.
October 13: Nevis Centre, Fort William, 7.30pm.
October 14: Aros Centre, Portree, Isle of Skye, 7.30pm.
October 15: Corran Halls, Oban, 7.30pm.
October 24: Eden Court, Inverness, 7.30pm.
November 4: Mareel Arts Centre, Shetland, 7.30pm.
Copies of Doug's book, Freeze Frame will be on sale, as well as his colour prints of polar bears, penguins and seals. Full tour details at www.dougallan.com
A NATURAL LIFE
Joyous childhood holidays spent scrambling through hedges and ditches after birds, small beasts and foxes were the perfect apprenticeship for Sir John Lister-Kaye's two passions in life: discovering the wonders of nature, and writing about them.
As part of its Inspiring People talks programme, the Royal Scottish Geographical Society is delighted to welcome back Sir John, one of Scotland's best-known naturalists, to speak in Inverness on Monday October 8.
Sir John has enjoyed an illustrious career that has stretched over 40 years with several highlights including stints as the first chairman of Scottish Natural Heritage for the Highlands and Islands, president of the Scottish Wildlife Trust and chairman of the government's Environmental Training Organisation.
He has published numerous best-selling and critically acclaimed books such as Song of the Rolling Earth, Nature's Child, Gods of the Morning and, most recently, The Dun Cow Rib, A Very Natural Childhood.
But perhaps he's best known for setting up Scotland's first field studies centre, the Aigas Field Centre near Beauly, which today provides environmental education for 6,000 Highland schoolchildren and 750 adults each year. It runs courses on topics such as nature photography and conservation, wildflowers, fungi, and birdwatching.
Sir John said: "I am incredibly pleased to be contributing to the wonderful work of the Royal Scottish Geographical Society and look forward to inspiring audiences with the wonders of Scotland's natural environments."
Royal Scottish Geographical Society chief executive, Mike Robinson said: "In 2016, Sir John was made an Honorary Fellow of the RSGS and was awarded our prestigious Geddes Environment Medal. We are, therefore, delighted to be working with Sir John again this year and look forward to hearing about his life spent working so closely with the Scottish landscape.
The talk takes place at 7.30pm in the Highland Council Chambers, Glenurquhart Road, Inverness. Tickets are available on the door or online via Eventbrite until noon the day before. These are free for RSGS members, under 18s and students. Otherwise, it's £10 a ticket or £8 for Tiso Outdoor Experience Cardholders. For more information visit www.rsgs.org/events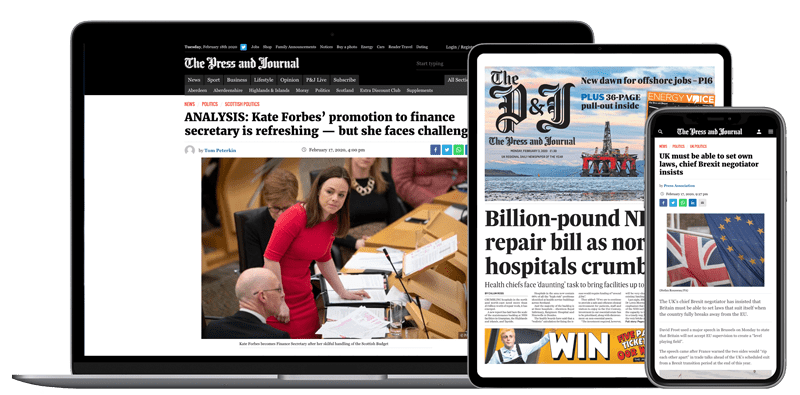 Help support quality local journalism … become a digital subscriber to The Press and Journal
For as little as £5.99 a month you can access all of our content, including Premium articles.
Subscribe