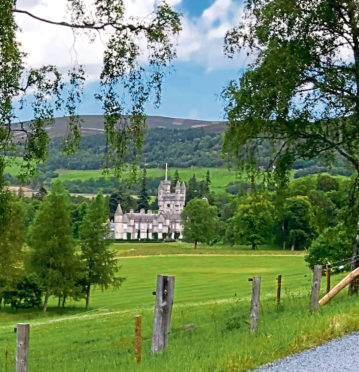 Ballater has become a bit of a cycling hub with two bicycle shops (both hiring bikes), some good routes radiating out of it and some great coffee shops.
Indeed, Ballater has recovered well from the floods in 2015, with the former station refurbished, the camping and caravan park even better than it was, and all the shops bar one now restored.
Off I set across the bridge to the South Deeside road. This is the fourth bridge to be built here because of previous floods.
The first point of interest is in less than a mile, where the junction to the left heads off to Glen Muick. There is a plaque here commemorating Queen Victoria meeting the 1st Battalion the Gordon Highlanders on September 16 1899.
Cross the bridge over the Muick heading west.
Just before Dalliefour farm is a track to the right which forms part of the Seven Bridges Walk which starts and ends in Ballater.
Further along is Knock Castle up to the right; and the road to Birkhall House, Prince Charle's holiday retreat, off to the left.
You have a climb past Knock Cottages and the need to use maximum battery – oh the joy of ebiking! Then of course there is a lovely descent.
Next is Littlemill, Girnoc (site of a former mill), then Abergeldie Castle through the woods to the right. This castle was nearly washed away in the 2015 floods.
You are then nearing Balmoral, with the former outdoor curling rink and a white suspension bridge to the right.
You then cut across some of the fairways of the castle's own nine-hole golf course – watch out for golf balls. You then arrive at the gates of Balmoral, and when the Queen is not in residence you can buy an entrance ticket and have some super rides along the estate roads as far as the Old Brig of Dee. Otherwise cross the Dee here and visit Crathie Kirk, the one the Queen attends when on holiday.
Further along the road going east is a new cafe in the former nurses house with wonderful butteries, croissants, homemade breads, scones and coffee.
On the way back via Balmoral visit Lochnagar distillery up a steep hill to the right, with an excellent visitor centre.
Head further up the road here to Tornauran where you have a great descent to Mains of Abergeldie.
At some point in the future I intend to cycle further out to Bovaglie and then descend down Glen Girnock to Littlemill. There is also an option to carry on even further to Spittal of Glenmuick, but I would caution against these until I check it out for hybrid bikes.
A range of cafes and two ice cream shops awaits you back in Ballater, or perhaps a spa outing to help ease the muscles at the Craigendarroch Hotel.
Route: Ballater to Balmoral and back
Distance: 14 miles
Time: 1 hour 30 minutes
Difficulty: Easy