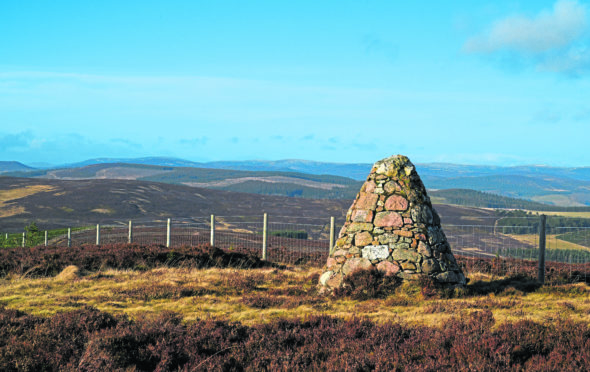 The wind and rain had been rattling the slates on my house roof all night.
We had been warned to batten down the hatches and prepare for Storm Ciara. But I woke up to a surprise of glorious sunshine, blue skies and just a slight breeze.
This was the calm before the storm.
I had been wanting to get out walking all week and the weather forecast had disappointed me, until I woke up that day and decided to head out nice and early before the forecasted bad weather made it over to the north-east.
All togged up, I packed my camera, loaded my two dogs into the car boot and set off towards a little village in Aberdeenshire called Towie.
It can be reached by turning left off the A944 from Alford, at Glenkindie. Following the road through Towie, along a few twists and turns, you eventually come to a small track on the left, leading uphill.
There is a patch of rough land suitable for a car or two and a signpost pointing you towards a walk to Tarland.
South-east of here across the moorland is a 1,558ft hill called Baderonoch. I'd studied various maps and this looked like a relatively short walk, easy to navigate and it has a cairn.
I parked up on the rough land, put both dogs on lead and set off walking along a 4×4 dirt track.
Not far along was a gate. A sign advised that dogs had to be on lead.
Although I couldn't see any livestock, I have seen them in this field before so was cautious as I continued uphill.
I also noticed I'd lost my camera lens cap, and after a few minutes of trying to look around and then cursing the dogs for not letting me look – they weren't to know – I cut my losses and continued my walk.
The path is not signposted but it follows a dirt track for the whole walk. It isn't steep at all, very gradual.
Vast moorland stretches for miles at each side of the track and I noticed a couple of red grouse bolt from the heather as we passed.
From start to finish a fantastic view of Morven dominates the scenery to the right.
After about 15 minutes of walking, the path splits. I double checked my Ordinance Survey map and took the track to the right.
This continues up a slight hill, lined by stone grouse butts. My dogs seemed particularly interested in these and pulled me towards them.
There must be some delightful smells – if you're an inquisitive nose on legs!
The sun was still beating down, creating a dark silhouette of the horizon against a blue sky.
I couldn't see Baderonoch Hill for most of the walk as it is hidden behind other smaller hills.
Once I passed the grouse butts, the land opened up to reveal a small cairn silhouetted ahead.
The summit looked far away, but it didn't take me long at all to get there. Walking up towards the cairn, a fence lined the edge of the track, with a gate leading to another track on the other side.
As I got closer I realised there was a trig point as well as a cairn and they were both on the other side of the fence. I could see the Socach and Pressendye ahead as well as a small loch which forms part of Lazy Well Lochs.
I back-tracked to the gate and headed up to the top of the hill. I could see for miles towards Deeside with Mount Keene forming a hazy outline on the horizon.
The route back was simple as I retraced my original tracks, following the grouse butts downhill. Soon I could see where I'd parked the car.
Passing back through the first gate, I noticed a black shiny disk in the mud, which turned out to be my missing lens cap. That was a relief.
Baderonoch isn't the highest hill in the area, close neighbours Broom Hill and Pressendye both stand more than 300ft higher, and nearby Morven comes in at a massive 2,857ft. Baderonoch does have the advantage of no steep climbs.
It is an easy walk, great to blow the cobwebs away and see some amazing views for not too much effort.
On a finer day with more time to spare, it would be nice to walk across Broom Hill and Pressendye to Tarland.
In fact, I might just do that this summer.
Route: Towie to Baderonoch Hill
Distance: 3.5 miles
Time: 1 hour 10 mins
Difficulty: Easy
Dog bins: No
Livestock: Have seen on previous walks in the area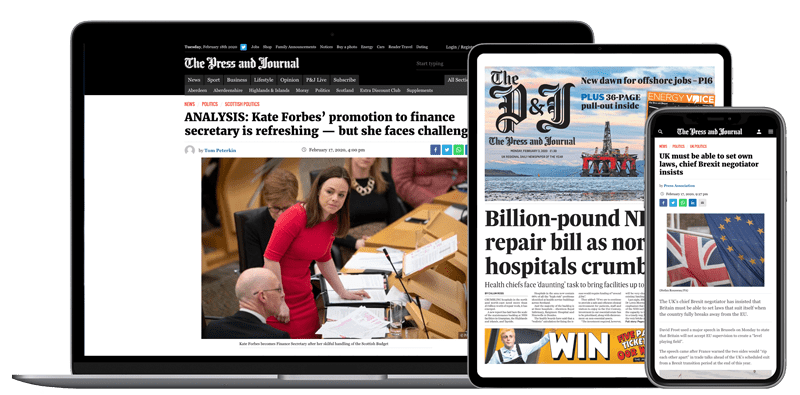 Help support quality local journalism … become a digital subscriber to The Press and Journal
For as little as £5.99 a month you can access all of our content, including Premium articles.
Subscribe