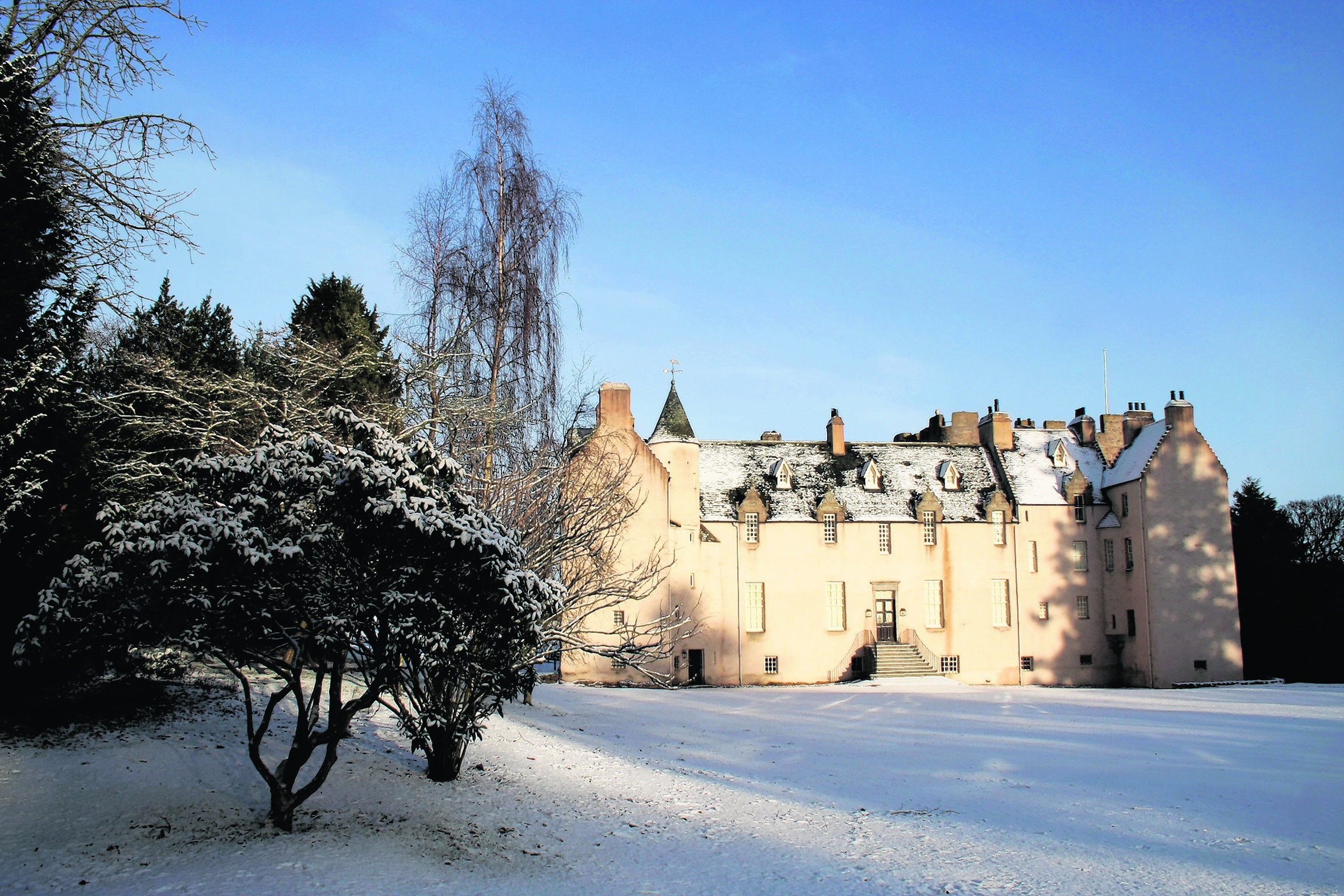 DRUM CASTLE
There's no better way to kick start the family festive celebrations that with a trip to the National Trust for Scotland's Drum Castle near Peterculter, as it hosts the second weekend of its annual Holly Fest once again. Drum puts on a craft fair like no other and at this year's Holly Fest visitors can not only pick up individual, hand-crafted Christmas gifts for friends and family but add some Christmas sparkle via the selection of handcrafted gifts from unique crafters who are attending.
Alongside the craft fair, visitors can soak up some Christmas magic with a visit to the Elves Toy Factory, marvel at the giant Advent Calendar made by local schools., make a wish at the Christmas Fairies special wishing tree and perhaps win a few treats at Santa's Special Tombola while keeping warm by sipping on a drink of special, driver-friendly mulled wine, which will be served in the historic setting of the 15th Century Brew House. G
Senior assistant at Drum Castle, one of Scotland's oldest intact buildings, Kris Bruce, said: "Drum Castle at Christmas is simply magical. We'll have plenty of elves, fairies and fun on hand to help folk get into the festive spirit."
The event runs on Saturday, December 13 and Sunday, December 14 from11am-4pm. Entry costs £4 for adults, £2 for children and £10 for a family. Contact www.nts.org.uk/Events/Drum-Castle-Garden-and-Estate/Holly-Fest or 0844 493 2161.
CASTLE FRASER
But Drum Castle is not the only NTS property brimming with good cheer. Santa Claus is visiting another favourite stopping place, Castle Fraser by Inverurie this weekend. He's arriving in style on a horse-drawn carriage and visitors can toast the jolly man with a warming mug of mulled punch, and spread some Christmas cheer by joining in the Christmas carol singalong. Inside the castlethere's a chance to see what Christmas was like in Victorian and Tudor
times with authentic costumes, sword fighting in the Great Hall, and Victorian games in the library.
There will also be crafts and puzzlers to try, while the Rhynie Wifies' festive activities are sure to delight the whole family.
The castle will be open to welcome visitors from 11am on December 13 and 14 with Santa arriving on his carriage at 12.30pm each day. Admission costs adults £8, children £5, with concession and family group tickets available.
LEITH HALL
Father Christmas will also find time to pay a visit to Leith Hall he'll be in his grotto from noon-4pm on Saturday, December 13 and Sunday, December 14. The historic property will be pretty busy at the weekend as it's celebrating Christmas Georgian-style. Visitors can take part in Christmas crafts, follow a 12 Days of Christmas Trail and attend demonstrations and talks provided by the Huntly Crafters.
Contact 0844 4932175 for full details.
HADDO HOUSE
On Saturday, December 13, there's an exciting day planned when visitors can have a go at searching for winter wildlife in the grounds of Haddo House. Led by Willow Lohr, a trained and qualified ranger, will show visitors how to interpret footprints and follow animal trails by teaching them the signs to look out for via foot morphology, animal gaits and movements, as well as sign interpretation. The event, organised by Haddo House & Country Park Partnership, will see participants go out and find real foot prints, signs and trails as well as do exercises to train their senses.
The event starts at 9.30am and costs £25 per adult, £10 per child. Contact 01651 851041.
MUSIC EVENTS
Music also plays a large part at two NTS properties this weekend. On Saturday, December 13, Friends of Leith Hall present a Christmas Operatic Evening featuring Aberdeen-born soprano, Jillian Bain Christie, a recent graduate of the Trinity Laban Conservatoire, London, will perform songs, arias and festive favourites by Greig, Puccini, Mozart, Verdi, Handel and others, accompanied by Drew Tulloch on piano.
The concert starts at 7pm and tickets are priced at £10 per adult, £7.50 per child with concessions available. Contact: 0844 4932175.
A little across country and Haddo House Choral & Operatic Society are presenting a concert of beautiful and uplifting festive music in the wonderfully atmospheric Haddo House Chapel, featuring the ensemble conducted by Alice Dennis and accompanied by organist Dr Roger Williams. The ticket price of £15 includes sherry, tea or coffee plus mincemeat pies or shortbread served after the concert in the library.
The event runs from 2-3.30pm and 4pm-5.30pm on Sunday, December 14 and will be repeated at the same times on Saturday, December 20. Contact 01651 851111.
For full details of all National Trust for Scotland festive events visit www.nts.org.uk