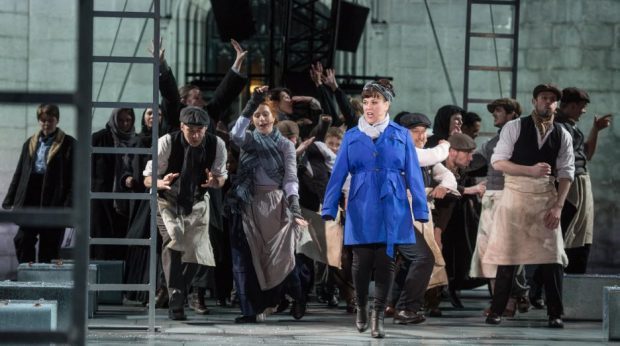 It was one of the boldest artistic ventures ever staged in Aberdeen.
And now, Granite, the mass participation project created by the National Theatre of Scotland and Aberdeen City Council, and sponsored by Deloitte, has gained a major prize from Arts & Business Scotland.
The show, which took its name and inspiration from the rock which has become synonymous with Aberdeen, was presented with the People award, which recognises a partnership that has used the power of culture to engage with and educate people in Scotland's communities.
The honour was presented at the Glasgow Royal Concert Hall to National Theatre of Scotland and Granite producer, Karen Allan and Deloitte Partner, Derek Henderson.
The dramatic initiative ran from September 2015 through to April 2016 and engaged with thousands of people across Aberdeen. The finale was an epic outdoor theatre event telling the story of the city, devised and written with the people of Aberdeen which was performed in the quadrangle of Aberdeen's Marischal College.
Simon Sharkey, the NTS's associate director, said: "We are very proud that the biggest community project the company has undertaken and our special partnership with Deloitte has been honoured in this way.
"None of this would have been made possible without the integrity and commitment of our co-producers, Aberdeen City Council, our many local partners and the citizens of Aberdeen who responded to the project with such creativity and enthusiasm."
Lord Provost of Aberdeen, George Adam, added: "Working in partnership with the National Theatre of Scotland on the hugely successful Granite project provided a fabulous opportunity to tell Aberdeen's unique story.
"The NTS utilised their special skills to work with a significant number of individuals and groups in the city, creative and not so creative, so that their stories were turned in to unique theatre experiences.
"The Granite project showcased and celebrated the talent already in the city and encouraged others to get involved and highlighted Aberdeen's place on the cultural map."
The stunning finale for Granite ran across three performances with audience members seated around the stage, experiencing a production that featured a live band and choir, aerial performance, dance, video projection and a large community cast.
This included members of Aberdeen Performing Arts, ACT Aberdeen, Citymoves Dance Agency, the University of Aberdeen and the Slovo School of Aberdeen, alongside professional actors Joyce Falconer and Alan McHugh.