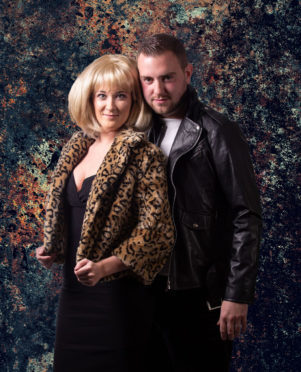 Stan Arnaud watched Almack Productions perform Little Shop of Horrors at Florians Theatre, Inverness.
For anyone craving a few hours of deftly-delivered, bloodthirsty musical fun in the run-up to Halloween, an afternoon in the quirky surrounding of the Florian's Theatre, in Inverness, was just the ticket.
And, following a barnstorming opening night in the intimate surroundings of the 98-seat wooden theatre, the far-from-amateurish eight-strong amateur cast and their off-stage team thoroughly deserve one more full house to complete the set.
Little Shop of Horrors is a funny, moving musical romp, telling a story of how sudden hopes of an escape from the travails of life on Skid Row, offered by the unexpected result of horticultural experimentation, can be dashed in the most horrible way.
From the moment the show's superb Greek chorus of Sophie Donald, Michelle Newell and Nicola Gray sashayed their way down the centre aisle to open proceedings, to the entire ensemble bringing the cautionary tale to a rousing close, they had the audience entranced.
Shining in their leading roles, Amy Atkinson as Audrey and Martin Bannon as Seymour, received cheers of appreciation for their excellent, emotional second act duet, Suddenly, Seymour.
Liam Macaskill was splendidly brutish and louche as depraved dentist Orin Scrivello and Richard Miemczyk, put in a fine performance as downtrodden shopkeeper, Mushnik.
And, at the centre of some clever stage sets was, of course, the ever-growing presence of blood-loving plant, Audrey 11, brought to sinister and demanding life by the fine vocals of Pete McKie.
As producer Alan Mackintosh admitted in his programme notes, "staging a musical is no mean feat." But on opening night, this company certainly pulled it off.