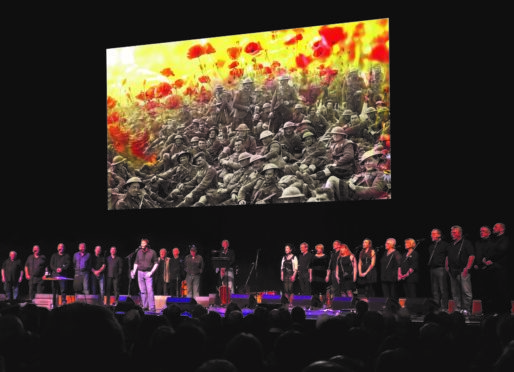 Susan Welsh saw Far, Far from Ypres at Eden Court Theatre, Inverness.
The set and outfits were simple; the songs poignant; the old black and white photographs being projected onto a large on-stage screen, haunting.
Far, Far from Ypres did not glorify WW1  or the battles which people still talk about today, but served as a sharp reminder, that war is Hell.
The story of the war they thought "would be over by Christmas" was told via the songs, poetry and stories written by those who served in the muddy, disease-filled trenches – and the families they left behind – and offered a fascinating insight into the grim reality of war.
What was evident was that the soldiers on the ground didn't hate their enemy.
Far from it.
They had sympathy for the enemy's rank and file who, like themselves, felt duty and honour bound to do their bit for their country.
If they were lucky, they'd spend years fighting.
Lucky, because at one point, life expectancy in the trenches was just six weeks.
The 26-strong cast, all dressed in black, included well-known performers such as Barbara Dickson, Siobhan Miller, Dick Gaughan and Ian McCalman who devised, wrote and produced the show which offered an insight into the life of a soldier.
None of them were treated as a 'star' as each simply stepped forward to sing before re-joining the ranks.
Clever lighting gave the impression the auditorium was surrounded by red poppies, and at times you could have heard a pin drop as  Anderson rattled off huge figures relating to the number of Highlands and Islands recruits and re-told stories about young boys, one as young as 12, lying about their age in order to sign up.
The performance at Eden Court Theatre in Inverness was the eighth of 10 shows being performed as part of Scotland's Armistice centenary programme and which ends with a performance in the Usher Hall, Edinburgh on Armistice Day, November 11.
I hope they stage it again next year or perhaps televise it, as this is a show everyone in Scotland should see.