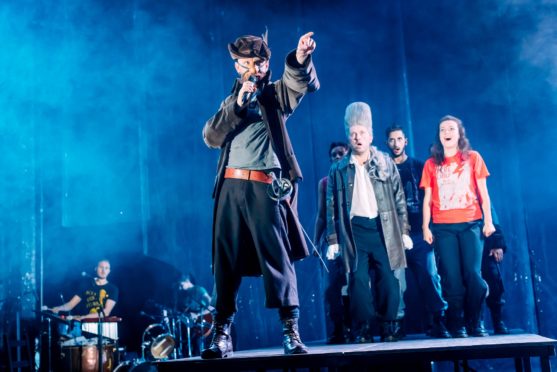 Stan Arnaud watched Cyrano de Bergerac at Eden Court Theatre, Inverness.
Cyrano de Bergerac is a weird old tale.  But the latest production of Edwin Morgan's celebrated Scots translation of the classic play, rollicking around the stage of Eden Court this week, makes for a wonderful evening of theatre.
Set in 17th Century France, the piece tells the often funny, but always poignant story of swashbuckling soldier Cyrano, whose gifts as wordsmith are even bigger than the enormous nose that robs him of his otherwise plentiful self-confidence when it comes to matters of the heart.
Unable to openly express his true feelings to the enduring object of his desires – his beautiful cousin Roxane – he finds himself putting his lyrical magic to work on behalf of dashing, but painfully inarticulate Christian, a member of his loyal band of troops.
Having helped cement the pair's mutual attraction, he continues to communicate his own unrequited love and fuel Roxane's for Christian, ghost writing letters from the front lines as the action moves from louche Paris theatre land to the brutal battle fields of the Thirty Year War.
Originally penned as a verse drama by Edmond Rostand in 1897, Edwin Morgan's version of Cyrano de Bergerac, translated into Glaswegian-Scots and produced by Communicado Theatre premiered at Eden Court in 1992 and went on to tour nationally to huge acclaim.
The latest, action-packed co-production, by the National Theatre of Scotland, Citizens Theatre and The Royal Lyceum Theatre Edinburgh is on a four-night run at the Inverness venue after stints in the Scottish capital and Glasgow which have attracted glowing reviews.
It's all a bit confusing at the outset, with members of the 14-strong cast in costumes ranging from modern jeans and t-shirts to camped up French aristocratic attire and a couple of almost pantomime-style outfits, milling around a minimalist, set depicting a Paris theatre.
But the focus sharpens and the action picks up with the fashionably late, strutting arrival of Cyrano, played with wonderful relish, energy and skill by Brian Ferguson, and continues to build as the twists and turns of the story unfold.
As well as some highly moving moments, clever lighting, choreography and use of the sparse set bring the play's moments of high drama, including a superb sword fight and the denouement of the Siege of Arras, vividly to life.
Jessica Hardwick is excellent in the role of Roxane, as is Scott Mackie, playing Christian and Keith Flemming as scheming Count de Guiche, supported by a strong multi-talented cast.
Edwin Morgan's rhymes are clever, funny and still fresh after 26 years, although at times during the opening night performance, members of the audience had to strain to hear them in their full glory.
Cyrano de Bergerac is at Eden Court until Saturday.