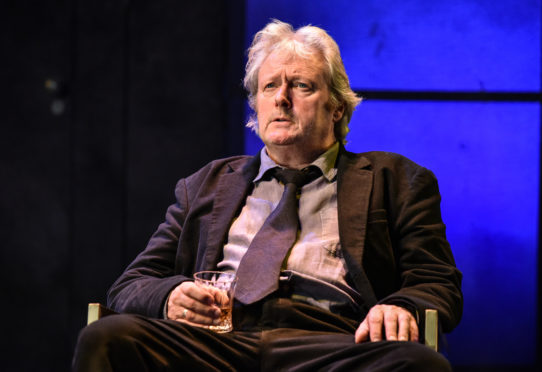 Shadows loom large over the crowd-pleasing new Rebus stage play, which began a run at His Majesty's Theatre before an appreciative Aberdeen audience last night.
The show, which centres around the detective made famous in Ian Rankin's gritty crime thrillers, is dominated by echoes from the past as the protagonist's old-school methods catch up with him when historic cases come under the glare of modern forensic testing.
The star of Rebus: Long Shadows is Charles Lawson, who is more accustomed to being on the other side of the law in his role as Coronation Street's Jim McDonald.
Lawson convinces as the world-weary protagonist, injecting his performance with an array of sighs, groans and grimaces as he limps across the gloomy stage.
The plot revolves around an unsolved murder from 2001, which a now-retired Rebus develops a fixation with solving.
The dialogue will feel reassuringly authentic to fans of the books – as it should, having been penned by Rankin exclusively for the show.
John Stahl barely suppresses a cackle as his portrayal of Edinburgh crime lord Big Ger Cafferty verges on pantomime villainy on occasion.
But the drawn-out climactic scene, as Cafferty and Rebus engage in a thrilling bout of mental chess had many in the audience edging forward in their seats as they clung to every word.
Previous television incarnations of the legendary detective have prompted a mixed reaction from fans, who have struggled to reconcile the figure they feel they know so well from the novels with those portraying him on screen.
But Lawson, armed with Rankin's imitable writing, earned every bit of the loud round of applause that echoed around the theatre as the curtain fell.
Performances will continue at HMT until Saturday.