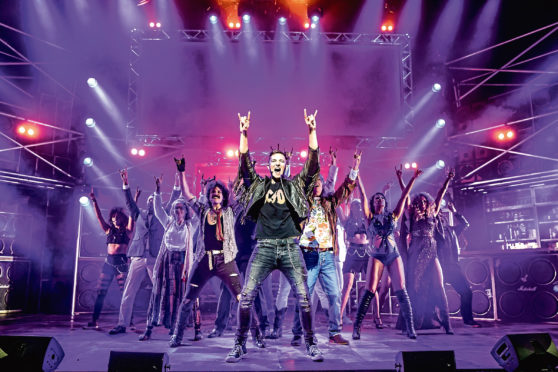 If you don't count yourself as a musical theatre fan, this might just be the show to change your mind. Rock of Ages is an LA love story loaded with more than 25 classic rock anthems.
Forget cheesy one-liners and naff songs between sweethearts – this is a raucous musical comedy in which the epic song sheet is the star of the show.
Played loud and proud by a live band, audiences can rock out to songs by Def Leppard, Guns N' Roses, Whitesnake and more.
As the curtains open, audiences are transported back in time to the year 1987 when, on the Sunset Strip, the dreams are as big as the hair.
Playing the rather spoilt, self-indulgent rock star Stacee Jaxx is Kevin Clifton, who won 2018's Strictly Come Dancing with his partner Stacey Dooley.
Here he is taking on a different role, swapping the ballroom for the Bourbon Club where he shows off his vocal range and acting skills as well as his famous dance moves.
"It's been non-stop since winning Strictly," he said.
"It was honestly one of the best nights of my life.
"We didn't expect to win at all as we were bottom of the judges' leader board before going to the public vote. But then when we did, it was just mayhem.
"I basically had Christmas off before jumping straight into Rock of Ages rehearsals.
"But I'm absolutely loving it and have had my eye on doing something in theatre for some time now.
"I had a small backing dancer part in Dirty Dancing in 2010 but this is the first time I've had any sort of leading role.
"I'm used to bringing energy on stage but memorising lines is completely different.
"And I've got a few big songs to contend with, so lots to work on."
Kevin bursts on to the stage as Stacee Jaxx with a rendition of Bon Jovi's Dead or Alive, and he's right that, even among all the big hair and costumes, there is nowhere to hide.
"Stacee is a great character to play," he said.
"He's flamboyant and over-the-top which is great fun.
"There is a line in the show which describes him perfectly, something along the lines of the ladies loving him and men wanting to be him.
"But somewhere along the line he's gotten a bit carried away with himself and has become spoilt and pretentious.
"There's a hilarious scene where he's trying to woo the leading lady in the bathroom of a dingy club, and you can see exactly how he's fallen from grace."
Happily, Kevin knows the story inside out as even before he was asked to join the cast, Rock of Ages was one of his favourite musicals.
"I saw it for the first time on Broadway about 10 years ago and have been to see it numerous times since in the West End," he said.
"I'm a huge rock music fan and couldn't believe how funny the script was, so it's a real dream to be a part of it now.
"Whether you're into musicals or classic 80s bands, the show is a fantastic night out and doesn't take itself too seriously.
"The characters and costumes are larger than life, that's for sure. I'm wearing a wig, a cowboy hat and a whole lot of fringing, if that gives you an idea."
But for Kevin it's not just the chance to take part in his favourite stage show, it's the chance to really do something different.
"I've been in Strictly for the last six years and have been a professional dancer for most of my life," he said.
"But acting and singing is totally different. It's great to be the person who is learning for once, rather than always being the teacher like I was on Strictly.
"The rest of the cast and the director are great.
"Now I just can't wait to get in front of an audience again."
But does he get nervous?
"Yeah, of course," he said.
"I have my little rituals I do before any performance which make me feel more prepared and ready.
"I always have a mad few minutes jumping around to the Robbie Williams song 'Let Me Entertain You' which gets me energised.
"Then I do some stretches and I'm good to go.
"It's funny really as I'm actually quite a quiet and reserved person, so I really need to get hyped before going on stage.
"I always think audiences can tell when the performers are full of genuine energy and they will react positively to it.
"I want audiences to be as loud as possible and would love to see people singing along.
"It's set to be a great night out, and I can't wait."
Rock of Ages is showing at His Majesty's Theatre in Aberdeen from January 28 to February 2. For tickets, visit www.aberdeenperformingarts.com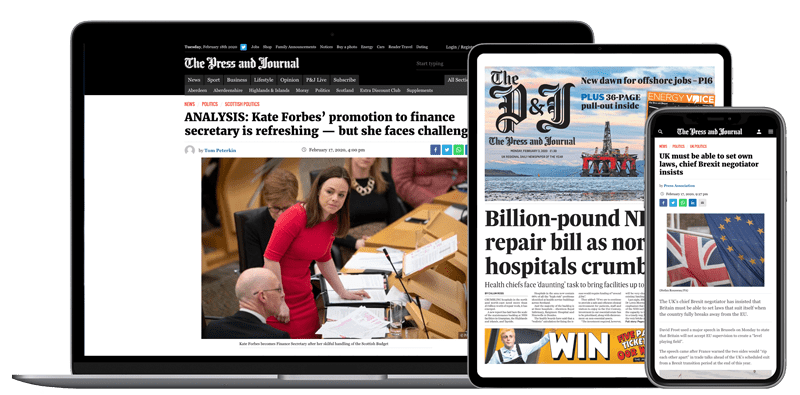 Help support quality local journalism … become a digital subscriber to The Press and Journal
For as little as £5.99 a month you can access all of our content, including Premium articles.
Subscribe