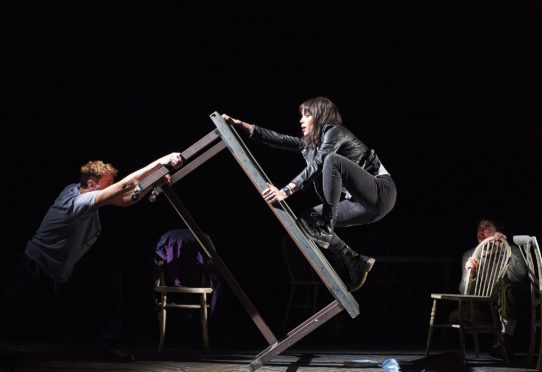 Susan Welsh saw Touching the Void at Eden Court Theatre, Inverness.
I read the book and watched the film.
I'd also heard climbers, Joe Simpson and Simon Yates talk in person about their experiences of the dramatic events which unfolded during their treacherous climb of the Siula Grande mountain in the Peruvian Andes.
So what could a stage show marking the 30th anniversary of the publication of Simson's best-selling memoir have to offer?
And, how could a stage show recreate the sheer scale of the Andes?
A brilliantly clever set designed by Ti Green answered the latter question.
While sheer drama that has you gripped from start to finish, answers the first.
Tom Morris' production is a brilliant piece of theatre, presented by four superb performers who push themselves both physically and mentally throughout.
It's real edge-of-the-seat stuff, crackling with so much tension you may find yourself holding your breath.
And in a week when Scotland's mountains claimed the lives of three climbers, it seemed even more poignant.
The story is told through a mixture of flashbacks and present time, and Joe's imagination as his mind wanders as he fights for his life.
Unfortunately, problems with the sound system during the first half meant the dialogue was often drowned out by loud music, while a problem with Joe's mic made it impossible to hear his opening narrative.
The play opens with an imagined wake for Joe taking place in Glencoe's Clachaig Inn, where we meet his sister, Sarah, and Richard, the adventure seeking hippy who joined the climbers to look after their base camp.
Part narrator, Richard provided some of the much-needed lighter moments in the show as watching a man roll about in agony with a smashed leg, isn't easy.
The dilemma of what you'd do if you found yourself in the same horrible position as Simon – stuck on an unstable snow-cliff, exhausted and clinging on to a rope holding an injured partner is dealt with in a way that will have you thinking about it long after the curtain has fallen.
A must-see piece of theatre, my only criticism is the decision to include a short musical number, which seemed out of place.
Starring Josh Williams as Joe, Edward Hayter as Simon, Fiona Hampton as Sara and Patrick McNamee as Richard, actors who deserved every bit of the thunderous applause and cheers the audience showered on them.
Touching the Void is at Eden Court until Saturday, March 16.