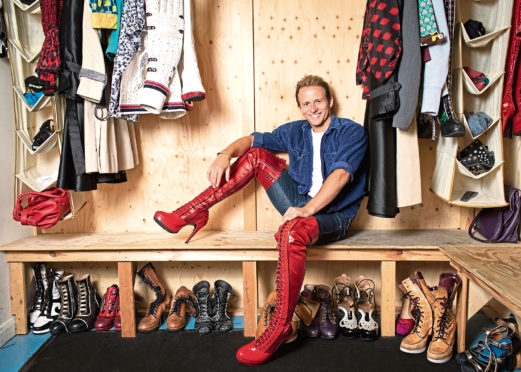 They might be entertaining, but how many Broadway musicals can say they are based on a true story?
Kinky Boots is one of only a handful in this category and tells the uplifting tale of Charlie Price, a young man from Northampton reluctantly taking over his family's struggling shoe factory.
Business is slow and the firm is nearing bankruptcy until Charlie forms an unlikely partnership with a cabaret performer and drag queen named Lola. Together they produce a line of high-heeled boots and save the factory.
---
---
Complete with music and lyrics by Cyndi Lauper, the show has won six Tony Awards and is now on tour in the UK with a stop-off in Aberdeen this week.
Playing the lead role of Charlie is Joel Harper-Jackson, who knew the show inside out long before he got the part.
"There is a film by the same name which I used to watch endlessly as a kid," Joel said.
"It was actually my favourite movie at the time and I knew the whole script off by heart.
"When it came to the West End in 2015 I was thrilled to go and see it.
Everybody say YEAH! ?Award-winning musical Kinky Boots is strutting into His Majesty's Theatre from the 23rd April – Saturday 4th May!? Come Join the party! https://www.aberdeenperformingarts.com/whats-on/musical/kinky-boots/1409

Posted by Aberdeen Performing Arts on Thursday, 11 April 2019
"Now actually being in the touring production is magic – it's something I never even dreamed would happen."
At just 27 years old, this is Joel's first major touring show and he's not had a particularly easy time of it.
"My character Charlie is in almost every scene, so there are a huge amount of lines to remember," he said.
"The way he speaks is quite wordy and when you're touring there is no room for off days, which really puts the pressure on.
"But so far so good and everything has run smoothly."
It helps that Joel relates to the hard-working character he plays; Charlie too is under pressure in his job.
"Charlie's dad has just died and along with the grief, he has to give up his life in London to move back up north and run the failing factory," Joel said.
"He's determined to save the business, but comes up against so many obstacles including hostile employees who don't like his new way of running things.
"I'm only in my 20s which means that this Charlie is quite a bit younger than he has been in other productions.
"That brings with it a new sense of naivety, but Charlie is a real trier no matter how many times he gets knocked back.
"Eventually, he succeeds after meeting Lola."
While on a night out, Charlie witnesses a woman being accosted by two drunks. He intervenes and is knocked unconscious.
He comes to in a seedy nightclub, where the woman he attempted to rescue is revealed to have been the club's drag queen headliner, Lola.
Recuperating from his ordeal in Lola's dressing room, an uncomfortable Charlie notices that the performers' high-heeled boots are not designed to hold a man's weight, but Lola explains that the unreliable footwear is an essential part of any drag act.
"Back at the factory, Charlie decides to exploit this niche market and the fun really begins," Joel said.
"At one point I have to don a pair of the highest shoes and, if I'm honest, I totally love it!
"I've gone over my ankle once or twice but I've become pretty good at walking in them.
"That's partly what I love about Charlie, he is so much fun to play and the audience get to follow his journey through adulthood.
"He makes plenty of mistakes and that keeps him from being one dimensional.
"A lot of people don't know what to expect when they come to see the show, or if they have an idea then they are confused when they don't see red, sparkly heels within the first five minutes.
"But it's a fantastic story and leaves you with a feelgood feeling.
"It's one I think everyone should see and teaches a valuable lesson about acceptance and treating others with respect.
"I can't wait for audiences to see it."
Kinky Boots is playing at His Majesty's Theatre in Aberdeen from now until May 4. For tickets, visit www.aberdeenperformingarts.com or call the box office on 01224 641122.