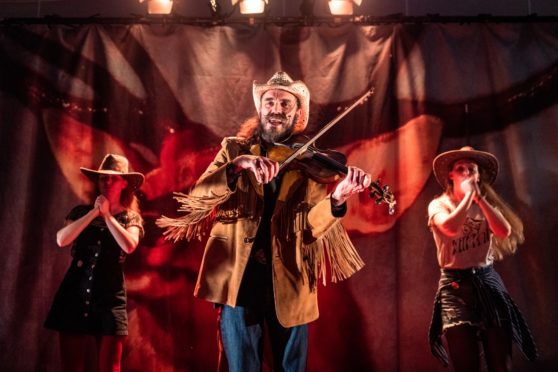 Susan Welsh saw The Cheviot, The Stag and the Black, Black Oil at the One Touch Theatre, Eden Court, Inverness.
Regarded as a play every Scot should see at some point, John McGrath's powerful tale, The Cheviot, The Stag and the Black, Black Oil is touring once more.
First performed at the Arts Centre in Aberdeen in 1973, when the city was in the grip of oil fever, it returns to that same venue next month.
The venue may be the same, but the city has changed having experienced huge highs and lows because of oil – something the play predicted all those years ago.
This version, directed by Joe Douglas and starring a hugely talented cast including Stephen Bangs, Jo Freer, Christina Gordon, Reuben Joseph, Calum Macdonald, Billy Mack and Aly Macrae, has lost none of its power.
This says, Billy Mack, "Is a story that has a beginning, a middle, but, as yet, no end…"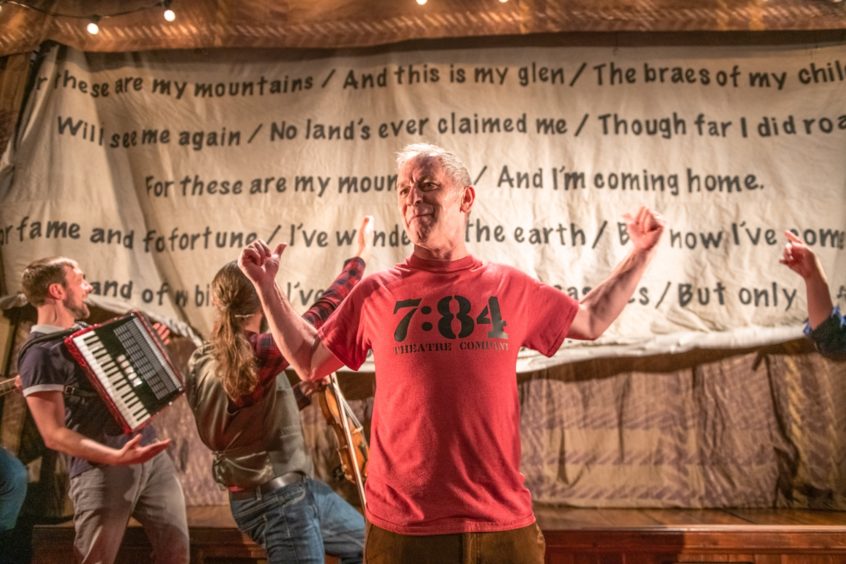 The play takes the form of a ceilidh, with members of the audience initially invited to join in the dancing, before the cast begin to weave a series of songs, poems, stories and sketches that tells the story of how badly some Highlanders, and Scots, have been treated over the years.
From the ruthless clearances when crofters were put off the land –in some cases burned out of their homes –  and replaced by Cheviot sheep which made more money for the landowners – to the days when Queen Victoria and Sir Walter Scott helped spark the tourist boom and the rise of big sporting estates.
North Sea Oil was another game changer and several comparisons were made to the way Norway had handled the discovery of oil compared to the UK.
The play also deals with the present day political scene and how Gaelic language and culture are treated, while the whole history of Scotland is told in a way that will make you both laugh out loud and weep because much of the story is still relevant today.
Presented by the National Theatre of Scotland in association with Dundee Rep Theatre and Live Theatre, Newcastle, this powerful play ends by reminding the audience that change will only come if, like those brave crofter wives brutally beaten for refusing to leave their homes, we stand shoulder to shoulder and demand it.
The play can be seen at Mareel, Lerwick (23 May); Stenness Community Centre, Orkney (25 May); Macphail Centre, Ullapool (28 May); Dornie Village Hall (29 May); Sabhal Mòr Ostaig, Skye (31 May); Aros Centre, Portree, Skye (01 June); Aberdeen Arts Centre (04 June); Perth Theatre (05 June); Macrobert, Stirling (06 June); Charlestone Centre, Dundee (07 June); Live Theatre, Newcastle (12 to 22 June).