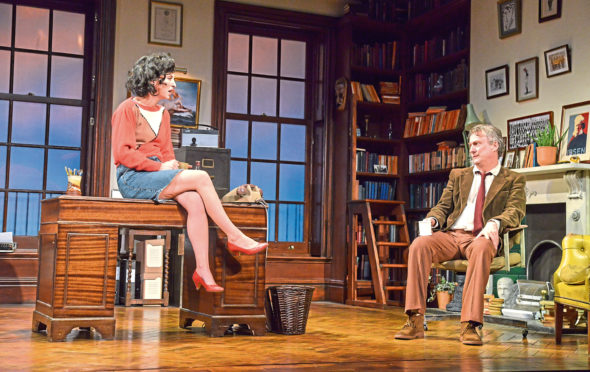 This week will be a rather special one for actress Jess Johnson, as not only will she be making her debut on the Eden Court stage, but she celebrates her birthday during the week-long run in the Highland capital.
And just like Rita, the character she plays in the classic play Educating Rita, she will – for the moment – keep the celebrations simple.
"I'm from Newcastle, and Inverness will be the furthest north I've ever been, so I'm very, very excited," said Jess.
"I'm hoping to find a proper pub in Inverness and have a few pints to celebrate my birthday."
This new production of the much-loved show, produced by David Pugh and Dafydd Rogers, of Calendar Girls and The Full Monty fame, has been going down a storm wherever it plays.
"The reaction has been amazing because I think it is a timeless piece," said Jess.
It stars the distinguished stage actor and well known TV star Stephen Tompkinson as frustrated professor Frank Bryant, while Jess, who is relatively unknown, takes the starring role as Susan "Rita" White, the Liverpudlian hairdresser keen to expand her horizons.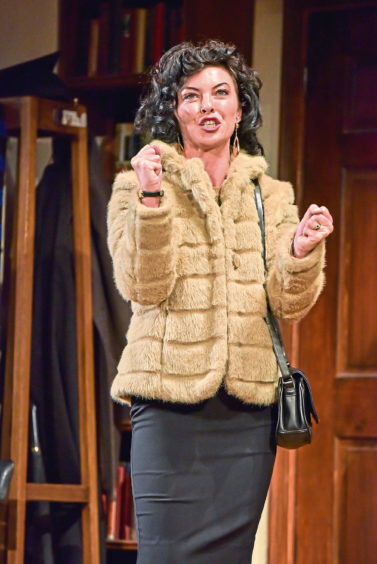 It's a two-hander play, meaning Stephen and Jess are the only performers.
"A lot of people know the story because of the film, and many haven't seen the stage version before which is slightly different in that it only features Frank and Rita and is entirely set in Frank's study at the university," said Jess.
"The story is episodic, and goes through around a year of Rita's life so you see the seasons and Rita change as she slowly expands her horizons.
"For me that means a lot of outfit changes, very colourful jumpers and having to stick big curlers in my hair.
"What you see as you follow the journey they both take, is that they both need each other.
"It's a beautiful relationships and I'm delighted to say that Stephen and I are quite proud of the chemistry we've created between us for the show."
Prior to hitting the road with the play, Stephen and Jess hadn't worked together.
It was a chance meeting, and a mutual love of the Willy Russell play, that became the spark for this major new production, which opens at Eden Court Theatre next week.
Jess said: "I was performing on the main stage of my local theatre in Newcastle and Stephen was there rehearsing for Red Lion.
"We crossed paths, got chatting and ended up going for a drink.
"I'd done a short tour of Educating Rita in Durham at the Gala Theatre, and told him that I'd love a longer run at it as Rita is one of my favourite characters, and told him I thought he'd make a great Frank."
Stephen said: "It transpired it's a play we've both loved for many, many years.
"So I went away and re-read the play, which I had been reading since I was 15.
"In fact a school friend and I used to rehearse it in my dad's garage together but, of course, I was way too young for the role back then.
"But re-reading the play I realised I'm now the right age to play Frank, which was a little bit scary to begin with."
Educating Rita tells the story of what happens after Rita enrols on an Open University course and of her encounters with tutor Frank.
He's a frustrated poet, brilliant academic and dedicated drinker, who is less than enthusiastic about teaching Rita.
However, Frank soon finds that his passion for literature is reignited by Rita, whose technical ability for the subject is limited by her lack of education, but whose enthusiasm Frank finds refreshing.
The two soon realise how much they have to learn from each other.
The play was commissioned by the Royal Shakespeare Company and first played at the Warehouse Theatre, London in 1980, starring Julie Walters and Mark Kingston.
Julie reprised her role in the BAFTA, Golden Globe and Academy Award-winning film opposite Michael Caine.
"Compared to Michael Caine, Julie Walters was relatively unknown at the time and that's a bit like Stephen and I in this play," said Jess.
"Stephen is well known but the producers wanted the person playing Rita to be an unknown, so hopefully I can surprise the audience," said Jess, who has had small parts in a number of TV shows including Coronation Street, where she played a waitress.
And for Jess, a mum of three, the character of Rita has a particular resonance because, like Rita, she also returned to university education as a mature student.
She said: "Education was not for me at 14-15, but when I got to 23 I was ready for it.
"I come from a very working class background and Educating Rita was one of the first plays where I heard a working class voice which is a voice I recognised and found very inspirational.
"From a very young age when I read the play, it gave me permission to aspire, to have the option of a different way of life."
Educating Rita is at Eden Court Theatre, Inverness, from July 2-6. www.eden-court.co.uk