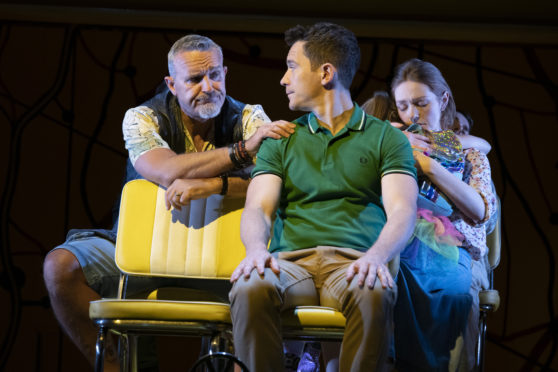 It is a testament to the talent and charm of the cast that considerable technical difficulties did not dampen the audience's enjoyment of Little Miss Sunshine as the musical comedy began its run in Aberdeen last night.
The production, based on the cult classic 2006 indie movie, told the story of the Hoover family as they embark on an 800-mile road trip across America to ensure little Olive can fulfil her dream of competing in a beauty pageant.
They make the journey in a battered old VW van which is described as "a family heirloom" and is the setting for many darkly comic exchanges.
The grandpa, played by Mark Moraghan, proved a particular hit with the crowd at His Majesty's Theatre as he sang a ribald song about his lust for life – then revealed his tender side in a poignant piece with Olive.
Sev Keoshgerian impressed as stroppy teenager Dwayne, whose exaggerated sighs and shrugs spoke volumes while the character was taking a self-imposed vow of silence.
And when he finally broke that silence in spectacular fashion with a roared expletive – and then a song berating his loved ones – it was a highlight of the night.
Lucy O'Byrne, as mum Sheryl, showed off her haunting vocals as the best singer of the bunch.
However, there were technical glitches which ground proceedings to a halt for about 15 minutes in both halves.
It can only be hoped that these issues are resolved for the rest of the run as they were the only negative anyone could take away from this otherwise warm-hearted and thoroughly enjoyable show.