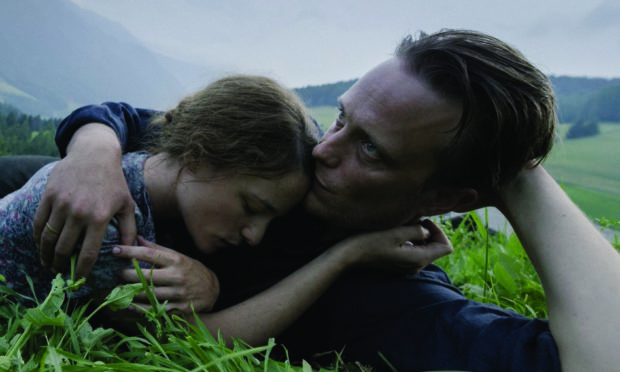 Susan Welsh saw the Scottish Premiere of A Hidden Life at Eden Court in Inverness
Inverness Film Festival last night presented the Scottish premiere of A Hidden Life.
Introducing the movie, festival director Paul Macdonald Taylor said he was both delighted and sad to be screening visionary director Terence Malik's latest offering.
Delighted, as Highland audiences were being offered the chance to see the film three months ahead of its official release date in the UK, and sad as he was unable to stay for the screening of the film which was premiered at the Cannes Film Festival himself.
Starring August and Diehl and Valerie Pachner in the lead roles, it tells the story of Austrian Franz Jagerstetter who, after serving a term of duty in the Wehrmacht returns to his quiet life living with his wife (Pachner) and three young daughters.
Working a small farm, high up in the Austrian Alps, almost above the clouds, gives Malik the opportunity to show numerous, breath-taking shots of the beautiful Austrian countryside.
As WWII continues, Franz realises he's going to be conscripted.
Aghast at Hitler's actions, the devout Catholic declares himself a conscientious objector which leads to numerous scenes of him and his family, deep in thought as they contemplate the importance of the decision he has made.
For it is not just him that will be affected by his stubborn refusal to swear allegiance to Hitler.
Despite being offered the chance to be an conscientious objector and avoid front-line action by working in a hospital instead, he refuses as this too means pledging loyalty to the Fuhrer.
His action results in him being thrown in jail, badly treated and tried for treason, while his family face isolation, hatred from the rest of the villagers and terribly tough times.
It's thought provoking stuff and makes you consider if this was an act of immense bravery or pure selfishness as, by standing his ground, he knew his entire family would suffer dreadful consequences.
At three hours long it's a slow-paced but absorbing film, with stunning photography, but I felt overly long thanks to too many lingering and scenic shots.
But for an alternative viewpoint of how WWII affected different people, definitely worth seeing when it goes on general release in January.
The 17th Inverness Film Festival runs until November 14.