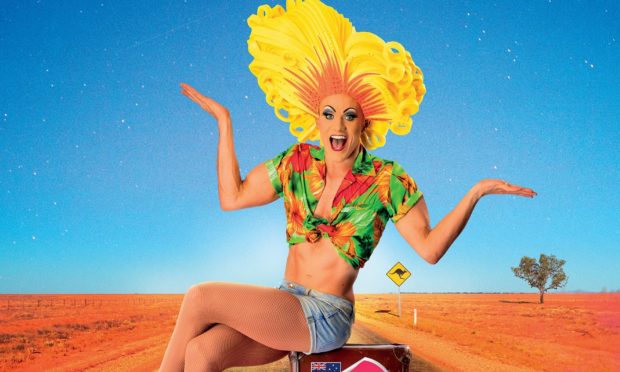 Susan Welsh saw Priscilla, Queen of the Desert at Eden Court Theatre, Inverness
If you are looking for a way to escape the current turbulent political scene or pre-Christmas hype, then do yourself a favour get a ticket for Priscilla, Queen of the Desert which is on at Eden Court until Saturday.
It's a bit like stepping inside a sparkly rainbow, as from the opening scene you're immediately immersed in a world of colour and fun.
There's flamboyant costumes, glittering dresses, huge musical numbers and a non-stop selection of sing-along numbers.
It's often over the top and camp, but is also bitingly funny and desperately touching in places.
In other words, it has every element you want in a musical designed to make you leave the theatre with a smile on your face.
One of the producers on this new West End production is Jason Donovan, who himself has appeared in the show about diversity himself.
It tells the story of three friends who glitz up a battered old bus they name Priscilla and head across the desert for Alice Springs where they aim to put on the show of a lifetime.
Scottish actor, Joe McFadden (The Crow Road, Holby City and Strictly Come Dancing winner) swaps his own accent for an authentic Aussie one to play the lead role of Tick, whose alter ego is Mitzi, a drag queen.
Mitzi has a secret – he's married to a woman and has a six-year-old son who he'll meet for the first time in Alice Springs.
He convinces his pals, Bernadette, an older transsexual (Miles Western) who is elegant, classy and wonderfully sarcastic and Felicia (Nick Hayes), a drag queen obsessed with Kylie and having a good time, to join him.
Their journey is full of highs and lows, as they meet a variety of different characters and find themselves in some outrageous situations, but more importantly, find themselves.
It's full of dance-floor classics such as, It's Raining Men, I Will Survive, I Love The Nightlife, Boogie Wonderland, and What's Love Got To Do With It?
By complete contrast, Tick singing a slow version of the Elvis hit, Always on My Mind, to his young son Benjamin at bedtime (played by nine-year-old Taine Robinson from Midlothian), was deeply moving.
Priscilla, Queen of the Desert is at Eden Court until Saturday, November 23.