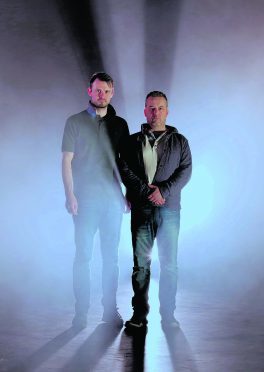 Derek Anderson talks about directing The Pillowman, a show once described as Stephen King combined with the Grimm Tales and directed by Quentin Tarantino.
HI, DEREK. YOUR LATEST PRODUCTION TO COME TO ABERDEEN IS THE PILLOWMAN. IT'S NOT A PLAY I'M FAMILIAR WITH.
It is quite rare for this play to be done. The writer is very protective of giving out the rights to his show. The reason I got the rights in the first place, after two years of trying through official channels, was I ended up bumping into him in a theatre where his current show is on in the west end. I ended up getting special permission to do the show.
There was a production of it at the National Theatre in London with an incredible cast including David Tennant and Jim Broadbent. It won several awards.
YOU SAID YOU WERE CHASING IT FOR TWO YEARS. SO HOW DID YOU FIRST HEAR ABOUT IT?
I read the play several years ago. I worked on another show by the writer, Martin McDonagh, which I really liked, so I decided to find out more about him. I'd seen The Pillowman and the success that it had. I looked at the plot summary and it looked really interesting, so I gave it a read.
I instantly fell in love with it. I literally read it again straight away. It's such a powerful story and there are so many layers to it. It has more plot twists than you can imagine. I was just captivated by it.
CAN YOU TELL US ANYTHING ABOUT THE TITLE WITHOUT SPOILING THE PLOT?
It is hard to explain without giving too much away. Basically, the main character in the show is a writer. He writes short stories and one of them is called The Pillowman. It's a reference to that, but to say any more could give away the plot.
TELL ME ABOUT THE SYNOPSIS, THEN. WHAT IS THE PILLOWMAN ABOUT?
It's set in an interrogation room where two detectives are questioning a writer and his brother about the short stories that he's written and the similarities they have to gruesome child murders that have been happening in his town.
Basically, as his stories are revealed in the show, more twists and turns are revealed. You start to lose track of what is story and what is real life. Plot twist comes after plot twist.
As soon as you think it is going one way, he flips it and it's actually something completely different. It's a great thriller. It was once described as Stephen King combined with the Grimm Tales and directed by Quentin Tarantino.
IS THE SUSPENSE ELEMENT ITS APPEAL?
Yeah, anyone who loves a whodunnit thriller or mystery will love it. It keeps you thinking and on the edge of your seat right up to the last minute.
IT SOUNDS VERY COMPLICATED. DOES THAT MAKE IT CHALLENGING TO DIRECT?
I don't really see it as a challenge. It's more a joy for me to have something so intricate and detailed. The writing of it, the actual story, is so clever and detailed that it doesn't actually make it hard, it makes it really easy. It's a joy to work with. You just have to be truthful with it and it takes care of itself.
HOW ARE REHEARSALS GOING?
We've had a really great start. We've done a full read through with the cast, who are incredible, so it's so exciting to just hear it.
YOU'VE BEEN WAITING A LONG TIME TO GET THIS OFF THE GROUND. HOW ARE YOU FEELING NOW IT IS HERE?
I've never seen it performed live, so even just having it read by actors was quite thrilling for me. I'm as much as excited to see it as an audience member as I am being the director putting it together. I love the story that much.
The Pillowman will open next Wednesday, April 20, at the ACT Aberdeen at 7.30pm and run until Saturday, April 23. Tickets cost £17 and are available from www.aberdeenperformingarts.com
or by phoning 01224 641122.