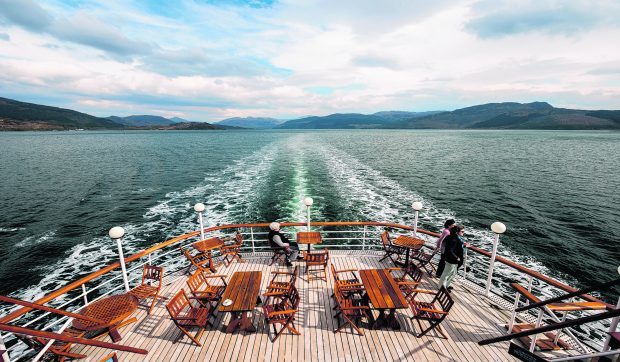 David Wishart enjoys a week of elegant cruising in a style that would have pleased the Romanovs – and was certainly good enough for the Queen
It is a fresh Monday morning and I am on the bridge of the Hebridean Princess as it turns from Tobermory Harbour into the Sound of Mull on Scotland's spectacular west coast.
We are just the captain, first officer and helmsman on the bridge, which is surprisingly roomy considering the vessel carries just 50 passengers and 37 crew. All of us could fit comfortably into one lifeboat on any of the new mega-ships.
Yet Hebridean Princess feels the right size for these waters, sprinkled with rocks and whirlpools amid heather-covered hillsides, where pleasurecraft and ferries proceed with caution not unmindful of the fate of the SS Politician, which sank off Eriskay in 1941 carrying 264,000 bottles of whisky.
Somehow a big ship would not feel right here, even if the captain was willing to chance featuring in a remake of the film Whisky Galore, and if a whopper did come by, there would be no passengers on the bridge. Such privileges are reserved these days for passengers on small, expensive cruise ships.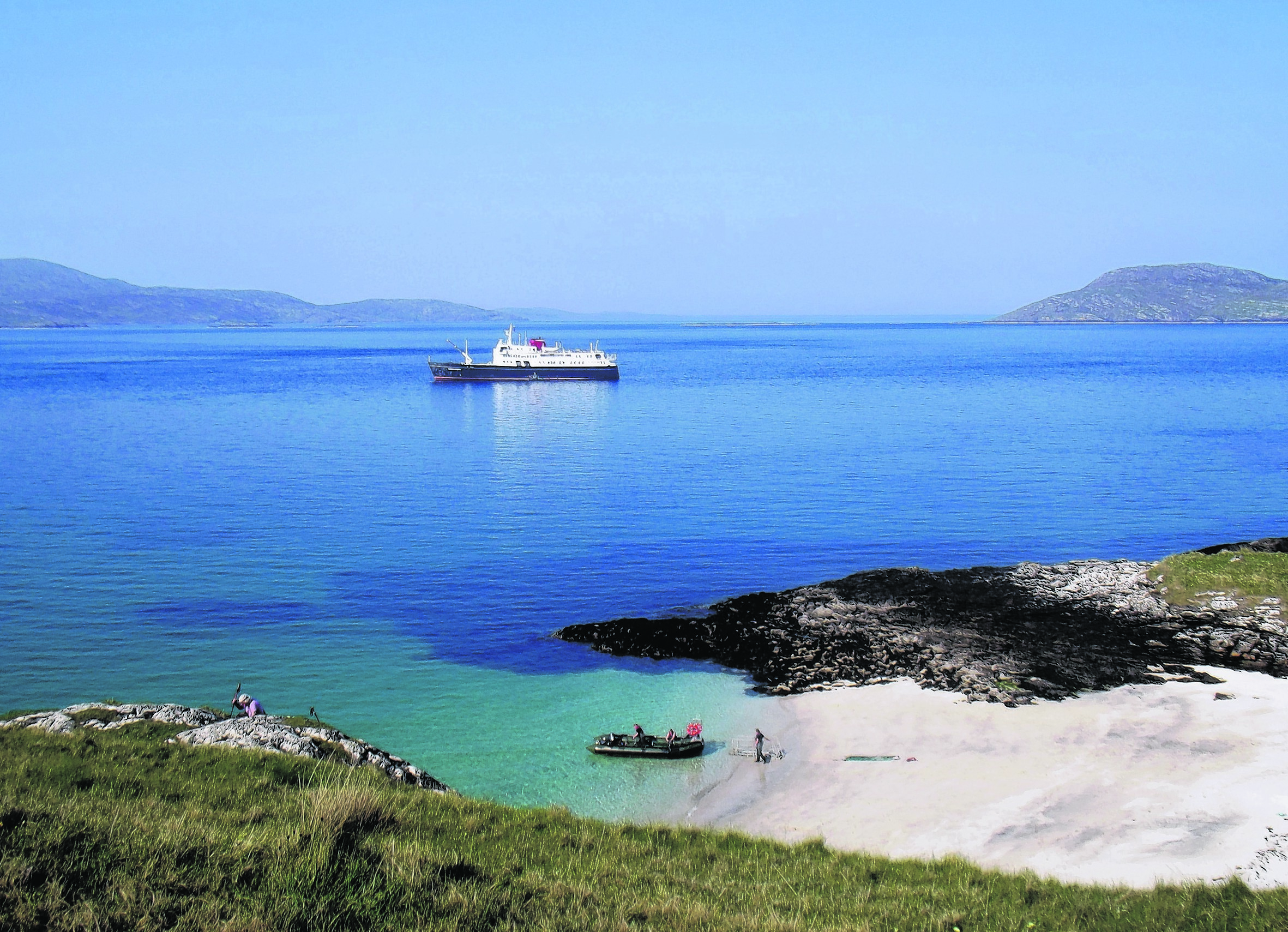 Such as Hebridean Princess, which I had boarded at Oban, welcomed by a beaming officer flourishing the champagne drunk by the Tsars of Russia.
What followed was a week of elegant cruising in a style that would have pleased the Romanovs, and was certainly good enough for the Queen, who in these post-Britannia years has chartered the vessel twice for family holidays.
Hebridean Princess passengers are also a close-knit group, and on my cruise 60% had sailed on the vessel before. In fact the main topic of conversation was who is going where next, and when. One couple from Bermuda had done 15 sailings and were on for two weeks. In such a situation one would expect cliques, but the ship is incredibly friendly. Even so, I kept my head down after an experience on a previous trip, when a woman spotted me in the salon making notes.
"I say," she barked, "are you a travel writer, or are you one of us?"
The faithful are couples and singles, the latter women mostly, ranging from middle-age to a certain age, who pay handsomely for smiling service that might be the best afloat. The onboard atmosphere is that of a warm country house party.
I dined nightly at a round table hosted by the jolly purser and enjoyed lively conversations with a professor who attached his napkin with a clothes peg. I wondered but dared not ask if he was a graduate of cruise ship napkin folding sessions.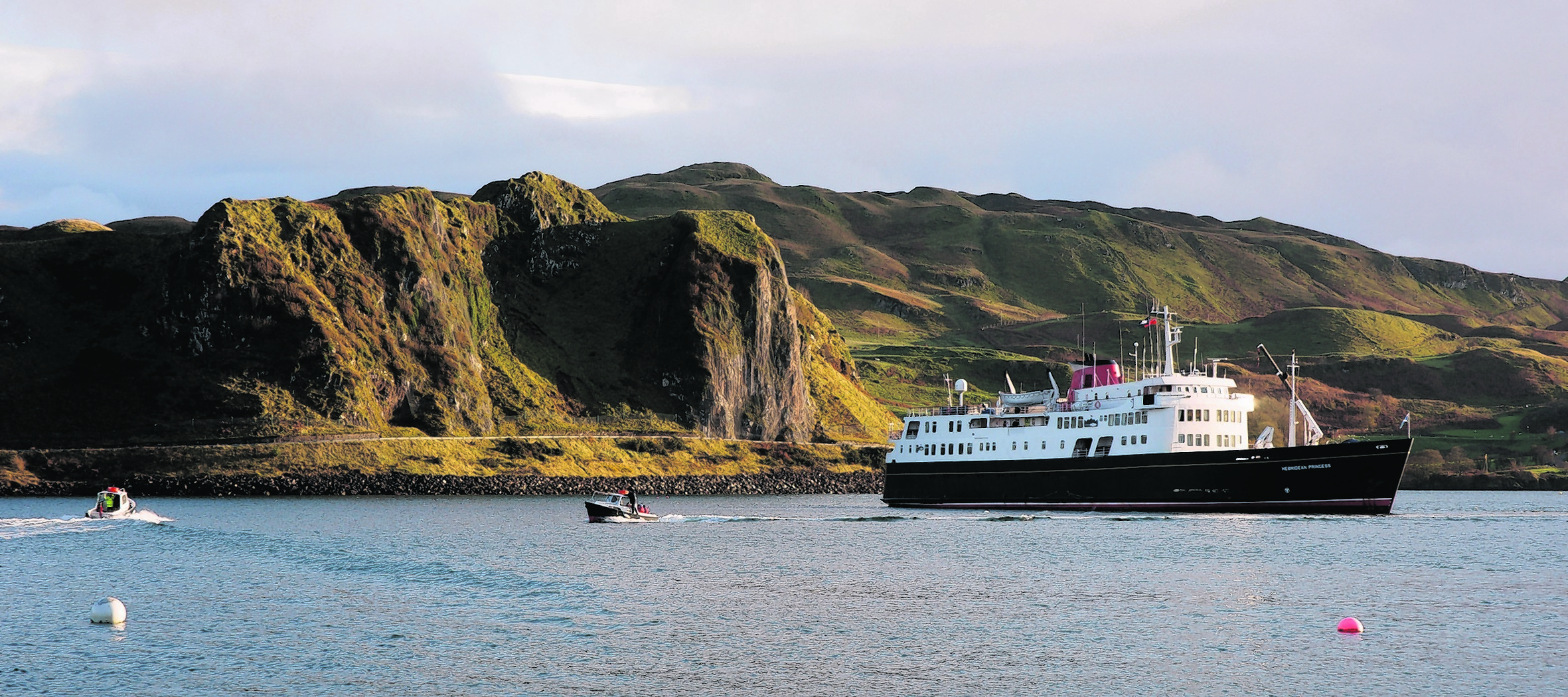 Good times were also had ashore, starting with Jura, where 1984 author George Orwell lived, and these days the island has been making news with a gin made by three women. The next day we had a visit to Islay and the Laphroaig distillery, whose hearty, peaty fame started during Prohibition, when US agents fell for a story that the liquid was a medicinal tonic.
Islay with its eight distilleries is hugely popular with lovers of a fine single-malt whisky, with one producer, Bowmore, even offering holiday accommodation within the distillery. Presumably, this is a place where you can sleep tight.
These islands are also well served with churches, a striking example being the Round Church at Bowmore, built like this, they say, so the devil would have no place to hide.
Iona with its magnificent abbey is always a pleasure and every soul on board made the pilgrimage ashore, not a few searching the adjacent graveyard for the burial site of British politician John Smith and his epitaph quoting Alexander Pope: "An honest man's the noblest work of God."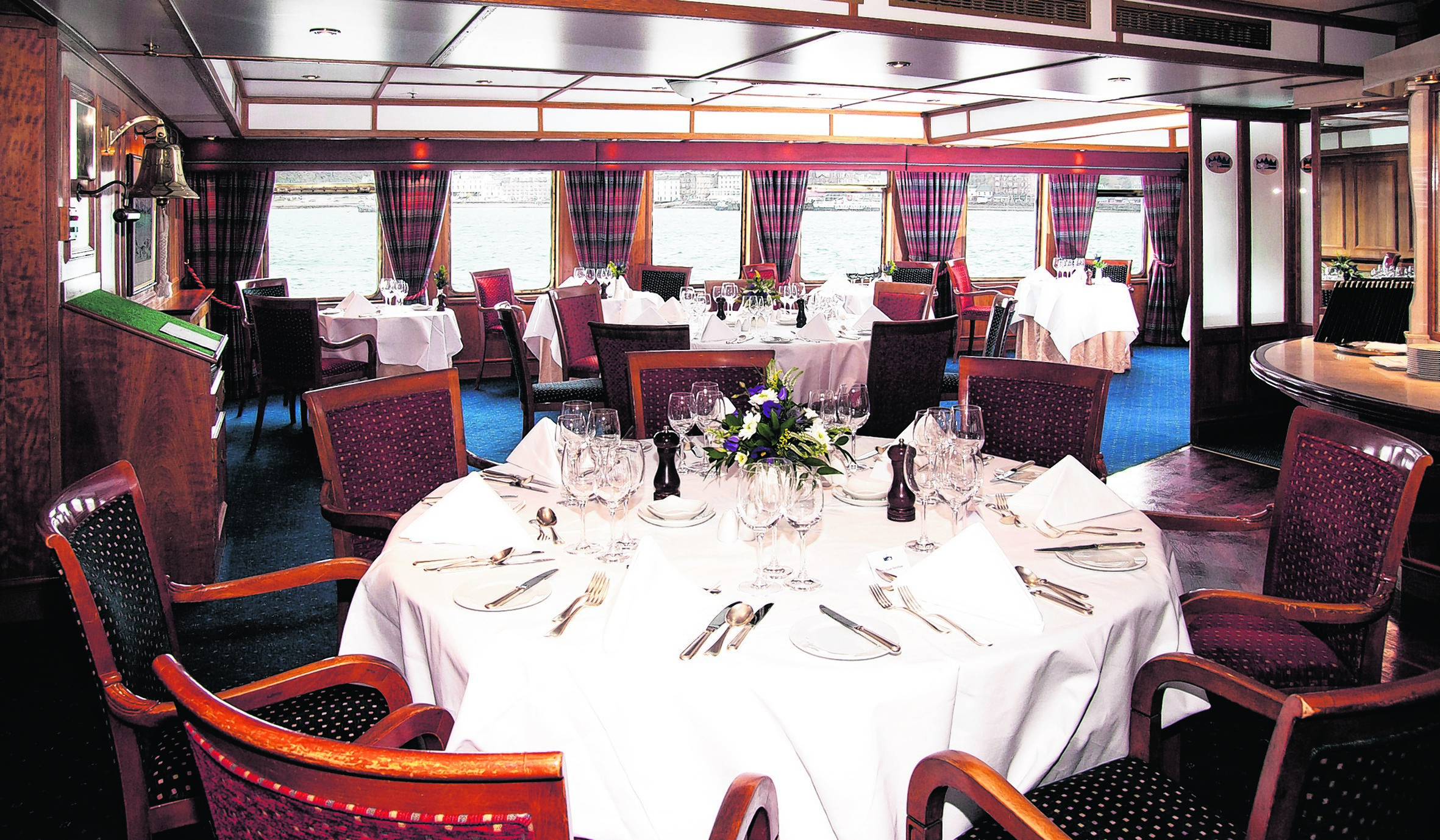 I always get a kick out of Colonsay, which with just 135 people produces annual festivals of music, books and even rugby, some going for an island that makes do with a temporary rugby pitch. There are beautiful gardens and beaches, such as that at Kiloran, a great favourite of the Queen, and I imagine that on her holidays aboard Hebridean Princess she would sit on the aft deck and take in the natural beauty. Its brilliantly white sand, along with others such as in Harris, are easily spotted by high-flying jets en route to Canada, on occasion prompting incredulous passengers to ask if they are flying over the Caribbean.
Scotland and Canada, of course, have a very real connection, and one young Hudson's Bay Company apprentice who rose to be head of the company, president of the Bank of Montreal and the man who drove the last spike to finish the trans-continental railway that founded Canada, was Donald Smith, later Lord Strathcona, who build a fine house in Colonsay, now a hotel.
The gardens here are a delight, as is the tea shop with baking worthy of a lord's table. Look out for anything with honey, for with more than 200 varieties of flowers to choose from, Colonsay's bees produce wonderful honey. A shop near the dock was selling it for £7.50 for a small jar. Last year, I was told by a woman with a twinkle in her eye, it was £6.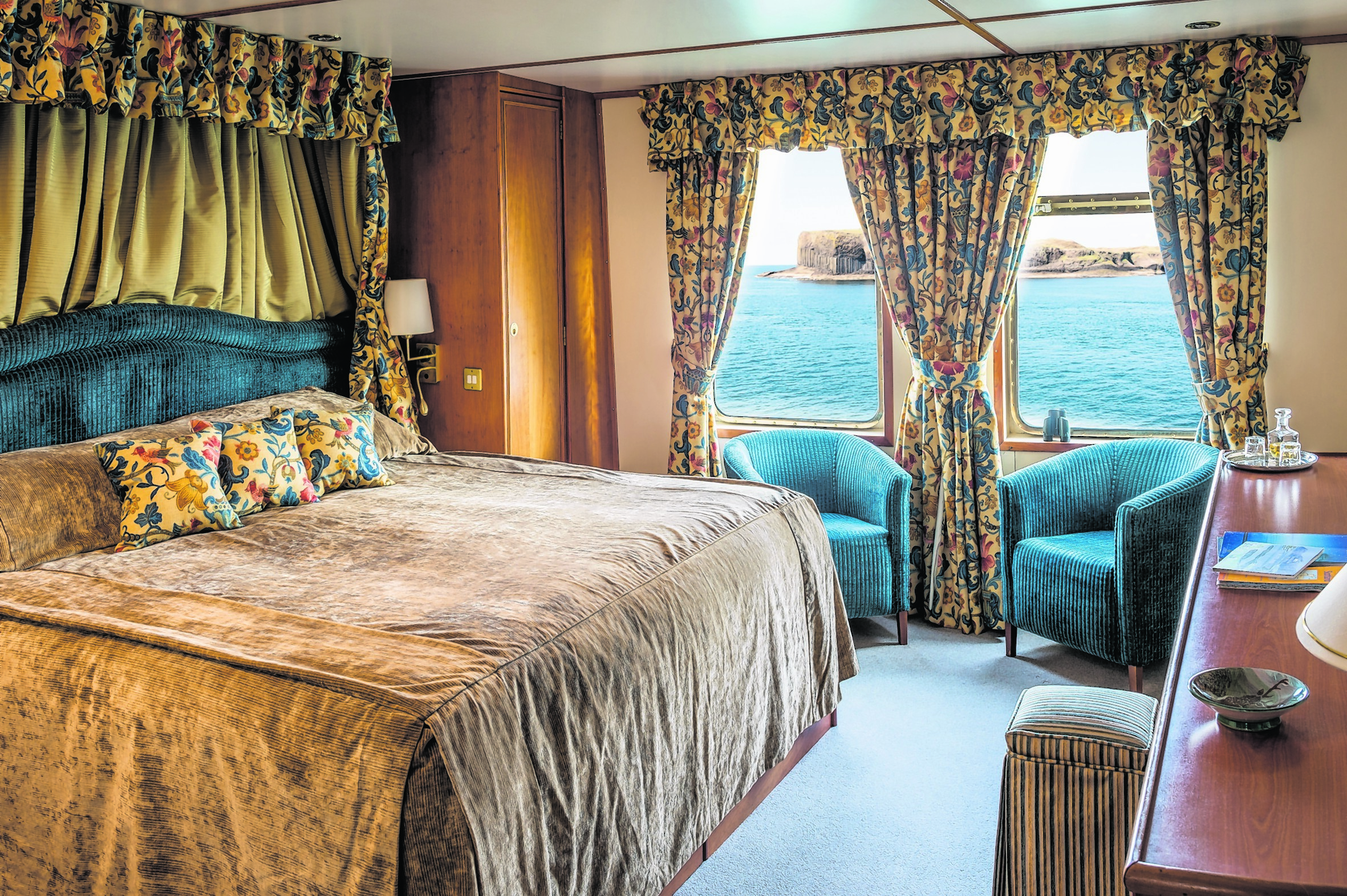 Other shops sold well-made and attractive crafts such as chunky sweaters, and not just on Colonsay but on every island we visited. Clearly, long winter nights in the Hebrides must echo with the thunderous clicking of knitting needles.
I noted too that newspapers were usually available, unlike previous trips I have made to the Highlands and islands. Scottish lore tells of the tourist who went into a village shop and asked for the morning papers. He was asked if he wanted yesterday's paper or today's paper. When he protested that of course he wanted today's paper, the proprietor, his hand on the till, said, "Weel, you'll have to come back tomorrow."
Sharing airspace with the bees are loads of seabirds, such as puffins in Staffa – where we had a stop at Fingal's cave – and mighty white-tailed sea eagles on Mull. En route to Duart Castle our bus driver pointed out a pair circling over their nest.
Yes, we had buses, but many walked and hiked, even when the weather was not great, but Hebridean Princess has a drying room and a crew always going the extra mile, such as providing hot toddies for returning
outdoors people.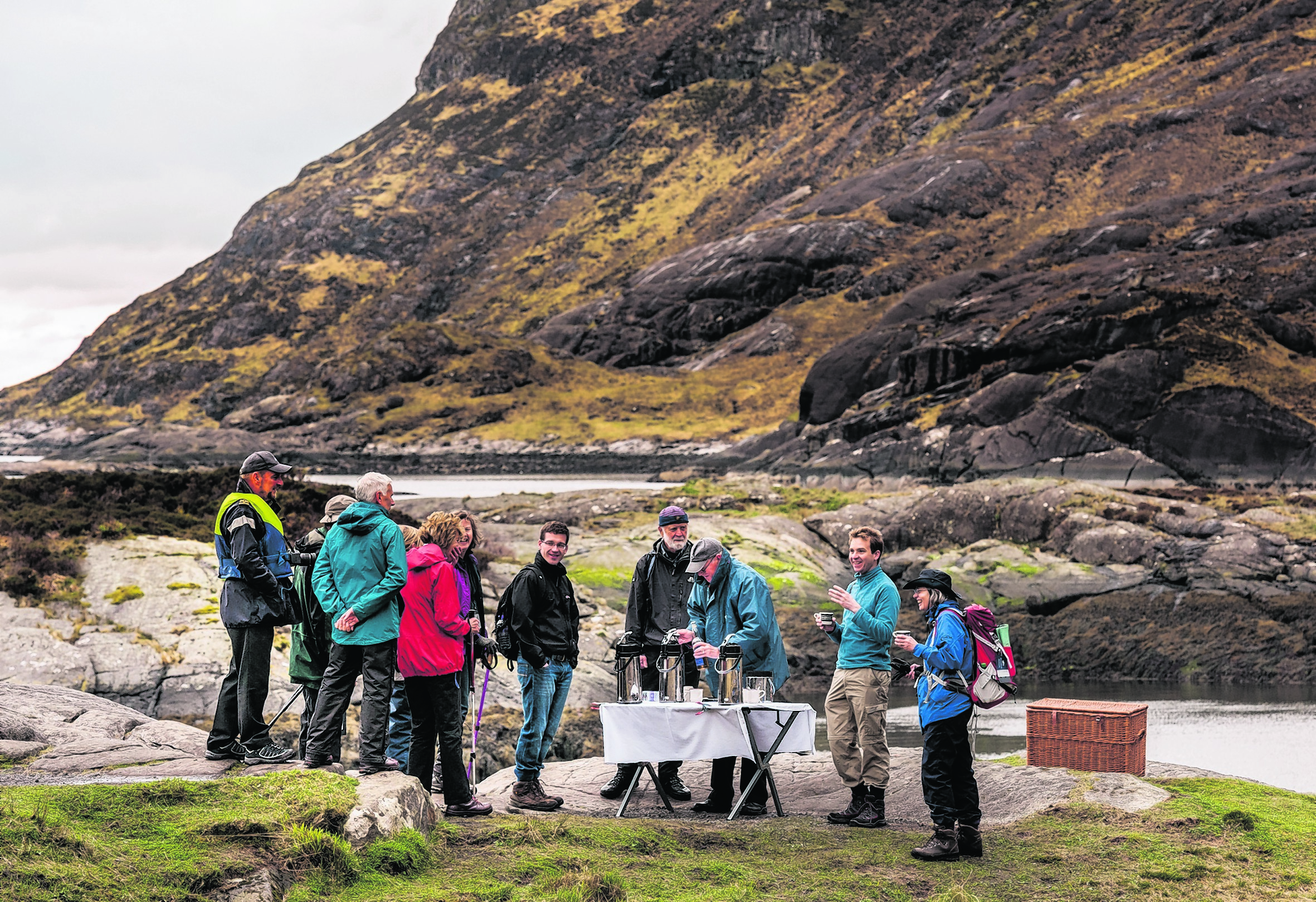 They rose to the occasion when Wimbledon was on, setting up a TV in the lounge, and serving strawberries and cream to delighted passengers.
The cruise almost over, a group of talented musicians came aboard at Tobermory for a concert, then stayed for a glass of champagne. It was that kind of trip – the best of Scotland's beautiful west coast in a friendly little ship that could.