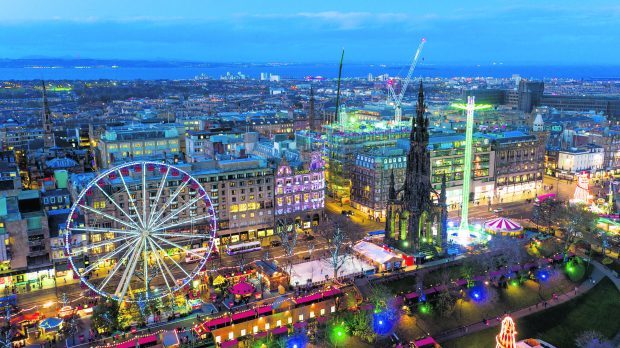 Soak up some Caledonian style and comfort in Edinburgh this Christmas. Sonja Cox tries out a classy apartment with arguably the finest views of the city
We were feeling not a small bit weary as we dragged our suitcases up the hill from the NCP car park into Edinburgh City Chambers, and if the expression on the receptionist's face was cheery and welcoming, I did not notice.
In fact she looked positively dismayed, but that's because the City Chambers is home to Edinburgh Council, so she was probably thinking "uh-oh, what have we here?".
Fortunately, she soon put two and two together that it was the Old Town Chambers we were looking for, and sent us on our way.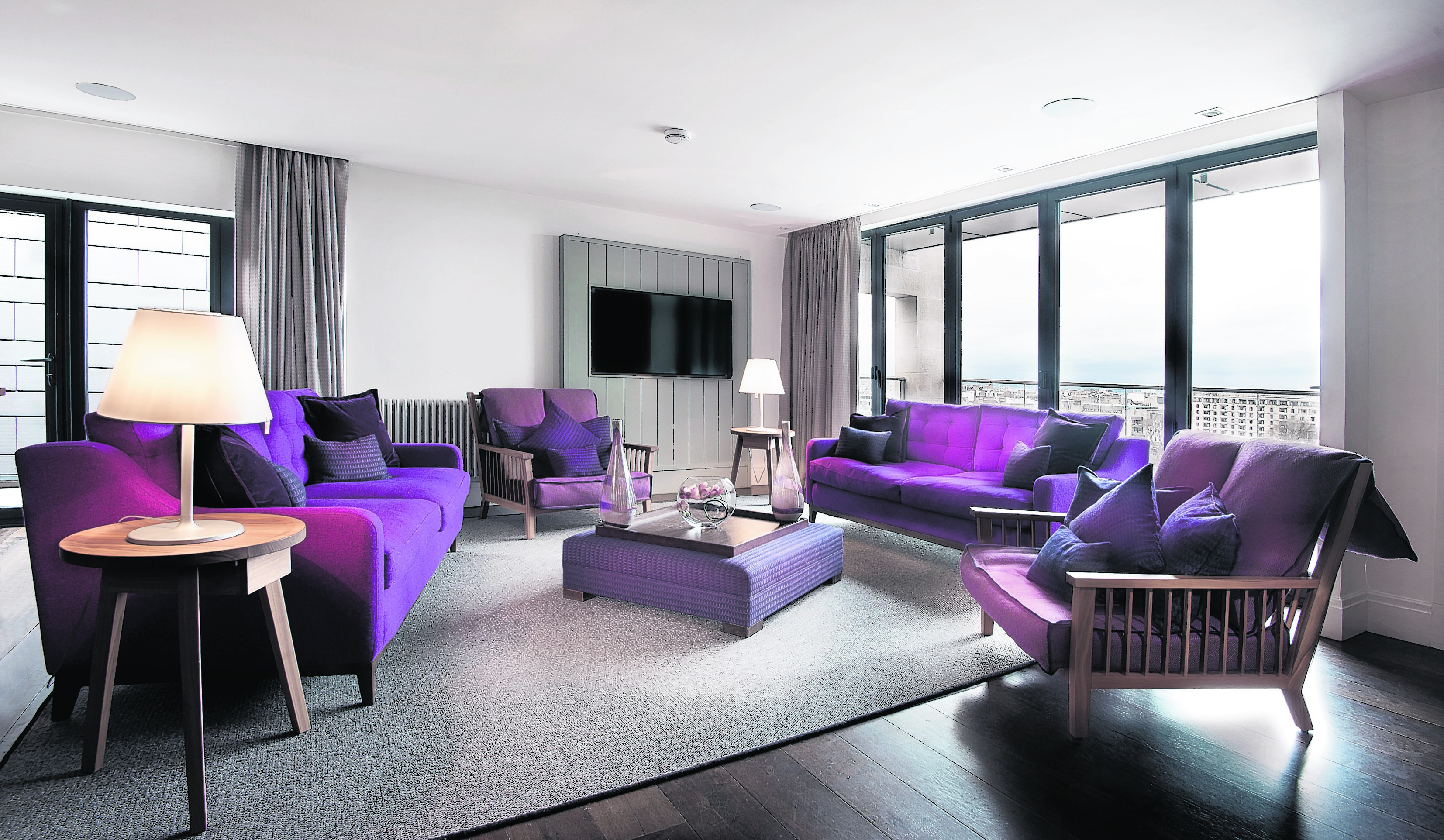 It was an easy mistake to make as they are located minutes from each other in the heart of Edinburgh, just off the Royal Mile. Moments later we were checking in to our luxurious serviced apartment within the Old Town Chambers. (The easiest way from the Royal Mile is through Warriston Close (entrance to tourist attraction Real Mary King's Close).
And it is here, dear reader – for the princely sum of £369 – you and your family or friends can luxuriate in a splendid city-centre party pad. If there are two couples, you could split the bill between you and pay just £184.50 each.
If there are four of you, that's £92.25 each, but the space you get is more than worth it.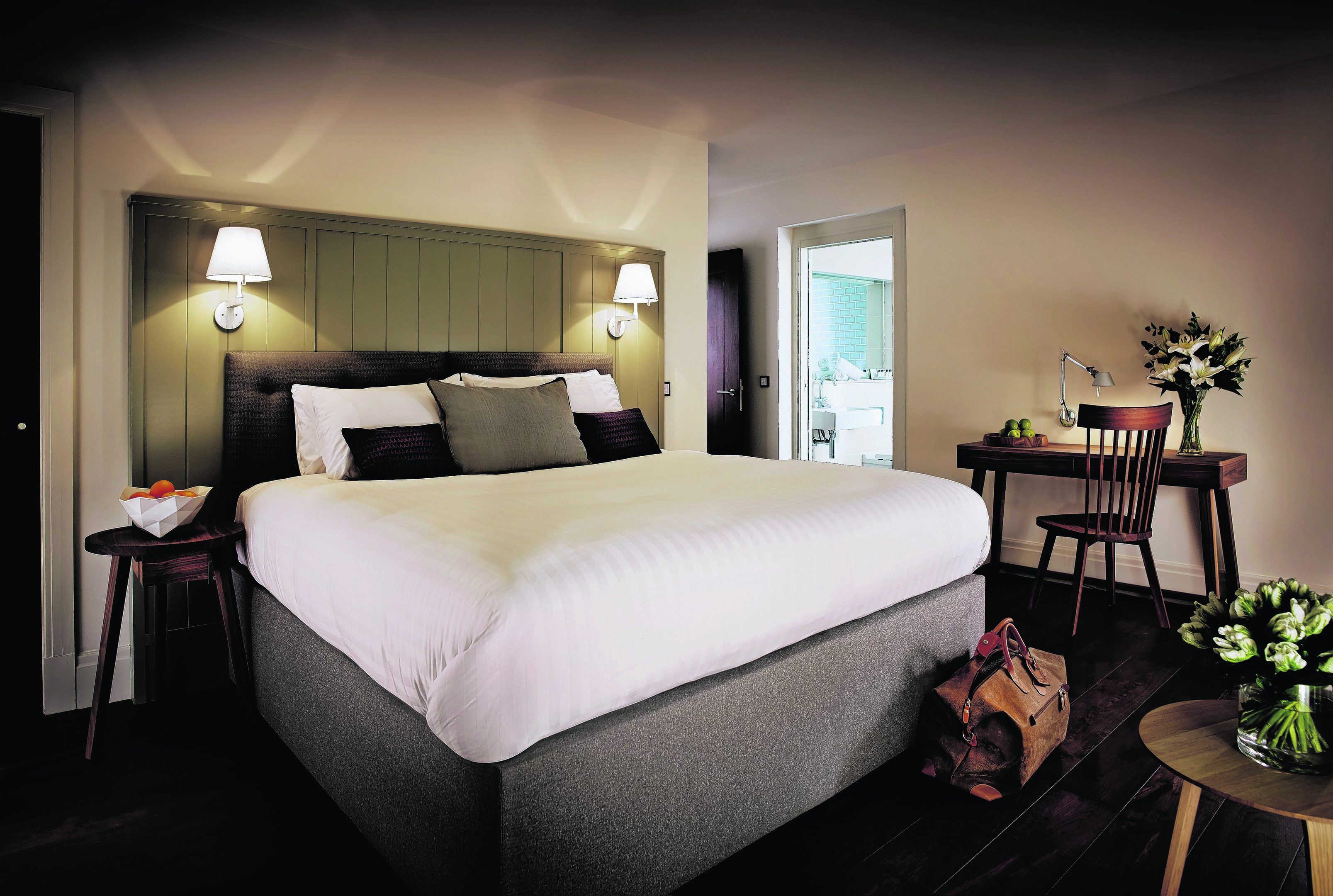 If you don't want to eat out, you can load up the fridge and enjoy sumptuous meals in, because at your disposal is one large and snazzy fully-equipped kitchen; a good-sized lounge with separate study area; two bedrooms, each with (rather high) kingsize beds; TVs in all rooms; a spacious bathroom and another luxurious shower room – and, wait for it, one serious, grown-up balcony that could host your party guests while you all enjoy some of the finest views over central Edinburgh. There is a table, chairs and plenty of room to dance the night away to the sounds of this vibrant city.
If you do decide to eat out, most restaurants are a mere hop and a skip away.
Luxurious serviced apartments create extraordinary experiences for visitors to Scotland's capital, and give you so much more freedom than hotels.
Lateral City Apartments, which manages Old Town Chambers and the Merchiston Residence, has family apartments for six guests and studio apartments for two, as well as apartments for four, as detailed above.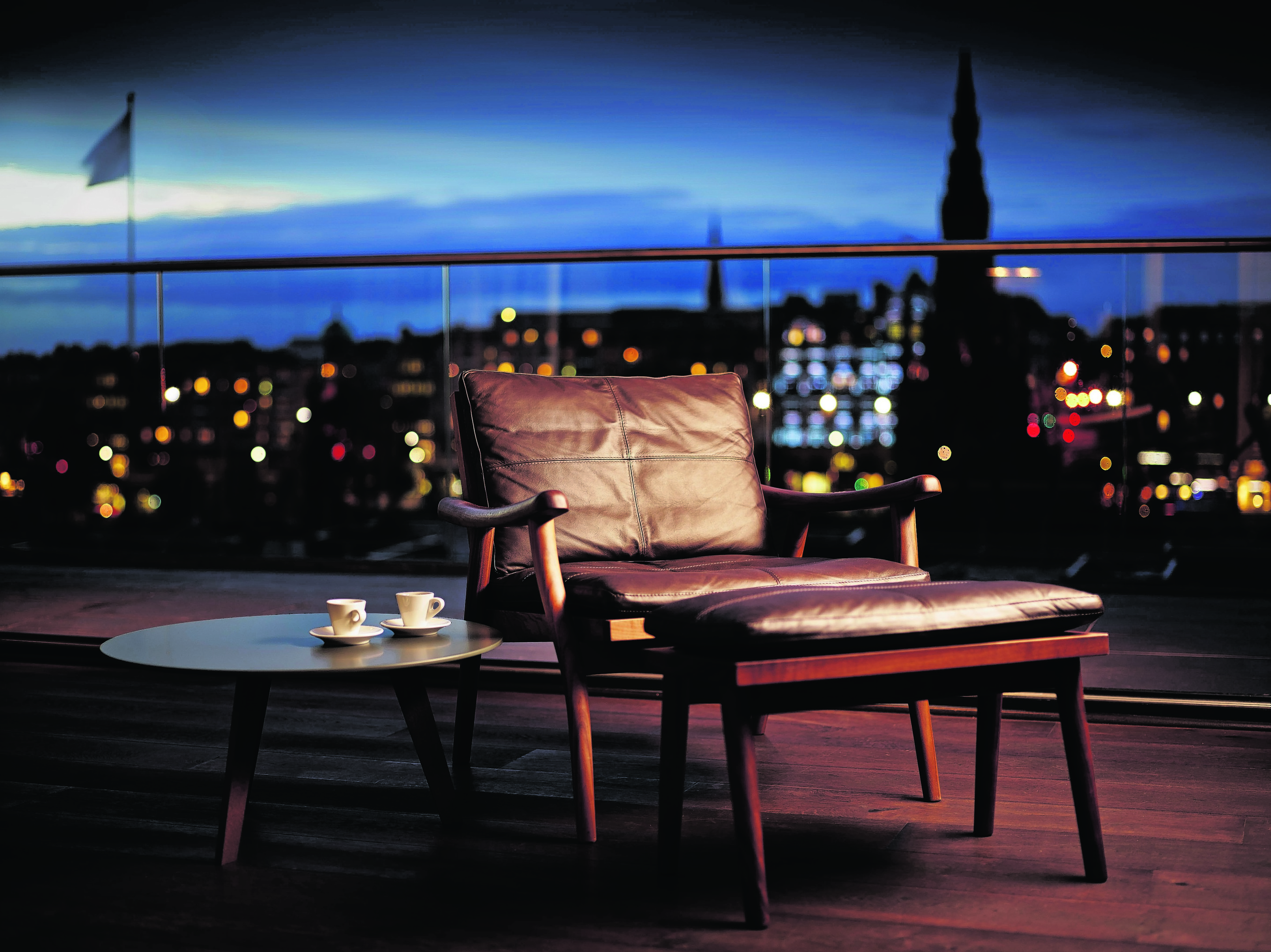 Lateral City is part of the Chris Stewart Group, which specialises in transformational projects, with a focus on regeneration and redevelopment and a particular interest in complex, listed buildings. Recent developments
include the acquisition of the former Royal Bank of Scotland headquarters in Edinburgh's St Andrew Square.
All of their apartments boast beautiful quality handmade furniture and furnishings, double smoked French oak wooden flooring, Italian tiling and exposed stone walls, alongside the latest Bose entertainment systems and a 24-hour concierge service.
Old Town Chambers is a collection of 50 beautifully-appointed serviced apartments occupying an eclectic group of buildings including a 15th century house and zinc and timber-clad modern extensions. The apartments offer an authentic experience of staying within the World Heritage Site of the Old Town, combined with the luxurious comforts of a 21st century lifestyle.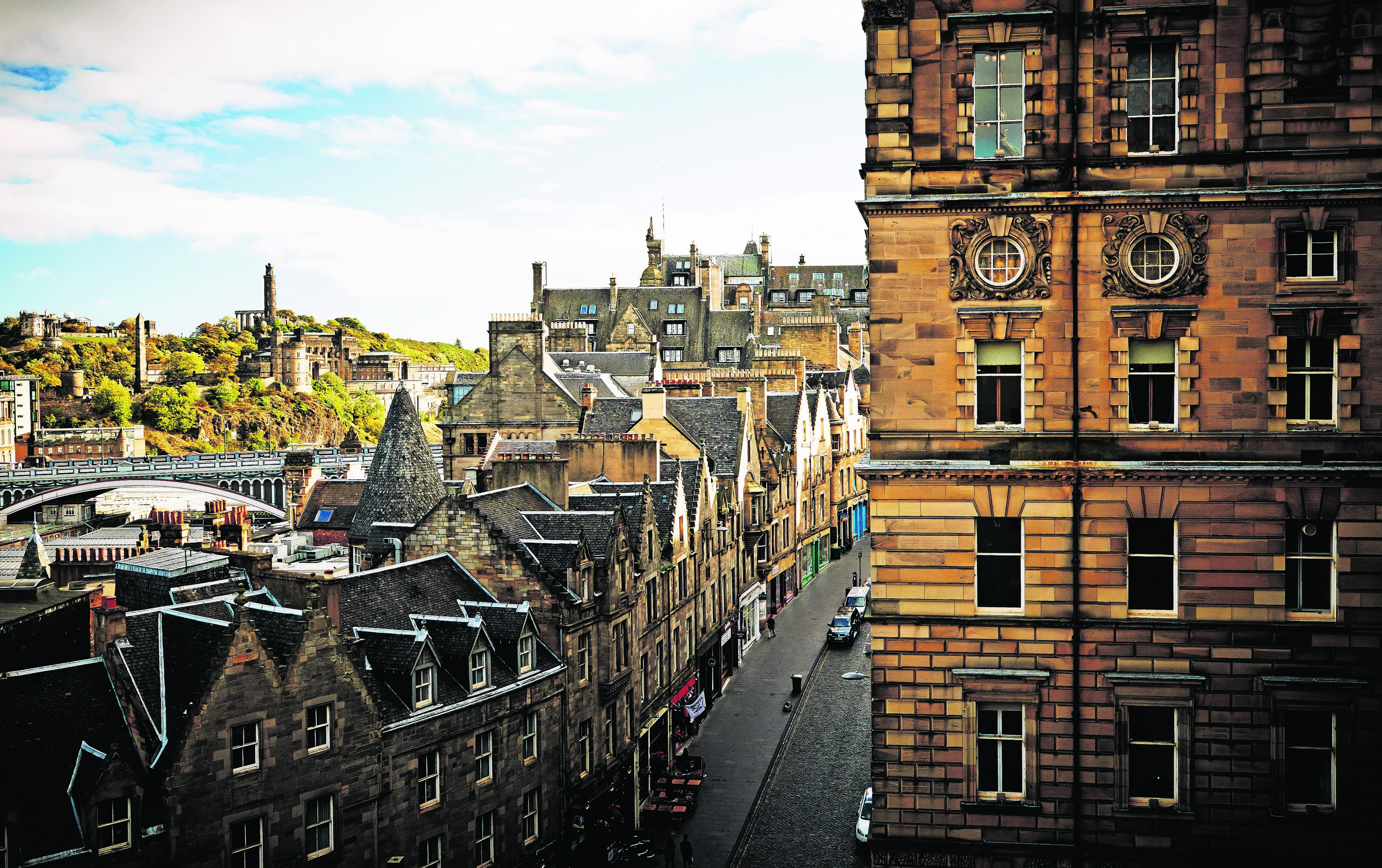 Each one is distinct with many original features having been retained and incorporated into the contemporary style, including exposed brickwork and gabled ceilings.
Enormous effort has been made to respect the historic surroundings, but also to construct accommodation reflective of the future.
The four-person townhouse traces its roots back to the 15th century and is a masterpiece of old and new in itself. It is impressive with its vaulted stone ceiling and large stone fireplaces, and yet quirky with its winding staircase leading past heavy velvet drapes to the open plan bathroom with free-standing bath tub.
The roof-top penthouses provide fantastic views over Princes Street Gardens and are packed full of the latest appliances, stunning furniture and modern bathrooms.
The colour palate and textiles are a nod to the Scottish heritage and bespoke Italian furniture as well as locally made fabrics which add an extra touch of Caledonian style.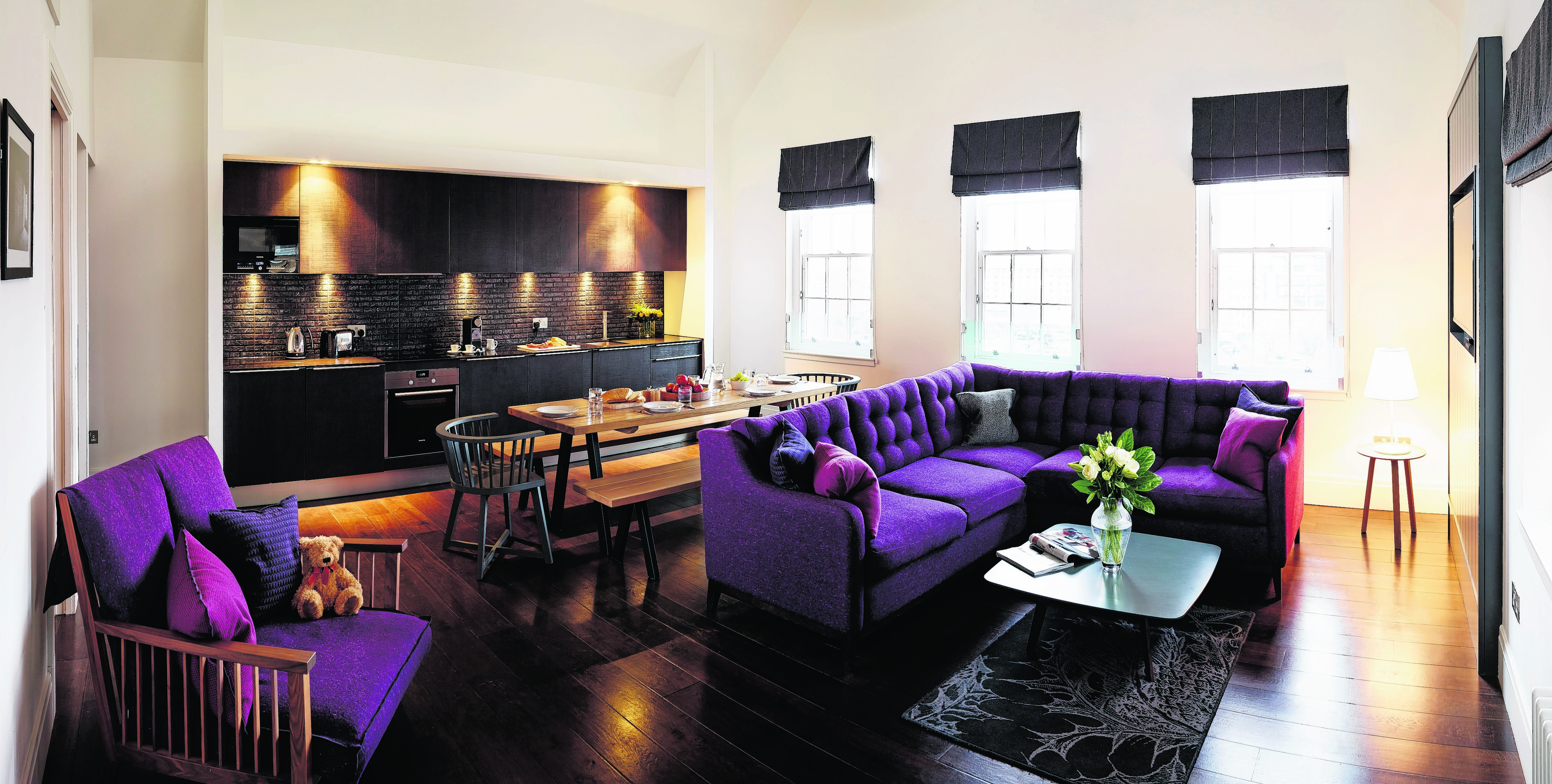 Guests are welcome to bring dogs, should they wish. They are given their own bed, a selection of treats and some great walking locations right on the doorstep.
I particularly enjoyed the warmth and cleanliness of our No. 23 apartment. The layout of the rooms means you can enjoy complete privacy, should you wish it. Although with a six-year-old, that's a distant dream.
Jack and Jill designed bathrooms in the family apartments – and in apartments with sofa-beds – are cleverly created to ensure guests are not disturbed from their bedroom while others are using the bathroom.
We loved the drench showers; the unlimited supply of pure Cowshed toiletries; the Smart TVs and Bose sound system; the Nespresso coffee machine and large fridge/freezer. There's free wi-fi too.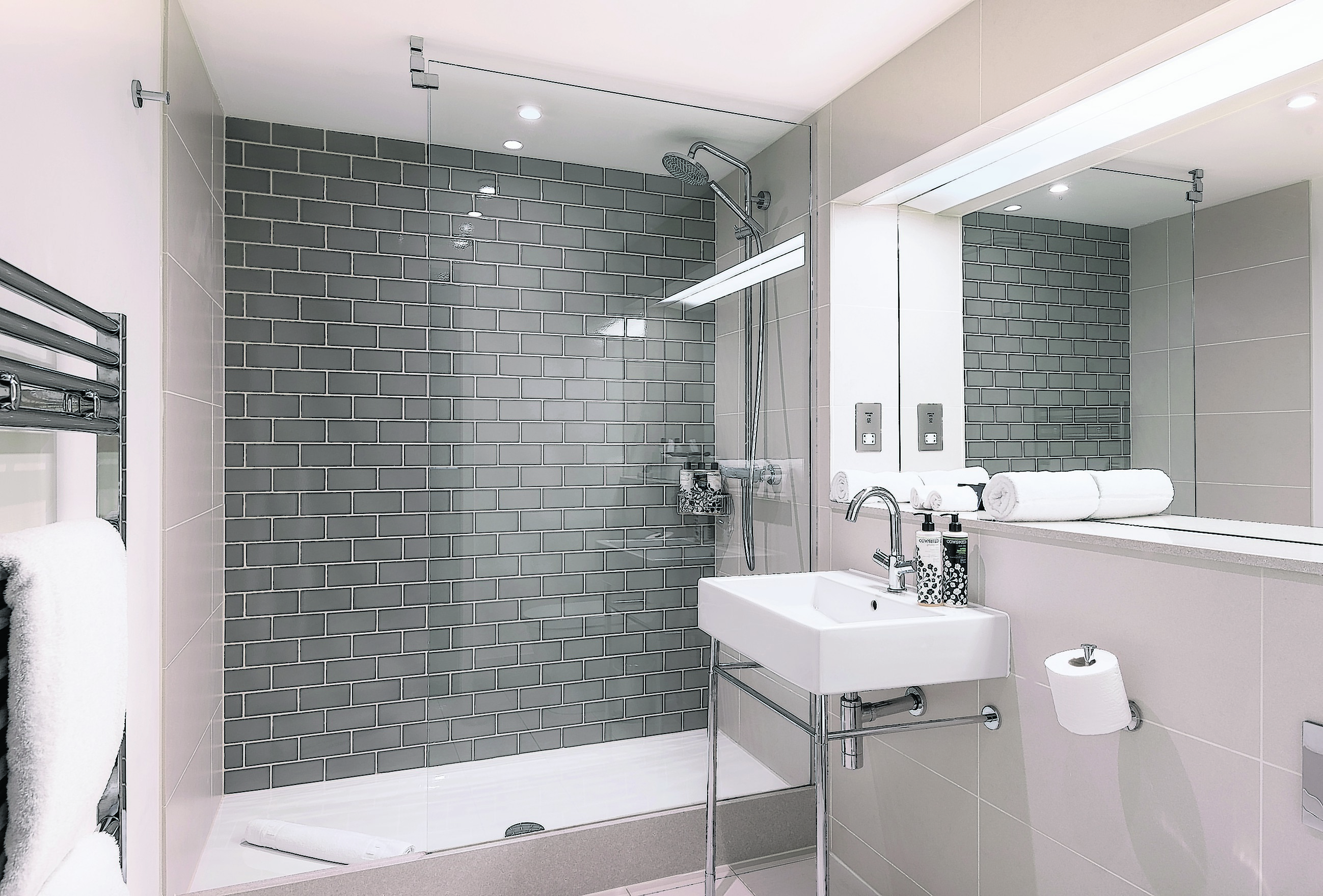 We didn't quite make it to the gym downstairs, which is available for all residents to use around the clock. But we did make full use of the kitchen
with its integrated Siemens appliances, and spent a lot of time out on the large balcony admiring the views of Edinburgh, and the bright, twinkling lights of the Christmas fairground and buzzing markets below in Princes Street Gardens.
Checking in/out was very simple, with no fuss or delay. You are given an individual pin-code by e-mail which allows you to walk in and go straight to your apartment. The friendly concierge team is on hand for guests' needs, but without being intrusive.
Old Town Chambers has a partnership with Valvona & Crolla to offer guests the option of a breakfast box, which includes a selection of the finest delicious treats such as cheese, cured Italian meats, fruit juice, bread, fruit and muesli. The boxes, which serve two, are £29 each. A similar Quiet Night In box is also available for the same price and includes cheese, cured Italian meats, olives, and Valnona & Crolla's signature wine.
EDINBURGH'S CHRISTMAS
There are of course many things to see and do nearby, including Holyrood Palace and the amazing Dynamic Earth at the bottom of the Royal Mile; The Scotch Whisky Experience and Edinburgh Castle at the top of the Royal Mile; and the National Museum of Scotland and Scottish National Portrait Gallery.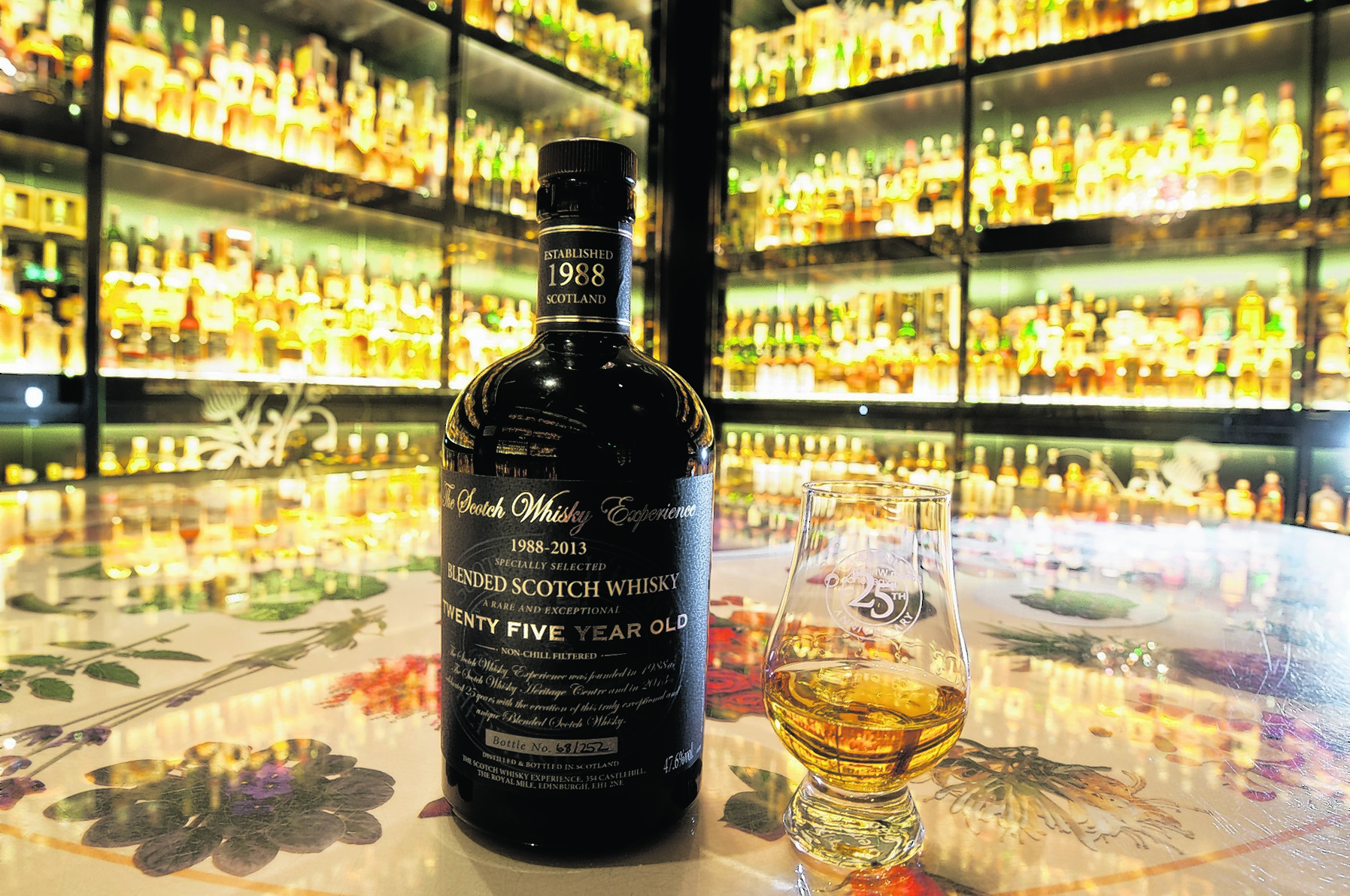 But it was to Princes Street Gardens we were headed, for Edinburgh's Christmas fair. Only a five-minute walk downhill from our apartment, the extravaganza in the city includes ice skating round St Andrew Square on the only elliptical ice rink in the UK; The Big Wheel; and the scary Star Flyer which takes thrill-seekers up as high as the Scott Monument. New for this year is The Yeti, which sends you flying up, down and round in an "avalanche of fun".
Edinburgh's Christmas offers great Scottish and European Christmas markets, a Street of Light and a host of fantastic shows specially for the festive
season.
Down in Santa Land, on East Princes Street Gardens, is Santa's grotto, a Christmas tree maze, Santa train and child-friendly rides including
a toddler's balloon ride, carousel, crazy cars, helter skelter, ice
wall and rollercoaster – plenty to thrill adults and children alike.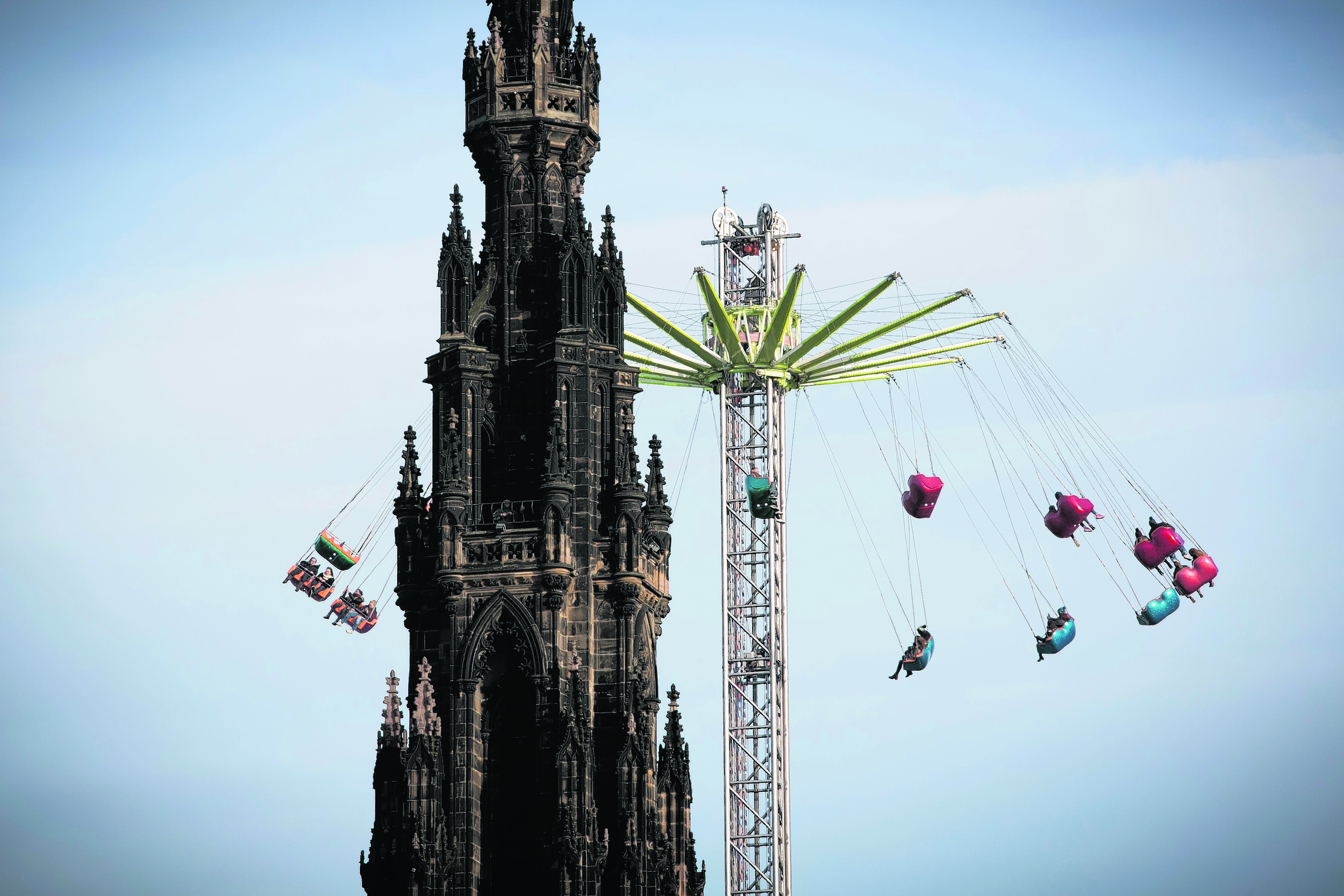 In between all this excitement, and after a spot of shopping in Jenners, we enjoyed a long, lazy lunch at The Scotch Whisky Experience, a five-star visitor attraction at the top of the Royal Mile.
The stunning specialist whisky shop is a magnet for whisky lovers, with more than 477 different derivations of whisky, and expert advisors trained to guide visitors through the astonishing choice to find their perfect dram.
A fully guided tour is imparted via a "barrel ride" through the production process, a sensory presentation explaining the different whisky regions, and a guided whisky tasting within the spectacular vault containing the world's largest collection of Scotch Whisky.
The priceless Diageo Claive Vidiz Whisky Collection comprises 3,384 historic bottles of whisky glowing within a marble and glass vault. A luxury private dining experience here is apparently unmissable.
Amber is a cosy restaurant and whisky bar on the lower-ground floor of the visitor attraction. With a Scottish cuisine to mirror the outstanding whisky selection, it's the perfect place to discover Scotland's larder.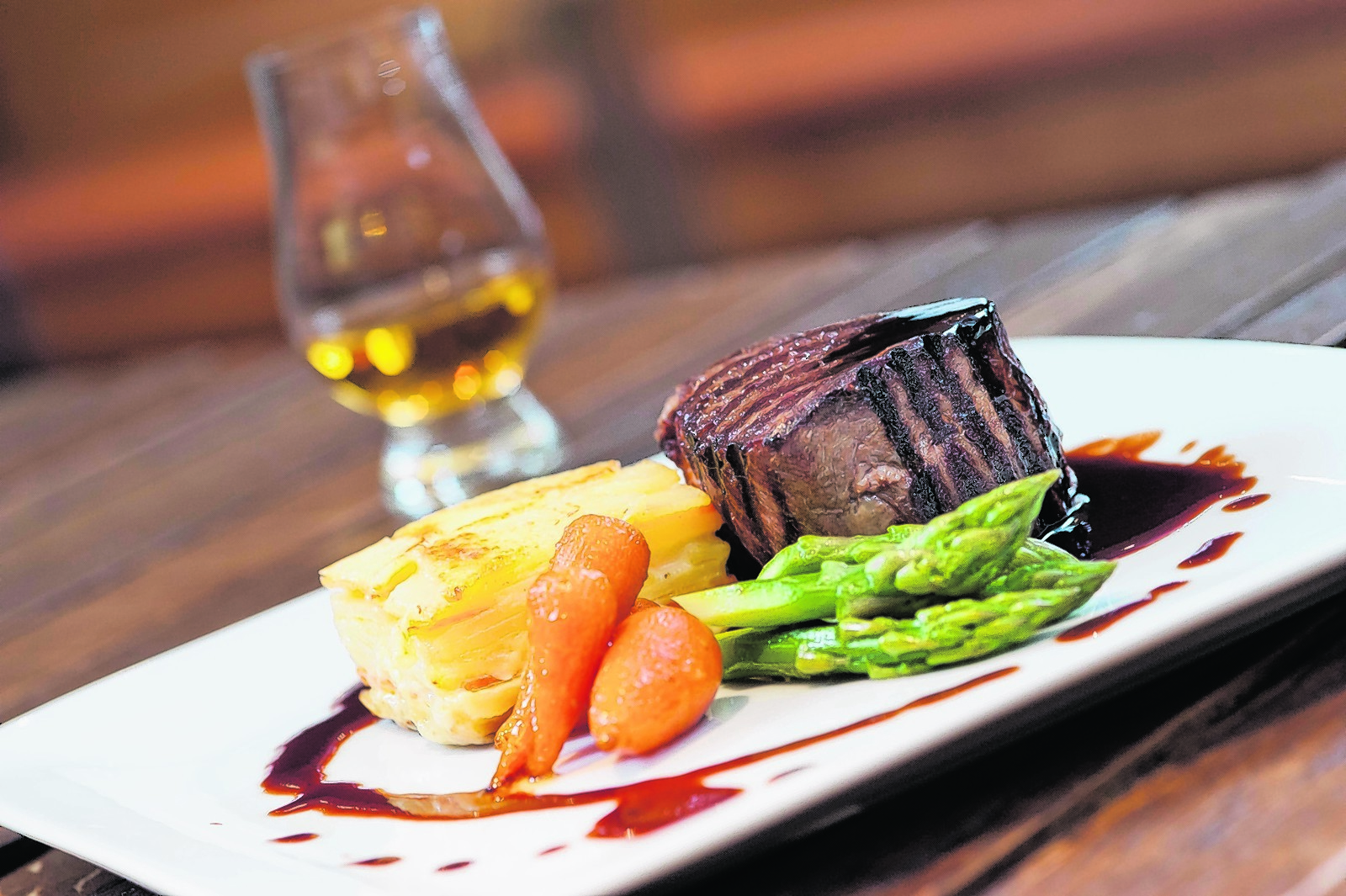 At Amber – which was voted Best Restaurant in Edinburgh 2016 by Bookatable – we greedily tucked into the most delicious salmon, steak and chicken, followed by sticky toffee pudding to die for, and of course, a fine dram of The Balvenie, which is distilled in Banffshire.
Our lovely waitress Liz, who once worked at the Craig-ellachie on Speyside, knew her whiskies like the back of her hand.
And now that we have discovered the delights of the Old Town Chambers, we know a bit more about Edinburgh, too.
THE HOLIDAY
Prices at Old Town Chambers start at £138 for a studio apartment or £369 for a two bedroom apartment. For more information, log on to www.lateralcity.com/old-town-chambers or call 0131 510 5499.
Must-visit destination: The Scotch Whisky Experience – www.scotchwhiskyexperience.co.uk
Parents, children, shoppers and thrill seekers have every day until January 7, 2017 to enjoy Edinburgh's Christmas. Visit www.edinburghschristmas.com for more information.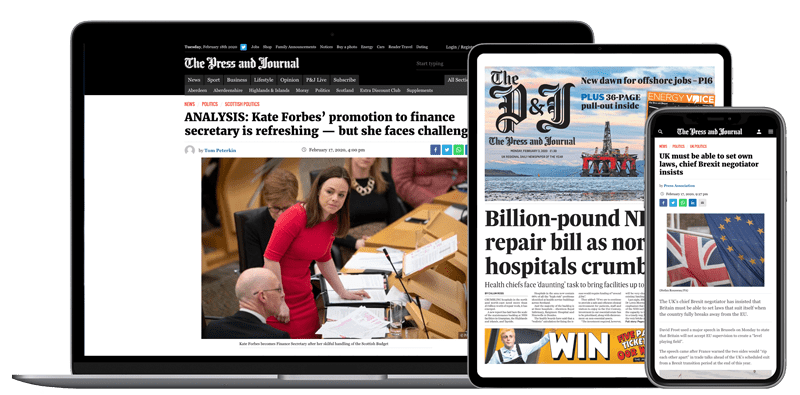 Help support quality local journalism … become a digital subscriber to The Press and Journal
For as little as £5.99 a month you can access all of our content, including Premium articles.
Subscribe