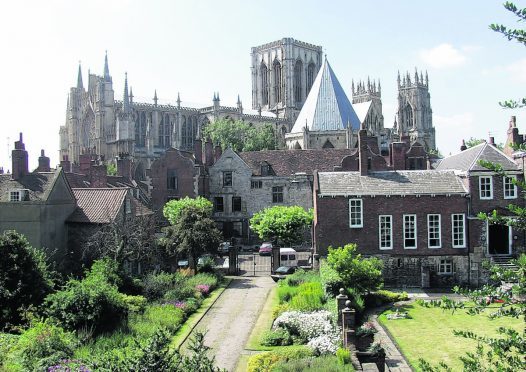 Indulge yourself in the home of chocolate just in time for
Christmas, writes Sonja Cox, it's scarily good
Fresh smoked salmon and creme fraiche sandwiches with spring onion and chive dressing, crisp rocket and hand-cooked crisps, comfortable leather chairs and friendly waiters serving drinks… what more could you ask for?
The sandwiches came from the kitchens of celebrity chef James Martin, but I'm not in a posh restaurant – I'm 'flying' with Virgin.
In truth, I'm not even flying, but I could have been, so luxurious was it.
Virgin Trains has partnered with James Martin to offer some lovely treats on its menu in First Class carriages, where, dear reader, everything is
included.
Onboard catering has come a long way since weak tea, curled up bread and overpriced crisps, and with Virgin's newly refurbished interiors with executive-style leather seats and mood-lighting in First Class, travelling by train is definitely the way to go.
We left Aberdeen at 7.52am on Saturday morning and were in the historic city of York – settled into our beautiful hotel beside the Victorian railway station – before 2pm. The journey can be done in around five hours, and is so much less stress and hassle than taking the car.
We were lucky enough to have Visit York passes, which gave us access to York's best attractions, but choosing what to see first and cramming in as much as possible into two days was hard. There is so much to see and do!
Every aspect of York's modern life is linked with its past. Ivar the Boneless, a fearless Viking warrior from Scandinavia, arrived in York in AD 866, when it was called Eoforwic, and then it was given a proper Viking name – Jorvik. The Romans knew it as Eboracum.
In AD 954, the last Viking king, Eric Haraldsson, nicknamed Eric Bloodaxe, was defeated by the King of Wessex and Jorvik's quiet life was ended. Eric, son of King Harald Finehair, was one of 20 brothers, most of whom he murdered so that he could become king!
You can't fail to be intrigued by the bloodied history of York and all its famous folk, and there are many museums, galleries and attractions willing to share the fascinating, gory details.
An ideal starting point is Clifford's Tower, built by William the Conqueror; it's worth the journey up the steps to see who's king of the castle and admire the panoramic views. It's all that remains of York Castle, and is where Henry VIII had the bodies of his enemies put on display.
The Shambles, a mediaeval cobbled road, was once a street of butchers' shops (and still has meat hooks hanging outside), with high pavements so that the offal from the slaughterhouses could run down the streets to be eaten by rats. It's one of the best preserved streets in Europe and is now host to lively cafes, chocolate and gift shops.
It takes about two hours to walk the walls around York, passing by all four 'bars'; what they call the gates in the walls – Walmgate Bar, Monk Bar, Micklegate Bar and Bootham Bar. The latter had a door knocker fitted to the huge wooden gate in the 15th century for Scottish people who were required to knock before entering!
If you'd like to marvel at the luxury of royal travel, take a peek into Queen Victoria's carriage at The National Railway Museum, a must-see attraction with trains from China, steam locos, the Flying Scotsman and Thomas the Tank.
Indeed, famous railway man George Leeman has a statue outside our base for the weekend, the sumptuous Royal York, since renamed Principal York.
This elegant hotel was the perfect place from which to discover the city's many attractions. The staff are welcoming, the rooms and corridors are large and beautiful, and there's even an underground pool and sauna. The hotel blends the grandeur of late-Victorian architecture with the comforts of modern travel, and has 155 refurbished bedrooms and suites. The bright and stunning Refectory Kitchen and Terrace serves delicious breakfasts, lunch and dinner, where you can choose from dishes such as Rump of Nidderdale lamb with heritage carrots, signature beef burgers topped with Swaledale Cheddar and treacle-cured bacon, or Yorkshire Parkin, a deliciously sticky ginger cake served with Yorkshire beer glaze and custard.

Principal York has a collection of flags flying outside, each representing a country that the hotel staff come from – a nice touch in these sensitive times of international harmony, I thought.
The city itself feels truly cosmopolitan, even if the Romans and Vikings still have such presence. But something I didn't expect was the connection to the world's chocolate consumption.
A chocolate bar that a man could take to work in his packed lunch was the bright idea of a Rowntree's employee which led to the creation of one of Britain's best loved brands, Kit Kat. Since that day in 1935, it established itself in British culture, and now six million are made in York each day.
York's Chocolate Story was a must-visit for us, where you can discover the stories behind the greatest names in chocolate, unwrap the secrets of chocolate making and learn the art of the chocolatier. You even get to make your own chocolate lollies! York is also the birthplace of Chocolate Orange and Polos, and the city's fortune has rested on chocolate for almost 300 years, thanks to people like Terry, Craven and Rowntree.
The vast York Minster is one of the world's most magnificent cathedrals. A guided tour explains the mastery behind the windows (England's greatest concentration of mediaeval stained glass), historic artefacts, architecture and stone. See, touch and hear two millennia of history in this heavenly cathedral with its gothic gargoyles and medieval pinnacles.
Worth setting aside an hour or two for is Barley Hall, a stunning mediaeval house, once home to the Priors of Nostell and the Mayor of York, now fully restored and decorated to replicate what it would have looked like around 1483. Uncovered in the 1980s, it has a magnificent Great Hall and unlike a lot of historic attractions, you are encouraged to handle the interesting objects and memorabilia.
The Jorvik Viking Centre is a dynamic visitor attraction and one of the best known sites in the city. More than 15,000 objects were recovered in the process of uncovering a Viking village, and visitors travel back in time to experience Jorvik in AD 975.
Unfortunately, we didn't have time to travel back in time – or see the Richard III experience, the Henry VII experience, York Army Museum, the Roman Bath Museum, York Brewery….
Instead we chose a relaxing YorkBoat cruise. It's the perfect way to see the city's bridges, buildings and historical sites along the River Ouse, and a great chance to rest your weary feet for an hour, with a chilled glass of wine or two…
Afterwards, we headed to the reconstructed cobbled Victorian street at the York Castle Museum. You experience the sights, smells and sounds as if you are back in the 18th century and it's a great way to learn about the history.
A slightly more gory way to learn some history – although definitely not for the faint-hearted – is The York Dungeon, a spine-tingling 75-minute journey into more than 2,000 years of York's horrible past. The Dungeon has an amazing cast of theatrical actors, special effects, stages and scenes in a unique and exciting walk-through experience where all your senses will be thoroughly tested. Heads being chopped off, scary Vikings, the plague, a torturer, a witch burned at the stake…
Like I said, it's not for the faint-hearted – or wimps, its website says.
With centuries of blood-spill, gore and gruesomeness, you can discover the tales of York's supernatural sightings and scare yourself silly with a plethora of "bloody" tours of York, including ghost bus tours, trails and hunts to find the haunted pubs.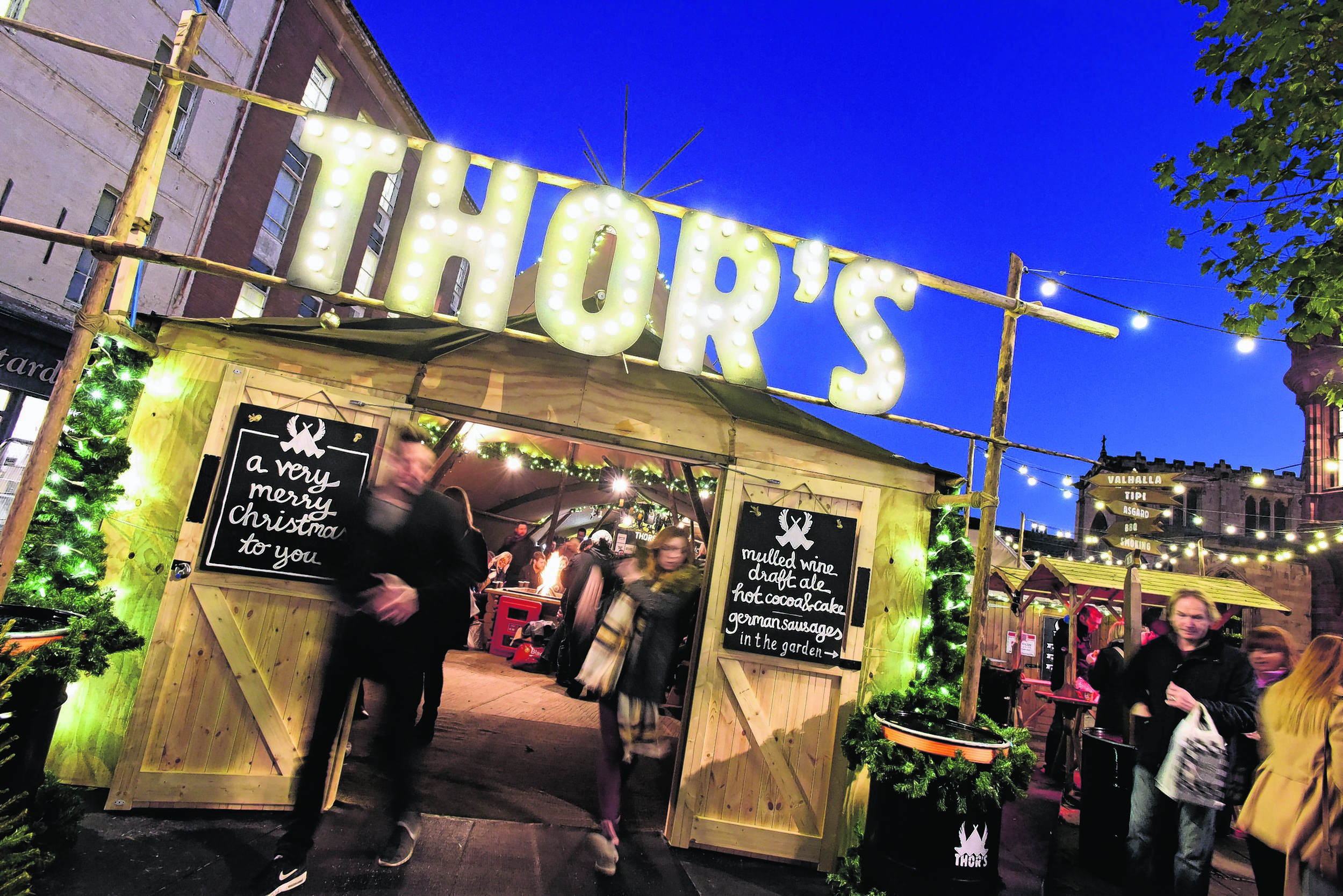 York has more ghosts than any other European city, they say. And I haven't even touched on shopping – the city is simply bursting with designer outlets, high-street favourites and quaint boutiques, antique shops, bookshops, sweet shops… it's a shopaholic's paradise.
The Designer Outlet alone has 120 stores under one roof.
Of course, York Christmas Festival is the most wonderful time of the year and the city has now transformed into a winter wonderland with funfairs, ice rink, family fun and festive events.
Lots of exciting shows are on offer, from The Snowman at the York Barbican to panto at York Theatre Royal and the Grand Opera House. St Nicholas Fair lines the streets with snug wooden chalets and twinkling lights right up to December 23, with stalls selling gifts including jewellery, homewares, crafts and local wines and cheeses. To add to the festive atmosphere, scents of hot mulled wine and roasted chestnuts fill the air.
Shambles Market is open daily for local Yorkshire produce, and Father Christmas will be making a special appearance at a variety of locations around York.
The sooner you book your trains the better, I'd say.
THE HOLIDAY
The Principal York, Station Road, York, YO24 1AA. Phone 01904 653 681. Room-only rates from £139 (inc. VAT). www.theprincipalhotel.com/york
There's an entrance to the hotel right next to the train station. Head past the York Tap pub and see the revolving doors to the hotel just by the entrance to Platform 2.
Virgin Trains operates four trains per day (in each direction) between Aberdeen-York, with fares starting from £20 (one way). Visit www.virgintrainseastcoast.com or phone 0344 556 5650.
A First Class return ticket departing on a Saturday at 7.52, arriving York 12.57, returning Monday at 11.54, arriving Aberdeen 17.04, costs £235.50 which includes food and drink.
For more information on York and to book a stay, www.visityork.org
The York Pass offers a choice of free entry to over 30 York attractions and tours, as well as shopping and restaurant offers. Buy a one, two or three-day pass from York Visitor Information Centre (01904 550099) www.yorkpass.com