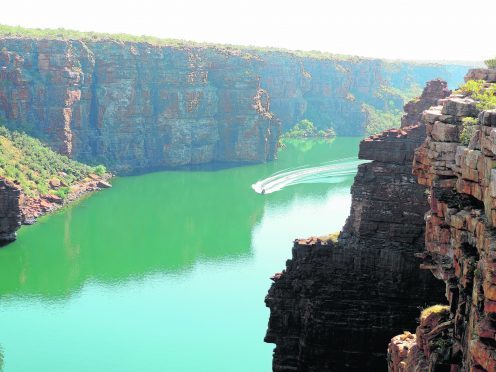 G'day mate. No worries! Or in other words: greetings from Down Under! An exciting two-week expedition trip along Australia's northern coast is on our agenda – crocodiles, kangaroos, koalas, here we come!
DAYS 1-2
After two days sightseeing in Perth, we fly to Broome where we board our expedition ship – Caledonian Sky – for our voyage to Darwin. Our fellow travellers – about 90 – are a motley lot: English couples, mature of age, white of hair and full of figure. My own tall, youthful, athletic appearance does seem the exception!
DAY 3
During the night, Caledonian Sky has sailed to the Lacepede Islands,
which lie in the Indian Ocean, about 180 kilometres north of Broome. Our ship drops anchor and zodiacs take us close to the sandy shores. Fantastic weather. Cloudless sky, calm sea, temperature 30 degrees. We see turtles in the clear turquoise water, and huge flocks of seabirds in the air and on the sandbanks, thousands of them.
A quiet afternoon on deck in the sunshine as the ship continues to our next stop. Looking back, the islands recede into the horizon, a thin, yellow paintbrush line dividing the azure blue of the sky from the ocean.
DAY 4
This morning we are anchored farther up the wild Kimberley coastline at Talbot Bay, an area of unique geology and amazing rock formations. We set off on local high-powered speed-boats for a cruise to the unique Horizontal Waterfalls, once described by David Attenborough as "one of the greatest natural wonders in the world".
The horizontal effect of these waterfalls is created by the rapid tidal rise and fall – the variation between high and low tide can be more than 10 metres. Waters on the inland side of the gap between the high rocks cannot enter or escape fast enough and so a "horizontal waterfall" is created, with water levels differing sometimes by up to five metres on either side of the gap. The boat ride is exhilarating – the water sparkles, foams and churns in all directions as we crash our way through the gap between the steep, high rocks. Fantastic! "Play it again, Sam!"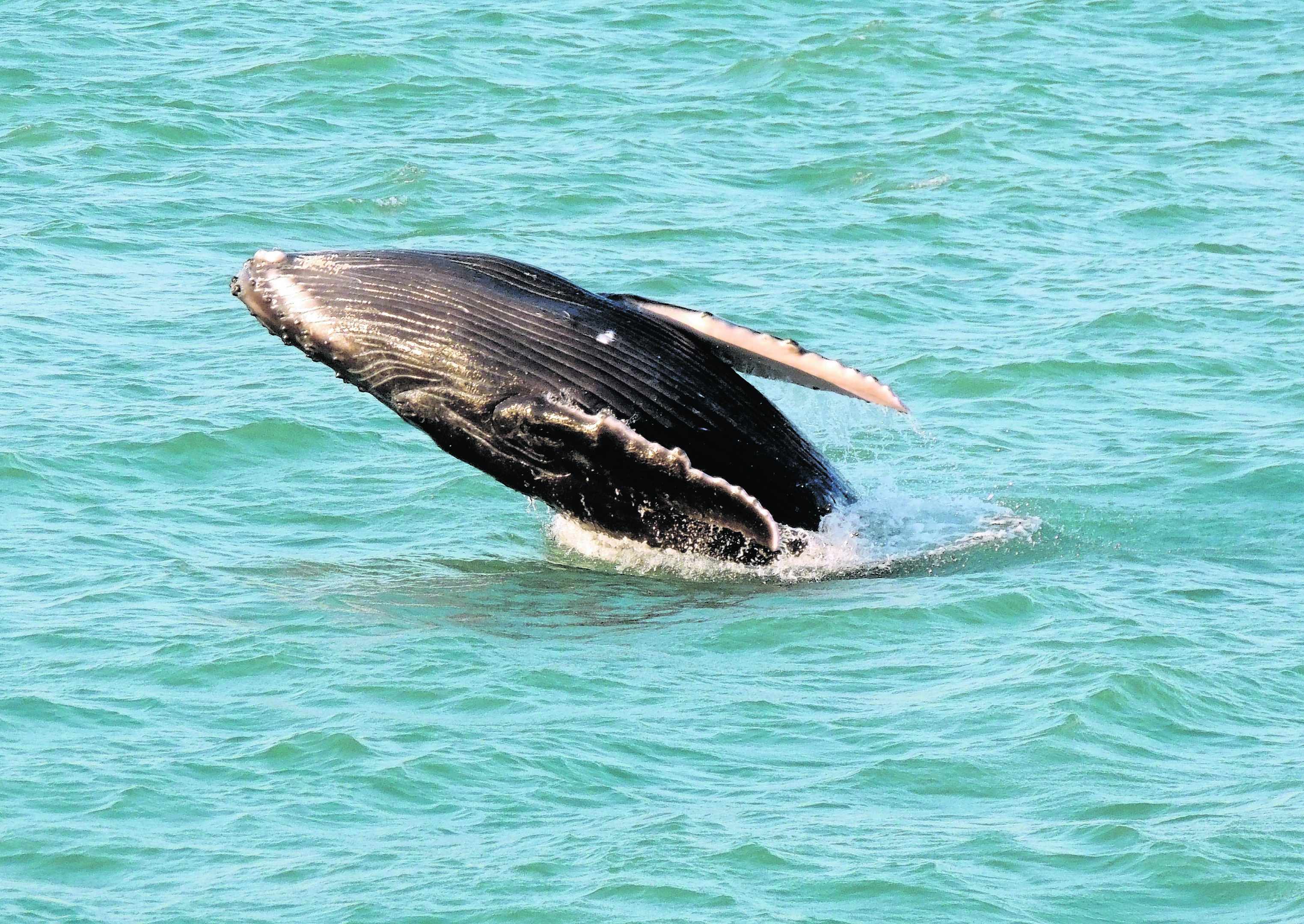 In the late afternoon, a humpback whale and her calf are sighted, starboard side. Panic! Our whole group charges out on deck, hangs over the railing. The ship tilts dramatically to one side, threatens to capsize. Obviously realising this, the two whales switch to port. The ship tilts the other way. Again, aware of the danger, mother and calf split up, one swimming on each side. The ship returns to an even keel. Saved! Soon after, these ocean giants dive, almost a slow-motion exercise as they turn over, throwing their tail fluke into the air before finally disappearing into the deep.
DAY 5
We have arrived at Montgomery Reef. At seven in the morning, we are on the way in the zodiacs to take a closer look at this natural wonder. How to describe it? It covers 400 square kilometres, rising from the sea at low tide like the back of a huge, dripping crab. A narrow channel through the middle allows us access to marvel at the water cascading down at its edges like hundreds of mini waterfalls.
On the way back to the ship our zodiac drivers surprise us with a short landing on a large sandbar. I can hardly believe what I see and hear. In front of me, on the sand, a ship's waiter with a tray of bubbly, another playing the guitar and singing Simon and Garfunkel hits. What a start to the day, and it is only nine o'clock!
The afternoon finds us on another small island to see some very old aboriginal rock paintings. As we land, our zodiac driver reminds us of the danger of crocodiles which may be lying in wait among the rocks. He cheerfully tells of a tourist who was attacked here last year! Getting to this sacred place involves climbing up a steep hill, stones, trees and the heat, making our ascent a strenuous undertaking. I politely decline the pleas of a frail female member of our group who begs me to carry her – I already have one on each hand!
DAY 6
The ship glides slowly up the Regent River, stunning mangrove forests on both sides, and drops anchor in George's Bay. From here, we zodiac to Camp Creek – about an hour – for an afternoon's swim in a billabong. On arrival, however, our enthusiasm to enjoy its cooling waters is somewhat dampened when Lea, our leader, says she must first ensure that there are no crocodiles! To be quite certain, she asks for a volunteer to jump, in and splash around, the idea being that this will attract the attention of any resident
monster. I retreat quietly to the back of the group, deciding to inspect an interesting rock formation more closely! A heroic volunteer is duly found whose praiseworthy aquatic performance attracts no crocs – he has probably frightened them away – and we all enjoy our billabong experience.
DAY 7
Caledonian Sky has taken us further along the coast to Vansittart Bay. Here, we learn more about Australia's aborigines and their rock art. On Jarr Island, we see examples which are 17,000 years old. Lea, the marine biologist in the team, tells us how present-day aborigines are trying to explain their culture and language to Europeans. However, she admits that prejudice and the policies of earlier Australian governments are still a hindrance to this aim.
DAY 8
We are now at the mouth of the King George River. Two zodiac trips are on offer: the first is for those who just want to sit in the zodiac and enjoy the spectacular, vertical, three hundred-feet-high red sandstone cliffs on either side of the river; the second is for those who want to climb them! Pam, the leader for this last group, suggests that such a climb would be a fitting challenge for me – she must have seen and admired my muscular arms and legs. I modestly accept her invitation.
It is indeed a hard climb. We have to use our hands in places to haul ourselves over rocks and boulders. The heat adds to the strain. Once at the top, however, we are rewarded with a spectacular view. The way down is even more strenuous. Later, back on board the ship, my knees are like jelly, my t-shirt soaked in sweat, my voice a mere whisper. At lunch, several admiring passengers ask me about the experience: "Was it hard? You must have mountaineering skills. I don't know how you managed it." My natural modesty takes over: "No worries", I croak.
DAY 9
Our ship is now anchored off Wyndham, the most northerly town of the Kimberley region. Once a buzzing settlement in the gold-rush era, it is now a small supply base for ships with a population of 800 – the first humans we have seen since leaving Broome. From Wyndham, two buses take our group to Kununnurra, a bigger town on the Ord River. Here, we board a large speedboat for a four-hour river trip. Ben, our driver and guide, slows down, even stops several times to point out and describe the vegetation, birds, animals that are indigenous to this area. Hundreds of bats hang from many trees, crocodiles, half submerged, watch with menacing eyes. Ben assures us that freshwater crocs are not dangerous. Ha, Ha. Very funny! These Aussies and their sense of humour. In the evening, the Caledonian Sky leaves Australian waters for East Timor, a final stop before we head back to the Australian coast, Darwin, and the end of this stage of our journey.
DAY 10
Our last whole day on board. In a lecture on the city of Darwin, Damon, the Australian biologist in the team, tells us about its history and culture. For example, how to blend in as a visitor: swear as much as possible, drink large quantities of alcohol, talk about sport all the time. Or what to do when swimming and suddenly faced by a crocodile: a) clamp down on its jaws with both arms, or b) stick your two thumbs in its eyes, or c) ram its tongue down its throat! Ha, Ha! very funny! These Australians…
DAY 11
Still in Darwin. Two busses drive us to Litchfield National Park, a two-hour drive. We are somewhat disappointed that we will have little time to explore the city itself, however, our driver, a hearty local, entertains us on the way with lots of information and anecdotes. In the park, we see waterfalls, various historical sights, and, most interestingly, huge termite mounds, with arches, tunnels, chimneys, nursery chambers, reaching up to 13 feet high. Wangi Falls, a small lake within the park, is also worth mentioning. It is very hot – 36 degrees Celsius, high humidity – and there are many people bathing. A small, hand-written sign nailed to a post – not immediately visible – requests the bathers to avoid the left side of the pool as a crocodile has been seen there. (Freshwater crocs are theoretically not dangerous!) The left side is indeed empty. But can the croc read? And what, I ask myself, if the said croc decides to explore the other side of his domain? Tonight, I will surely dream I am a lonely, misunderstood, melancholic crocodile looking for human company!
DAY 12
Our last breakfast with the group. While most of them will board their flights home, Lynda and I will travel east to Cairns, Port Douglas and the Daintree Rainforest.
DAY 13
We spend a delightful morning walking around the seafront in Cairns to try and get a "feel" for the city. Wide, tree-lined streets, large contingents of happy young people from various ethnic backgrounds, strolling, jogging, skateboarding, browsing the market stalls. A vibrant, colourful setting. It is at one of these stalls that I see it. A must-have. Dark brown, smooth, strange, exotic creatures painted on its surface. A boomerang! The seller, an old Aborigine, quickly familiarises me with the necessary throwing skills. A deadly weapon! Just wait, the next time a neighbour's cat wanders into our garden…
DAY 14
From Cairns, we hire a car and drive on to Port Douglas, an hour's leisurely drive from Cairns. On the way, we stop at a safari zoo where the main attraction is the crocodiles. The Queensland crocs are among the biggest in the world and this place has some splendid examples. We are in luck – it is feeding time. A young keeper carrying the hind leg of a cow enters the secured domain of a 16ft specimen, "Eddie" by name (the croc, not the keeper!). Eddie eases himself out of his pond, slowly crawls to within a few feet of the keeper, opens his mighty jaws. The keeper, completely unfazed, continues his talk on crocs in general, the strength of their jaw muscles in particular. Eddie, who has heard all this before, remains motionless, waiting. Suddenly, the keeper throws the bovine morsel into the croc's open mouth. The jaws snap shut, a pistol-like crack, making the enthralled spectators jump. An impressive performance.
DAY 15
Port Douglas is a small town on Australia's north-east coast from which boat trips to The Great Barrier Reef are easily available, and that is where we are headed today. A huge catamaran, room for about a hundred or more passengers, takes us out to the reef, a scenic journey of an hour and a half.
The boat moors at a large, floating platform, complete with restaurant and heli-pad! We are quickly provided with the necessary snorkelling gear: face mask, flippers, black neoprene wet suit. Batman and Catwoman are about to explore one of the underwater wonders of the world!
We dive down into the clear, turquoise water and are gobsmacked by the beauty of what we see: thousands of fish, corals of all shapes and sizes, some resemble cauliflowers, mushrooms, antlers, pancakes or gently wafting grasses. An unforgettable experience.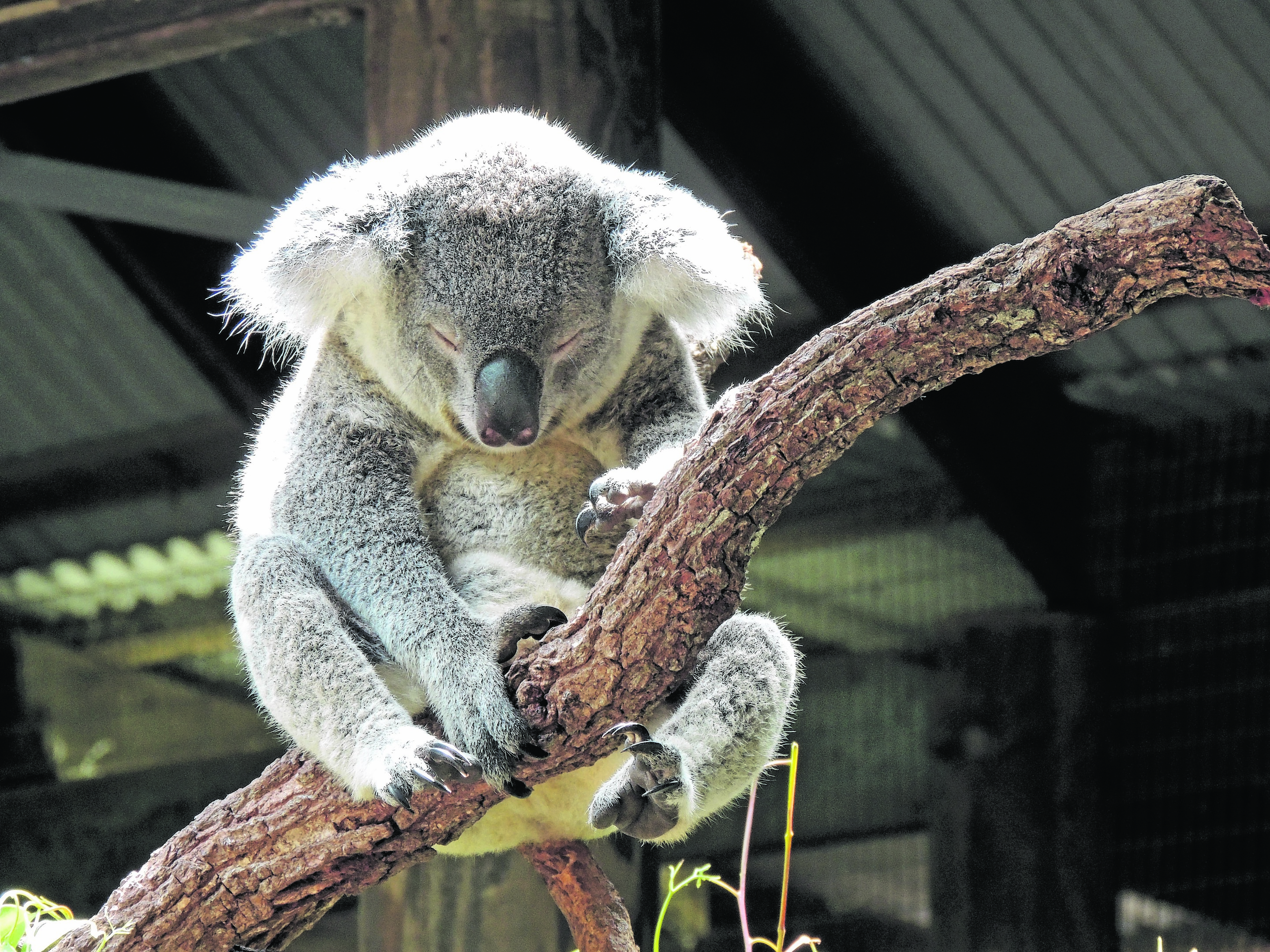 DAY 16
Today we visit a centre for aboriginal history, art and culture, not far from Cairns. Aboriginal guides in traditional dress and body paint perform dances, play didgeridoo music, explain what is edible in the outback and show us how to throw a boomerang. My own efforts concerning the latter skill are a disaster – perhaps the neighbour's cat does have a fair chance of survival!
In the afternoon, we board the region's famous Skyrail, a cable car which "flies" us seven kilometres across and over the high forest canopy to Kuranda, a small town well known for its market, also butterfly and bird sanctuaries. From here, we return to Cairns on the Kuranda Scenic Railway. The train itself is from a different era: 15 carriages, some over a hundred years old, open windows, the seats wooden benches. It slowly creaks and grinds its way through mountainous terrain, 34 kilometres back to Cairns. The fame of this old track lies in its construction: all the tunnels and bridges – of which there are many – were built by hand, pick axe and shovel to create a lifeline between the gold and diamond mines and the coast at the beginning of the 20th century.
DAY 17
From Cairns, we drive further north on the Captain Cook Highway to Daintree Rainforest. Our accommodation is a surprise. Daintree Eco Lodge is in the middle of a tropical forest, consisting of several "lodges" built on tall stilts among the trees, giving the impression that one is sitting among the branches, at one with the birds, so to speak. Their melodic song is offset somewhat by the loud croaking of the many frogs in a large pond below – sounds like Rod Stewart with a bad cold.
DAY 18
We book a Toyota Land Cruiser to take us through the forest in the direction of Cooktown. Mike, the driver, is an excellent guide. I am amazed at his knowledge of the botany, history and culture of this part of his country. Under his watchful eye we eat green ants (lemony taste – mmm, yummy), suck various berries and learn how aborigines use the forest as a source of food and medicine. We stop in Walju Walju Shire, an aboriginal community, meet Catherine, an elderly resident who tells us about her tribe's life in the past, comparing it to the present.
DAY 19
Time to go home. We drive back to our hotel in Cairns, stopping at a wildlife park on the way to visit its koalas, who instantly became a favourite with Lynda. Personally, I think they are one of evolution's failures! A koala spends its whole life in a tree, sleeps 19 hours a day, eats for three, that makes 22. I wonder what they do with for the remaining two!
We return the car, enjoy a final meal in downtown Cairns, discuss our holiday, savour its moments once again. Tomorrow we leave for the outback of Aberdeenshire.
Catchya later mate. No worries!