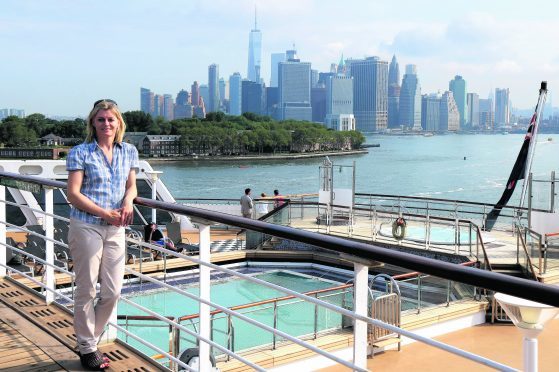 Crossing the Atlantic is one of the most dramatic ways to reach New York. Karen Bowerman experiences the golden age of cruise travel on the remastered QM2
Out on deck, below the bright red funnel of the Queen Mary 2, Coco, dressed in a white waistcoat, is hosting a champagne reception. I'm here as his VIP guest, at a rather unusual party.
Coco is a coffee-coloured Maltese Yorkie, travelling in ludicrous luxury with his canine companions Jack, Molly, and Buster, plus Ali Bey, a mystical, green-eyed cat. They've all embarked on a cruise from Southampton to New York.
The whippet, chihuahua and bulldog are returning to the US to live. Coco is simply on holiday; the QM2 is his favourite ship, and this is his 25th crossing.
"He's happier here than at home. He sleeps well, eats well and never gets bored," his Croatian owner, Ivana, wearing an off-the-shoulder playsuit and golden boots, says.
The Yorkie has two attentive kennel masters, a playroom and a 19th century lamppost from outside the Cunard building in Liverpool; his American friends enjoy the familiarity of a fire hydrant. These are dogs, and a cat, that know how to sail in style.
Of course, Coco's not alone in hosting Champagne receptions during our seven-day voyage. The captain does too, and since this is the first voyage since the QM2 enjoyed a multi-million pound refit, there's lots to celebrate.
I arrive in Southampton to be welcomed by a brass band and bellboys in scarlet tunics with bright gold buttons. There's a sense of excitement, although many passengers have travelled before.
"She's just so gloriously English! So super nice!" a Texan enthuses. He tells me he "sails with the Queen" every year, preferring "the wild winds of the Atlantic" to the summer heat at home.
"Frankly, I just come for the music," his friend confides. "You get rock 'n' roll on American cruise ships. Cunard has classical, and it's lovely."
Guests hanker, it seems, to recreate cruising's glory days: to dine on lobster served by waiters with red roses in their button holes; to stare at the ocean from wooden sun loungers stamped with the Cunard crest, and to withdraw to the walnut-shelved library to whisper over heavy books of maps and ancient art.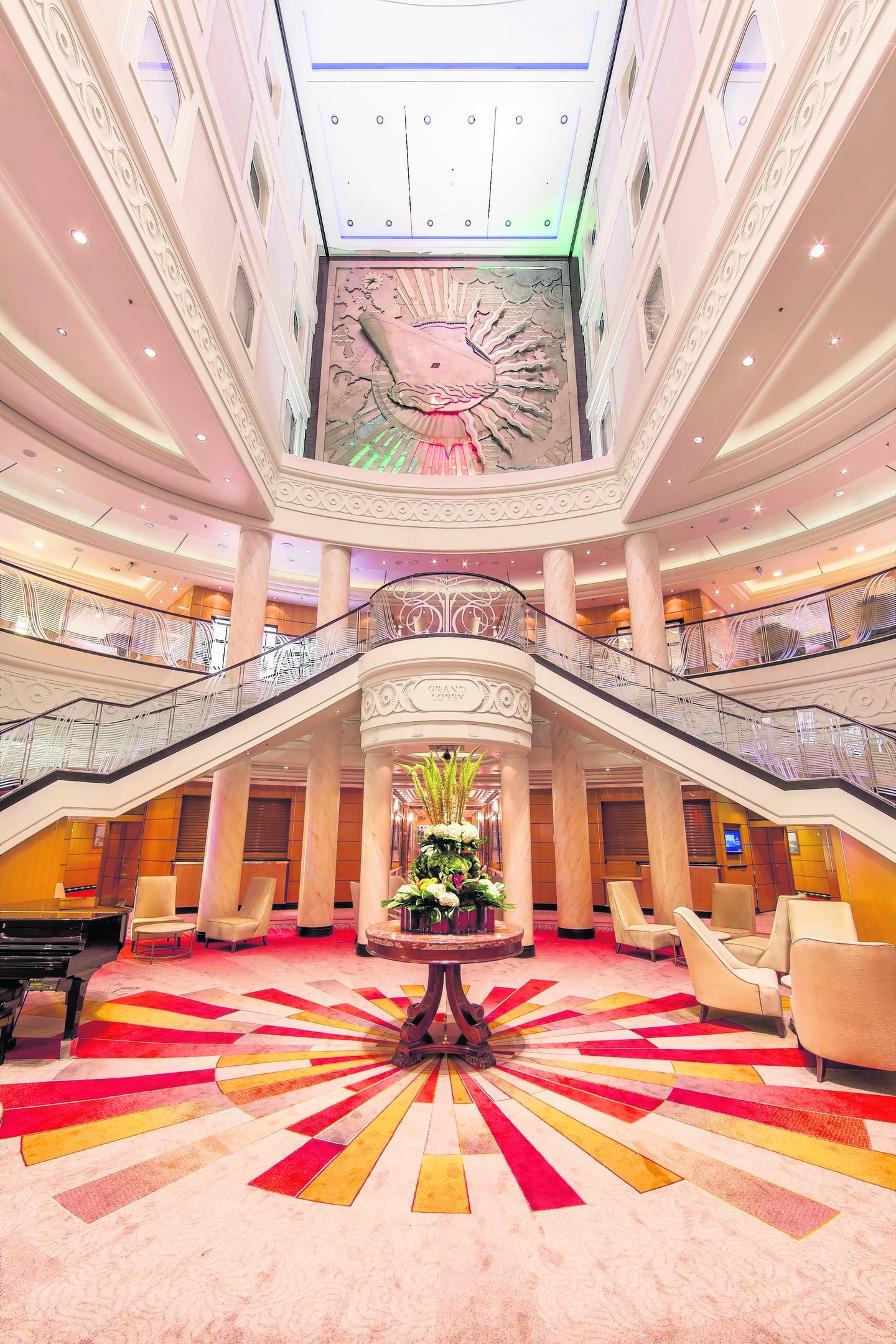 I step into a world of art deco grandeur, where staircases have whimsical banisters and mirrored lifts are engraved with fronds. Lalique-style vases, embossed with twirling mermaids, adorn the Veuve Clicquot lounge, and elfin statues – with neat fringes and lean limbs – strike exotic poses 'round the pool.
By day, it's country-club casual, but everyone dresses up at night: "After 6pm, blue denim is not considered appropriate," the ship's programme advises.
One evening, I find myself scurrying into a lift after mistaking the time. A fellow passenger jumps in too. It's 6.05 and couples in cocktail dresses and dinner jackets are gathering in the grand lobby.
As the lift doors close, I catch the crunch of ice in a cocktail shaker, a burst of laughter and, through a large port hole, the swell of the sea. It's very Great Gatsby, although for us renegades in shorts, it's more like Cinderella at midnight, only in reverse.
At first, I wonder how I'm going to fill my days. I'm on a voyage not a cruise, so there are no ports for sightseeing along the way.
I spend my first morning compulsively circling activities in the daily programme. I toy with fencing. Beneath heraldic banners in the Queen's Room, her majesty looks down on a motley group with mesh-covered faces and quivering foils.
"Come on, lunge! Lunge!" Neil, the instructor, exhorts.
It seems far too energetic for me. I consider flower arranging, but I allow myself to be convinced by a stranger, as is the way here, that what I'd really enjoy is Beginners' Cha Cha.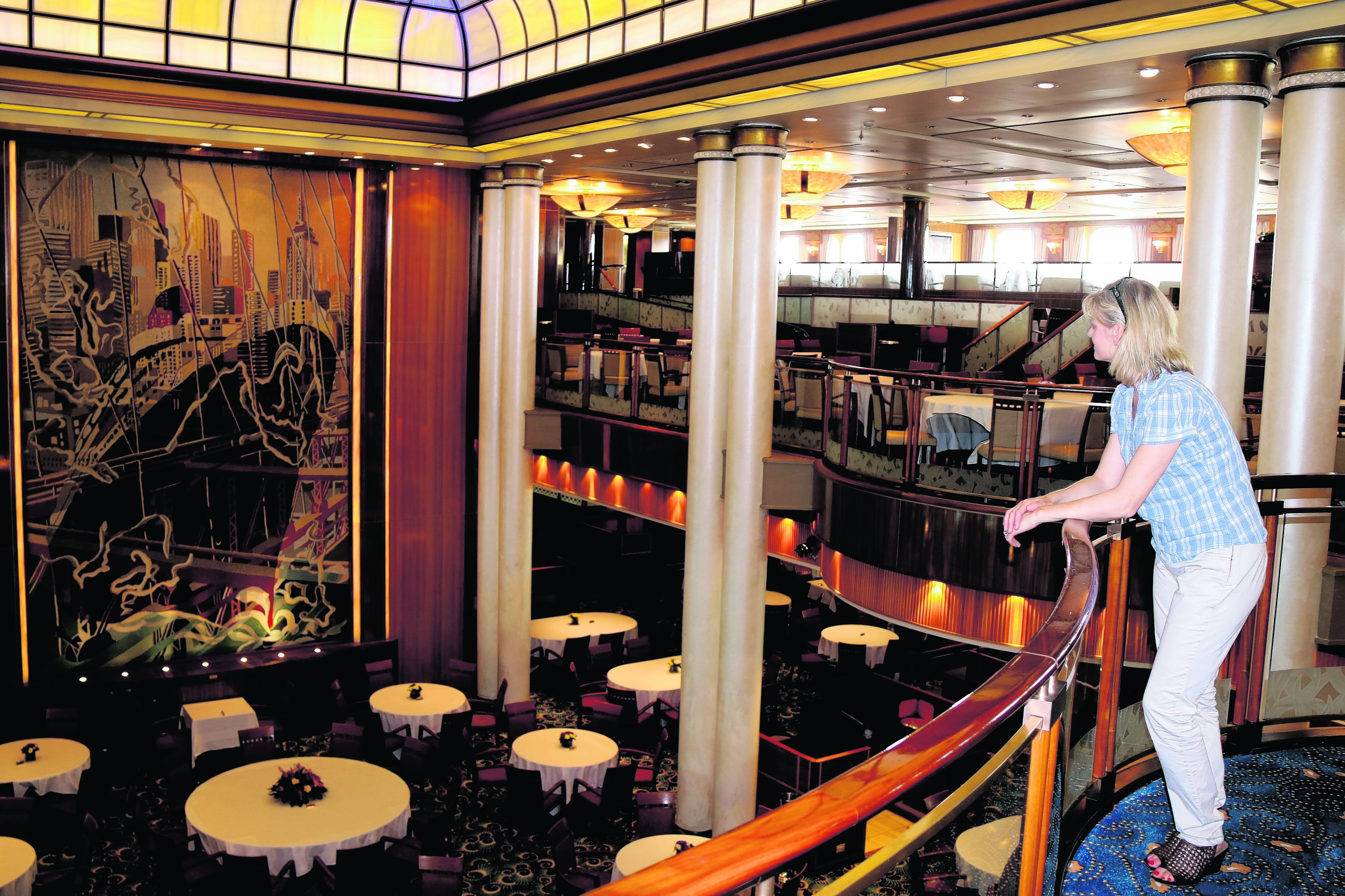 Our teachers, Dan and Olena, have lithe bodies and plenty of poise; we, their pupils, have neither. I chant "one, two, cha, cha, cha" for the next half-hour and succeed in linking four basic moves together. Then the ship rolls and I trip over my feet.
For entertainment of a more sedate kind, I head to the planetarium – the only one at sea. I watch Cosmic Collisions on a big screen, tilting my chair back as if I'm an astronaut shooting, very comfortably, into space.
A burning, bubbling sun spins overhead. Hot on its heels is a meteorite which Robert Redford advises is heading to earth. He warns of impending incineration but his voice is so smooth and sultry that no one seems that bothered.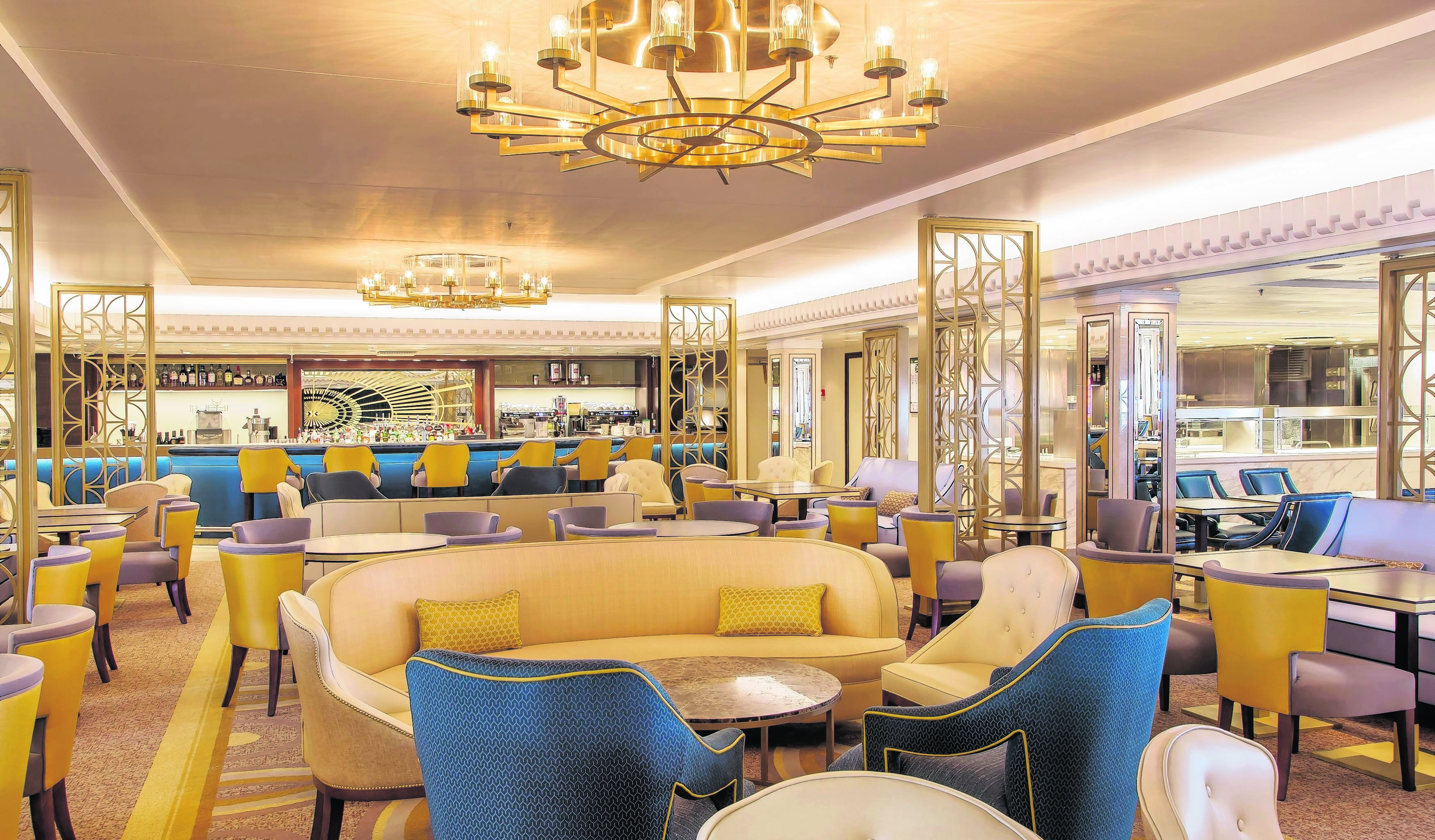 The next day, at noon, another voice addresses us from the bridge.
"Ladies and gentlemen, this is our fourth day in the middle of nowhere," the captain says.
It's drizzling, but I feel the need to experience that Atlantic breeze the Texan spoke about. I cross a deserted deck, spattered with sea spray, to a hot tub of my own. Stewards are wiping down sun loungers and folding away towels.
The Jacuzzi emits a bubbly snore and the grey Atlantic whooshes in reply. For the first time in my life, confronted by the vastness of the ocean, I no longer see the horizon as the edge of the world as I know it. I accept that the sea stretches far beyond.
On day five, the sun comes out. Bright blue waves wash against the hull as if it's a massive, brilliantly white shore.
As I enjoy breakfast on my balcony, I pick up the daily programme. It advises, once again, that our location is simply "At Sea". There is something reassuringly familiar about it.
Later, I spot a plane, the only one, and imagine it landing in New York in hours. I realise I'm content not to be doing the same. I return the daily bulletin to my tray without circling a thing.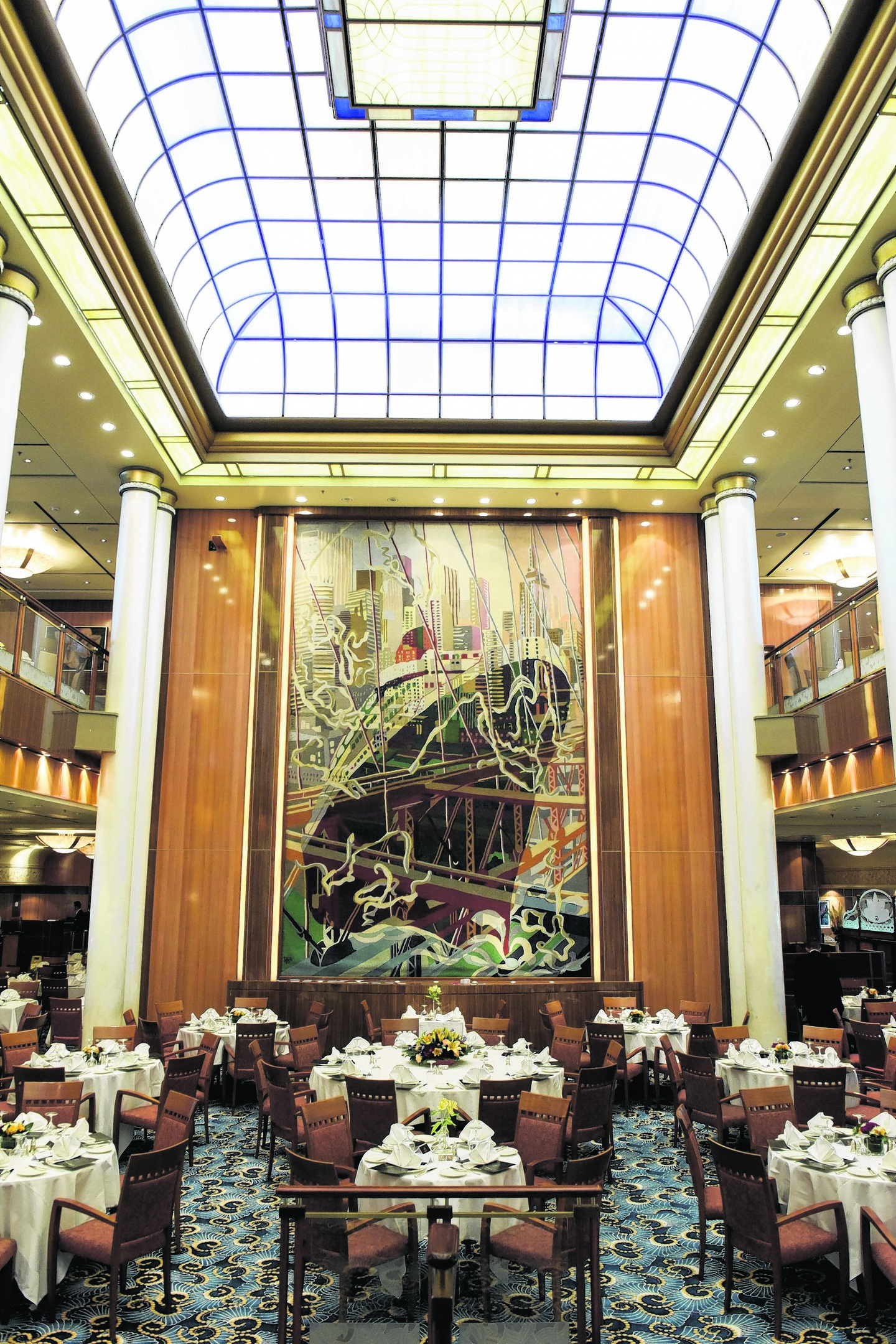 On deck, I pass a couple I regularly meet. He's immersed in another hardback; she's finishing her cross-stitch. It covers her lap and is transforming into a beautiful tapestry. We exchange customary smiles.
On the last evening, I bid farewell to Coco. As I chat to Ivana, I spot, with quiet excitement, a bird, swooping over the sea. I think of Noah, and the dove that brought him the olive branch; land can't be far away.
At dawn the next morning, the top deck's crowded. Beyond the QM2's colourful flags, a woman is raising a torch. Beyond her is a mass of sky scrapers; the sun glints playfully in between.
As we dock in New York, I remember how methodically I packed for this trip; there was the diary to write, magazines to flick through and novels to read.
In the end, I sought none of these.
It's as if seven empty days have been swallowed up, gently and gloriously,
by the sea.
HOLIDAY FACTS
Cunard offers a seven-night crossing from Southampton to New York in a Britannia balcony stateroom, departing July 21, from £1,449pp including flights, all meals and transfers. Voyage number M727.