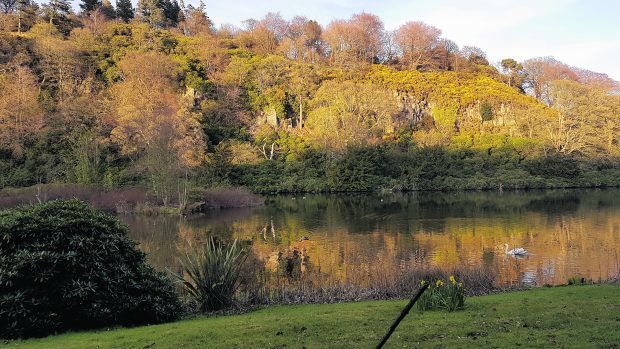 The combination of loch-side views, spectacular nature shows and luxurious canvas cottages make a visit to the Glampotel at Dundas Castle a magical experience, writes Susan Welsh
Sleeping under canvas can be a magical experience, and I have happy memories of camping holidays in Scotland, but I also recall camping trips involving pitching wee tents in mud-soaked fields that left me feeling more stressed than relaxed.
Such unhappy memories will not be created at the Glampotel, situated within the 400 acres of stunning grounds which surround Dundas Castle on the northern outskirts of Edinburgh. For this offers the Rolls Royce of camping experiences…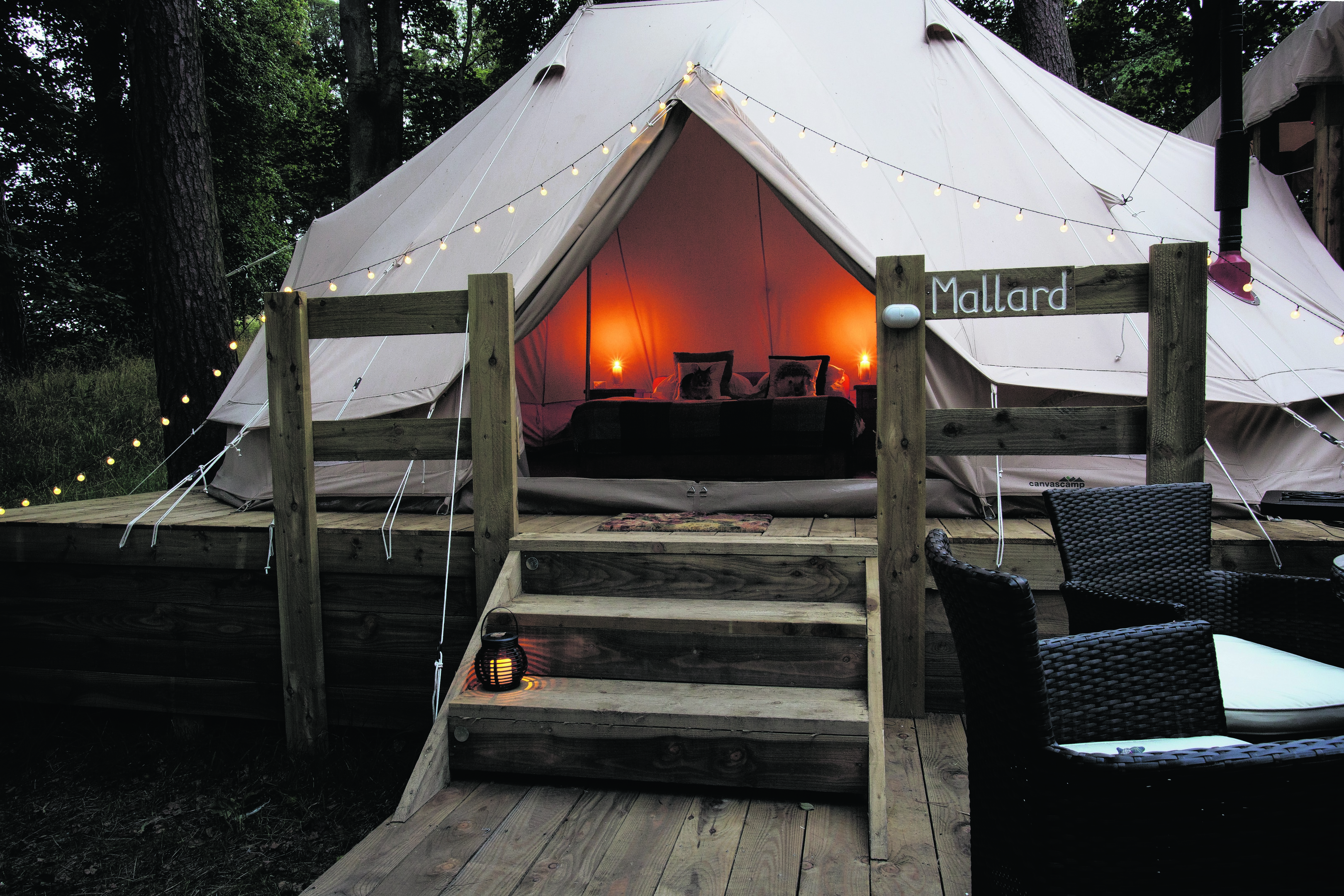 When David Ogilvy famously wrote of that classic car he said: "At 60 miles an hour, the loudest noise in this new Rolls-Royce comes from the electric clock."
The same experience is applied here as the loudest noise you'll hear is birdsong or the splash created by ducks and swans on the estate loch. Occasionally, you may hear a contented sigh as guests kick back and relax, because this is the perfect get-away-from-it all nature escape.
But it's also one where luxury has a starring role. This spring, Dundas Castle re-opened its Glampotel (glamorous hotel-style camping) site which sits alongside the estate loch, and doubled it in size from five to 10 canvas cottages.
Having arrived ahead of the 3pm check-in, we first headed for Conifox Nurseries in the nearby village of Kirkliston, which has a cracking new adventure park, garden centre and bistro.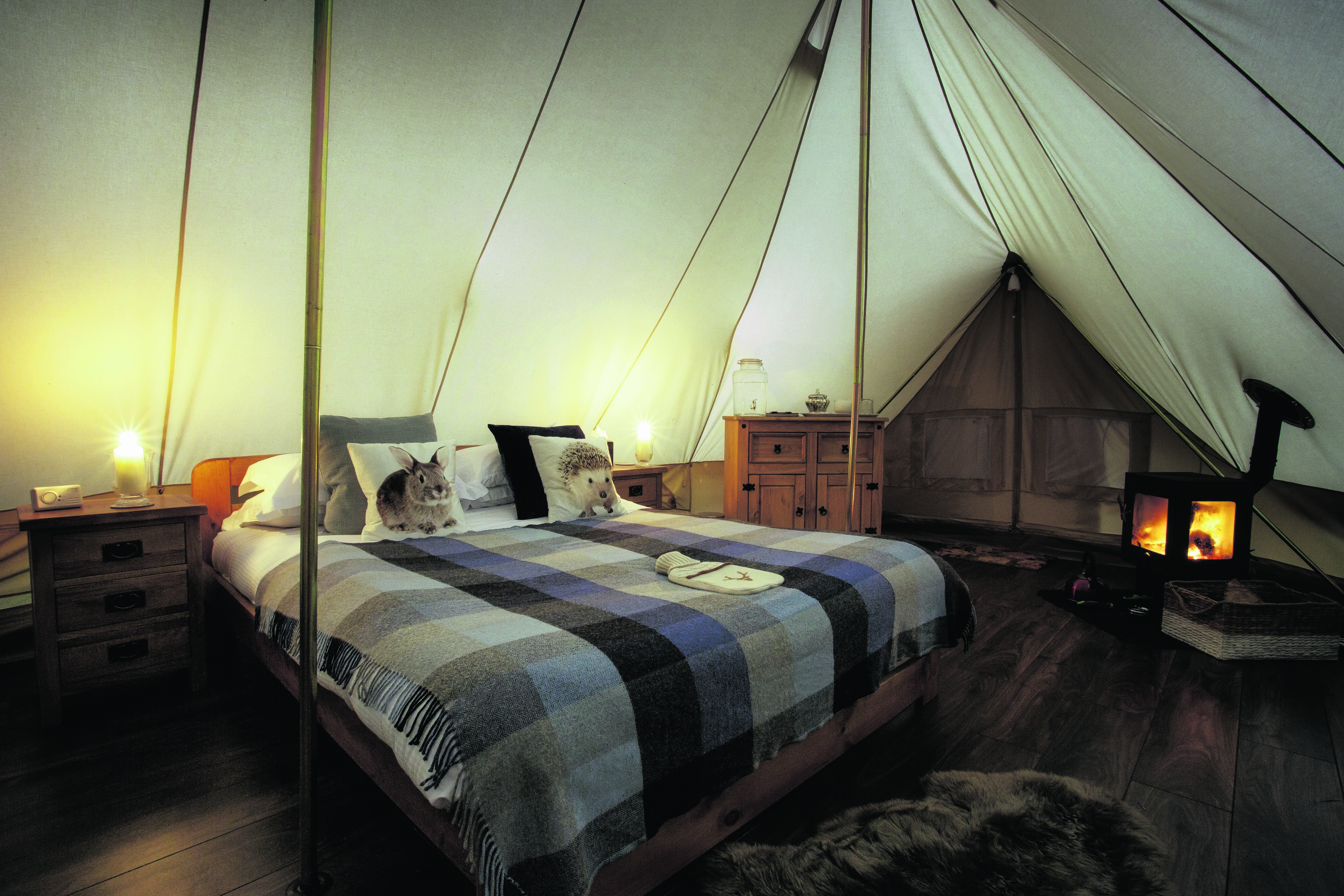 Everything in the park is suitable for children and adults to enjoy, including swings, ground-level trampolines, foot-golf, a giant jump pillow, balance beams, off-road pedal go-karts and tractors. It was being officially opened by Sir Chris Hoy the day after our visit, and family tickets cost just £20. Open daily from 10am-5pm it offers hours of endless fun and is a great place to tire out the kids and adults. (www.conifox.co.uk)
Then, we made our way back to the Dundas. Driving along the winding tree-lined drive we were impressed by the sheer size of the estate, which despite being just five minutes from the Forth bridges, is quiet and peaceful.
We parked a short distance from our canvas cottages named Woodpecker and Robin (after two of the birds regularly seen here) and met Greg, the friendly warden who explained how everything worked in this eco-friendly outdoor palace.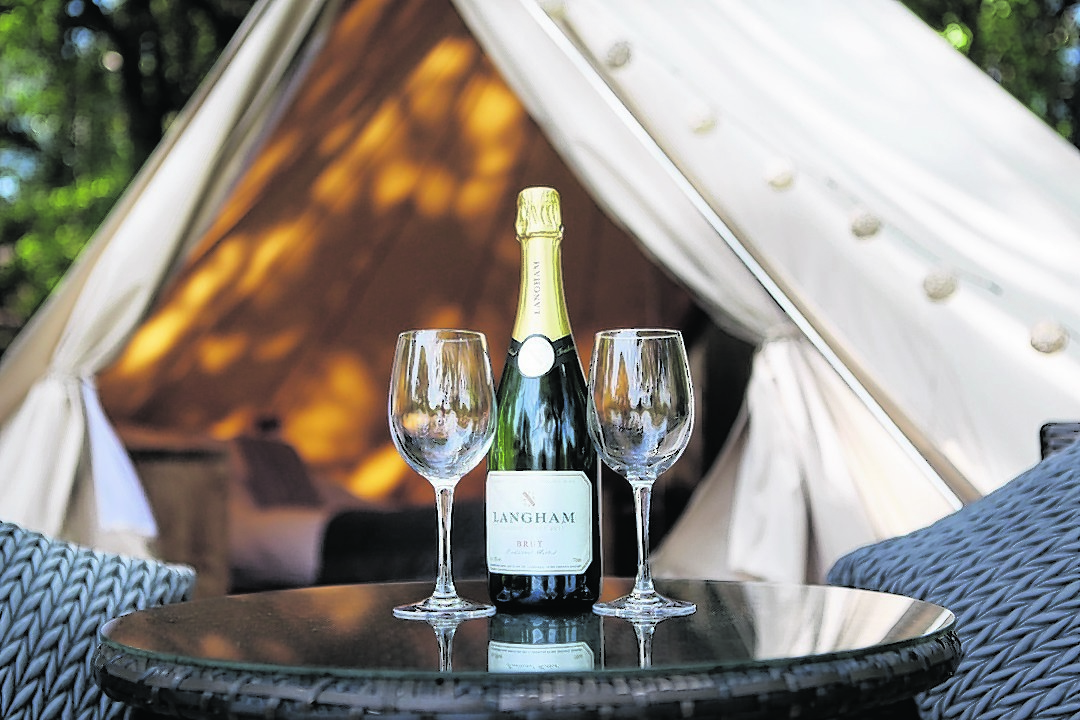 Both internal and external lights are solar powered, as are the USB outlets which are provided, but we were really interested in the en-suite shower room housed in a wooden bothy at the cottage side as it offers an unusual camping experience. Along with an alfresco instant hot water shower, the loo is an eco-friendly composting one which requires all users to sit down as it separates the waste. It might sound a tad yucky, but it's not in the least and you can take comfort knowing you're doing your bit for the environment.
But on to more glamorous aspects of this camping experience.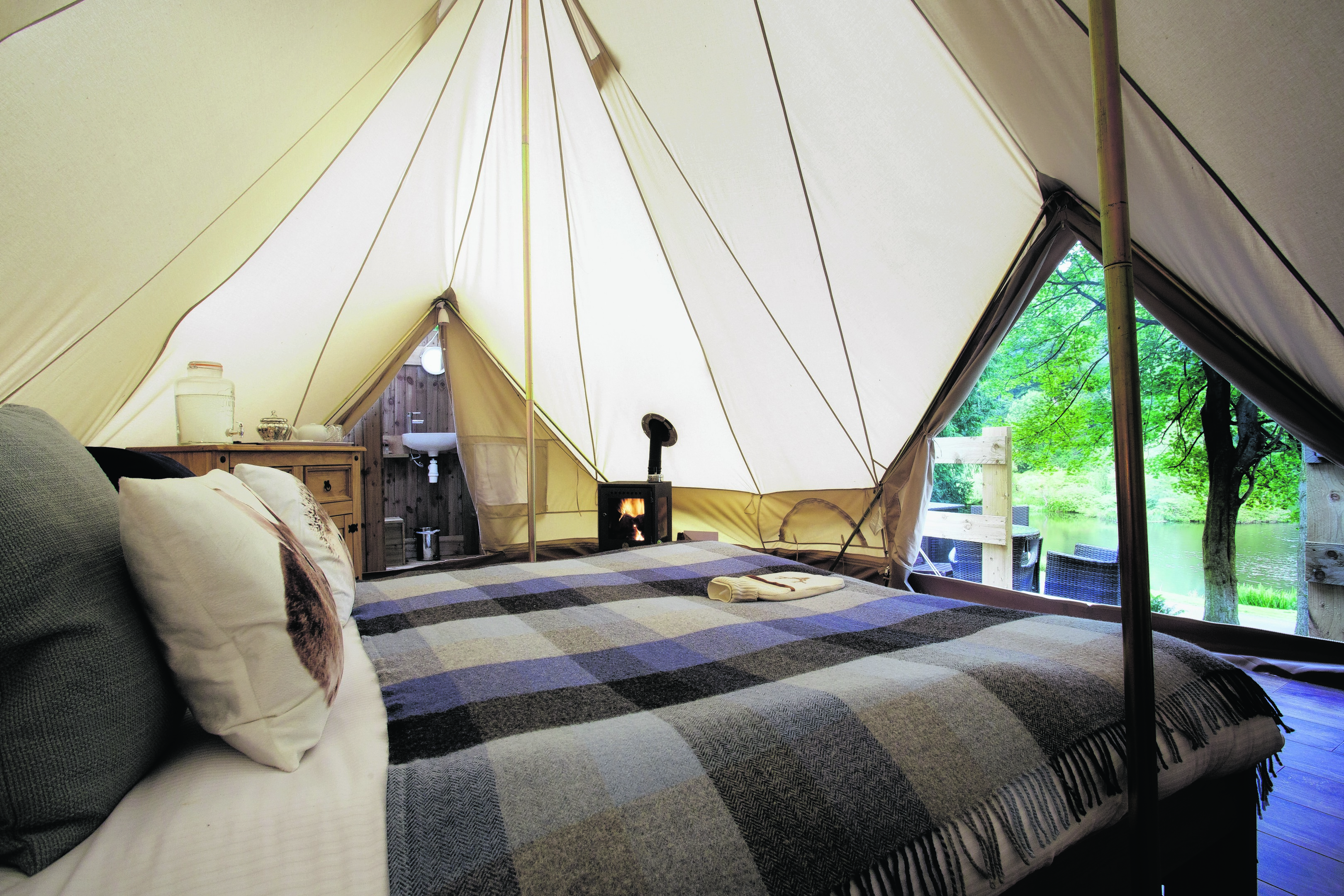 I was there with my son, daughter-in-law and five-year-old grandson, Marcus. He and I shared the Woodpecker tent while his folks enjoyed a child-free night in the Robin cottage.
All cottages overlook the loch and are built into the wooded hillside to offer complete privacy. A sturdy set of wooden steps leads to a large decked area housing a table and chairs, gas barbecue, patio heater and large umbrella.
It's a lovely place to have your meals while watching the wildlife strut their stuff. Regular visitors include deer, mute swans, greylag geese, mallard and tufted ducks, moorhens and coots. Grey heron, buzzards and the occasional kingfisher can also be spotted here.
Another short staircase leads from the deck to the fairy-lit bedecked cottage. Pulling down the zip we found ourselves surrounded by luxury with a fine selection of upmarket home comforts including a king-size double bed, a sideboard containing practical items such as cutlery and crockery, bedside tables, candles and a wood-burning stove plus plenty of logs. A solid wooden floor and rugs make it very practical while other essentials provided such as toiletries, fluffy towels, drinking water, tea/coffee, sugar and fresh milk means you don't have to worry about dragging everything from home.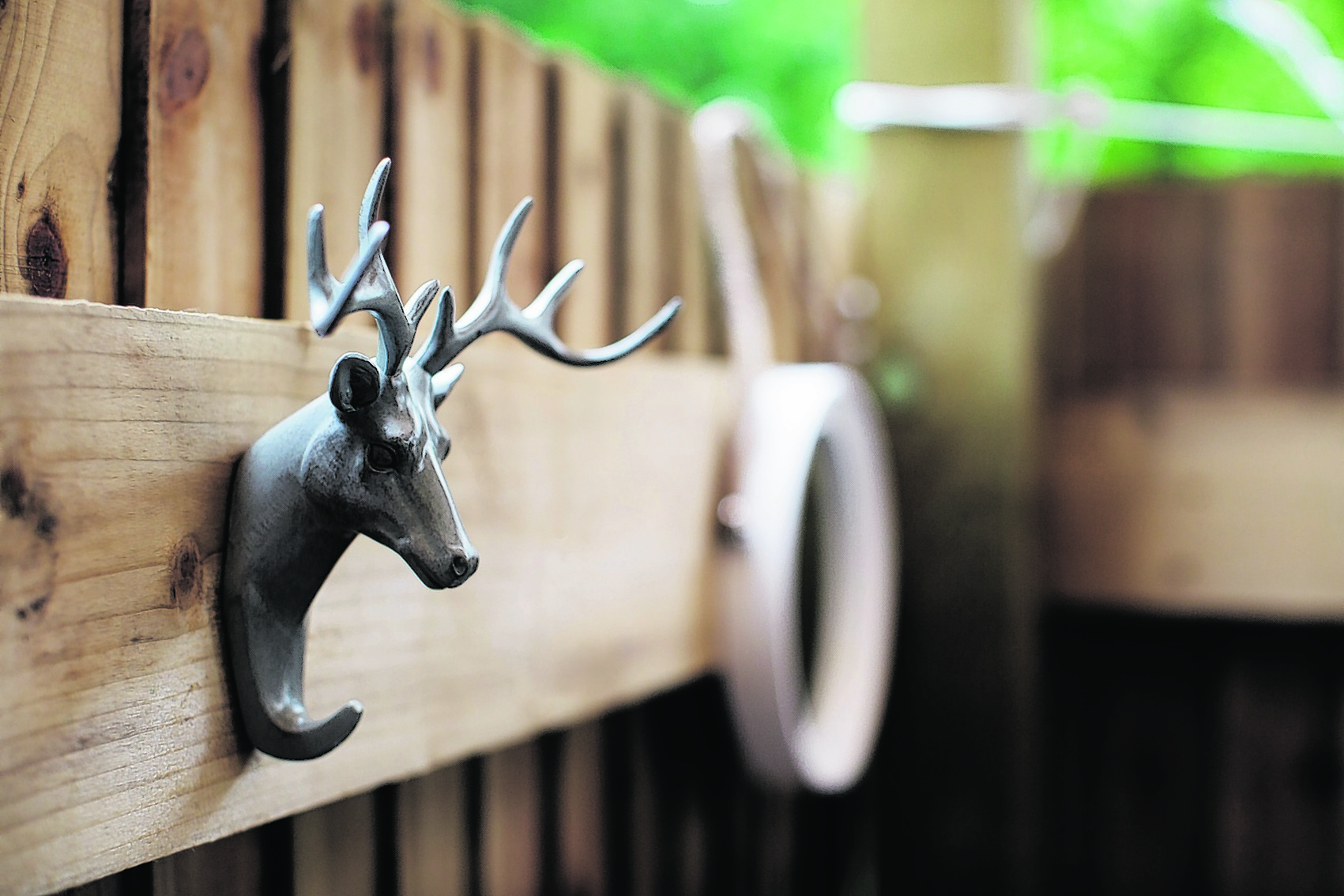 We had pre-ordered a food hamper and were delighted to find it contained a feast of locally-sourced items including fresh bread and croissants, butter and jams, smoked trout, bacon, eggs, yoghurts and apple juice, all of which went down a storm.
After unpacking we set off to explore the grounds using the walking map provided. Marcus loved playing hide and seek among the trees and looking out for signs of wildlife. He was delighted to find a pheasant feather which instantly became a treasured item.
Other highlights included fine views of all three bridges crossing the Forth and strolling through the woods as the sun set, while the birds went into musical overdrive.
In the light of the moon, we lit the barbecue and the aroma from our burgers and sausages whetted our appetites, so we cracked open a bottle of wine and soaked up the free show nature was presenting while the solar lights clicked on, making the whole scene even more magical.
We sat under the stars for ages, chatting and enjoying the sounds of owls hooting across the loch. As bedtime approached, stoves and candles were lit. This turned what was already a beautiful space into a romantic and cosy den. The glow from the stove created flickering patterns on the tent walls while the moon did its bit by casting hypnotic shadows.
Having slept like logs, we woke early thanks to the dawn chorus and counted a dozen different birdsongs – much nicer than the sound of an alarm clock – and following a hearty alfresco breakfast, enjoyed more woodland and lochside walks before departing for home feeling relaxed and refreshed.
Staying at the Glampotel taught us one thing: camping in Scotland will never be the same again.
TRAVEL FACTS
Susan stayed at the Glampotel, Dundas Castle where prices start at £159 a night for a five star canvas cottage. Glampotel is the world's first true glamping hotel chain and prides itself on bringing eco-tourism glamorous camping at its finest around the UK. Visit: www.glampoteldundascastle.com