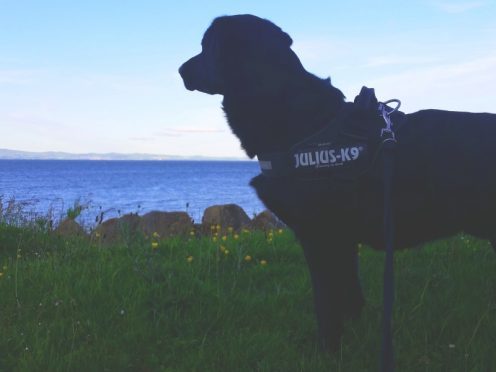 When my human Mummy said we were going on holiday, I wasn't sure – you see I have never been on holiday before but she promised me lots of ball so was willing to give it a go.
Updated – April 2022!
So off to Arran I went with a quick pit stop in Glasgow to visit some of my human's friends.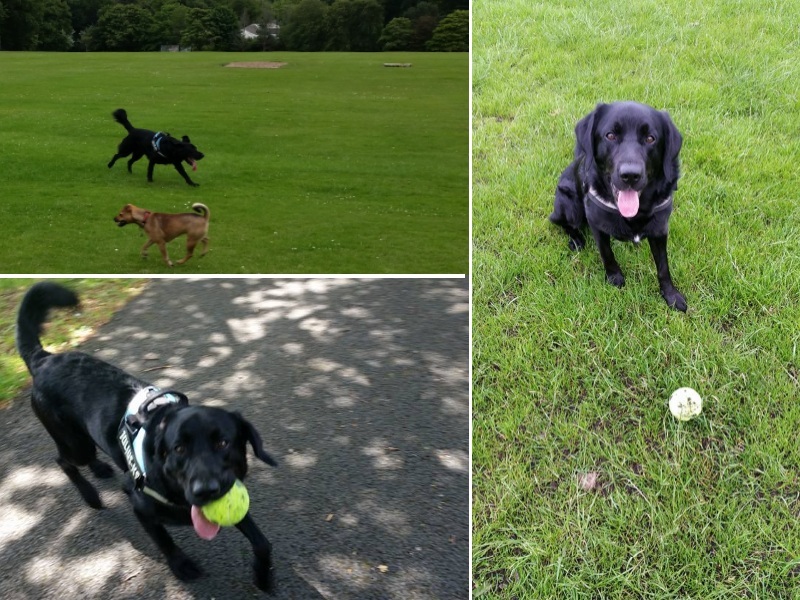 When it comes to a walk in the park, I always ask nicely to play some ball, it's my favourite thing to do with my doggy crew back home. The park is called Bellahouston Park and it is so big I was allowed off lead to play ball! Win for me I thinks!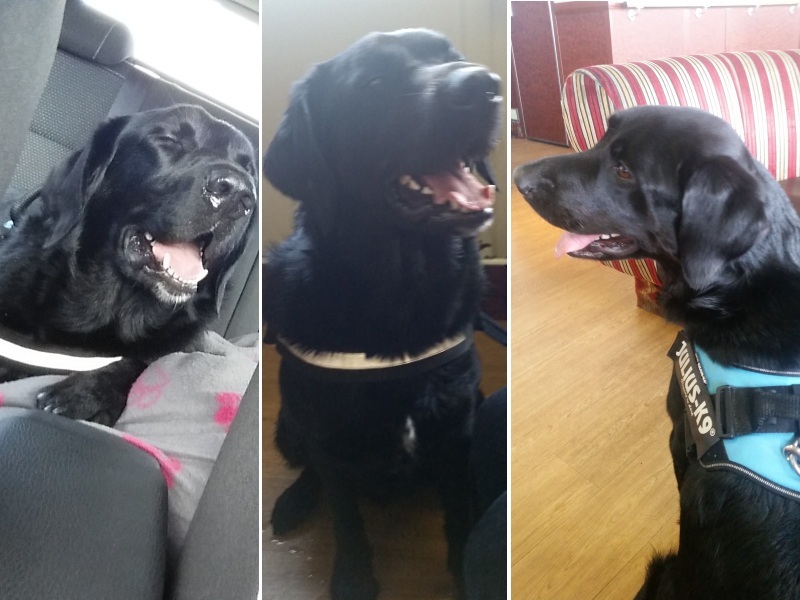 A boat, a boat, oh my god I must make new friends with EVERYBODY and smell EVERTYHING! Well that's what I wanted to do but my human Daddy told me I had to sit nice in the special areas that were just for us furry ones on the Calmac Ferry and I would get a treat. I did my best and was rewarded with some lovely doggy biscuits and a cuddle from the Calmac staff. This holiday business is easy but I haven't got to play ball yet…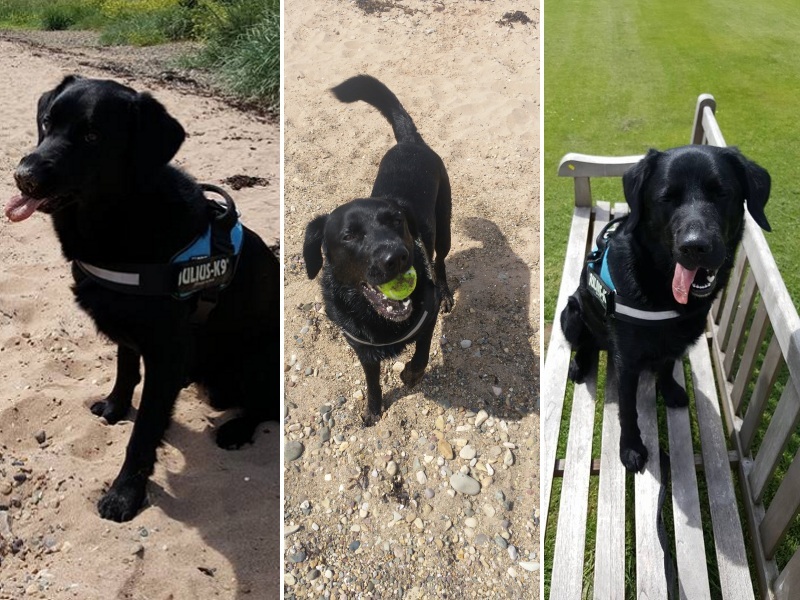 Finally a ball! The sun was out early this morning and I couldn't wait to get started on the day. With so many new smells I was ready for my adventure to begin. But first of all I had to pull a couple cheeky poses!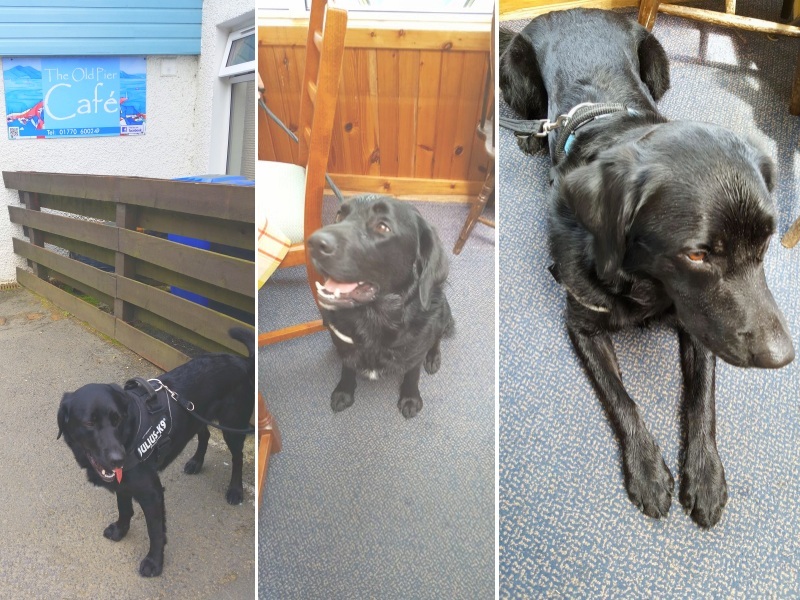 With ball time over my humans were a little peckish so they stopped in at the Old Pier Café. They were so lovely and I even got a cuddle from the waiter. I got to lie down and watch everyone come in and out. The best part was I even got a little bit of my Dad's salmon sandwich when Mum wasn't looking – it got my taste of approval – 5 paws!?????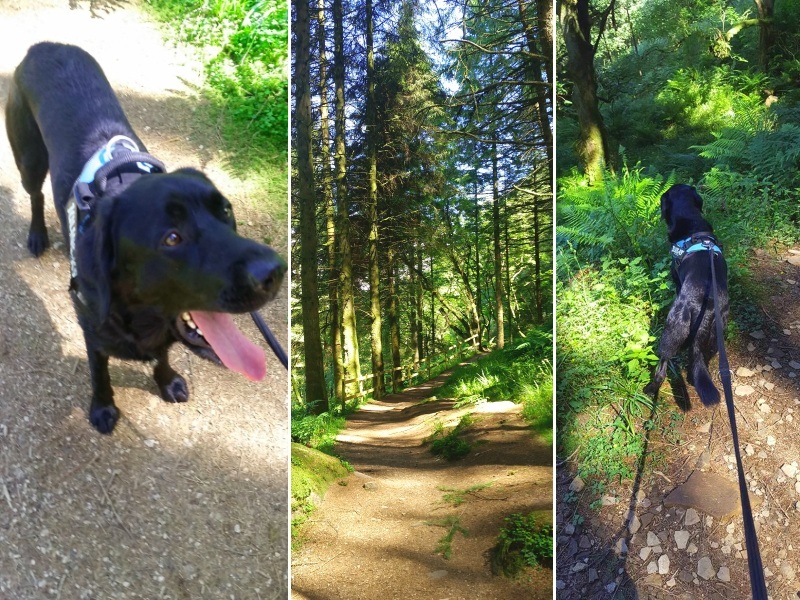 My humans are always saying I love to explore and they gave me the perfect opportunity to do that on one of these long walks they took me on. Mum said it's called Glenashdale Falls trail, I say it's a walk with no ball. I had to be kept on lead as it was quite steep at bits and with the sunshine I was drinking lots to keep me cool. But being smart, Mum and Dad decided to walk me in the shade and let me cool off in the river before I climbed to the top.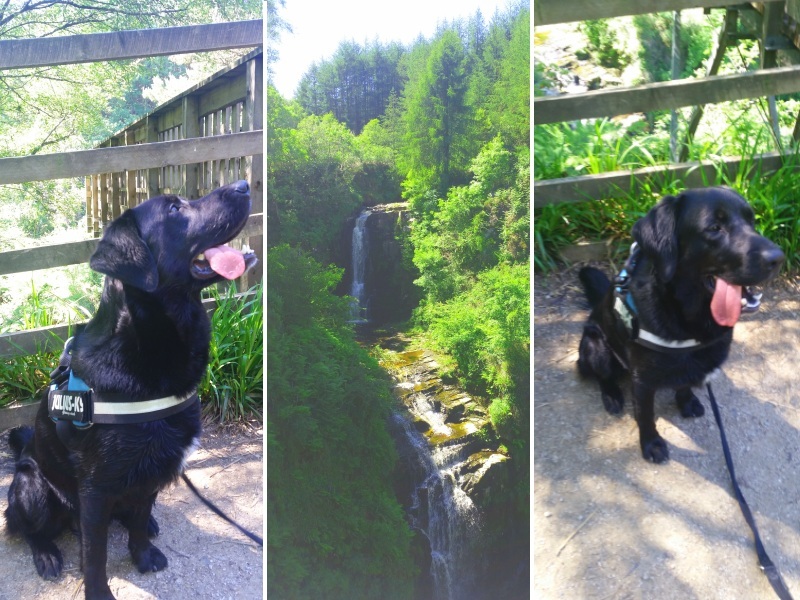 I would have been there quicker but my humans kept stopping to take pictures of me and well can you blame them? But as always I lead the way keeping look out for anything that may cross my path.
Once at the top it was another photo opportunity then back down for some more exciting fun ahead!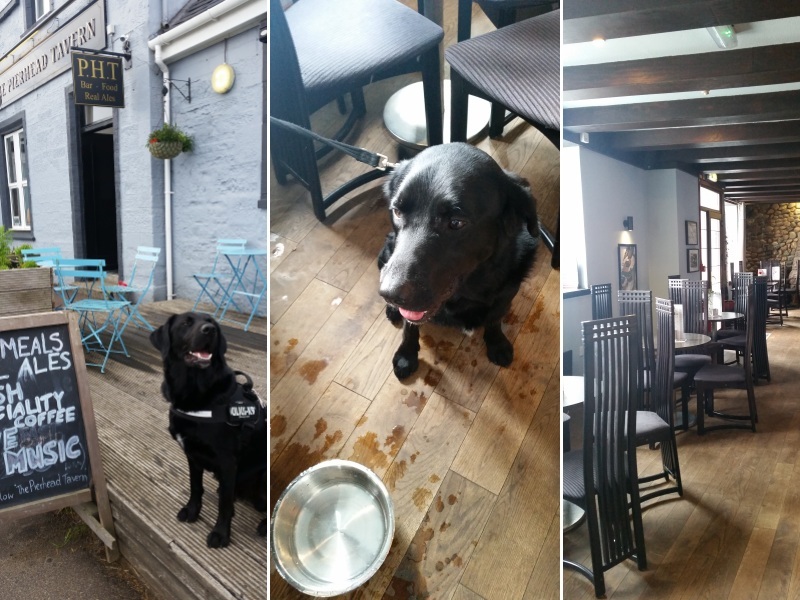 As I was so good in the café earlier my humans decided to stop in at one of the popular pubs in restaurant's – The Pierhead Tavern.
This place was also doggy friendly and they even had a welcome drink waiting for me as soon as I arrived – can't beat service like this.
I tried to play it cool but got a little excited and just had to thank the lovely ladies for the welcomed water. My humans ordered some nice food – they even kept the kitchen open a little longer to accommodate them – think that was down to my handsomeness though.
I didn't get a chance to sample the food though as my humans ate it all, however they tell me that's a good thing. Everyone there was so gracious and when new people would come in to book a table for later or to enjoy a drink I was very eager to tell them about how much I was enjoying my visit.
I felt very much at home so much so I went for a snooze and was rudely awakened when we had to leave. Another 5 paw approval from me! ?????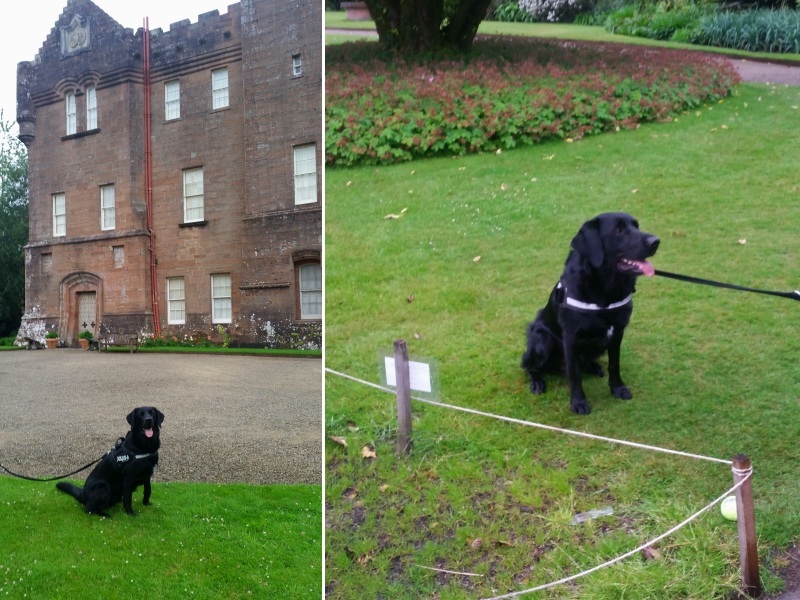 Who would have thought Castle life would be for me. We visited Brodick Castle whilst on holiday. The staffs were really friendly and they kept telling me I was a good boy so I must have been doing something right.
I had to stay on lead so I didn't frighten other furry animals like the cows or sheep but to be fair I barely noticed them as there was so much to sniff and explore.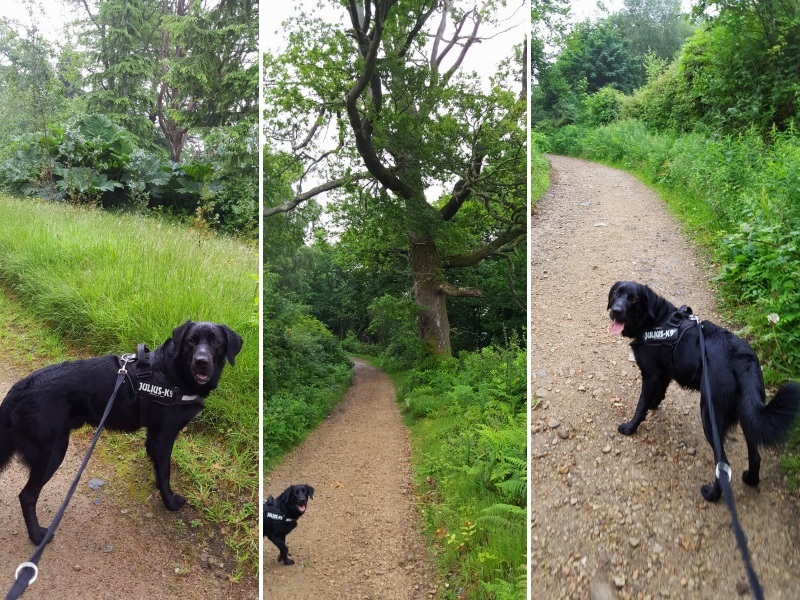 Within the Castle grounds we discovered another trail we could walk so off I went leading the way and stopping to show off anything interesting I found. I did find these giant leaves and tall trees so my humans took a couple of photo of me looking all proud.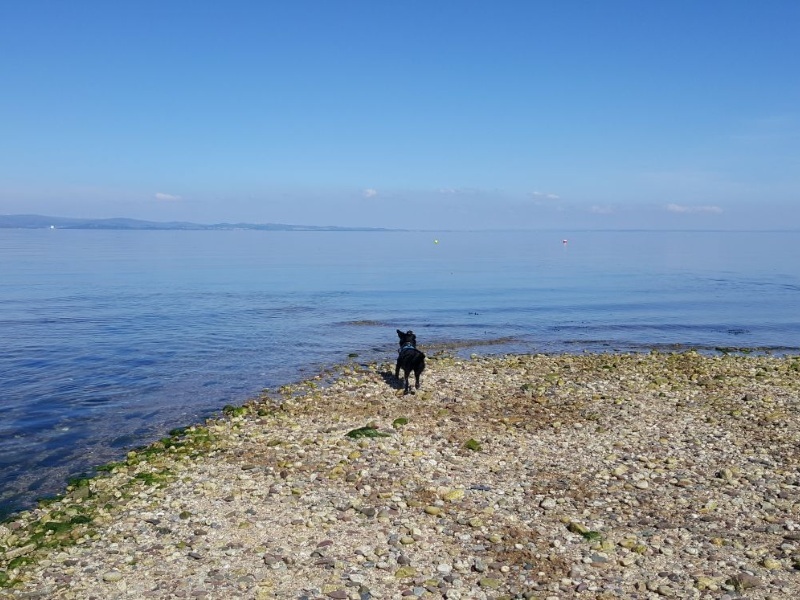 A ball, a ball, I must catch the ball!
Sorry back with you now – one of the best bits about my holiday was the water. After all the walking and exploring, I loved playing in the water more than anything with my ball. Refreshing and it kept me cool, although I wasn't a fan of the bath afterwards to get the salt water off me.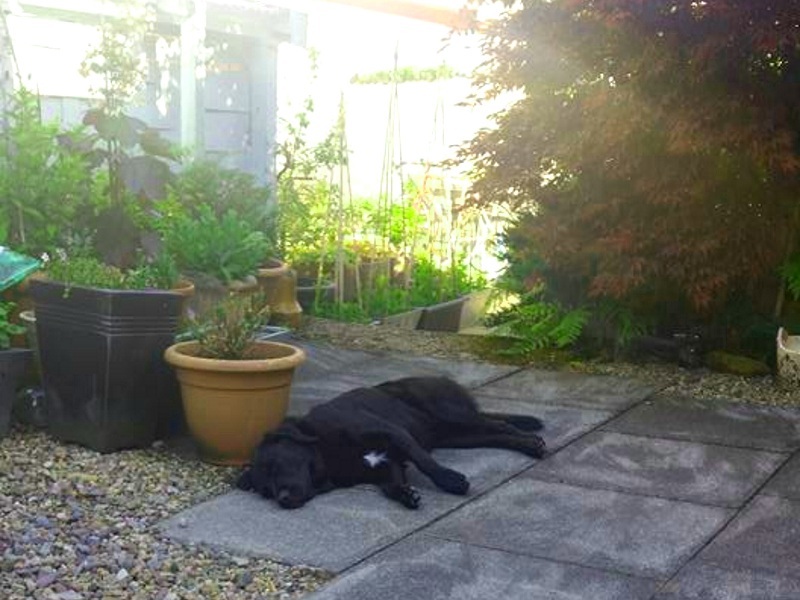 After all the walking, the running, the exploring and playing ball, it was safe to say I was tired!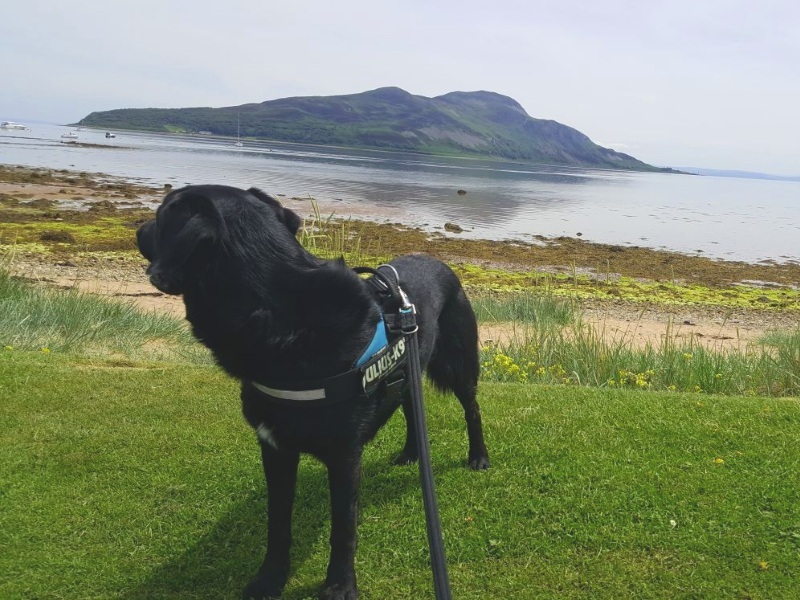 I was sorry to see my holiday end as there was so much to explore in Arran however, I will be back! An all over 5 Paws holiday! ?????
Mum said if any other humans want to visit they can book here – just tell them Harvey sent you – woof!