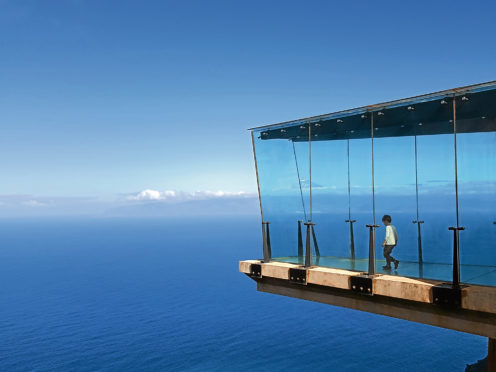 With direct flights from Aberdeen Airport to Tenerife, the Canaries have been a popular family holiday destination for years. But for those seeking a refreshing change then consider Tenerife's charismatic neighbour, La Gomera.
This small, green island works well for families looking for something a little off grid, and for Scots seeking year-round sunshine slightly off the beaten track.
La Gomera offers the family-friendly resort, the sandy beaches and the sunshine, but it has a very different vibe. Valle Gran Rey on the west coast of the island has a cool, alternative scene.
Visitors won't find epic water parks or vast shopping malls, but it does boast miles of sandy beach, an enticing esplanade, a sheltered "baby beach", and Mother Nature serves up one of the best sunsets in Europe.
On our first evening, as the sun started its descent, musicians were drumming on the beach, children were playing in the sand, a night market was being set up, families and couples were strolling along the seafront and individuals were dancing or meditating as day turned into dusk.
This bohemian and chilled setting prepares visitors for a day of mystical exploration of La Gomera's trump card, Garajonay National Park.
For any family that likes the great outdoors then an hour, morning or day of hiking in Garajonay is an enriching priority. This Unesco World Heritage Site is unique, and from a kid's perspective it resembles something out of a Harry Potter adventure.
Situated in the mountainous summit of the island, Garajonay is a rainforest that sits in cloud cover, creating a misty, magical world that lets young, creative imaginations go into overdrive, and for adults it's refreshingly cool after spending time in the hot sun.
Treks are clearly signposted, and there are plenty to choose between to suit a range of abilities and offering a mix of intensity and duration. As our children are young pre-schoolers, we undertook a very short walk on the El Cedro route.
This took us through forests, past waterfalls and over bridges until a clearing came into view, complete with picnic tables and what's locally known affectionately as the "Peeing Tree", where fresh, drinking water is available. A small church also draws the eye, built by a British woman, Florence Stephen Parry, who, having lost her fiancé in World War I, moved to the island as a governess and made it her lifelong home.
The forest is riddled with history, stories and curiosities, but its unique ecosystem dates back to the Tertiary period, and it's a global treasure.
Another experience that cannot be missed is Mirador de Abrante. Visitors will experience jaw-dropping viewpoints while driving up and down La Gomera's country roads, but Abrante is something else.
A seven-metre glass walkway juts out over a cliff edge providing staggering views. The glass underfoot is quite stomach-churning but the views of Tenerife's Mount Teide are fantastic. Mirador de Abrante also has a respected café so it's possible to round off the visit with lunch or an ice cream.
Some of the staff are also skilled at Gomeran Whistling or "Silbo Gomero", proof that this Canary island sings (or whistles) its own tune.
This unique language was used by the islanders through the centuries to communicate over vast distances – handy on an island rich in valleys, ravines and hillsides.
Its cultural significance was recognised by the La Gomeran government, which introduced it as a subject in schools in 1999, and in 2009 Gomeran Whistling was inscribed in Unesco's list of the Intangible Cultural Heritage of Humanity.
La Gomera also has its own identity when it comes to dining. The island is filled with independent cafés and restaurants (no big brands here) that serve local specialities. Goat is popular, as is rabbit, and the seafood is excellent, but for holidaymakers following a plant-based diet eating in La Gomera is a pleasure, as vegan and vegetarian dishes are peppered throughout most menus.
From Mirador de Abrante we drove a short distance to the picturesque town of Agulo to dine at the converted school, La Vieja Escuela. Here, we sampled the pride of the Canaries, salted potatoes, which are dished up with practically every meal.
Accompanying them are two types of mojo sauce: one bright red and laced with chilli; the other a rich green sauce made from generous quantities of garlic and coriander. Another highlight is Almogrote, a cheese paté that has a certain kick to it.
Over in San Sebastián's "Pension Victor" watercress soup was on the table. It may sound quite thin and light, but it's as hearty and chunky as any Scotch broth. Round everything off by sampling the island's renowned palm syrup: ideal in desserts or cocktails, this sweet treat is made from the sap of the Canarian palm tree and it's simply delicious.
After feeding the tribe, a final recommendation is to take to the water. Hitting the high seas on a Yani Whale Watching Cruise, it's possible to spend a few hours on the look out for whales, dolphins and seabirds. Sailing out of Valle Gran Rey, we were fortunate enough to spend 40 minutes with a pod of pilot whales.
There may not be expansive, colourful animal parks on La Gomera, the like of which is found on other Canary islands, but instead tourists spend time with wildlife in its natural environment. On the return leg of the journey the Yani crew dish up a simple lunch, accompanied with beer, wine and soft drinks.
La Gomera boasts "slow tourism". It's easy to sense that the locals don't necessarily want La Gomera to attract the masses, they don't desire to be the next big thing. The people welcome tourists and incomers, taking pride in the service they offer, the vibe is remarkably family friendly, the island's natural beauty is staggering, so the islanders don't need or wish to emulate Tenerife or Lanzarote. This Canary is singing its own tune, and it may well be music to your ears.
Getting There
Reaching La Gomera is part of the family fun. Close to Tenerife South airport is the port of Los Christianos. Fred Olsen Express 45-minute sailings take customers direct to San Sebastián in La Gomera. The absence of an international airport in La Gomera has protected it from mass tourism and left it beautifully unspoiled. www.fredolsen.es/en
Getting Around
If you wish to leave the resort and explore then a hire car is recommended. The local provider, www.autoslarueda.es, delivered well, and supplied car seats for little ones on request.
Where to Stay
Hotel Gran Rey is a good family option. Located metres from the beach in Valle Gran Rey, it has a rooftop pool and ample parking. Like many Canarian hotels it serves buffet meals of a high standard, so it's easy to feed a family and try different things. www.hotelgranrey.es