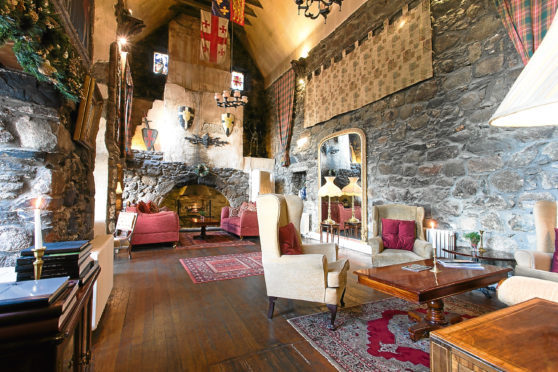 "Outlander!" That's the first word which sprung to mind as we stepped into the residents' lounge of Maryculter House Hotel. It's the oldest part of the hotel and dates back to 1460.
With its high beamed ceiling, stone walls, enormous fireplace, colourful flags and stained-glass windows, it's like something from the set of the time-travel series and it doesn't take a huge leap of the imagination to imagine handsome Highland warrior, Jamie Fraser, bounding through the door.
One can only dream…
I'm told that one memorable event which did take place here, which I'd love to have seen, was a wedding with a Viking theme. As the hotel sits on the banks of the sparkling River Dee, the groom, dressed as a Viking warrior, was able to sail along the river to the hotel where he tied the knot with his bride.
Weddings are very popular here and it's easy to see why. One also gets the impression that no request, however quirky that may seem to some, would be a problem for staff at the 40-bedroom venue to organise.
My own knight in shining armour and myself were enjoying a mini-break to Aberdeen but wanted to stay in a hotel outwith the city. Maryculter House Hotel fitted the bill perfectly as it's just a short drive from the bustling city centre to this countryside oasis.
It's the sort of venue that makes you feel relaxed, quickly. By the time you've driven through the lush grounds, parked the car and entered the reception area, which is home to an enormous fireplace with brightly burning fire and comfortable chairs, you feel yourself beginning to chill out.
Here, past and present come together nicely, as it's packed with both traditional and contemporary features – a tricky act to pull off. For history buffs like myself, it's fascinating to think of the things these walls have witnessed.
In the late 12th century, the Knights Templar were granted land at Maryculter and the College of the Knights Templar was founded on the site of the hotel. One of the owners was the famous Cosmo Duff Gordon, one of the few male passengers who survived the sinking of the Titanic. After World War II, the building became a hotel.
After being given a mini guided tour of the hotel to help us find our way around, we were shown to Room 112, a superb bedroom on the ground floor with a huge, very comfortable bed and traditional dark furniture. Along with a large en-suite bathroom, there was a comfortable sitting area with patio doors leading to a patio outside.
With tall trees and views overlooking the River Dee and Peterculter Golf Course, the patio would be a fabulous place to sit and watch the world go by with a glass of wine on warm days.
The weather was less favourable when we were there but we had the added bonus of looking out at a star-filled dark sky and an enormous full moon, which really made for a magical and romantic setting, especially as silvery reflections of the moon danced on the river slowly making its way to the North Sea.
This was a scene you can imagine people witnessing here, and appreciating, for hundreds of years.
As the hotel has an excellent restaurant and brasserie, there was no need to head into Aberdeen to find a place to eat – it also meant we could both enjoy a glass of wine with dinner rather than toss a coin to see who was to be the designated driver.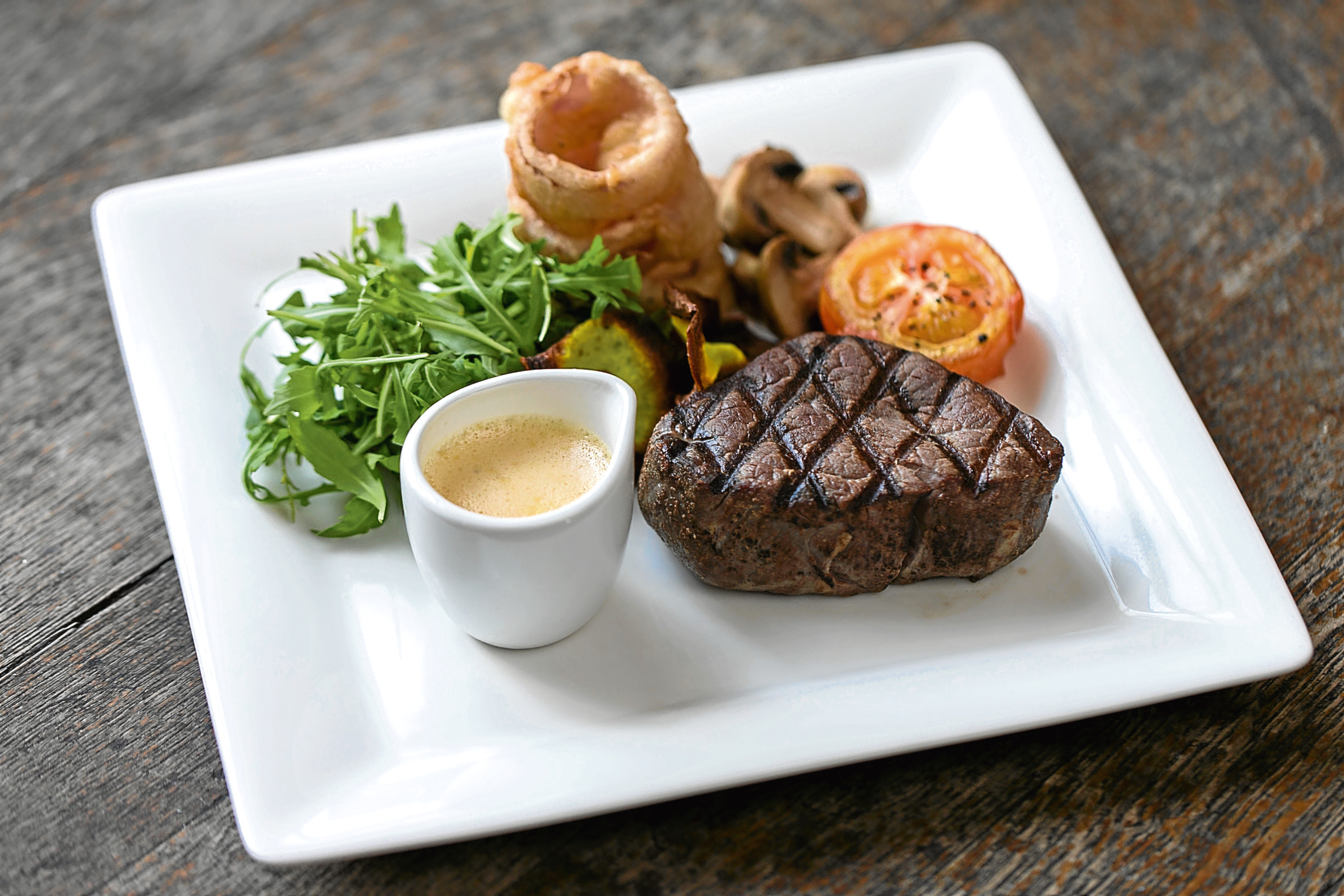 Although full of period charm, the Priory Restaurant feels more formal so we opted to have dinner in Poachers Brasserie, a lovely old room, complete with roaring fire, that's had a modern makeover that gives it a contemporary Scottish feel.
Our waitress was excellent, friendly and chatty without being intrusive, telling us something of the history of the hotel and suggesting local places of interest as it is ideally placed for exploring Royal Deeside.
Dinner was good and we dined like kings – or perhaps knights – on a veritable feast of dishes including a variation of Cullen Skink soup. Made with hot smoked salmon rather than smoked haddock, it was akin to a thick, seafood chowder, while our other starter of scallops was dangerously moreish.
Mains for me was a bourguignon steak pie with wild garlic mash while Sir Galahad had poached salmon with a delicious beetroot-infused mash. Incidentally, the portions were pretty generous, so much so that we simply couldn't face any dessert, no matter how tempting they sounded.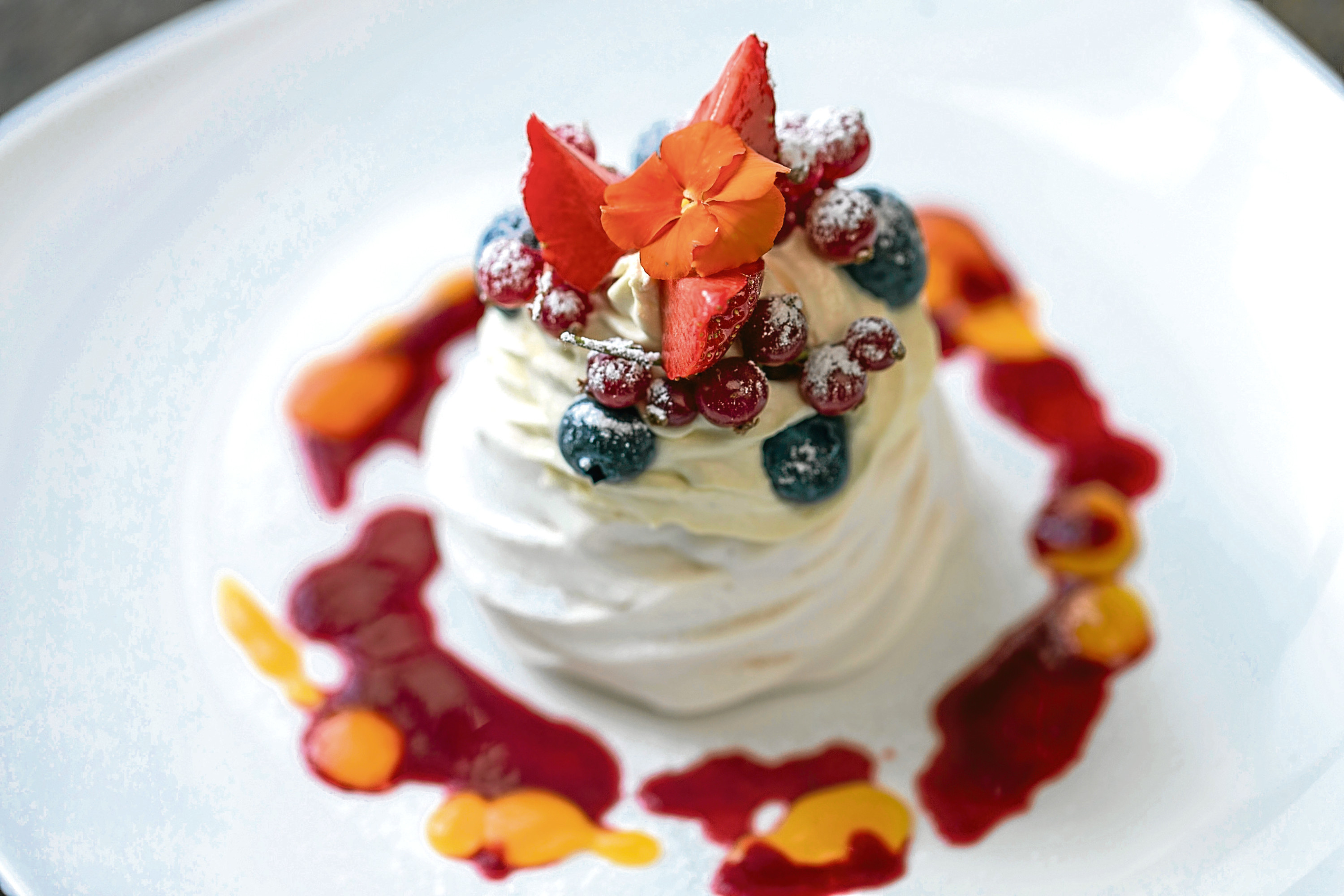 Instead we decided to share a cheese board. Unfortunately it came out stone cold, killing the flavours of the Devenick Aristan Cheeses. So instead, we retired to our suite, taking the cheese board with us, and after half an hour or so tucked into a wonderful selection of flavour-packed locally sourced dairy delights.
After a very peaceful, relaxing night's sleep, we woke to a beautiful day and the sound of birdsong and the occasional ping of a ball being struck on the golf course across the river. While it would be tempting to cast a rod from the comfort of this bedroom, it's probably not a good idea . . .
Instead guests can enjoy fly fishing on two beats owned by the hotel, Tilbouries and Culter, while its resident ghillie can provide tuition and advice for beginners.
There's also a fishing lodge and the hotel can organise a package which includes B&B in the lodge, three days of fishing and picnic lunches on the river banks.
Following a substantial full cooked Scottish breakfast in the restaurant – they really don't do small portions here – we reluctantly left the tranquillity of the hotel and headed to Aberdeen where we enjoyed beach walks, shopping as well as squeezing a visit to the excellent Maritime and Tolbooth museums, both of which were superb and free to visit.
Maryculter House Hotel, South Deeside Road, Aberdeen, AB12 5GB
Phone 01224 732124 or e-mail info@maryculterhousehotel.com
B&B starts from £65 per room.
Visit www.maryculterhouse hotel.com