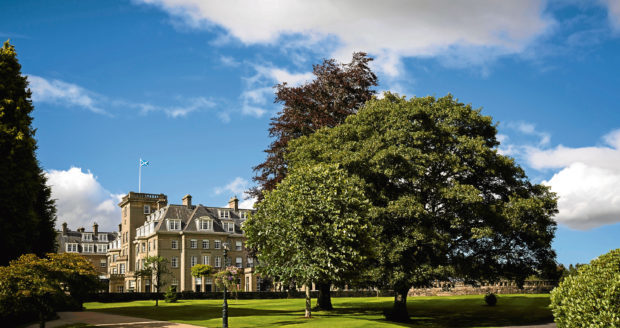 Luxury hotels can easily lose their allure once children come along. Champagne in dreamy-looking rooms, state-of-the-art spas offering the ultimate in escapism, those lingering all-evening fine-dining experiences, well-stocked bars and cosy corners to unwind in all seem a waste when you're running around after little ones who are bored senseless or splitting the childcare in a bid to steal some solo time.
So when the iconic five-star Gleneagles Resort launched Little Glen and The Den, it extended a lifeline to all the parents out there desperate to reclaim some luxury hotel life. Their motto is "whatever an adult can do, a child can do too". And so, on top of their dedicated child-friendly leisure activities offering, the new dedicated children's indoor space has resulted in a glorious playground for our little ones… and made luxury hotel stays a real headache-free prospect again for parents.
Gleneagles offers a range of versatile accommodation allowing families to experience the hotel's sumptuous rooms or suites. We were upgraded to a luxury one-bedroom suite with a bedroom as large as a flat, allowing the four of us oodles of space. While the kids had their own beds – not to mention adorable mini robes and slippers – they ended up sneaking into our gigantic bed, which offered enough room for the entire family to spread out in.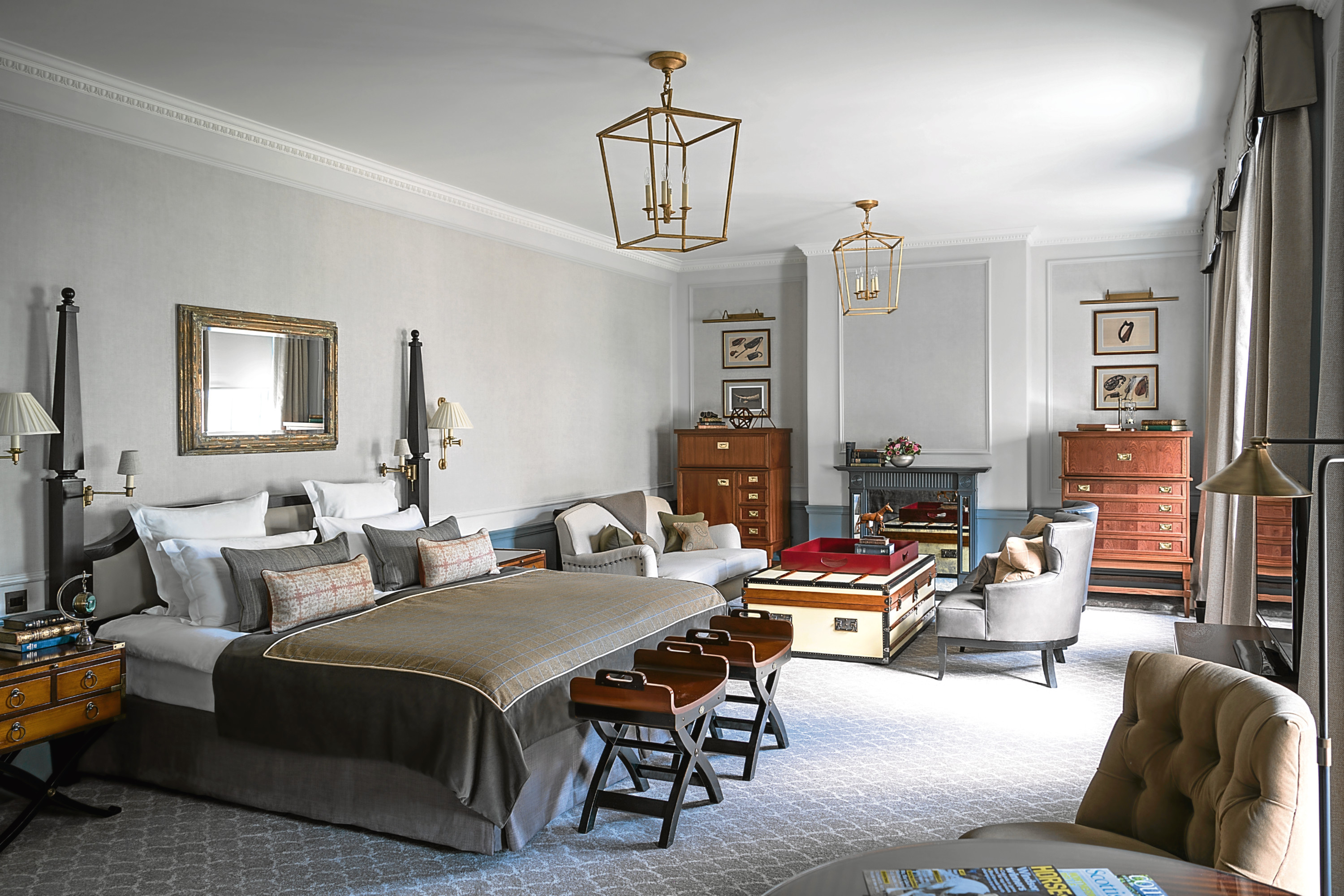 With views across the estate, not to mention a stunning sitting room and dining area with elegant furnishings for us to retreat to when the kids went to bed, it offered us an ideal space and real home from home experience. And then there was the luxurious bathroom complete with underfloor heating, roll-top bath and free-standing shower. Sublime.
After a delicious family breakfast in The Strathearn, we were straight off to check out the new fully supervised crèche, Little Glen. It's evident a lot of time went into designing the bright, fresh space which has resulted in a safe, fun and stimulating play environment for children aged two to nine.
Bespoke toys such as the indoor treehouse and Gleneagles Express railway carriage add the wow factor for adventurous little ones; our normally shy four-year-old bounded in and felt right at home instantly. Books, toys, wigwams, dress-up boxes, dolls house, hobby horses, play stables and an enclosed outdoors space will keep them entertained for hours, as will the adjoining arts and crafts workshop.
And the best bit is that each child staying in the hotel is entitled to two hours' complimentary care per day, with £10 per hour per child thereafter (max of four hours per day). This alone is music to every parent's ears.
Older children will love The Den, an unsupervised hangout space next to Little Glen which is every bit as impressive. Specially created for older children and young teenagers, it features everything from pool and air hockey, PS4s, Xboxes, arts and crafts, and an oversized games area with giant Connect Four and Jenga, floor-sized Snakes and Ladders and wall-mounted Scrabble board. In fact, we loved this area so much we all happily spent time watching movies in the dedicated cinema room.
Little Glen became my saviour. It allowed my husband and me time to experience the facilities of the resort freely, managing to get in a gym session, swim and even a leisurely coffee and cake without little hands stealing our sugar fix or vying for our attention. Undoubtedly the best treat was a manicure at the new Bob & Cloche.
Located just a stone's throw from the hotel, the stunning beauty destination boasts a nail bar, pedicure room, hair salon and treatment rooms. My welcome included a mini bottle of Moet in the stylish relaxation area complete with roaring fire, before I was taken for my gel manicure and some pamper time. And when we picked them up some two hours later they were both happy (and us thoroughly relaxed). Result.
But the Gleneagles family experience extends far beyond Little Glen and The Den. There's a wide range of child-friendly games, sports and outdoor pursuits available throughout the 850-acre estate, including golf lessons, off-road driving, fishing, shooting, archery and gun dog lessons.
We opted for a mini Land Rover driving experience using a scaled-down open-top replica of the Series 1 Land Rover. Powered by batteries and operated by working the pedals, this is kid heaven and our two car-loving youngsters adored the experience. Within minutes, our eldest, Daniel, was driving around the resort getting used to going up hills, round corners and even reversing before nailing the admittedly tricky off-road course hidden in the woods. Throughout the experience his instructor was by his side, with a fob to control the car remotely should he get carried away.
We decided to treat ourselves to lunch in Century Bar, famed for its menu of 120 single malts, vintage champagnes by the glass, cocktails and carefully selected wines. It also has an impressive food menu too and, importantly, is child-friendly. While the kids tucked into another delicious lunch – their new-found favourite is the Gleneagles smoked salmon – we managed to enjoy a glass or two from the impressive wine offering. Our waiter was adept at keeping little ones' content and meltdown-free, happily sourcing their favourite juice for them and bread choice. Century Bar is definitely worth a visit even if just for the ambience and surroundings.
Re-fuelled, next up was a Shetland pony riding lesson held within Gleneagles' dedicated equestrian school. Given how nervous my son can be, we chose a private lesson under the expert guidance of one of the instructors. After being shown to his very own riding hat and boots, it wasn't long before he was happily grooming his pony before exploring the riding centre on the saddle. The one-to-one tuition had a transformational effect on his confidence and by the end of the lesson he was trotting excitedly around the arena shouting commands to his pony.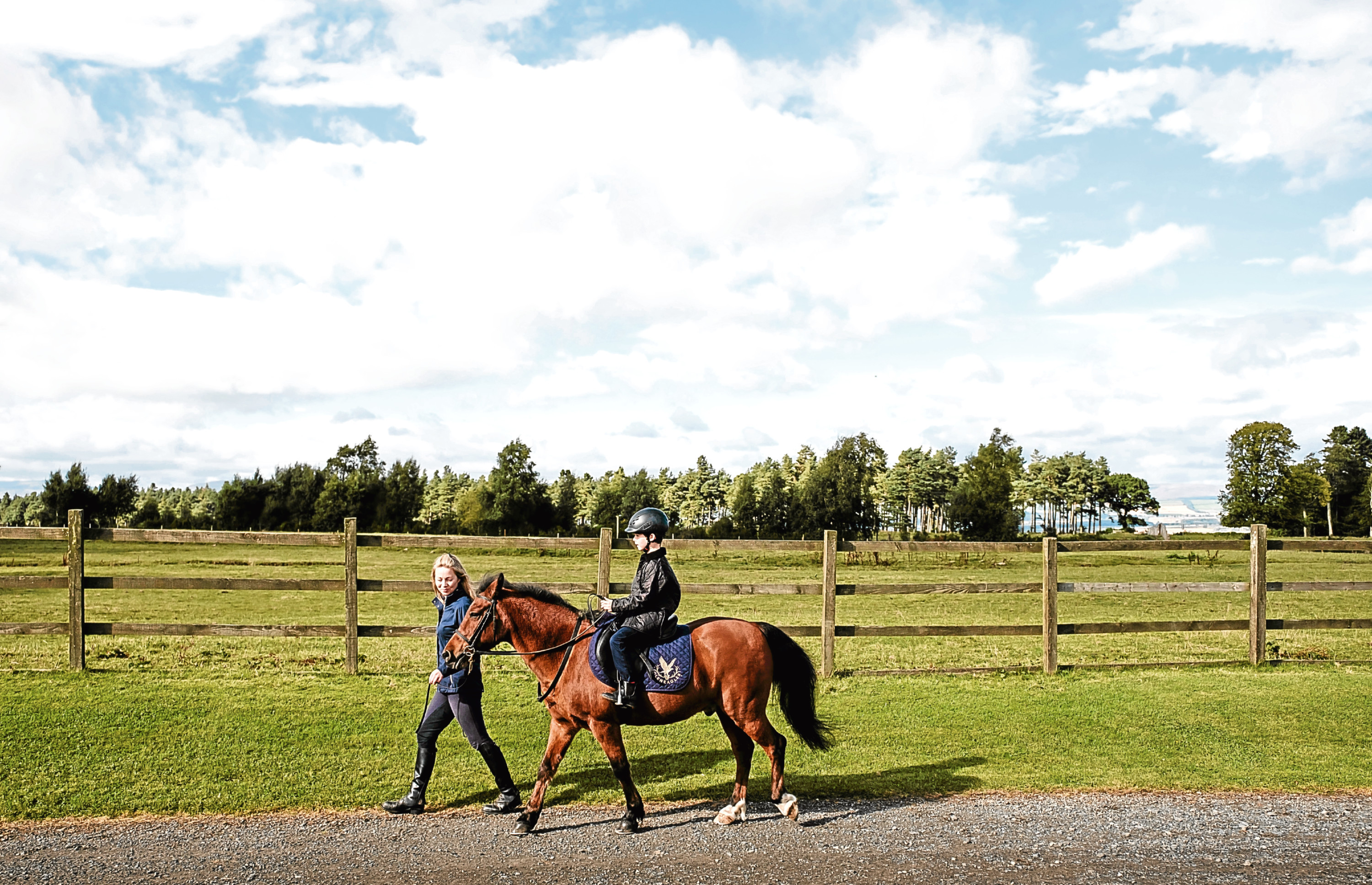 The immaculate grounds are a dream for kids to run around in and explore and an ideal place for them to burn off any excess energy, working up an appetite for an early dinner. Gleneagles is home to many a gourmet dining option but our destination was Birnam Brasserie, the latest culinary addition. Offering all-day dining, the atmospheric yet relaxed brasserie specialises in locally sourced Scottish produce and French American fusion menus. The bistro-style décor is stunning, with lots of quirky spaces to unwind, making it an ideal haunt for families.
Our normally picky two inhaled their dinner while we got to indulge; the fixed menu is a reasonably priced at £24 for two courses but we opted for a la carte. The onion soup was rich and bursting with flavour, as were the escargots – the parsley and garlic sauce perfectly complemented the meat. For mains we shared the melt-in-the-mouth lamb rump served with tomato and black olives and the succulent steak frites, both beautifully cooked.
Dripping in luxury, Gleneagles is supremely child-friendly. Along with Little Glen and The Den and the ton of outdoor activities available, there's also babysitting services, special food menus and an indoor pool for them to splash around in. It is the perfect luxury escape with little ones in tow – and we're already planning our return.
The Gleneagles Hotel, Auchterarder, Perthshire, PH3 1NF
The price of a Sovereign Room starts at £465pn on a B&B basis, including one child. A family starts at £565 B&B (based on two adults and two children).
An OPI gel manicure at Bob & Cloche costs £71, junior off-road driving, £97 and lead rein lesson, £43 (ages 3-7).
To book, for special offers or for more information visit www.gleneagles.com or telephone 01764 662 231.