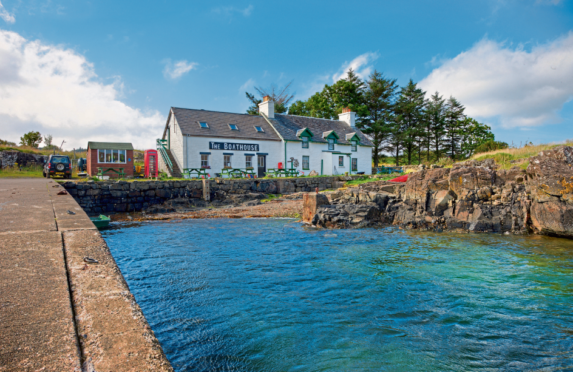 Some people thought the original idea was pie in the sky.
But the little island of Ulva will move into public ownership next month after an agreement was reached yesterday between North West Mull Community Woodland Company (NWMWC) and the current owner, Jamie Howard.
Binding contracts were concluded on a deal worth around £4.5m and ownership of the Ulva estate will transfer to NWMWC on June 21.
And it has been confirmed that the National Trust of Australia will help to promote tourism opportunities on the island.
Ulva buyout plan receives £4.4m boost from Scottish Land Fund
NWMCC first applied last year for a community right to buy under the Land Reform (Scotland) Act 2003 and an independent valuation was ordered by the Scottish Government.
But the lengthy negotiations continued into this week before both parties concluded the deal.
Colin Morrison, chairman of NWMCC, said: "We cannot thank everyone enough, not just for the financial support, but also the encouragement we've been given throughout the process.
"We have been heartened by the degree of interest and depth of support we have received from official agencies, commercial organisations and also private individuals at home and abroad."
The bulk of the purchase price and assistance with project management over the first two years will come from the Scottish Land Fund, whose offer of a grant of up to £4.4m was unprecedented in community land purchases in Scotland.
Ulva was the birthplace of Lachlan Macquarie, regarded by many people as the "Father of Australia" and the NTA has offered to help promote opportunities for visiting Macquarie's birthplace.
More than 500 individuals from around the world made donations via the Ulva Buyout crowdfunding site.
Various fundraising efforts in the community also played their part, while building awareness and maintaining enthusiasm for the project.
The scheme has gained backing from such organisations as Mull and Iona Community Trust, South West Mull and Iona Development, the Royal Society for the Protection of Birds, Woodland Trust Scotland and Community Land Scotland.
NWMCWC's directors added: "Ulva has been home to the Howard family for over seventy years and clearly the decision to sell must have been a very difficult one.
"We recognise the community buyout process has been demanding, and at times stressful, for all concerned.
"As stewardship passes from the Howard family to the local community, we look forward to an amicable transition and wish Mr Howard and his family all the best for the future."