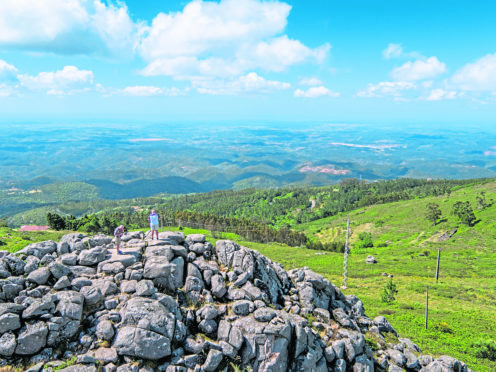 Wild lavender scented the air as we strolled past spiky aloe plants and gnarled cork trees. A gurgle from the river beckoned us to the shaded pool where cool, clear water bubbled up.
My husband and I were hiking as part of a walking and gastronomy tour of the Algarve, in southern Portugal. The gushing spring was Fonte de Benamola in the National Park of the same name, and locally renowned.
"In the summer, when we come to the end of our walk, most people just jump in – with all their clothes on," said our guide, Diane Nunes, of Portugal4U, tours.
We were tempted to follow, but it was cool and we still had much ground to cover. And so, with a spring in our step, we continued along the river, home of fresh water turtles and kingfishers.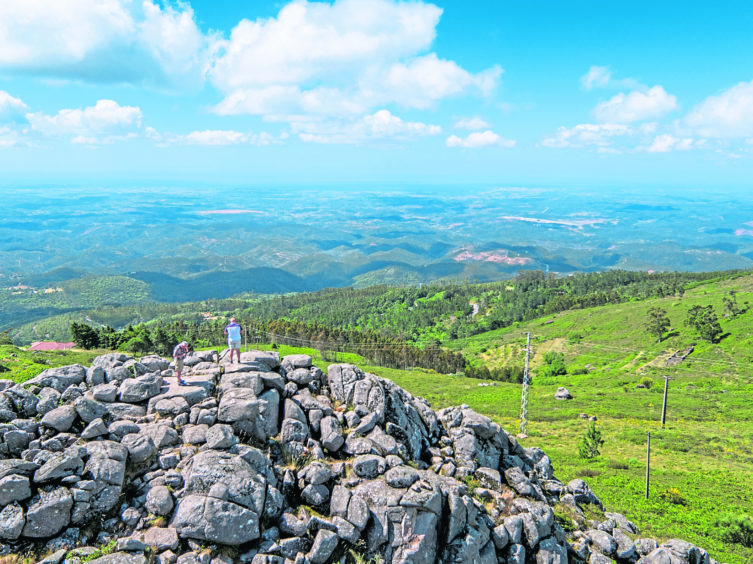 The lush circular walk, which passed wild orchids, sage and thyme, is one of several marked trails which run both inland and along the coast of the Algarve.
A refreshing alternative to the more usual golf and beach activities, the well-signed walks can be undertaken independently or with a guide. Often within protected national parks, the routes such as Rota Vicentina and Ecovia do Litoral, they embrace varying landscapes, including the red dunes of the coast, tranquil rivers, rolling pasture, gentle hills and white-washed villages.
The trails are also an introduction to the Algarve's history, culture and gastronomy. As we passed a leafy carob tree, Nunes picked a seedpod and explained its varying uses: when the Moors conquered Portugal in the 13th Century, they introduced the carob bean as a measurement against gold, hence the unit "carat". Carob is also delicious to eat and, combined with almonds and figs, makes a mouth-watering cake.
After our hike, we relaxed in the oh-so-comfortable five-star Dona Filipa Hotel in Vale do Lobo. Close to San Lorenzo and Pinheiros Altos golf courses, and a short stroll from the golden beach, we were tempted to try them. However, mindful of my brief (and being particularly conscientious), I opted instead for a refreshing glass of vinho verde from the Quinta da Aveleda winery. Accompanying a meal of fresh grilled fish, it was a delicious harbinger of what was to come.
If you love fish, which fortunately I do, The Fisherman Food Tour of Faro has to be one of the highlights of this beguiling, regional capital. Sadly, however, my husband does not share my enthusiasm, and the thought of swallowing anything scaly, never mind, shellfish, is enough to make him faint.
Nevertheless, the tour, co-run by Antonio Guerreiro, of Eating Algarve Food Tours, began promisingly for both of us, in the wonderful Mercado Municipal de Faro, or market.
"It's like an institution," said Guerreiro. "People come here to see their friends and have a coffee." They also come to eat. We started our tour with a "bifana", a roll made up of pork which has been marinated in olive oil, garlic, bay and wine. Topped with homemade chilli sauce and mustard, it makes for a mouth-watering lunch. As I smacked my lips, my husband smiled with relief. This wasn't so bad.
Next, we visited a family-run bread stall, followed by a charcuterie and cheese stall selling irresistible paio (cured black pig sausage) and day-old goat's cheese. We both happily tucked in. We passed fresh fruit and vegetables and then stalls of even fresher fish. Everything from grouper, tuna, oysters, mackerel, monkfish (sliced to show tasty fish-eggs), squid and, of course, sardines were here. I loved it. My husband looked back longingly at the pork rolls.
At one of the local cafes, we sampled a hake, cod and clam stew, mixed with bread, egg, garlic and coriander. A particularly delicious note on which to finish, I thought. But there was more to come – a string of local fish restaurants. My husband blanched.
He perked up, however, at the laid-back Chavalar restaurant, where the walls were decorated with pictures of the political musician and revolutionary Jose Alfonso. While my husband learnt about Alfonso (Zeca) and Portugal's Carnation Revolution in 1974, I focused on more important things, namely the oysters.
Because Faro is adjacent to Ria Formosa, a national park of small barrier islands and lagoons, the area abounds with plump shellfish. True to form, the oysters were fat and juicy, especially when washed down with a glass of vinho verde. These were swiftly followed by meaty, charcoaled mackerel, served with their heads on, so we could tell just how fresh they were. I was in heaven. My husband was ready to pass out.
But at our final stop, at Vila Adentro, where we had yummy carob cake, we also enjoyed another small history lesson. The 15th Century building sits above one of the few surviving ancient water tunnels created by the Romans. As we teetered down narrow stairs to have a look, my husband grinned. This was more like it!
Replete, we wandered by the cathedral, down narrow tiled lanes, past sunny squares and sugar cube houses, towards the marina. A huge, ungainly stork, a protected species, flew overhead. Look up anywhere in the city and you will almost certainly see a stork or two precariously balancing on a huge twig nest on a slender lamp-post or tower ledge.
In fact, near perfect stork-sighting can be had from Restaurante Ria Formosa and Cosmopolitan Rooftop Bar in Hotel Faro.
Overlooking the marina, Rio Formosa and Atlantic Ocean, we watched both storks and sunset as we sipped wonderful cocktails. The vista was as stunning as the meal we later had. And the suckling pig was to die for.
The next day we visited the reassuringly relaxing five-star Penina Hotel and Golf Resort, further west along the coast, near Portimao. Part of the same chain as Dona Filipe Hotel, it has six outstanding bars and restaurants, three golf courses, tennis courts and a super large pool. Many people would be spoilt for choice. Not me. And I reached for a menu. Maybe next year I'll try the golf. Maybe.
Ryanair flies direct to Faro from 16 UK airports including Aberdeen, Glasgow and Edinburgh.
Algarve Tourism www.visitalgarve.pt/en/ and www.cyclingwalkingalgarve.pt/en/
Dona Filipa Hotel: www.donafilipahotel.com
Eating Algarve Food Tours: www.eatingalgarvetours.com/en/
Walking Tour with Portugal4U – http://pt4u.pt/index.php