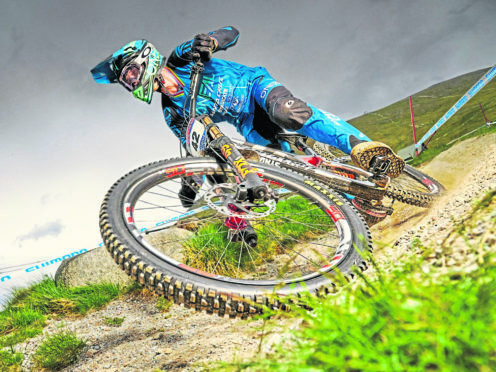 If you are heading to Fort William this weekend to watch competitors taking part in the Mercedes-Benz UCI Fort William Mountain Bike World Cup 2018, organisers want to hear from you – and so do those taking part.
And the louder you are, the better!
One of the reasons riders from every country love coming to Fort William is because of the shouts and cheers of encouragement they get from the fans which can make them go higher and faster.
Shouting, cheering, airhorns, rattles, drums – bagpipes, all noise is good as far as those taking part in the festival on Saturday June 2 and Sunday June 3 are concerned.
The action-packed weekend event will feature more than 250 of the world's greatest downhill riders from more than 25 countries. Among the riders battling it out are sporting superstars Danny Hart and Greg Minnaar, and mountain-bike royalty Gee and Rachel Atherton.
The very best of the sport will be on show with demonstrations, displays and entertainment, all set in the picturesque surroundings of the Nevis Range. Visitors will get the chance to get up close and personal to their favourite riders in their "pits" located throughout the world cup village.
The village is where a lot of the action takes place and there's always something to see and do. The finish area is where all the DH and 4X winners are decided and fans can enjoy good views of the exciting final leg of the downhill events and 4X races.
The tech area is the mountain bike equivalent of the Formula One pits with some pretty impressive trailers and workshops. Here is where you will find all the stars getting ready or chilling out waiting for the action to start. Their mechanics and support teams will be working flat out to keep all the bikes in race condition. It's also your chance to see the latest kit and some components that are still in development, not yet available in your local bike shop.
In the expo area, there's trade stands offering all the latest mountain bike goodies, demonstrations, competitions, food and drink, support competitions and some unusual entertainment.
Last year, the Fort William event was named as the best Downhill Mountain Bike event on the World Cup circuit in 2017 and it attracted more than 22,00 spectators.
On the back of receiving such a huge honour, even more spectators from around the world may descend on the spiritual home of downhill mountain bike racing to experience for themselves a unique weekend of adrenaline pumping gravity action.
The only UK leg of the UCI Mountain Bike World Cup, the event takes place on the slopes of Anoach Mor in the Nevis Range, close to Fort William.
A shuttle bus system will run taking fans to the venue from Fort William and the Park and Ride areas. The festival site opens to the public at 8.30am both days.
For tickets visit www.fortwilliamworldcup.co.uk