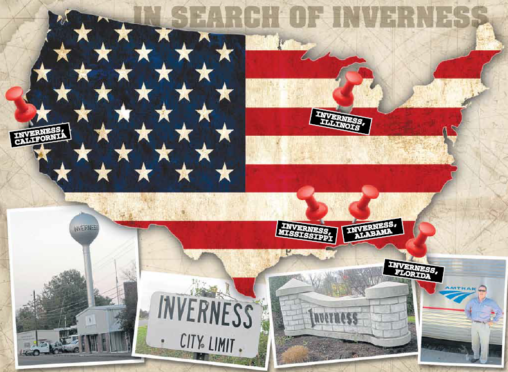 It was the excitement of travelling on the overnight sleeper train from Inverness to London that sparked Mike Edwards' sense of wanderlust as a child, while the sound of those old diesel engines became a rhythm that would beat throughout his life…
"With their irregular tempo, the engines sounded as though they each had a piston loose. It was an odd noise, yet it was somehow comforting," said Mike.
"Whenever I heard it I was happy, as it meant that I was either about to embark on an adventure or was returning home after one," he writes in his book, The Road Home: My American Journey in search of Inverness.
"To this day, I have never slept as well as I did on those old sleeping cars. I was rocked gently to sleep by the noise and the motion," said Mike who grew up on the town's Rangemore Road, close to the High School.
As one of Scotland's top TV reporters, Mike, a former sports writer with the Press and Journal, is a household name, with a job which means there's plenty to keep him awake at night…
His love of journalism began at an early age and as a teenager, while his pals were busy learning different life skills, he'd spend his free time covering amateur football matches for local radio stations and newspapers, including the Evening Express.
Rising quickly through the ranks, his career took him to several Scottish radio stations before he returned to print journalism with the P&J in Inverness. Later, he moved to Bern, Switzerland, and worked for the World Service of the Swiss Broadcasting Corporation. During this time he covered major events such as the Soviet Coup, the first Gulf War and the fall of the Iron curtain.
He is also a Major in the TA and has seen active service in Afghanistan and Iraq where he often came under enemy fire during his tour of duty. Those experiences formed the basis of his first novel, Friendly Fire.
His latest book is part biography and part travelogue. Travel has always played an important role in his life.
"It was always a big adventure to go from Inverness on the sleeper, since those childhood holidays with my mum and dad. That created a love for travel and a passion for seeing what's around the corner," said Mike, who now lives in Glasgow.
"This year it will be 30 years since I visited America for the first time. My mum's best friend lived in California and we would go and see her every year, sometimes twice a year.
"Ten years ago, I'd been on holiday in America so often I had run out of things to do.
"During one visit to San Francisco I woke up and thought, what am I going to do today? I'd been to Alcatraz six times and had seen all the sights in San Francisco several times.
"That morning I went for breakfast and did what I always did, took my road maps and books with me. Over breakfast my eye caught on the name, Inverness, a town just north of San Francisco.
"I thought, I know where I'm going today!
"I went there and it was a lovely little town, a bit like Aviemore but with water. As I was driving home that night I thought 'wouldn't it be wonderful if there were other places called Inverness'.
"Knowing America as I do I felt there had to be other places called Inverness. I couldn't wait to get back to the hotel, and was driving probably faster than I should have been, such was my rush to get back and get the maps out for a proper look.
"I whipped out the atlas and saw there were another four Invernesses, en route coast to coast."
Over the next 10 years, Mike undertook a coast-to-coast journey across the US in a bid to visit the five places named after his home town, which he always refers to as "the one true Inverness".
INVERNESS, CALIFORNIA
The town is adjacent to the San Andreas Fault and not far from Drake's Bay on the Pacific Ocean, named after Sir Francis Drake, who explored the coast in the 16th Century.
"It's small. I counted two shops, two restaurants and a post office," Mike writes. At a local cafe he ordered half a dozen oysters and tried to act as though this was the type of food he ate all the time.
"Anyone watching closely would have seen right through me as I gagged my way through my bucket of cold seafood."
Here he met Raj Parmar, from London, who ended up in Inverness after marrying an American. Raj told Mike: "Life in Inverness is very good. It's very different from anywhere else in California. It's very safe and the ideal place to bring up children. There is a fantastic atmosphere here and that is because it's a tourist town."
Downtown Inverness, California, comprises a cluster of five buildings.
"I wouldn't say I was thinking the first Inverness was a bit of a disappointment, but had imagined there would be a lot more to it than this," said Mike. The location of the town with its close proximity to water and the rather overcast weather seemed familiar to him.
"It reminded me of Loch Ness or Loch Duntelchaig, the reservoir from which the town drinks. I started to feel a shade homesick."
INVERNESS, ILLINOIS
During his travels, Mike opted never to fly across America but take the train or drive himself. To reach Inverness, Illinois, he caught the California Zephyr train, bound for Chicago's Union Station. During this trip he made friends with Big Bob, an African American who looked like Hollywood star Lawrence Fishburne, and was proud to be working for the railway.
Mike had been told this Inverness was a wealthy community, with several homes worth more than a million dollars.
"Most of the houses were detached and large. Most had a double garage, some had a quadruple." All relatively new, they had sweeping drives or lawns, while some had stone staircases leading to ornate front doors.
The houses belong to big-money businessmen and businesswoman who work in downtown Chicago and could easily afford the hour-long commute there and back.
"I began to realise there was something missing. I had driven around the place for precisely half an hour and I hadn't seen a single car, far less a human being," writes Mike.
During his stay Mike learned the town was founded by a member of the McIntosh clan, Arthur McIntosh, who came from the one true Inverness in 1929. "He came here because it reminded him of home and decided to name it so.
"Apart from a couple of offices there's nothing commercial in this Inverness, and residents want to keep it that way because they love their town and are keen to keep it exclusive.
"From Inverness, Illinois, on the outskirts of Chicago, my route would then take me due south, running parallel to the Mississippi to Memphis and beyond. Then I would head west to Alabama and finally to Florida."
Even after this second Inverness, Mike still wouldn't be halfway through his mission and still had many thousands of miles to go…
INVERNESS, MISSISSIPPI
En route Mike visited Graceland and the National Civil Rights museum at the Lorraine Motel, where Martin Luther King Jr was assassinated, both of which made a lasting impression on him.
"The last census in Inverness, Mississippi, was in 2000, and it registered 1,153 people living here. That census gave the breakdown as 59% African-American and 39% white. However, in all the time I was there, I never saw a single black face," said Mike.
Inverness once boasted the biggest cotton gin in the world, but the economic downturn has hit here, although agriculture is still a big employer.
This Inverness got its name from a woman named McInnis who came from the Highlands and settled here in 1899. The railroad was the big money spinner at the time and she invested heavily and made a packet. The town grew up around the railroad.
"Inverness traverses and is bordered on one side by a meandering waterway called the Mound Bayou: what we in the one true Inverness would call a burn. I imagined it would be full of catfish, probably snakes, and possibly even an alligator or two, so I didn't linger," said Mike.
In this part of the deep south, cotton grows. Slaves used to work the land and the Civil Rights movement was born here. A strong, quiet community in a beautiful location full of lovely people, Mike felt the calmness of the place might drive him crazy if he lived here.
"The lifestyle here is not for me, but the place is beautiful and the people were genuine and kind."
INVERNESS, ALABAMA
Inverness, Alabama, is in Shelby County, a suburb of Birmingham. Here Mike went to a church service attended by several hundred people of mixed race and age.
"I had expected music in the shape of a few hymns and a handful of prayers but I had not expected such charismatic drama. The clapping started, the hands began swaying in the air, and soon the emotion was flooding back through the doors and into the Alabama Sunday air.
"I could not help but get carried along with it. The atmosphere was intoxicating. It was a real lump in the throat time and I had tears in my eyes. I began to feel really emotional. Yet I am not religious in the slightest," he said.
Post service, he chatted to the pastor of Inverness Vineyard church, Elgie "Bubba" E Justice Junior and asked him about racism.
Bubba said: "My generation was the first here to go to integrated schools. By the time I reached sixth grade, schools were fully integrated. But people who are older than me and who grew up in completely segregated schools, they find it very difficult. I am old enough to remember black people not being allowed to go for certain jobs because of the colour of their skin."
Mike said: "I hadn't been here very long, but it was clear that Inverness, Alabama, was predominantly white and predominantly middle class. This Inverness was not how I imagined it. There was no community feeling, the church excepted.
"Wealthy people lived here but must spend their free time indoors or elsewhere. What saddened me is that there were no signs of children, no bikes or toys lying around in the yards, no balls on the lawn and no basketball hoops in front of the garages."
Other locals told Mike that Inverness was "depressed" and that there was no money here now, especially for those in business.
"I was glad to have left my fourth and penultimate Inverness. The racism I'd heard so much about in the south was still alive and kicking in Alabama."
INVERNESS, FLORIDA
It was with a mixture of childish excitement and a heavy heart that Mike set out for Inverness, Florida, because he knew his journey was nearly over.
"Inverness, Florida, looked like a big town. But it had a small-town feel, and although the rain was lashing down, the streets were busy with people. There was a mixture of architecture, from antebellum to modern."
One building which caught his eye was the Old Courthouse.
"Inside it was identical to every American courthouse I had ever seen on TV. In fact, I fully expected Perry Mason or Petrocelli to confront me. It was oak panelled and came complete with a little wooden fence with gate in it to separate the public from the officers of the court.
"The judge's bench was high above the rest of the room, and there was a cardboard cut-out of Elvis Presley.
"Hang on…
"A cardboard Elvis?"
The cut-out was a tribute to a film Elvis made here in 1961 called Follow That Dream – the courtroom scenes were filmed here. "Elvis looked a tad out of place in his gold lame suit," recalled Mike.
Looking back over his travel experiences, Mike said: "They all got the Inverness Scotland connection and many people had heard of Inverness because of the Loch Ness Monster. People were interested in my story and many people I met had visited Inverness themselves, while others planned to visit.
"All the Invernesses I visited had something that was nice and equally they all probably had something that made me think I wasn't that fussy about coming back.
"The one I liked the most was Inverness, Florida, and the one I liked the least, Inverness, Alabama. I still felt a distinct racist atmosphere in Alabama, even in these so-called enlightened days, just with the way people spoke."
Did his coast-to-coast search change him, I wondered?
"I think so. I did it in 15 separate trips which cost a fortune but it was important to do. I think I matured along the way.
"People tell you to go to India to find yourself but I found myself by driving alone or taking trains across America.
"People go on holiday to America and visit New York, Chicago, Washington, LA and San Francisco. These are all great places to visit but for me, small town America is far more interesting.
"I'd much rather drive into a little town that's off the beaten track. That's where you'll find the real America – real people and real issues."
The Road Home: My American Journey in Search of Inverness is published by Kessock Books and on sale now.