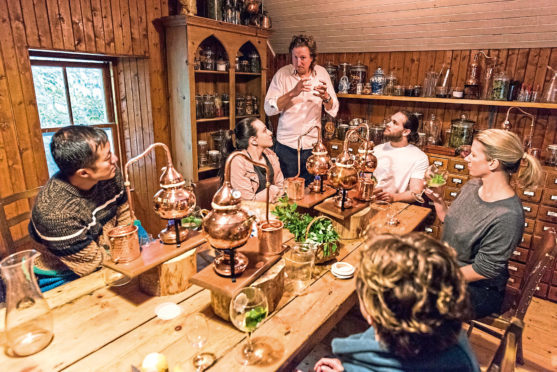 Peanut butter and jam. Dresses and trainers. Some pairings don't seem obvious – but once you try them, and quickly fall in love with them, you forget how you ever existed without them.
When an invite to sample a gin and stand-up paddle-boarding (SUP) micro-adventure comes my way, it takes mere seconds for my nature-craving brain to go from, "Gin and SUP? Well there's a novel coupling", to, "Well, of course, a match made in heaven".
Devon-based SUP company Red Paddle Co, pioneers in the world of high-quality inflatable boards, have teamed up with Scotland–based gin producer Daffy's – meaning anyone looking for a quick active, outdoorsy getaway (that's growing numbers of us, if Instagram's anything to go by), who also has a taste for gin (that's all of us, right?), can now combine the two, without having to venture far from home.
Daffy's Strathmashie Distillery, in the grounds of Strathmashie House (Daffy's husband and wife team, Chris Molyneaux and Mignonne Khazaka, split their time between here and Edinburgh), nestles in the heart of Cairngorms National Park.
Curtained by craggy hills, wild meadows and forests, the region is teeming with lochs and rivers, so makes the perfect base for a spot of SUP (as stand-up paddling's known), and all just an easy hour-and-a-half drive from Inverness.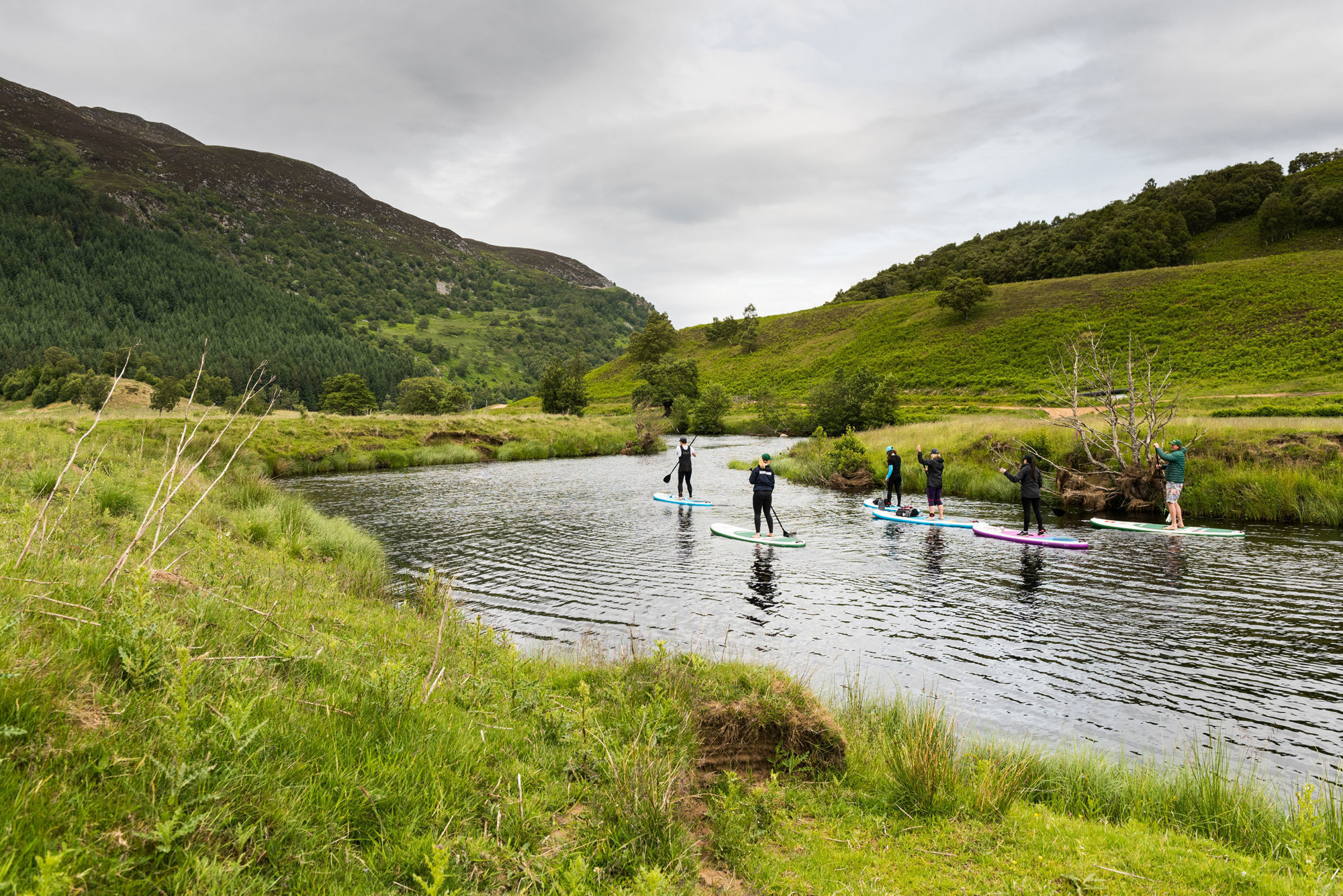 And however you get here, your greeting is guaranteed – fresh, fresh air (such a slap-in-the-face joy for city dwellers like me), alive with the gentle fragrance of pine and the brewing promise of immersing into that soul-feeding scenery.
After a heavenly deep sleep in Strathmashie's Distillery Cottage, I'm up with the dawn ready to make the most of the day. A group of us are heading out to SUP along the nearby Spey River, armed with our Red Paddle Co boards and kit, along with local guide Barry Wallace, of Wilderness SUP (wildernesssup.co).
Daffy's Chris is also joining us, as we've opted for the foraging tour – which means he'll be talking us through some of the wild botanicals used in Daffy's Gin, and we'll be gathering some, ready for our distillery tour and masterclass later on.
These gin and SUP itineraries are pretty flexible, however. If you want to stay at Strathmashie, you need to book the accommodation via Airbnb (there are direct links for this via Strathmashie's website), and then book your SUP stuff separately. You can simply hire your Red Paddle Co boards from Explore Highland and head out independently, or get Barry involved if you'd prefer to have an experienced pro taking care of logistics (Explore Highland also offer a range of organised canoe, kayak and SUP tours for those looking to explore the area more widely).
The foraging tour and distillery tour and masterclass you can sort direct via Strathmashie.
There's no right or wrong way to go about it, but Red Paddle Co's bespoke, lightweight pumps are designed to make inflating the boards as speedy and energy-conserving as possible (so you're not already knackered before even getting on the water), while the hardy boards are practically unbreakable, so even if you did come a cropper on those craggy Scottish rocks, there's little chance of damaging the kit.
I'm grateful for Barry's recap on paddling technique too. For the unacquainted, SUP is one of the most accessible water-sports going. Sure, it's a surprisingly good workout, especially for the core, and does require a degree of balance, but compared to the likes of surfing or wake-boarding, you don't have to be mega fit or agile to get to grips with and utterly enjoy it.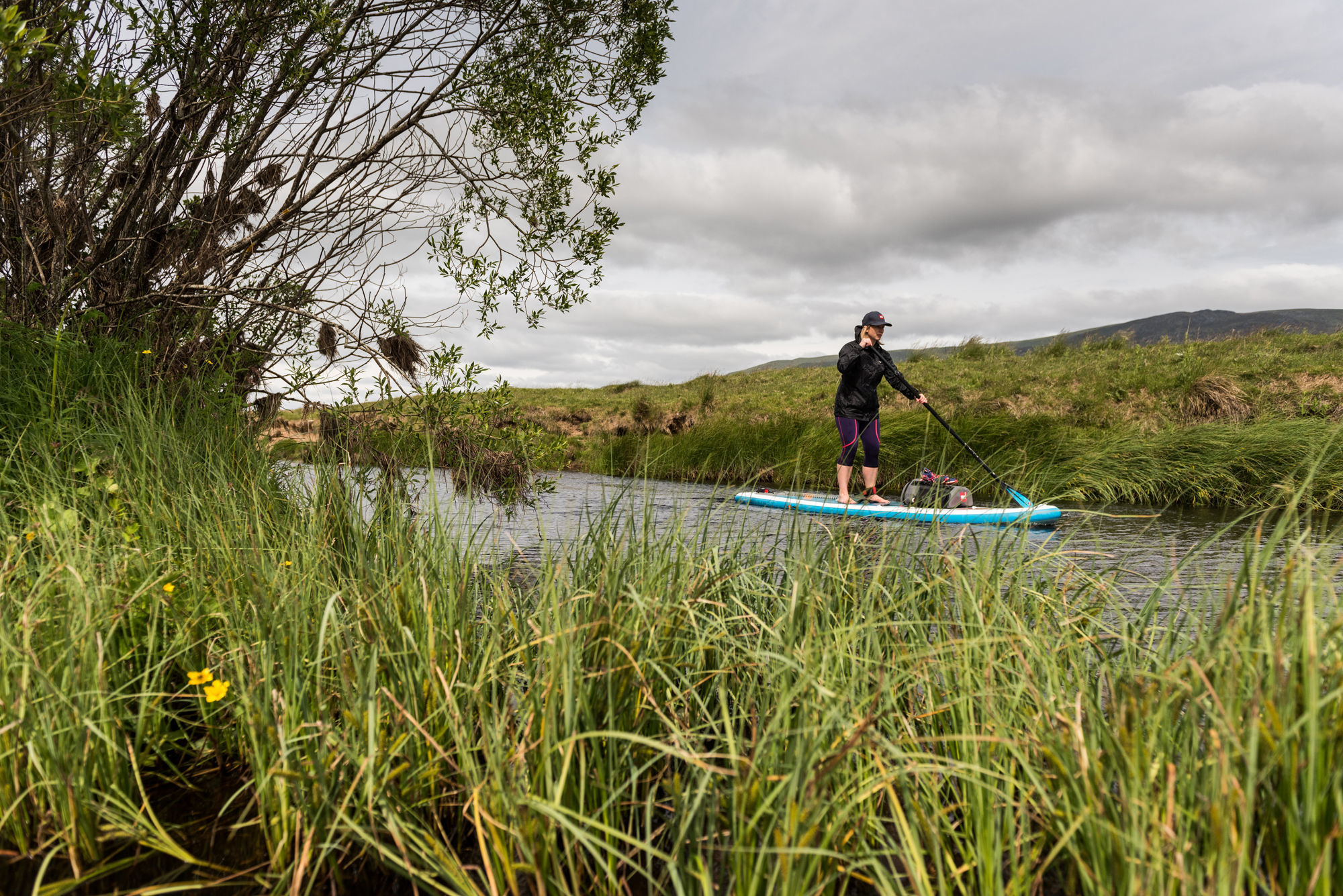 Plus, it's fun to have a local to chat to, and we do encounter a few points in the river – where the current veers towards low-hanging trees, and where rocks require disembarking the board to unhook lodged fins – when having a guide in tow definitely comes in handy.
Mostly though, we glide along merrily, drinking in the rugged landscape and chuckling at the cows and sheep flashing us those, 'What are these crazy humans up to now?!' glares from the riverbanks, as the water curls through the glen.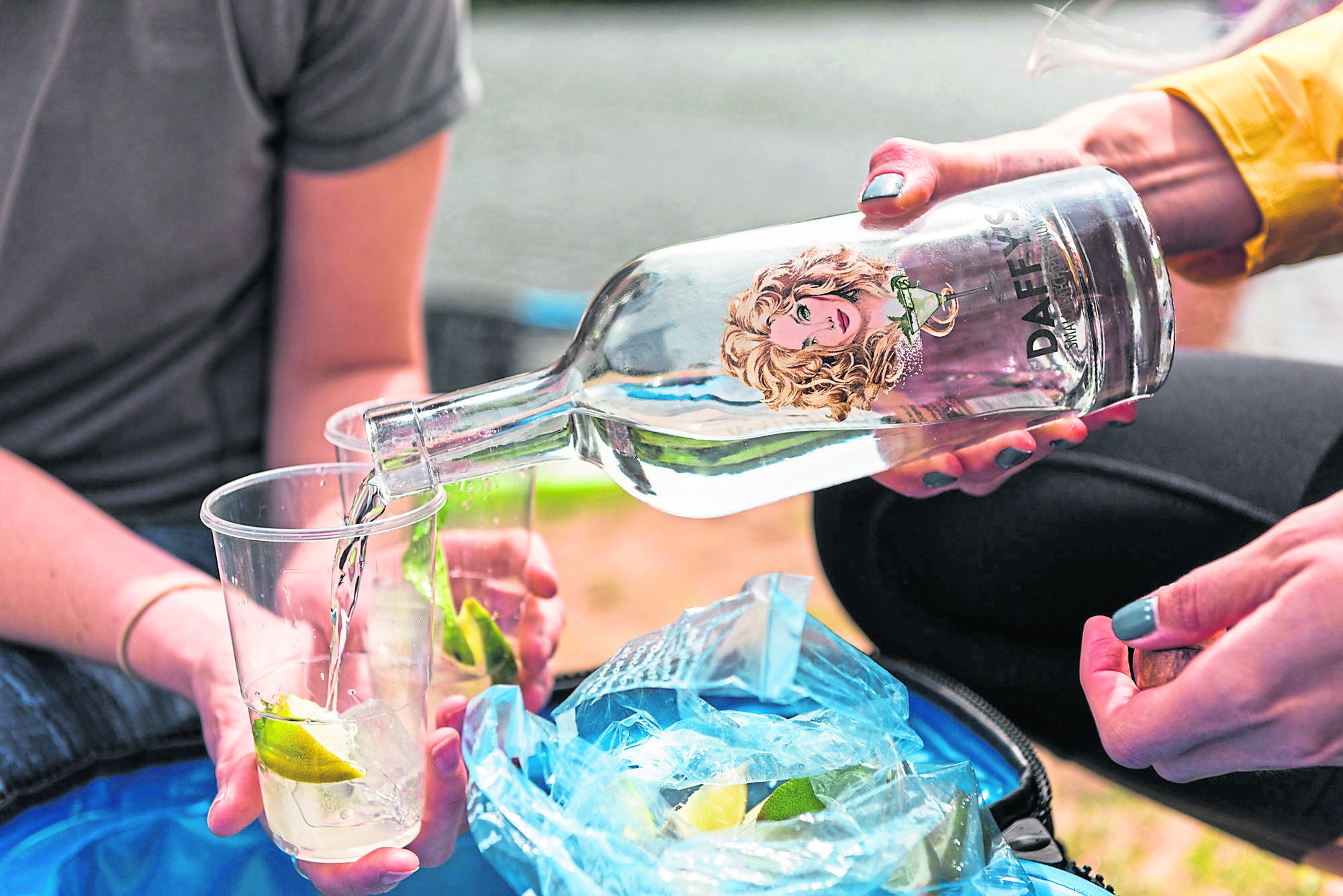 Fat, moody clouds lend an amusing air of drama to our jolly scene. It doesn't rain though (neither, I can happily report, are we bothered by midges), and the clouds thin out as we haul our boards on to a bank for a break. We lunch with sand between our toes and sun on our cheeks, joy levels nicely topped up, stress levels flushed downstream.
Before getting back on the water, we rummage along the banks, gathering up river mint, hawthorn and rich, liquoricey strands of yarrow in a basket, that'll be strapped to a board once our voyage continues.
Apart from Lebanese mint, Daffy's is very much a homegrown concoction, with the region's rich bounty of wild herbs and flowers, local water, as well as the spirit of the landscape all feeding its complex yet delicate blend of flavours.
Later on, back at Strathmashie, we discover the gin is also distilled in an ancient copper pot still. Upstairs in the barnside distillery, mini versions shimmer atop an old wooden table, with shelves laden with big, glass Kilner jars, filled with all sorts of dried herbs, berries and plants, giving the place a pleasing Hogwarts science-lab feel.
Places taken at the table, Chris starts chalking diagrams on to a blackboard and explaining juniper ratio rules; mathematics, as well as a fair degree of chemistry, passion and fine-tuned nostrils and taste buds go into distilling the perfect gin, it seems.
When it comes to choosing our own botanicals and ratios, however, I rely solely on gut instinct – so it's by pure luck that my gin turns out "sophisticated and classy", according to Chris (such a charming host!).
One thing's for sure – a weekend of Daffy's and Red Paddle Co SUP is an intoxicating mix. I'm hooked.
Accommodation at Strathmashie (strathmashie.co.uk) costs from £180 per night in the Distillery Cottage (sleeps eight) and from £80-£100 per night in the Butler's Flat (sleeps five). The Daffy's Red Paddle (SUP/foraging) tour costs £100-£120, and a Forage And Make Your Own Gin course (three hours, including 70cl gin to take home), costs £90.
Explore Highland (explorehighland.com) runs a variety of SUP trips, from £75pp based on an eight-hour guided day trip (minimum three adults), including all equipment hire and use of Red Paddle Co SUP boards. Or hire SUP boards from £40 per day.
For more information on Red Paddle Co, visit redpaddleco.com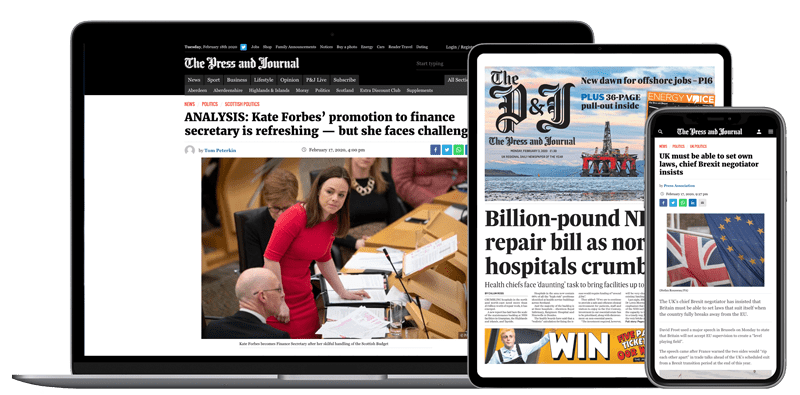 Help support quality local journalism … become a digital subscriber to The Press and Journal
For as little as £5.99 a month you can access all of our content, including Premium articles.
Subscribe